Abstract
This study aimed to develop a method for performing accurate, high-resolution, three-dimensional (3D) Fricke gel dosimetry measurements of high dose rate (HDR) brachytherapy dose distributions using optical computed tomography (CT). A multi-needle brachytherapy gel phantom was purpose-built to contain four stainless-steel brachytherapy needles and a sample of Fricke Xylenol gel. A Paris-style HDR brachytherapy treatment was planned and delivered to the gel, which was then read out using a novel optical CT scanning method; all the brachytherapy needles were removed prior to scanning and replaced with a refractive index matched fluid. The removal of the stainless-steel needles during pre- and post-irradiation scanning minimised the potential for artefacts caused by missing ray-sum data. Results showed good agreement between measured and calculated doses (within 1%) at all positions greater than 0.1 cm from each needle. This study demonstrated that 3D Fricke gel phantoms may be valuable tools in verifying HDR brachytherapy treatments. The phantom construction and optical CT scanning method proposed in this work has the potential to enable routine quality assurance measurements of complex HDR brachytherapy treatment deliveries via accurate and detailed three-dimensional dose measurements.
This is a preview of subscription content, log in to check access.
Access options
Buy single article
Instant access to the full article PDF.
US$ 39.95
Price includes VAT for USA
Subscribe to journal
Immediate online access to all issues from 2019. Subscription will auto renew annually.
US$ 99
This is the net price. Taxes to be calculated in checkout.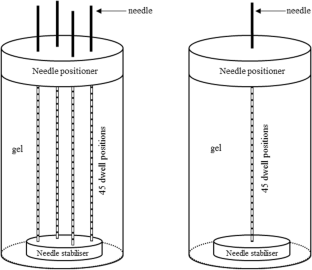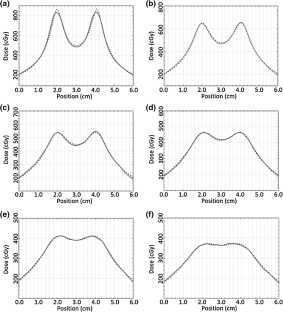 References
1.

Dutta SW, Alonso CE, Libby B, Showalter TN (2018) Prostate cancer high dose-rate brachytherapy: review of evidence and current perspectives Expert Rev Med Devices. https://doi.org/10.1080/17434440.2018.1419058

2.

McJury M, Tapper PD, Cosgrove VP, Murphy PS, Griffin S, Leach MO, Webb S, Oldham M (1999) Experimental 3D dosimetry around a high-dose-rate clinical 192Ir source using a polyacrylamide gel (PAG) dosimeter. Phys Med Biol 44(10):2431–2444

3.

Schreiner LJ (2004) Review of Fricke gel dosimeters. J Phys 3:9–21

4.

Carrara M, Fallai C, Gambarini G, Negri A (2010) Fricke gel-layer dosimetry in high dose-rate brachytherapy. Appl Radiat Isot 68(4):722–725

5.

Carrara M, Gambarini G, Borroni M et al (2011) Fricke gel dosimetric catheters in high dose rate brachytherapy. In phantom dose distribution measurements of a 5 catheter implant. Radiat Meas 46(12):1924–1927

6.

Pappas EP, Peppa V, Hourdakis CJ, Karaiskos P, Papagiannis P (2018) On the use of a novel Ferrous Xylenol-orange gelatin dosimeter for HDR brachytherapy commissioning and quality assurance testing. Physica Med 45:162–169

7.

Cavinato CC, Campos LL (2010) Energy dependent response of the Fricke gel dosimeter prepared with 270 Bloom gelatine for photons in the energy range 13.93 keV–6 MeV. Nucl Instrum Methods Phys Res A 619(1):198–202

8.

Smith S, Masters K-S, Hosokawa K et al (2015) Technical note: preliminary investigations into the use of a functionalised polymer to reduce diffusion in Fricke gel dosimeters. Med Phys 42(12):6798–6803

9.

Colnot J, Huet C, Gschwind R, Clairand I (2018) Characterisation of two new radiochromic gel dosimeters TruView and ClearView in combination with the vista optical CT scanner: a feasibility study. Phys Med 52:154–164

10.

Senkesen O, Tezcanli E, Buyuksarac B, Ozbay I (2014) Comparison of 3D dose distributions for HDR 192Ir brachytherapy sources with normoxic polymer gel dosimetry and treatment planning system. Med Dosim 39(3):266–271

11.

Papagiannis P, Pappas E, Kipouros P et al (2001) Dosimetry close to an 192Ir HDR source using N-vinylpyrrolidone based polymer gels and magnetic resonance imaging. Med Phys 28(7):1416–1426

12.

Oldham M, Siewerdsen JH, Shetty A, Jaffray DA (2001) High resolution gel-dosimetry by optical-CT and MR scanning. Med Phys 28(7):1436–1445

13.

Kairn T, Taylor ML, Crowe SB et al (2012) Monte Carlo verification of gel dosimetry measurements for stereotactic radiotherapy. Phys Med Biol 57(11):3359–3369

14.

Viti V, d'Errico F, Pacilio M et al (2006) Optical imaging of dose distributions in Fricke gels. Radiat Prot Dosim 120(1–4):148–150

15.

Asena A, Kairn T, Crowe SB, Smith ST, Trapp JV (2015) PAGAT gel dosimeters for dose distribution measurements in the vicinity of high-density implants: a preliminary study. J Phys 573:012061

16.

Asena A, Smith ST, Kairn T et al (2017) Reduction of artefacts caused by missing ray-sum data in optical-CT imaging of implants in gel dosimeters. J Phys 847:012070

17.

Asena A, Smith ST, Kairn T et al (2017) Dose distributions in the vicinity of high-density implants using 3D gel dosimeters. Med Phys 44(4):1545–1551

18.

Chu KC, Jordan KJ, Battista JJ, Van Dyk J, Rutt BK (2000) Polyvinyl alcohol-Fricke hydrogel and cryogel: two new gel dosimetry systems with low Fe3+ diffusion. Phys Med Biol 45(4):955–969

19.

Rengier F, Mehndiratta A, Von Tengg-Kobligk H et al (2010) 3D printing based on imaging data: review of medical applications. Int J Comput Assist Radiol Surg 5(4):335–341

20.

Kairn T, Crowe SB, Markwell T (2015), Use of 3D printed materials as tissue-equivalent phantoms. IFMBE Proc 51:728–731

21.

Rivard MJ, Coursey BM, DeWerd LA et al (2004) Update of AAPM Task Group No. 43 Report: A revised AAPM protocol for brachytherapy dose calculations. Med Phys 31(3):633–674

22.

Trapp JV, Bäck SÅJ, Lepage M et al (2001) An experimental study of the dose response of polymer gel dosimeters imaged with X-ray computed tomography. Phys Med Biol 46(11):2939–2951

23.

Olding T, Schreiner LJ (2011) Cone-beam optical computed tomography for gel dosimetry II: imaging protocols. Phys Med Biol 56:1259–1279

24.

Kelly BG, Jordan KJ, Battista JJ (1998) Optical CT reconstruction of 3D dose distributions using the ferrous-benzoic-xylenol (FBX) gel dosimeter. Med Phys 25:1741–1750

25.

Olding T, Darko J, Schreiner LJ (2010) Effective management of FXG gel dosimetry. J Phys 250:012028

26.

Jordan K, Babic S, Chen J, Battista J (2007) SU-FF-T-117: Comparison of 3D dose measurements in ferrous xylenol orange gels with mapcheck diode array and pinnacle3 dose calculations. Med Phys 34:2428

27.

Babic S, Battista J, Jordan K (2008) Three-dimensional dose verification for intensity-modulated radiation therapy in the radiological physics centre head-and-neck phantom using optical computed tomography scans of ferrous xylenol–orange gel dosimeters. Int J Radiat Oncol Biol Phys 70(4):1281–1291

28.

Kairn T, Asena A, Crowe SB, Livingstone A, Papworth D, Smith S, Sutherland B, Sylvander S, Franich RD, Trapp JV (2017) Can a commercial gel dosimetry system be used to verify stereotactic spinal radiotherapy treatment dose distributions? J Phys 847:012071

29.

Beaulieu L, Carlsson Tedgren Å, Carrier JF, Davis SD, Mourtada F, Rivard MJ, Thomson RM, Verhaegen F, Wareing TA, Williamson JF (2012) Report of the task group 186 on model-based dose calculation methods in brachytherapy beyond the TG-43 formalism: current status and recommendations for clinical implementation. Med Phys 39(10):6208–6236

30.

Petrokokkinos L, Zourari K, Pantelis E, Moutsatsos A, Karaiskos P, Sakelliou L, Seimenis I, Georgiou E, Papagiannis P (2011) Dosimetric accuracy of a deterministic radiation transport based 192Ir brachytherapy treatment planning system. Part II: Monte Carlo and experimental verification of a multiple source dwell position plan employing a shielded applicator. Med Phys 38:1981–1992

31.

Moura ES, Micka JA, Hammer CG, Culberson WS, DeWerd LA, Rostelato MECM, Zeituni CA (2015) Development of a phantom to validate high-dose-rate brachytherapy treatment planning systems with heterogeneous algorithms. Med Phys 42:1566–1574

32.

Pappas EP, Zoros E, Moutsatsos A, Peppa V, Zourari K, Karaiskos P, Papagiannis P (2017) On the experimental validation of model-based dose calculation algorithms for 192Ir HDR brachytherapy treatment planning. Phys Med Biol 62(10):4160–4182
Ethics declarations
Conflict of interest
The authors declare that they have no conflict of interest.
Research involving human and animal participants
This article does not contain any studies with human participants or animals performed by any of the authors.
About this article
Cite this article
Asena, A., Nilsson, S., Smith, S.T. et al. A method for obtaining three-dimensional measurements of HDR brachytherapy dose distributions using Fricke gel dosimeters and optical computed tomography. Australas Phys Eng Sci Med 42, 221–226 (2019). https://doi.org/10.1007/s13246-018-0715-y
Received:

Accepted:

Published:

Issue Date:
Keywords
Optical computed tomography

Fricke gel

Brachytherapy