Abstract
A survey was designed to determine aspirations, motivations and workplace experiences of both female and male members of the Australasian College of Physical Scientists and Engineers in Medicine (ACPSEM). The survey collected both quantitate and qualitative data, including open ended questions. This paper reports the survey's qualitative results. The research was approved by Ethics at University of South Australia and endorsed by ACPSEM. All 205 women (30% of total membership) and 440 men were invited to complete the survey online. The data for the qualitative analysis were responses to open-ended questions within the survey. 102 women and 150 men completed surveys were received, with 66 surveys analysed, before data saturation was reached. The survey revealed a number of themes that reflect concerns and opportunities identifying the direction for improving work-life balance and gender equity within the medical physics profession in Australasia. Issues around managing challenging workloads and professional development were amplified for women with children and child-rearing responsibilities, directly contributing to a reduction in work capacity and a reorientation of work-life priorities. The survey provides direction for strategies to improve work-life balance and enable equitable engagement in the profession. The first is to identify and develop role models that actively model successful work-life balance and flexibility in gender roles and in professional conduct. The second is to improve the management skills of current and emerging administrators, advocating for improved work conditions for medical physics professionals at an organisation level. Finally, efforts need to be made to establish flexible professional development and career progression opportunities amongst those that are unable to commit to large workloads, which is common for those with child-rearing responsibilities. The realisation of these strategic goals will reduce the identified barriers to full female participation in the workforce, and shift gender-based subcultures within the workplace.
This is a preview of subscription content, log in to check access.
Access options
Buy single article
Instant access to the full article PDF.
US$ 39.95
Tax calculation will be finalised during checkout.
Subscribe to journal
Immediate online access to all issues from 2019. Subscription will auto renew annually.
US$ 99
Tax calculation will be finalised during checkout.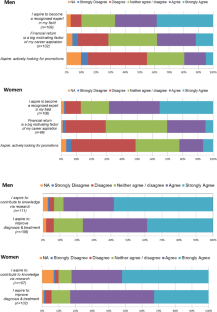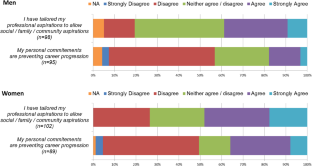 References
1.

Bell S, Yates L (2015) Women in the science research workforce: identifying and sustaining the diversity advantage. LH Martin Institute, University of Melbourne, Melbourne

2.

Tsapaki V, Rehani MM (2015) Female medical physicists: the results of a survey carried out by the International Organization for Medical Physics. Phys Med 31:368–373

3.

Barabino G, Frize M, Ibrahim I, Kaldoudi E, Lhotska L, Marcu LG, Stoeva M, Tsapaki V, Bezak E (2018) Solutions towards Gender Balance in STEM Fields through Support, Training, Education and Mentoring—by the Women in Medical Physics and Biomedical Engineering (WiMPBME) International Task Group; in press

4.

Commission of the European Communities (1999) Women and science: mobilising women to enrich European research, Communication from the Commission COM (1999) 76 Final. Brussels 1999

5.

United Nations. http://www.unwomen.org/en/about-us. Accessed 20 Oct 2018

6.

Crowe S, Kairn T (2016) Women in medical physics: a preliminary analysis of workforce and research participation in Australia and New Zealand. Australas Phys Eng Sci Med 39(2):525–532

7.

Rykers K (2016) The impact of diversity, bias and stereotype: expanding the medical physics and engineering STEM workforce. Australas Phys Eng Sci Med 39(3):593–600

8.

Allsop J (2013) Competing paradigms and health research: design and process. In: Saks M, Allsop J (eds) Researching health: qualitative, quantitative and mixed methods, 2nd edn. SAGE Publications, London, pp 18–41

9.

Boyatzis RE (1998) Transforming qualitative information: thematic analysis and code development. Sage, California

10.

Professionals Australia Gender and Diversity, Women in STEM in Australia. What is the current state of play, what are the key issues and why does it matter?, available, http://www.professionalsaustralia.org.au/professional-women/wp-content/uploads/sites/48/2014/03/WOMEN_IN_STEM_v2.pdf

11.

Connell RW, Messerschmidt JW (2005) Hegemonic masculinity: rethinking the concept. Gend Soc 19(6):829–859

12.

American Occupational Therapy Association (2014) Occupational therapy practice framework: domain and process. Am J Occup Ther 68(Suppl 1):S1–S48
Acknowledgements
The authors would like to thank ACPSEM for providing funding to conduct the qualitative analysis of the survey data.
Funding
$2500 was received from the Australasian College of Physical Scientists and Engineers to pay for services of a qualitative researcher (Heath Pillen) from the University of South Australia to lead the qualitative analysis of survey data.
Ethics declarations
Conflict of interest
All authors declare that they have no conflict of interest.
Ethical approval
The research was approved by Ethics at the University of South Australia and endorsed by ACPSEM. All data analyses involving survey participants were in accordance with the ethical standards of the institutional and/or national research committee and with the 1964 Helsinki declaration and its later amendments or comparable ethical standards.
Informed consent
Informed consent was obtained from all survey participants included in the study. Consent acknowledgment was included in the survey introduction.
About this article
Cite this article
Bezak, E., Suchowerska, R., Claridge Mackonis, E. et al. Women and men in the Australasian College of Physical Scientists and Engineers in Medicine: workforce survey. Australas Phys Eng Sci Med 42, 33–41 (2019). https://doi.org/10.1007/s13246-018-0706-z
Received:

Accepted:

Published:

Issue Date:
Keywords
Women in health

Women in medical physics

Work-life balance