Abstract
A survey of radiation oncology medical physics departments across Australia and New Zealand was conducted to assess the usage, commissioning and quality assurance of modulated radiotherapy techniques such as IMRT and VMAT. Survey responses were collected in April–May 2015 to snapshot current practice and historical implementation. The survey asked 142 questions, and is the most detailed survey of its kind published to date. Analysis of results at overall department level, as well as sub-analysis for different equipment and techniques in use, was performed. Results show a high prevalence of IMRT and VMAT in use, and demonstrate the large heterogeneity in clinical practice and experience across the region.
This is a preview of subscription content, log in to check access.
Access options
Buy single article
Instant access to the full article PDF.
US$ 39.95
Tax calculation will be finalised during checkout.
Subscribe to journal
Immediate online access to all issues from 2019. Subscription will auto renew annually.
US$ 99
Tax calculation will be finalised during checkout.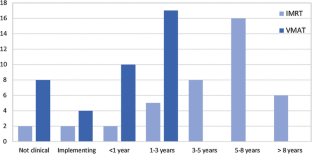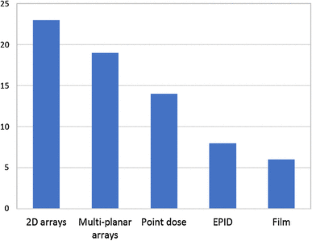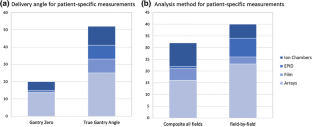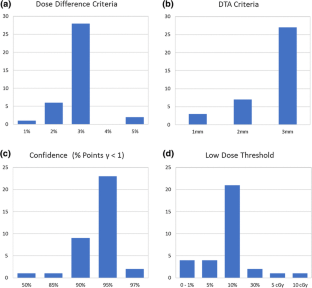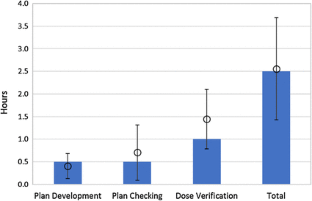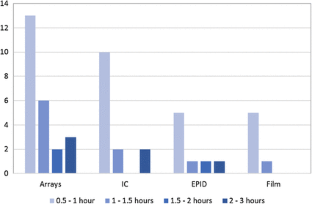 References
1.

Webb S (2001) Intensity-modulated radiation therapy. IOP Publishing, London

2.

The Royal Australian and New Zealand College of Radiologists—Faculty of Radiation Oncology Board (2012) Position Paper: Techniques and Technologies 2015 HORIZON SCAN AUSTRALIA

3.

Tribius S, Bergelt C (2011) Intensity-modulated radiotherapy versus conventional and 3D conformal radiotherapy in patients with head and neck cancer: is there a worthwhile quality of life gain? Cancer Treat Rev 37(7):511–519

4.

Nutting CM, Morden JP, Harrington KJ, Urbano TG, Bhide SA, Clark C, Miles EA, Miah AB, Newbold K, Tanay M, Adab F, Jefferies SJ, Scrase C, Yap BK, A'Hern RP, Sydenham MA, Emson M, Hall E (2011) Parotid-sparing intensity modulated versus conventional radiotherapy in head and neck cancer (PARSPORT): a phase 3 multicentre randomised controlled trial. Lancet Oncol 12(2):127–136

5.

McDonald MW, Godette KD, Whitaker DJ, Davis LW, Johnstone PA (2010) Three-year outcomes of breast intensity-modulated radiation therapy with simultaneous integrated boost. Int J Radiat Oncol Biol Phys 77(2):523–530

6.

Staffurth J (2010) A review of the clinical evidence for intensity-modulated radiotherapy. Clin Oncol 22(8):643–657

7.

Ezzell GA, Burmeister JW, Dogan N, LoSasso TJ, Mechalakos JG, Mihailidis D, Molineu A, Palta JR, Ramsey CR, Salter BJ, Shi J, Xia P, Yue NJ, Xiao Y (2009) IMRT commissioning: multiple institution planning and dosimetry comparisons, a report from AAPM Task Group 119. Med Phys 36(11):5359–5373

8.

Ezzell GA, Galvin JM, Low D, Palta JR, Rosen I, Sharpe MB, Xia P, Xiao Y, Xing L, Yu CX (2003) Guidance document on delivery, treatment planning, and clinical implementation of IMRT: report of the IMRT Subcommittee of the AAPM Radiation Therapy Committee. Med Phys 30(8):2089–2115

9.

Alber M, Broggi S, De Wagter C, Eichwurzel I, Engstrom P, Fiorino C, Georg D (2005) Guidelines for the verification of IMRT. Radiother Oncol 76:S101

10.

American College of Radiology (2016) ACR practice parameter for Intensity Modulated Radiation Therapy (IMRT). https://www.acr.org/~/media/ACR/Documents/PGTS/guidelines/IMRT.pdf

11.

Nederlandse Commissie Voor Stralingsdosimetrie, N Commissie, V Stralingsdosimetrie, and Nederlandse Commissie Voor Stralingsdosimetrie, "Code of Practice for the Quality Assurance and Control for Intensity Modulated Radiotherapy," no. June, 2013

12.

Nederlandse Commissie Voor Stralingsdosimetrie, "Code of Practice for the Quality Assurance and Control for Volumetric Modulated Arc Therapy," no. February, p 65, 2015

13.

Nelms BE, Simon JA (2007) A survey on planar IMRT QA analysis. 8(3):76–90

14.

Pulliam K, Kerns J, Howell R, Followill D, O'Daniel J, Kry S (2014) MO-G-BRE-02: a survey of IMRT QA practices for more than 800 institutions. Med Phys 41(6):432–432

15.

Abolaban F, Zaman S, Cashmore J, Nisbet A, Clark CH (2016) Changes in patterns of intensity-modulated radiotherapy verification and quality assurance in the UK. Clin Oncol 28(8):e28–e34

16.

Kumar R (2010) A survey on the quality assurance procedures used in intensity modulated radiation therapy (IMRT) at Indian hospitals. J Cancer Sci Ther 2(6):166–170

17.

Siochi RAC, Molineu A, Orton CG (2013) Point/counterpoint. Patient-specific QA for IMRT should be performed using software rather than hardware methods. Med Phys 40(7):70601

18.

RANZCR (2012) Radiation Oncology Tripartite National Strategic Plan 2012–2022

19.

Bridge P, Dempsey S, Giles E, Maresse S, Mccorkell G, Opie C, Wright C, Carmichael MA (2015) Practice patterns of radiation therapy technology in Australia: results of a national audit. J Med Radiat Sci 62(4):253–260

20.

Van Esch A, Bohsung J, Sorvari P, Tenhunen M, Paiusco M, Iori M, Engström P, Nyström H, Huyskens DP (2002) Acceptance tests and quality control (QC) procedures for the clinical implementation of intensity modulated radiotherapy (IMRT) using inverse planning and the sliding window technique: experience from five radiotherapy departments. Radiother Oncol 65(1):53–70

21.

Ling CC, Zhang P, Archambault Y, Bocanek J, Tang G, LoSasso T (2008) Commissioning and quality assurance of rapidarc radiotherapy delivery system. Int J Radiat Oncol Biol Phys 72(2):575–581

22.

Klein EE, Hanley J, Bayouth J, Yin F-F, Simon W, Dresser S, Serago C, Aguirre F, Ma L, Arjomandy B, Liu C, Sandin C, Holmes T (2009) Task Group 142 report: quality assurance of medical accelerators. Med Phys 36(9):4197

23.

Low DA, Harms WB, Mutic S, Purdy JA (1998) A technique for the quantitative evaluation of dose distributions. Med Phys 25(5):656–661

24.

Knöös T, Wieslander E, Cozzi L, Brink C, Fogliata A, Albers D, Nyström H, Lassen S (2006) Comparison of dose calculation algorithms for treatment planning in external photon beam therapy for clinical situations. Phys Med Biol. 51(22):5785–5807,

25.

Ojala JJ, Kapanen MK, Hyödynmaa SJ, Wigren TK, Pitkänen MA (2014) Performance of dose calculation algorithms from three generations in lung SBRT: comparison with full Monte Carlo-based dose distributions. 15(2):4–18

26.

Kruse JJ (2010) On the insensitivity of single field planar dosimetry to IMRT inaccuracies. Med Phys 37(6):2516–2524

27.

McKenzie EM, Balter PA, Stingo FC, Jones J, Followill DS, Kry SF (2014) Toward optimizing patient-specific IMRT QA techniques in the accurate detection of dosimetrically acceptable and unacceptable patient plans. Med Phys 41(12):121702

28.

Nelms BE, Chan MF, Jarry G, Lemire M, Lowden J, Hampton C, Feygelman V, Chan MF, Lowden J, Feygelman V (2013) Evaluating IMRT and VMAT dose accuracy: practical examples of failure to detect systematic errors when applying a commonly used metric and action levels. Med Phys 40(11):111722

29.

Pulliam KB, Followill D, Court L, Dong L, Gillin M, Prado K, Kry SF (2014) A six-year review of more than 13,000 patient-specific IMRT QA results from 13 different treatment sites. J Appl Clin Med Phys 15(5):4935

30.

T. Australian Government Department of Health (2016) 1 January 2016 MBS files [Online] http://www.mbsonline.gov.au/internet/mbsonline/publishing.nsf/Content/news-201601-January-MBS. Accessed 05 Jan 2016
Acknowledgements
Many thanks to the members of the NSW/ACT branch committee of the ACPSEM for their help in the development of the survey over several years. The survey data was used to plan an IMRT workshop in Wollongong 2015, and the authors appreciated the valuable discussions from workshop participants.
Ethics declarations
Conflict of interest
The authors declare that they have no conflict of interest.
Ethical approval
All procedures performed in studies involving human participants were in accordance with the ethical standards of the institutional and/or national research committee and with the 1964 Helsinki declaration and its later amendments or comparable ethical standards. This article does not contain any studies with animals performed by any of the authors.
Informed consent
Informed consent was obtained from all individual participants included in the study.
Electronic supplementary material
Below is the link to the electronic supplementary material.
About this article
Cite this article
Barber, J., Vial, P., White, P. et al. A survey of modulated radiotherapy use in Australia & New Zealand in 2015. Australas Phys Eng Sci Med 40, 811–822 (2017). https://doi.org/10.1007/s13246-017-0590-y
Received:

Accepted:

Published:

Issue Date:
Keywords
IMRT

VMAT

Modulated therapy