Abstract
As part of a study of the radiation oncology workforce, radiation oncology medical physicists (ROMPs) who had worked in Australia were surveyed regarding their attitudes to participating in research. Responses from 88 ROMPs were available for analysis, representing a broad mix of employment situations and research experience. Greater than 70% of ROMPs described their involvement in research as "liking it" or "loving it", with associated identified benefits including skills development, job satisfaction and career progression. Over half of respondents agreed that involvement in research inspired them to stay in their profession. However, lack of time, support and motivation were all identified as barriers to participation in research. Areas of research interest were identified. This study highlights the importance of a research culture for job satisfaction and staff retention.
Access options
Buy single article
Instant access to the full article PDF.
US$ 39.95
Tax calculation will be finalised during checkout.
Subscribe to journal
Immediate online access to all issues from 2019. Subscription will auto renew annually.
US$ 79
Tax calculation will be finalised during checkout.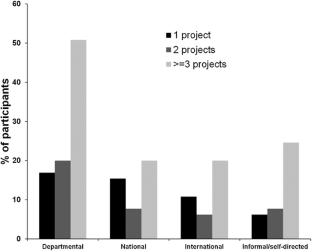 References
1.

ACPSEM (2016) ACPSEM Training, Education and Assessment Program For Medical Physics and Radiopharmaceutical Science. Version 5.0 edn. Australasian College of Physics Scientists and Engineers in Medicine, Sydney

2.

IAEA (2009) Clinical training of medical physicists specializing in radiation oncology. International Atomic Energy Agency, Vienna

3.

Ng KH, Cheung KY, Hu YM, Inamura K, Kim HJ, Krisanachinda A, Leung J, Pradhan AS, Round H, van Dorn T, Wong TJ, Yi BY (2009) The role, responsibilities and status of the clinical medical physicist in AFOMP. Aust Phys Eng Sci Med 32(4):175–179. doi:10.1007/bf03179236

4.

Chu RY, Henly M (2004) AAPM Research Survey Final Report American Association of Physicists in Medicine, Alexandria, VA

5.

Langelier M, Forte G (2010) Workforce Study of Medical Physicists in the U.S. Center for Health Workforce Studies, Rensselaer, NY

6.

Leung J, Rioseco P, Munro P (2015) Stress, satisfaction and burnout amongst Australian and New Zealand radiation oncologists. J Med Imag Radiat Oncol 59(1):115–124. doi:10.1111/1754-9485.12217

7.

Radiation Oncology Workforce Planning Final Report (2009). Health Consult Pty Ltd

8.

Mackay RI, Burnet NG, Green S, Illidge TM, Staffurth JN, on behalf of the NCEG (2012) Radiotherapy physics research in the UK: challenges and proposed solutions. Br J Radiol 85(1018):1354–1362. doi:10.1259/bjr/61530686

9.

Agustin C, Grand M, Gebski V, Turner S (2008) Radiation therapists' perspective on barriers to clinical trials research. J Med Imag. Radiat Oncol 52(2):178–182. doi:10.1111/j.1440-1673.2008.01938.x

10.

Halkett GK, McKay J, Hegney DG, Breen LJ, Berg M, Ebert MA, Davis M, Kearvell R (2016) Radiation therapists' and radiation oncology medical physicists' perceptions of work and the working environment in Australia: a qualitative study. Eur J Can Care. doi:10.1111/ecc.12511

11.

Sehlen S, Vordermark D, Schäfer C, Herschbach P, Bayerl A, Pigorsch S, Rittweger J, Dormin C, Bölling T, Wypior HJ, Zehentmayr F, Schulze W, Geinitz H (2009) Job stress and job satisfaction of physicians, radiographers, nurses and physicists working in radiotherapy: a multicenter analysis by the DEGRO Quality of Life Work Group. Radiat Oncol. doi:10.1186/1748-717X-4-6

12.

Kron T, Azhari HA, Voon EO, Cheung KY, Ravindran P, Soejoko D, Inamura K, Han Y, Ung NM, TsedenIsh B, Win UM, Srivastava R, Marsh S, Farrukh S, Rodriguez L, Kuo M, Baggarley S, DilipKumara AH, Lee CC, Krisanachinda A, Nguyen XC, Ng KH (2015) Medical physics aspects of cancer care in the Asia Pacific region: 2014 survey results. Aust Phys Eng Sci Med 38(3):493–501. doi:10.1007/s13246-015-0373-2

13.

Hegney D, Eley R, Plank A, Buikstra E, Parker V (2006) Workforce issues in nursing in Queensland: 2001 and 2004. J Clin Nurs 15(12):1521–1530. doi:10.1111/j.1365-2702.2006.01558.x

14.

Whitworth A, Haining S, Stringer H (2012) Enhancing research capacity across healthcare and higher education sectors: development and evaluation of an integrated model. BMC Health Serv Res 12(1):1–10. doi:10.1186/1472-6963-12-287

15.

Crowe SB, Kairn T (2016) Women in medical physics: a preliminary analysis of workforce and research participation in Australia and New Zealand. Aust Phys Eng Sci Med 39(2):525–532. doi:10.1007/s13246-016-0428-z

16.

Scutter S, Halkett G (2003) Research attitudes and experiences of radiation therapist. Radiographer 50(2):69–72

17.

Turner A, D'Alimonte L, Fitch M (2013) Promoting radiation therapy research: understanding perspectives, transforming culture. J Radiother Pract 12:92–99

18.

Wright C, Hilder B, Schneider-Kolsky M (2009) Meeting the research agenda in Australia radiation therapy: the current picture. J Radiother Pract 8:67–77

19.

Egestad H, Halkett GKB (2016) A Delphi study on research priorities in radiation therapy: the Norwegian perspective. Radiography 22(1):65–70. doi:10.1016/j.radi.2015.07.006
Acknowledgements
We acknowledge the financial support of the Australian Government Department of Health and Ageing as part of the project Establishing a Sustainable Radiation Oncology Workforce Through Greater Access to Collaborative Research and Education Facilities. We are very grateful to members of the Radiation Oncology Workforce Western Australia group, survey reviewers and those who provided survey responses. We also thank the WA Cancer and Palliative Care Network for their ongoing support of the WA Workforce group beyond completion of our initial project.
Ethics declarations
Conflict of interest
The authors declare that they have no conflict of interest.
Ethical approval
Ethical approval was obtained from Curtin University's Human Research Ethics Committee (RD-25-13).
About this article
Cite this article
Ebert, M.A., Halkett, G.K., Berg, M. et al. An assessment of radiation oncology medical physicists' perspectives on undertaking research. Australas Phys Eng Sci Med 40, 173–180 (2017). https://doi.org/10.1007/s13246-016-0505-3
Received:

Accepted:

Published:

Issue Date:
Keywords
Radiation oncology

Physicists

Research

Occupational

Workforce

Satisfaction