Abstract
An in-house solution for the verification of dose delivered to a moving phantom as required for the clinical implementation of lung stereotactic ablative body radiation therapy was developed. The superior–inferior movement required to simulate tumour motion during a normal breathing cycle was achieved via the novel use of an Arduino Uno™, a low-cost open-source microcontroller board connected to a high torque servo motor. Slow CT imaging was used to acquire the image set and a 4D cone beam CT (4D-CBCT) verified the efficacy of contoured margins before treatment on the moving phantom. Treatment fields were delivered to a section of a CIRS™ anthropomorphic phantom. Dose verification to the dynamic phantom with Gafchromic EBT3 film using 3 %-1 mm gamma analysis acceptance criteria registered an absolute dose pass rate for IMRT and VMAT of 98 and 96.6 %, respectively. It was verified that 100 % of the PTV received the prescribed dose of 12 Gy per fraction using the dynamic phantom, and no major discrepancy between planned and measured results due to interplay between multileaf collimator sequences and target motion was observed. This study confirmed that the use of an in-house solution using open source hardware and software with existing quality assurance equipment was appropriate in validating a new treatment technique.
Access options
Buy single article
Instant access to the full article PDF.
US$ 39.95
Tax calculation will be finalised during checkout.
Subscribe to journal
Immediate online access to all issues from 2019. Subscription will auto renew annually.
US$ 79
Tax calculation will be finalised during checkout.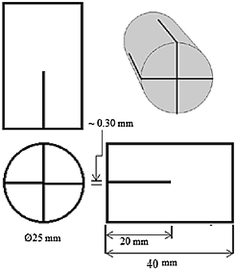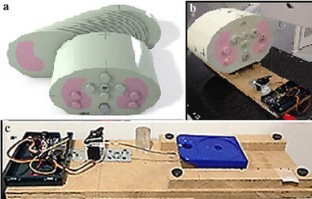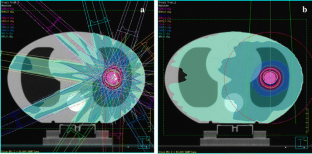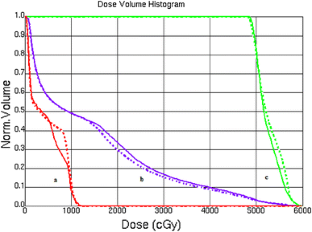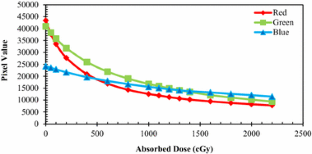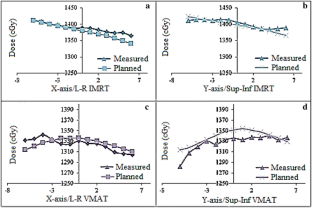 References
1.

Wooten L, Therriault-Proulx F, Beddar S (2015) What can the medical physics field learn from the open source hardware community? Med Phys 42:3231

2.

Haasbeek CJ, Slotman BJ, Senan S (2009) Radiotherapy for lung cancer: clinical impact of recent technical advances. Lung Cancer 64(1):1–8

3.

Blomgren H, Lax I, Näslund I, Svanström R (1995) Stereotactic high dose fraction radiation therapy of extracranial tumours using an accelerator. Clinical experience of the first thirty-one patients. Acta Oncol 34:861–870

4.

Goldsmith C, Gaya A (2012) Stereotactic ablative body radiotherapy (SABR) for primary and secondary lung tumours. Cancer Imaging 12(2):351–360

5.

Herbert C, Kwa W, Nakano S, James K, Moiseenko V, Schellenberg D, Liu M (2013) Stereotactic body radiotherapy: volumetric modulated arc therapy versus 3D non-coplanar conformal radiotherapy for the treatment of early stage lung cancer. Technol Cancer Res Treat 12(6):511–516

6.

Spiotto M, Loo B, Chang D (2009) Stereotactic body radiotherapy for primary and oligometastatic cancers. Community Oncol 6:456–462

7.

Leer JWH, McKenzie AL, Scalliet P, Thwaites D I (1998) Practical guidelines for the implementation of a quality system in radiotherapy. ESTRO Mounierlaan 83/4-1200 Brussel

8.

Van Dyk J (2009) Commissioning and implementation of a quality assurance programme for new technologies. In: Book of extended synopsis of international conference on advances in radiation oncology (ICARO) Vienna

9.

Schreiner J (2011) On the quality assurance and verification of modern radiation therapy treatment. J Med Phys 36(4):189–191

10.

Viel F, Gete E, Duzenli C, Lee R (2013) Developing QA procedures for gated VMAT SABR treatments. Med Phys 40:100

11.

Hrbacek J, Lang S, Graydon SN, Klock S, Riesterer O (2014) Dosimetric comparison of flattened and unflattened beams for stereotactic ablative radiotherapy of stage I non-small cell lung cancer. Med Phys 41(3):031709:1–031709:7

12.

McGarry CK, OConnell BF, Grattan MWD, Agnew CE, Irvine DM, Hounsell AR (2013) Octavius 4D characterization for flattened and flattening filter free rotational deliveries. Med Phys 40(9):091707

13.

Admiraal MA, Schuring D, Hurkmans CW (2008) Dose calculations accounting for breathing motion in stereotactic lung radiotherapy based on 4D-CT and the internal target volume. Radiother Oncol 86:55–60

14.

Reinhardt A, Hillbrand M, Wilkens JJ, Assmann W (2012) Comparison of Gafchromic EBT2 and EBT3 films for clinical photon and proton beams. Med Phys 39(8):5257–5262

15.

Hardcastle N, Basavatia A, Bayliss A, Tome WA (2011) High dose per fraction dosimetry of small fields with Gafchromic EBT2 film. Med Phys 38(7):4081–4085

16.

Cusumano D, Fumagalli M, Marchetti M, Fariselli L, De Martin E (2015) Dosimetric verification of stereotactic radiosurgery/stereotactic radiotherapy dose distributions using Gafchromic EBT3. Med Dosim 40:226–331

17.

Viel F, Gete E, Duzenli C, Lee R (2013) Developing QA procedures for gated VMAT SABR treatments. Med Phys 40:100

18.

Chaudhari S, Goddu S, Mutic S, Esthappan J, Kawamura S, Low D (2006) Dosimetric validation of tomotherapy in heterogeneous media. Med Phys 33:2093

19.

Chi A, Nguyen NP, Komaki R (2014) The potential role of respiratory motion management and image guidance in the reduction of severe toxicities following stereotactic ablative radiation therapy for patients with centrally located early stage non-small cell lung cancer or lung metastases. Front Oncol 4(151):1–12

20.

Britton K, Starschall G, Tucker S, Pan T, Nelson C, Chang J (2007) Assessment of gross tumour volume regression and motion changes during radiotherapy for non-small-cell lung cancer as measured by four-dimensional computed tomography. Int J Radiat Oncol Biol Phys 68(4):1036–1046

21.

Stankovic U, Ploeger LS, Sonke JJ, Van-Herk M (2016) Clinical introduction of image lag correction for a cone beam CT system. Med Phys 43(3):1057–1064

22.

Parsons D, Robar J (2015) An investigation of kV CBCT image quality and dose reduction for volume-of-interest imaging using dynamic collimation. Med Phys 42:5258

23.

Patel R, Sengottuvel S, Gireesan K, Janawadkar MP, Radhakrishnan TS (2015) Extraction of breathing pattern using temperature sensor based on Arduino board. AIP Conf Proc 1665:060007

24.

Lee S, Choi S, Min C, Ji Y, Jung H, Kim M, Yoo H, Kim C, Yi C, Kim K (2014) Study of variation of internal target volume between 4DCT and slow-ct in respiratory patterns using respiratory motion phantom. Med Phys 41:180

25.

Videtic GM, Hu C, Singh AK, Chang JY, Parker W, Olivier KR, Schild SE, Komaki R, Urbanic JJ, Choy H (2015) A randomized phase 2 study comparing 2 stereotactic body radiation therapy schedules for medically inoperable patients with stage I peripheral non-small cell lung cancer: NRG oncology RTOG 0915 (NCCTG N0927). Int J Radiation Oncol Biol Phys 93(4):757–764

26.

Beaudry J, Cropp R, Bergman A (2015) Reconstructing 4D cone beam CT images for clinical QA of lung SABR treatments. Med Phys 42:3300

27.

Fiandra C, Ricardi U, Ragona R (2006) Clinical use of EBT model Gafchromic film in radiotherapy. Med Phys 33:4314–4319

28.

Saur S, Frengen J (2008) GafChromic EBT film dosimetry with flatbed CCD scanner: a novel background correction method and full dose uncertainty analysis. Med Phys 35(7):3094–3101

29.

Fiandra C, Fusella M, Giglioli FR, Filippi AR, Mantovani C, Ricardi U, Ragona R (2013) Comparison of Gafchromic EBT2 and EBT3 for patient-specific quality assurance: cranial stereotactic radiosurgery using volumetric modulated arc therapy with multiple non-coplanar arcs. Med Phys 40(8):082105:1–082105:8

30.

Perez-Azorin J, Ramos-Garcia L, Marti-Clement J (2014) A method for multichannel dosimetry with EBT3 radiochromic films. Med Phys 41(6):062101-1–062101-10

31.

Casanova-Borca V, Pasquino M, Russo G, Grosso P, Cante D, Sciacero P, Girelli G, Rosa la Porta M, Tofani S (2013) GAFCHROMIC EBT3 film for IMRT dose verification. J Appl Clin Med Phys 14:158–171

32.

Low D, Dempsey J (2003) Evaluation of the gamma dose distribution comparison method. Med Phys 30(9):2455–2464

33.

Nakamura M, Narita Y, Matsuo Y, Narabayashi M, Nakata M, Yano S (2008) Geometrical differences in target volumes between slow CT and 4D CT imaging in stereotactic body radiotherapy for lung tumours in the upper and middle lobe. Med Phys 35(8):4142–4148

34.

Stambaugh C, Nekns BE, Dilling T, Stevens C, Latifi K, Zhang G, Moros E, Feygelman V (2013) Experimentally studied dynamic dose interplay does not meaningfully affect target dose in VMAT SBRT lung treatments. Med Phys 40:091710
Acknowledgments
I would like to acknowledge Genesiscare for their funding support, and thank Thulani Nyathi, Christopher Colyer and David Willis for help revising the manuscript.
About this article
Cite this article
Munoz, L., Ziebell, A., Morton, J. et al. An open source solution for an in-house built dynamic platform for the validation of stereotactic ablative body radiotherapy for VMAT and IMRT. Australas Phys Eng Sci Med 39, 957–964 (2016). https://doi.org/10.1007/s13246-016-0484-4
Received:

Accepted:

Published:

Issue Date:
Keywords
Open source

Stereotactic ablative body radiation therapy (SABR)

Motion management

Gafchromic EBT3 film