Brachytherapy: a dying art or missed opportunity?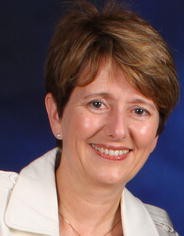 A couple of years ago I was asked to sit on an expert review committee to consider an overhaul of the brachytherapy module of the Australasian TEAP Clinical Training Guide. Considering the conten
t
s of the guide was the easy bit, working out how our junior physicists could achieve the required skills and competencies was something else. Before I tell you how we arrived at our recommendations, let me share with you some background information and my concerns for the future of brachytherapy.
Not all centres in Australia and New Zealand offer a brachytherapy service, and even those that do, the range of practices varies and caseloads are not high in all but a few centres. In fact, over recent years there has been an alarming decline in the utilisation rates of brachytherapy internationally [1, 2, 3]. The decline is alarming when we consider that there is compelling evidence that brachytherapy, in appropriately selected patients, is capable of accurately delivering a highly conformal dose of radiation to the tumour and lower doses to surrounding healthy tissue compared with external beam radiotherapy (EBRT). Despite this we seem to be losing referrals to our EBRT colleagues who claim that with exciting advances in technology, there are increasing opportunities for EBRT to safely deliver tightly conformal fields of radiation in a small number of fractions…something we've been doing in brachytherapy for many years! Furthermore, there are many studies that show brachytherapy is the most cost effective form of radiotherapy treatment for many cancers [4].
Take prostate cancer for example: Martin et al. reported a decline from 16.7 % utilisation rate in the US for prostate brachytherapy in 2002, to 8 % in 2010 [2]. This is despite clear evidence for superior biochemical control rates when used alone in low risk prostate cancer, or in combination with EBRT in higher risk cancers compared with surgery or EBRT alone [5]. The situation for treatments for cancer of the cervix is a little more disturbing. Han et al. noted a decline in the utilisation of brachytherapy for cervix cancer from 83 % in 1988 to 58 % in 2009, noting a particular dip in the utilisation in 2003 which happened to coincide with the introduction of a healthcare rebate for intensity modulated radiotherapy (IMRT) in the US [1]. This is despite significantly higher rates of cause specific survival and overall survival in patients treated with brachytherapy. These concerns have similarly been reported by Thompson et al. when considering utilisation rates in the Australian setting, but also noting that treatment quality is also impacted by caseload, with centres treating less than 10 patients per year frequently providing treatments of "sub-optimal quality" [6, 7].
In reviewing the Australian Medicare data (
http://www.medicareaustralia.gov.au/statistics/mbs_item.shtml
) in the period 2010–2016, we can see that the number of gynaecological cancer cases in Australia has remained fairly stable (Fig. 
1
), however, in breaking the figures down by type of implant, the number of tandem and ovoid treatments (Medicare Benefits Schedule (MBS) item 15324) and vaginal vaults (MBS item 15316) has steadily increased, whereas the number of transperineal implants has more than halved, from 679 in 2010 to 314 in 2015. Low-dose-rate LDR prostates have similarly declined by around 50 % (745 cases in 2010, 393 cases in 2015), but the biggest decline is in the utilisation of high-dose-rate (HDR) prostate treatments, declining from 313 cases in 2010 to just 125 cases in 2015. The reasons for the decline are unclear though the decline in the utilisation rates for LDR brachytherapy could well be related to the recommendations of the Urological Society of Australia and New Zealand that advocates the use of active surveillance in men with low risk cancer, the cohort most suitable for LDR brachytherapy—a highly controversial recommendation.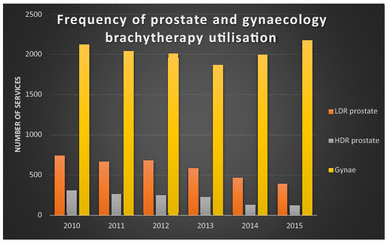 In the case of prostate cancer, Petereit et al. suggested 6 reasons for the decline of brachytherapy utilisation in the US, these included: (1) an increase in the use of robotic prostatectomies (2) increase in the sophistication of EBRT (IMRT and image guided radiotherapy (IGRT)), stereotactic ablative body radiotherapy (SABR) and proton therapy (3) increase in the reimbursement for IMRT (4) negative press as the result of poor quality implants [8] (5) limited opportunities for training due to the reduced number of facilities offering brachytherapy (6) few physicians have brachytherapy experience and are therefore less likely to refer patients [3]. Whilst these reasons may apply in Australia and New Zealand to a greater or lesser extent, all require some consideration if we acknowledge the clear clinical and economic benefits. Most of the articles related to the decline in the utilisation of brachytherapy that I have discussed so far are directed to clinicians. But I think we as physicists have a role in promoting the use of brachytherapy. So, here is my list of more technically directed arguments for continuing to promote the use of brachytherapy:
Copyright information
© Australasian College of Physical Scientists and Engineers in Medicine 2016