Abstract
Mobile phones are becoming increasingly important in monitoring and delivery of healthcare interventions. They are often considered as pocket computers, due to their advanced computing features, enhanced preferences and diverse capabilities. Their sophisticated sensors and complex software applications make the mobile healthcare (m-health) based applications more feasible and innovative. In a number of scenarios user-friendliness, convenience and effectiveness of these systems have been acknowledged by both patients as well as healthcare providers. M-health technology employs advanced concepts and techniques from multidisciplinary fields of electrical engineering, computer science, biomedical engineering and medicine which benefit the innovations of these fields towards healthcare systems. This paper deals with two important aspects of current mobile phone based sensor applications in healthcare. Firstly, critical review of advanced applications such as; vital sign monitoring, blood glucose monitoring and in-built camera based smartphone sensor applications. Secondly, investigating challenges and critical issues related to the use of smartphones in healthcare including; reliability, efficiency, mobile phone platform variability, cost effectiveness, energy usage, user interface, quality of medical data, and security and privacy. It was found that the mobile based applications have been widely developed in recent years with fast growing deployment by healthcare professionals and patients. However, despite the advantages of smartphones in patient monitoring, education, and management there are some critical issues and challenges related to security and privacy of data, acceptability, reliability and cost that need to be addressed.
Access options
Buy single article
Instant access to the full article PDF.
USD 39.95
Price excludes VAT (USA)
Tax calculation will be finalised during checkout.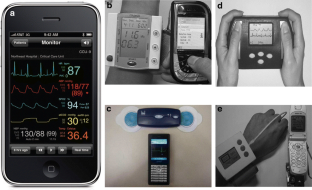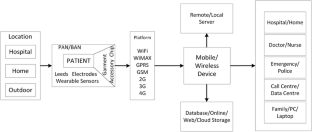 References
Wellens HJJ, Gorgels AP (2004) The electrocardiogram 102 years after Einthoven. Circulation 109(5):562–564

Kwon S, Lee J, Chung GS, Park KS (2011) Validation of heart rate extraction through an iPhone accelerometer. Paper presented at the Engineering in Medicine and Biology Society, EMBC, 2011 Annual International Conference of the IEEE, Boston, USA

Oresko JJ, Jin Z, Cheng J, Huang S, Sun Y, Duschl H, Cheng AC (2010) A wearable smartphone-based platform for real-time cardiovascular disease detection via electrocardiogram processing. Inf Technol Biomed IEEE Trans 14(3):734–740

Worringham C, Rojek A, Stewart I (2011) Development and feasibility of a smartphone, ECG and GPS based system for remotely monitoring exercise in cardiac rehabilitation. PLoS ONE 6(2):e14669

Chiu P, Lee T, Cheng J, Yeung ST (2011) Health guard system with emergency call based on smartphone. Paper presented at the IET International Communication Conference on Wireless Mobile and Computing (CCWMC 2011), Shanghai, China

Sikka N, Carlin KN, Pines J, Pirri M, Strauss R, Rahimi F (2012) The use of mobile phones for acute wound care: attitudes and opinions of emergency department patients. J Health Commun 17(sup1):37–43

Luxton DD, McCann RA, Bush NE, Mishkind MC, Reger GM (2011) mHealth for mental health: integrating smartphone technology in behavioral healthcare. Prof Psychol Res Pract 42(6):505–512

Kun LG (2001) Telehealth and the global health network in the 21st century. From homecare to public health informatics. Comput Methods Programs Biomed 64(3):155–167

Market Research (2013) mhealth apps and solutions market by connected devices—global trends and forecast to 2018. Market Research, Rockville

Reiswig J (2011) Apps: finding the best. J Med Libr Assoc 99(4):326–327

Population (2011) http://www.census.gov/. http://www.census.gov/. Accessed 1 Jan 2013

Pal S, Torres DC, Mantione MM (2013) The consumers of health care. In: Pharmacy and the US health care system, p 245

Keehan SP, Sisko AM, Truffer CJ, Poisal JA, Cuckler GA, Madison AJ, Lizonitz JM, Smith SD (2011) National health spending projections through 2020: economic recovery and reform drive faster spending growth. Health Aff 30(8):1594–1605

Truffer CJ, Keehan S, Smith S, Cylus J, Sisko A, Poisal JA, Lizonitz J, Clemens MK (2010) Health spending projections through 2019: the recession's impact continues. Health Aff 29(3):522–529

Williams J (2004) Wireless in healthcare: a study tracking the use of RFID, wireless sensor solutions, and telemetry technologies by medical device manufacturers and healthcare providers. The FocalPoint Group, USA

MobileSmith (2014) Mobile apps as tools of cost reduction in healthcare. MobileSmith, vol 39. Mobile Smith Inc, USA

World Health Organization (2002) Active ageing: a policy framework: a contribution of the second United Nations World Assembly on Ageing. World Health Organization, Geneva

Kinsella K, Phillips DR (2005) Global aging: the challenge of success. Popul Bull 60:1–40

National Institute of Statistics and Economic Studies (NISES) (2011) Population Statistics

Helen Bray (2008) National Population Projections. Office for National Statistics

Australian Bureau of Statistics (2010) Population by Age and Sex, regions of Australia

Statistics New Zealand (2007) New Zealand's 65 + Population: A statistical volume

Information and Communication Technology (ICT) Statistics (2011) ITU. http://www.itu.int/ITU-D/ict/index.html. Accessed 11 Mar 2013

Instruments National (2013) Smartphones and tablets for measurement and control. National Instruments, USA

Shih G, Lakhani P, Nagy P (2010) Is android or iPhone the platform for innovation in imaging informatics. J Digit Imaging 23(1):2–7

Rajan RD (2013) Wireless-Enabled Remote Patient Monitoring Solutions. Medical Design Technology (MDT). Qualcomm Incorporated, USA

Murdoch TB, Detsky AS (2013) The inevitable application of big data to health care. JAMA 309(13):1351–1352

Hung M-C, Jen W-Y (2012) The adoption of mobile health management services: an empirical study. J Med Syst 36(3):1381–1388. doi:10.1007/s10916-010-9600-2

Jiang Z, Gu X, Chen J, Wang D (2012) Development of an equipment room environment monitoring system based on wireless sensor network and mobile agent. Procedia Eng 29:262–267. doi:10.1016/j.proeng.2011.12.704

Mosa ASM, Yoo I, Sheets L (2012) A systematic review of healthcare applications for smartphones. BMC Med Inform Decis Mak 12(67):1–31

Klasnja P, Pratt W (2012) Healthcare in the pocket: mapping the space of mobile-phone health interventions. J Biomed Inform 45(1):184–198. doi:10.1016/j.jbi.2011.08.017

Ullah S, Higgins H, Braem B, Latre B, Blondia C, Moerman I, Saleem S, Rahman Z, Kwak K (2012) A comprehensive survey of wireless body area networks. J Med Syst 36(3):1065–1094. doi:10.1007/s10916-010-9571-3

Putzer GJ, Park Y (2012) Are physicians likely to adopt emerging mobile technologies? Attitudes and innovation factors affecting smartphone use in the southeastern United States. Perspect Health Inf Manag 9(1b):1–22

Pawar P, Jones V, van Beijnum BJF, Hermens H (2012) A framework for the comparison of mobile patient monitoring systems. J Biomed Inform 45(3):544–556

Lin C-F (2012) Mobile telemedicine: a survey study. J Med Syst 36(2):511–520. doi:10.1007/s10916-010-9496-x

Al Ameen M, Liu J, Kwak K (2012) Security and privacy issues in wireless sensor networks for healthcare applications. J Med Syst 36(1):93–101. doi:10.1007/s10916-010-9449-4

Franklin VL, Greene A, Waller A, Greene SA, Pagliari C (2008) Patients' engagement with "Sweet Talk"–a text messaging support system for young people with diabetes. J Med Internet Res 10(2):e20

Fjeldsoe BS, Marshall AL, Miller YD (2009) Behavior change interventions delivered by mobile telephone short-message service. Am J Prev Med 36(2):165–173

Abroms LC, Ahuja M, Kodl Y, Thaweethai L, Sims J, Winickoff JP, Windsor RA (2012) Text2Quit: results from a pilot test of a personalized, interactive mobile health smoking cessation program. J Health Commun 17(sup1):44–53

Free C, Knight R, Robertson S, Whittaker R, Edwards P, Zhou W, Rodgers A, Cairns J, Kenward MG, Roberts I (2011) Smoking cessation support delivered via mobile phone text messaging (txt2stop): a single-blind, randomised trial. Lancet 378(9785):49–55

Kwapisz JR, Weiss GM, Moore SA (2011) Activity recognition using cell phone accelerometers. ACM SIGKDD Explor Newsl 12(2):74–82

Moghaddam RF, Moghaddam FF, Cheriet M (2011) The bluenetwork concept. Cornell Univerrsity Library, cite as: Arxiv preprint arXiv:11100436

Preuveneers D, Berbers Y (2008) Mobile phones assisting with health self-care: a diabetes case study. In: MobileHCI '08 Proceedings of the 10th international conference on human computer interaction with mobile devices and services Amsterdam, The Netherlands, ACM, pp 177–186

Bayira MA, Demirbasa M, Eagleb N (2010) Mobility profiler: a framework for discovering mobility profiles of cell phone users. Pervasive Mob Comput 6(4):435–454

AirStrip Technologies (2012)) Airstrip Technologies remote continuous vital sign monitoring via the iPhone. http://www.airstriptech.com/

Topol EJ (2010) Transforming medicine via digital innovation. Sci Transl Med 2(16):16cm14

Ren-Guey L, Kuei-Chien C, Chun-Chieh H, Chwan-Lu T (2007) A mobile care system with alert mechanism. Inf Technol Biomed IEEE Trans 11(5):507–517. doi:10.1109/titb.2006.888701

Pollonini L, Rajan N, Xu S, Madala S, Dacso C (2012) A novel handheld device for use in remote patient monitoring of heart failure patients—design and preliminary validation on healthy subjects. J Med Syst 36(2):653–659. doi:10.1007/s10916-010-9531-y

Atoui H, Fayn J, Rubel P (2010) A novel neural-network model for deriving standard 12-lead ECGs from serial three-lead ECGs: application to self-care. IEEE Trans Inf Technol Biomed 14(3):883–890

Jae Min K, Yoo T, Hee Chan K (2006) A wrist-worn integrated health monitoring instrument with a tele-reporting device for telemedicine and telecare. Instrum Meas IEEE Trans 55(5):1655–1661. doi:10.1109/tim.2006.881035

Farmer A, Gibson O, Hayton P, Bryden K, Dudley C, Neil A, Tarassenko L (2005) A real-time, mobile phone-based telemedicine system to support young adults with type 1 diabetes. Inform Prim Care 13(3):171–178

Tatara N, Årsand E, Hartvigsen G (2010) Patient-user involvement for designing a self-help tool for Type 2 diabetes. In: Therapeutic Strategies A Challenge for User Involvement in Design, Reykjavik, Iceland. Department of Computer Science Aarhus University, pp 53–55

Tatara N (2009) Designing mobile patient-centric self-help terminals for people with diabetes. In: MobileHCI '09 proceedings of the 11th international conference on human-computer interaction with mobile devices and services bonn, Germany, ACM

Tatara N, Arsand E, Nilsen H, Hartvigsen G (2009) A review of mobile terminal-based applications for self-management of patients with diabetes. In: International Conference on eHealth, Telemedicine, and Social Medicine, 2009. eTELEMED '09. Cancun, IEEE, pp 166–175

Årsand E, Tatara N, Østengen G, Hartvigsen G (2010) Mobile phone-based self-management tools for type 2 diabetes: the few touch application. Journal of Diabetes Science and Technology 4(2):328

Cho JH, Lee HC, Lim DJ, Kwon HS, Yoon KH (2009) Mobile communication using a mobile phone with a glucometer for glucose control in type 2 patients with diabetes: as effective as an internet-based glucose monitoring system. J Telemed Telecare 15(2):77–82

AgaMatrix (2012) JAZZ-blood glucose monitoring system. http://www.wavesense.info/wavesense-jazz. Accessed 23 June 2013

Leijdekkers P, Gay V (2006) Personal heart monitoring and rehabilitation system using smart phones. In: International Conference on Mobile Business, 2006. ICMB '06. Copenhagen. IEEE, pp 29–29

Chung WY, Yau CL, Shin KS, Myllyla R (2007) A cell phone based health monitoring system with self analysis processor using wireless sensor network technology. Paper presented at the Engineering in Medicine and Biology Society, 2007. EMBS 2007. 29th Annual International Conference of the IEEE, Lyon

Quero JM, Tarrida CL, Santana J, Ermolov V, Jantunen I, Laine H, Eichholz J (2007) Health care applications based on mobile phone centric smart sensor network. In: Engineering in Medicine and Biology Society, 2007. EMBS 2007. 29th Annual International Conference of the IEEE, Lyon. IEEE, pp 6298–6301

BuleSpark (2012) Heart monitor for iPhone. http://bluespark.co.nz/heartmonitor.php. Accessed 23 June 2013

Azumia (2012) Instant heart rate. http://www.azumio.com/apps/heart-rate/. Accessed 23 June 2013

Macropinch (2012) Personal heart rate meter. http://macropinch.com/cardiograph. Accessed 23 June 2013

Okumura F, Kubota A, Hatori Y, Matsuo K, Hashimoto M, Koike A (2006) A study on biometric authentication based on arm sweep action with acceleration sensor. In: Intelligent Signal Processing and Communications, 2006. ISPACS '06. International Symposium on, Yonago. IEEE, pp 219–222

Richard WD, Zar D (2009) Ultrasound imaging now possible with a smartphone. http://news.wustl.edu/news/Pages/13928.aspx. Accessed 23 June 2013

Breslauer DN, Maamari RN, Switz NA, Lam WA, Fletcher DA (2009) Mobile phone based clinical microscopy for global health applications. PLoS ONE 4(7):e6320. doi:10.1371/journal.pone.0006320

Zhu H, Mavandadi S, Coskun AF, Yaglidere O, Ozcan A (2011) Optofluidic fluorescent imaging cytometry on a cell-phone. Anal Chem 83(17):6641–6647. doi:10.1021/ac201587a

Mitra U, Emken BA, Lee S, Li M, Rozgic V, Thatte G, Vathsangam H, Zois DS, Annavaram M, Narayanan S, Levorato M, Spruijt-Metz D, Sukhatme G (2012) KNOWME: a case study in wireless body area sensor network design. Commun Mag IEEE 50(5):116–125. doi:10.1109/mcom.2012.6194391

Kugler P, Schuldhaus D, Jensen U, Eskofier B (2011) Mobile recording system for sport applications. In: Proceedings of the 8th international symposium on computer science in sport (IACSS 2011), Liverpool, pp 67–70

Jones S, Fox S (2009) Generations online in 2009. Pew Internet & American Life Project, Washington, DC, pp 1–9

Wei H, Li H, Tan J (2012) Body sensor network based context-aware QRS detection. J Signal Process Syst 67(2):93–103. doi:10.1007/s11265-010-0507-4

Rothman B, Leonard JC, Vigoda MM (2012) Future of electronic health records: implications for decision support. Mt Sinai J Med 79(6):757–768

Donker T, Petrie K, Proudfoot J, Clarke J, Birch M-R, Christensen H (2013) Smartphones for smarter delivery of mental health programs: a systematic review. J Med Internet Res 15(11):e247

Fletcher RR, Tam S, Omojola O, Redemske R, Kwan J (2011) Wearable sensor platform and mobile application for use in cognitive behavioral therapy for drug addiction and PTSD. In: Engineering in Medicine and Biology Society, EMBC, 2011 Annual International Conference of the IEEE. IEEE, pp 1802–1805

Kulkarni P, Ozturk Y (2011) mPHASiS: mobile patient healthcare and sensor information system. J Netw Comput Appl 34(1):402–417. doi:10.1016/j.jnca.2010.03.030

Rabin C, Bock B (2011) Desired features of smartphone applications promoting physical activity. Telemed e-Health 17(10):801–803. doi:10.1089/tmj.2011.0055

Verkasalo H, López-Nicolás C, Molina-Castillo FJ, Bouwman H (2010) Analysis of users and non-users of smartphone applications. Telemat Inform 27(3):242–255

Giota KG, Kleftaras G (2014) Mental health apps: innovations, risks and ethical considerations. E-Health Telecommun Syst Netw 3(03):19

Alemdar H, Ersoy C (2010) Wireless sensor networks for healthcare: a survey. Comput Netw 54(15):2688–2710

Kyriacou E, Constantinides P, Pattichis C, Pattichis M, Panayides A (2011) eEmergency health care information systems. In: Engineering in Medicine and Biology Society, EMBC, 2011 Annual International Conference of the IEEE, Boston, MA. IEEE, pp 2501–2504

Kumar S, Kambhatla K, Hu F, Lifson M, Xiao Y (2008) Ubiquitous computing for remote cardiac patient monitoring: a survey. Int J Telemed Appl 2008(Spl):1–19. doi:10.1155/2008/459185

Kamel Boulos MN, Wheeler S, Tavares C, Jones R (2011) How smartphones are changing the face of mobile and participatory healthcare: an overview, with example from eCAALYX. BioMed Eng OnLine 10(1):1–14. doi:10.1186/1475-925x-10-24

Lane ND, Miluzzo E, Hong L, Peebles D, Choudhury T, Campbell AT (2010) A survey of mobile phone sensing. Commun Mag IEEE 48(9):140–150. doi:10.1109/mcom.2010.5560598

Pantelopoulos A, Bourbakis NG (2010) A survey on wearable sensor-based systems for health monitoring and prognosis. Syst Man Cybern Part C Appl Rev IEEE Trans 40(1):1–12

Latré B, Braem B, Moerman I, Blondia C, Demeester P (2011) A survey on wireless body area networks. Wirel Netw 17(1):1–18. doi:10.1007/s11276-010-0252-4

Liu L, Liu J (2011) Biomedical sensor technologies on the platform of mobile phones. Front Mech Eng 6(2):160–175. doi:10.1007/s11465-011-0216-0

Ming L, Wenjing L, Kui R (2010) Data security and privacy in wireless body area networks. Wirel Commun IEEE 17(1):51–58. doi:10.1109/mwc.2010.5416350

Mughal A, Kanjee M, Liu H (2010) Mobile healthcare infrastructure with Qos and security. In: Cai Y, Cai Y, Magedanz T, Li M, Xia J, Giannelli C (eds) Lecture notes of the institute for computer sciences, social informatics and telecommunications engineering, vol vol 48. Springer, Berlin Heidelberg, pp 462–473. doi:10.1007/978-3-642-17758-3_36

Mosa ASM, Yoo I, Sheets L (2012) A systematic review of healthcare applications for smartphones. BMC Med Inform Decis Mak 12(1):67. doi:10.1186/1472-6947-12-67

Lee HJ, Lee SH, Ha K-S, Jang HC, Chung W-Y, Kim JY, Chang Y-S, Yoo DH (2009) Ubiquitous healthcare service using Zigbee and mobile phone for elderly patients. Int J Med Inform 78(3):193–198

Schleyer T, Mattsson U, Ni Riordain R, Brailo V, Glick M, Zain R, Jontell M (2011) Advancing oral medicine through informatics and information technology: a proposed framework and strategy. Oral Dis 17(Supplement S1):85–94

Steele R, Lo A, Secombe C, Wong YK (2009) Elderly persons' perception and acceptance of using wireless sensor networks to assist healthcare. Int J Med Inform 78(12):788–801

Dilmaghani RS, Bobarshad H, Ghavami M, Choobkar S, Wolfe C (2011) Wireless sensor networks for monitoring physiological signals of multiple patients. IEEE Trans Biomed Circuits Syst 5(4):347–356

Atienza AA, Patrick K (2011) Mobile health: the killer app for cyberinfrastructure and consumer health. Am J Prev Med 40(5, Supplement 2):S151–S153. doi:10.1016/j.amepre.2011.01.008

Bergmann J, McGregor A (2011) Body-worn sensor design: what do patients and clinicians want? Ann Biomed Eng 39(9):2299–2312. doi:10.1007/s10439-011-0339-9

Lee Y-D, Chung W-Y (2009) Wireless sensor network based wearable smart shirt for ubiquitous health and activity monitoring. Sens Actuators B Chem 140(2):390–395

Bianchi AM, Mendez MO, Cerutti S (2010) Processing of signals recorded through smart devices: sleep-quality assessment. IEEE Trans Inf Technol Biomed 14(3):741–747

Coyle S, King-Tong L, Moyna N, O'Gorman D, Diamond D, Di Francesco F, Costanzo D, Salvo P, Trivella MG, De Rossi DE, Taccini N, Paradiso R, Porchet JA, Ridolfi A, Luprano J, Chuzel C, Lanier T, Revol-Cavalier F, Schoumacker S, Mourier V, Chartier I, Convert R, De-Moncuit H, Bini C (2010) BIOTEX-biosensing textiles for personalised healthcare management. IEEE Trans Inf Technol Biomed 14(2):364–370

López G, Custodio V, Moreno JI (2010) LOBIN: e-textile and wireless-sensor-network-based platform for healthcare monitoring in future hospital environments. IEEE Trans Inf Technol Biomed 14(6):1446–1458

Di Rienzo M, Meriggi P, Rizzo F, Castiglioni P, Lombardi C, Ferratini M, Parati G (2010) Textile technology for the vital signs monitoring in telemedicine and extreme environments. IEEE Trans Inf Technol Biomed 14(3):711–717

Taleb T, Bottazzi D, Guizani M, Nait-Charif H (2009) Angelah: a framework for assisting elders at home. Sel Areas Commun IEEE J 27(4):480–494

Ho C, Weihua Z (2010) Bluetooth-enabled in-home patient monitoring system: early detection of Alzheimer's disease. IEEE Wirel Commun 17(1):74–79

Yong Gyu L, Ko Keun K, Kwang Suk P (2007) ECG recording on a bed during sleep without direct skin-contact. Biomedl Eng IEEE Trans 54(4):718–725

Lim Y, Hong K, Kim K, Shin J, Lee S, Chung G, Baek H, Jeong D-U, Park K (2011) Monitoring physiological signals using nonintrusive sensors installed in daily life equipment. Biomed Eng Lett 1(1):11–20. doi:10.1007/s13534-011-0012-0

Kim Y, Baek H, Kim J, Lee H, Choi J, Park K (2009) Helmet-based physiological signal monitoring system. Eur J Appl Physiol 105(3):365–372. doi:10.1007/s00421-008-0912-6

Saito M, Nakajima K, Takano C, Ohta Y, Sugimoto C, Ezoe R, Sasaki K, Hosaka H, Ifukube T, Ino S, Yamashita K (2011) An in-shoe device to measure plantar pressure during daily human activity. Med Eng Phys 33(5):638–645

Bodin O, Loginov D, Mitrokhina N (2008) Improvement of ECG analysis for monitoring of cardiac electrical activity. Biomed Eng 42(3):128–131. doi:10.1007/s10527-008-9030-3

Übeyli ED (2008) Recurrent neural networks with composite features for detection of electrocardiographic changes in partial epileptic patients. Comput Biol Med 38(3):401–410

Uzoka F-ME, Obot O, Barker K, Osuji J (2011) An experimental comparison of fuzzy logic and analytic hierarchy process for medical decision support systems. Comput Methods Programs Biomed 103(1):10–27

Tseng C-E, Peng C-Y, Chang M-W, Yen J-Y, Lee C-K, Huang T-S (2010) Novel approach to fuzzy-wavelet ECG signal analysis for a mobile device. J Med Syst 34(1):71–81. doi:10.1007/s10916-008-9217-x

La Foresta F, Mammone N, Morabito FC (2009) PCA–ICA for automatic identification of critical events in continuous coma-EEG monitoring. Biomed Signal Process Control 4(3):229–235

Ehmen H, Haesner M, Steinke I, Dorn M, Gövercin M, Steinhagen-Thiessen E (2012) Comparison of four different mobile devices for measuring heart rate and ECG with respect to aspects of usability and acceptance by older people. Appl Ergon 43(3):582–587. doi:10.1016/j.apergo.2011.09.003

Li H-B, Kohno R (2011) Standardization on body area network and a prototype system based on UWB. J Med Syst 35(5):1–9. doi:10.1007/s10916-011-9662-9

Di Marco L, Chiari L (2011) A wavelet-based ECG delineation algorithm for 32-bit integer online processing. BioMed Eng Online 10(1):1–19. doi:10.1186/1475-925x-10-23

Patrick K, Griswold WG, Raab F, Intille SS (2008) Health and the mobile phone. Am J Prev Med 35(2):177–181

Hairong Y, Hongwei H, Youzhi X, Gidlund M (2010) Wireless sensor network based E-health system-Implementation and experimental results. IEEE Trans Consum Electron 56(4):2288–2295

Yonglin R, Pazzi RWN, Boukerche A (2010) Monitoring patients via a secure and mobile healthcare system. Wirel Commun IEEE 17(1):59–65

Chan V, Ray P, Parameswaran N (2008) Mobile e-Health monitoring: an agent-based approach. IET Commun 2(2):223–230

Bayilmis C, Younis M (2012) Energy-aware gateway selection for increasing the lifetime of wireless body area sensor networks. J Med Syst 36(3):1593–1601. doi:10.1007/s10916-010-9620-y

Long Y, Joonsung B, Seulki L, Taehwan R, Kiseok S, Hoi-Jun Y (2011) A 3.9 mW 25-electrode reconfigured sensor for wearable cardiac monitoring system. IEEE J Solid-State Circuits 46(1):353–364

Yoo J, Long Y, Seulki L, Yongsang K, Hoi-Jun Y (2010) A 5.2 mW self-configured wearable body sensor network controller and a 12 $mu$ w wirelessly powered sensor for a continuous health monitoring system. Solid-State Circuits IEEE J 45(1):178–188

Honggang W, Dongming P, Wei W, Sharif H, Hsiao-hwa C, Khoynezhad A (2010) Resource-aware secure ECG healthcare monitoring through body sensor networks. Wirel Commun IEEE 17(1):12–19

Lane ND, Miluzzo E, Lu H, Peebles D, Choudhury T, Campbell AT (2010) A survey of mobile phone sensing. Commun Mag IEEE 48(9):140–150

Wang Y, Lin J, Annavaram M, Jacobson QA, Hong J, Krishnamachari B, Sadeh N (2009) A framework of energy efficient mobile sensing for automatic user state recognition. In: Proceedings of the 7th international conference on Mobile systems, applications, and services, ACM, pp 179–192

Hassanzadeh R, Sahama T, Fidge C (2010) A secure framework and related protocols for ubiquitous access to electronic health records using Java sim cards. In: E-Health. Springer, Heidelberg, pp 102–113

Pathak A, Hu YC, Zhang M (2012) Where is the energy spent inside my app?: fine grained energy accounting on smartphones with Eprof. Paper presented at the Proceedings of the 7th ACM European conference on Computer Systems, Bern, Switzerland

Khandoker AH, Karmakar CK, Palaniswami M (2011) Comparison of pulse rate variability with heart rate variability during obstructive sleep apnea. Med Eng Phys 33(2):204–209

Dong-Her S, Hsiu-Sen C, Binshan L, Shih-Bin L (2010) An embedded mobile ecg reasoning system for elderly patients. Inf Technol Biomed IEEE Trans 14(3):854–865

Rashid RA, Rahim MRA, Sarijari MA, Mahalin N (2008) Design and implementation of Wireless Biomedical Sensor Networks for ECG home health monitoring. In: Electronic Design, 2008. ICED 2008. International Conference on, 1–3 Dec 2008. pp 1–4

Tatara E, Cinar A (2002) Interpreting ECG data by integrating statistical and artificial intelligence tools. Eng Med Biol Mag IEEE 21(1):36–41

Garcia J, Martinez I, Sornmo L, Olmos S, Mur A, Laguna P (2002) Remote processing server for ECG-based clinical diagnosis support. Inf Technol Biomed IEEE Trans 6(4):277–284

Hernandez AI, Mora F, Villegas M, Passariello G, Carrault G (2001) Real-time ECG transmission via internet for nonclinical applications. Inf Technol Biomed IEEE Trans 5(3):253–257

Wan-Young C, Seung-Chul L, Sing-Hui T (2008) WSN based mobile u-healthcare system with ECG, blood pressure measurement function. In: Engineering in Medicine and Biology Society, 2008. EMBS 2008. 30th Annual International Conference of the IEEE, 20–25 Aug 2008. pp 1533–1536

Apiletti D, Baralis E, Bruno G, Cerquitelli T (2009) Real-time analysis of physiological data to support medical applications. Inf Technol Biomed IEEE Trans 13(3):313–321

Pandian PS, Mohanavelu K, Safeer KP, Kotresh TM, Shakunthala DT, Gopal P, Padaki VC (2008) Smart vest: wearable multi-parameter remote physiological monitoring system. Med Eng Phys 30(4):466–477

Kotz D, Avancha S, Baxi A (2009) A privacy framework for mobile health and home-care systems. Paper presented at the Proceedings of the first ACM workshop on Security and privacy in medical and home-care systems, Chicago, Illinois

Xiaodong L, Rongxing L, Xuemin S, Nemoto Y, Kato N (2009) Sage: a strong privacy-preserving scheme against global eavesdropping for ehealth systems. Sel Areas Commun IEEE J 27(4):365–378. doi:10.1109/jsac.2009.090502

Carrión I, Fernández-Alemán J, Toval A (2011) Usable privacy and security in personal health records human-computer interaction—INTERACT 2011. In: Campos P, Graham N, Jorge J, Nunes N, Palanque P, Winckler M (eds) Lecture notes in computer science, vol vol 6949. Springer, Berlin/Heidelberg, pp 36–43. doi:10.1007/978-3-642-23768-3_3

Ng H, Sim M, Tan C (2006) Security issues of wireless sensor networks in healthcare applications. BT Technol J 24(2):138–144

Kargl F, Lawrence E, Fischer M, Lim YY (2008) Security, privacy and legal issues in pervasive ehealth monitoring systems. In: Mobile Business, 2008. ICMB '08. 7th International Conference on, Barcelona. IEEE, pp 296–304

Williams J (2010) Social networking applications in health care: threats to the privacy and security of health information. Paper presented at the Proceedings of the 2010 ICSE Workshop on Software Engineering in Health Care, Cape Town, South Africa

Deng J, Han R, Mishra S (2006) Decorrelating wireless sensor network traffic to inhibit traffic analysis attacks. Pervasive Mob Comput 2(2):159–186

Weerasinghe D, Rajarajan M, Rakocevic V (2009) Device data protection in mobile healthcare applications electronic healthcare. In: Weerasinghe D (ed) Lecture notes of the institute for computer sciences, social informatics and telecommunications engineering, vol vol 0001. Springer, Berlin Heidelberg, pp 82–89. doi:10.1007/978-3-642-00413-1_10

Klingeberg T, Schilling M (2012) Mobile wearable device for long term monitoring of vital signs. Comput Methods Programs Biomed 106(2):89–96. doi:10.1016/j.cmpb.2011.12.009

Li N, Zhang N, Das SK, Thuraisingham B (2009) Privacy preservation in wireless sensor networks: a state-of-the-art survey. Ad Hoc Netw 7(8):1501–1514. doi:10.1016/j.adhoc.2009.04.009

Payne JD (2013) The state of standards and interoperability for mhealth. vol March 2013. mHelath Alliance

Postolache O, Girao PS, Ribeiro M, Guerra M, Pincho J, Santiago F, Pena A (2011) Enabling telecare assessment with pervasive sensing and Android OS smartphone. In: Medical Measurements and Applications Proceedings (MeMeA), 2011 IEEE International Workshop on, Bari, Italy. IEEE, pp 288–293

Rui X, Wunsch DC (2010) Clustering algorithms in biomedical research: a review. Biomed Eng IEEE Rev 3:120–154

Brownsell S, Bradley D, Blackburn S, Cardinaux F, Hawley MS (2011) A systematic review of lifestyle monitoring technologies. J Telemed Telecare 17(4):185–189. doi:10.1258/jtt.2010.100803

Keijsers NLW, Horstink MWIM, Gielen SCAM (2003) Online monitoring of dyskinesia in patients with Parkinson's disease. Eng Med Biol Mag IEEE 22(3):96–103
Conflict of interest
The authors declare no conflict of interest.
About this article
Cite this article
Baig, M.M., GholamHosseini, H. & Connolly, M.J. Mobile healthcare applications: system design review, critical issues and challenges. Australas Phys Eng Sci Med 38, 23–38 (2015). https://doi.org/10.1007/s13246-014-0315-4
Received:

Accepted:

Published:

Issue Date:

DOI: https://doi.org/10.1007/s13246-014-0315-4
Keywords