Abstract
This paper introduces a new method addressing depth of anaesthesia (DoA) assessment for real-time monitoring. The new method uses a combination of phase and amplitude of electroencephalogram (EEG) signals to assess the DoA level. A strong analytical signal transform is applied to extract the phase and amplitude information of the recorded EEG signals. Based on the extracted features from the EEG signal in each different frequency band, a new DoA index is developed. The proposed new DoA index is evaluated using data from adult patients in an age range from 22 to 75 years. The results show that the new DoA index is able to detect the changing pattern of EEG signals early and agree with the clinical notes of an attending anaesthetist. The results are also closely correlated with the popular BIS index. Furthermore, the proposed new DoA index is able to detect the state changes earlier than the BIS index.
Access options
Buy single article
Instant access to the full article PDF.
USD 39.95
Price includes VAT (USA)
Tax calculation will be finalised during checkout.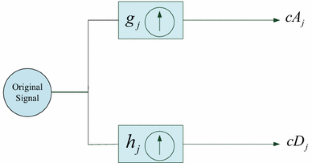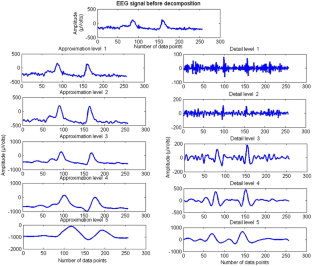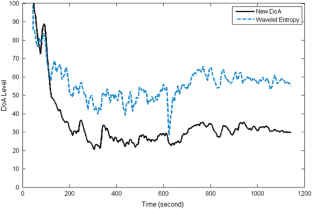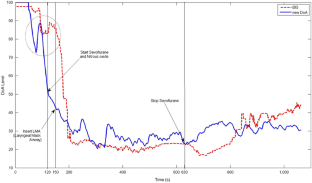 References
1.

Kelley SD (2003) Monitoring level of consciousness during anesthesia and sedation. Aspect Medical Systems Inc, Boulder

2.

Bischoff P, Schmidt GN, Schulte J (2000) Assessment of depth of anaesthesia. Bailliere's Clin Anaesthesiol 14(2):321–334

3.

Bowdle TA (2006) Depth of anesthesia monitoring. Anesthesiol Clin 24(06):793–822

4.

System AM (2009) Executive summary—BIS monitorig. ASPECT medical systems. http://www.aspectmedical.com/Files/file/Doc/ExecutiveSummary1.pdf. Accessed 20 June 2012

5.

Johansen JW (2006) Update on bispectral index monitoring. Best Pract Res Clin Anaesthesiol 20(1):81–99

6.

Frey R (2007–2011) Bispectral index. Encyclopedia of surgery. Advameg Inc. http://www.surgeryencyclopedia.com/A-Ce/Bispectral-Index.html. Accessed 20 March 2014

7.

Zanner R, Pilge S, Kochs EF, Kreuzer M, Schneider G (2009) Time delay of electroencephalogram index calculation: analysis of cerebral state, bispectral, and narcotrend indices using perioperatively recorded electroencephalographic signals. Br J Anaesth 103(3):394–399

8.

Musizza B, Ribaric S (2010) Monitoring the depth of anaesthesia. Sens Open Access J Sci Technol Sens Biosens 10(12):10896–10935

9.

Kschischang FR (2006) The Hilbert transform. Electrical and Computer Engineering, University of Toronto, Toronto

10.

Krishnaveni V, Jayaraman S, Aravind S, Hariharasudhan V, Ramadoss K (2006) Automatic identification and removal of ocular artifacts from EEG using wavelet transform. Meas Sci Rev 6(4):45–57

11.

Jensen EW, Litvan H, Struys M, Vazquez PM (2004) Pitfalls and challenges when assessing the depth of hypnosis during general anaesthesia by clinical signs and electronic indices. Acta Anaesthesiol Scand 48(10):1260–1267

12.

Morsi WG, El-Hawary ME (2008) A new perspective for the IEEE standard 1459-2000 via stationary wavelet transform in the presence of nonstationary power quality disturbance. IEEE Trans Power Deliv 23(4):2356–2365

13.

Suyi L, Jun L (2009) The optimal de-noising algorithm for ECG using stationary wavelet transform. In: Proceedings of WRI world congress on computer science and information engineering 31 March–2 April 2009, pp 469–473

14.

Misiti M, Misiti Y, Oppenheim G, Poggi J-M (2009) Wavelet toolbox 4 user guide. The MathWorks Inc., Natick

15.

Nason GP, Silverman BW (1995) The stationary wavelet transform and some statistical applications. In: Antoniadis A, Oppenheim G (eds) Wavelets and statistics, vol 103. Lecture notes in statistics, Springer, New York, pp 281–299

16.

Donoho DL (1995) De-noising by soft-thresholding. IEEE Trans Inf Theory 41(3):613–627

17.

Rampil IJ (1998) A primer for EEG signal processing in anesthesia. Anesthesiology 89(4):980–1002

18.

He Z-y, Chen X, Luo G (2006) Wavelet entropy measure definition and its application for transmission line fault detection and identification; (Part I: definition and methodology). In: Proceedings of international conference on power system technology, 22–26 Oct 2006, pp 1–6. doi:10.1109/ICPST.2006.321939

19.

Zhiqian Y, Fuying T, Jianfeng W (2005) EEG signal processing in anesthesia-using wavelet-based informational tools. In: Proceedings of IEEE-EMBS 2005. 27th annual international conference of the engineering in medicine and biology society, 1–4 Sept 2005, pp 4127–4129. doi:10.1109/iembs.2005.1615371

20.

Freye E (2005) Cerebral monitoring in the OR and ICU. Springer, The Netherlands

21.

Dutt A, Joad AK, Sharma M (2012) Induction for classic laryngeal mask airway insertion: does low-dose fentanyl work? J Anaesthesiol Clin Pharmacol 28(2):210
About this article
Cite this article
Palendeng, M.E., Wen, P. & Li, Y. Real-time depth of anaesthesia assessment using strong analytical signal transform technique. Australas Phys Eng Sci Med 37, 723–730 (2014). https://doi.org/10.1007/s13246-014-0309-2
Received:

Accepted:

Published:

Issue Date:
Keywords
Depth of anaesthesia

Strong analytical signal

BIS

Stationary wavelet transform

EEG signal