Abstract
In this paper game theory is applied to maximise profit by identifying the optimal channel to collect and remanufacture used products in an electronic equipment retail network context. Without a detailed method to compute reverse logistics cost, the most profitable channel may not be chosen. Therefore, the main aim of the paper is to realistically model manufacturer, retailer and third-party as three different collection channel options to compete over return rates. A more realistic and detailed method to compute the reverse logistics cost is introduced because it is crucial in determining the most profitable channel. In the non-cooperative and cooperative version of the game the manufacturer gains the highest and the retailer the second highest payoff, since both players benefit from selling new products. Furthermore, the third-party can turn the collection of used products into a successful business by using synergy effects between different clients within the logistics network. There is consistency between the results of the non-cooperative and the cooperative version of the game. Moreover, if fines are imposed externally (for example by legislation), the best option is to cooperate in the grand coalition. Subcontracting the third-party yields the highest payoffs due to their lowest reverse logistics cost.
This is a preview of subscription content, log in to check access.
Access options
Buy single article
Instant access to the full article PDF.
US$ 39.95
Price includes VAT for USA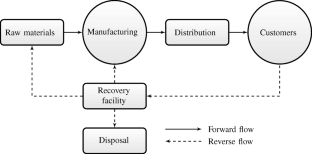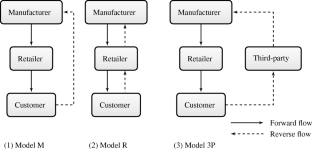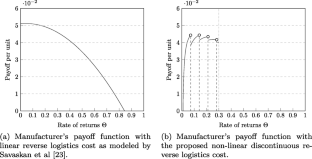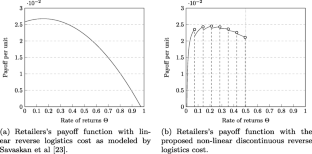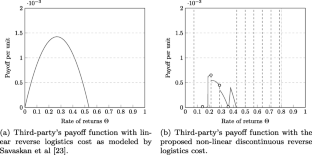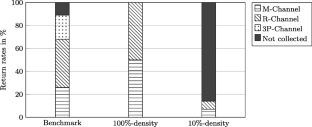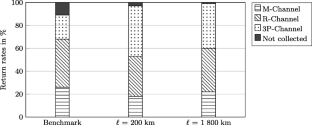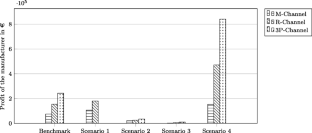 References
1.

Aras N, Boyaci T, Verter V (2010) Designing the reverse logistics network. In: Ferguson ME, Souza GC (eds) Closed-loop supply chains: new developments to improve the sustainability of business practices, CRC press, pp 67–97

2.

Atasu A, Guide VDR, Wassenhove LN (2008) Product reuse economics in closed-loop supply chain research. Prod Oper Manag 17(5):483–496

3.

Atasu A, Toktay LB, Van Wassenhove LN (2013) How collection cost structure drives a manufacturer's reverse channel choice. Prod Oper Manag 22(5):1089–1102

4.

Chopra S (2003) Designing the distribution network in a supply chain. Transportation Research Part E:, Logistics and Transportation Review 39 (2):123–140

5.

Chuang CH, Wang CX, Zhao Y (2014) Closed-loop supply chain models for a high-tech product under alternative reverse channel and collection cost structures. Int J Prod Econ 156:108–123

6.

Daganzo CF (1984) The length of tours in zones of different shapes. Trans Res Part B:, Methodological 18(2):135–145

7.

Daganzo CF (1991) Logistics systems analysis. Springer, Berlin

8.

European Commission (2012) Directive 2012/19/eu or the european parliament and of the council of 4 july 2012 on waste electrical and electronic equipment (weee). http://eur-lex.europa.eu/legal-content/EN/TXT/?uri=CELEX:32012L0019

9.

European Commission (2016) Waste electrical & electronic equipment (weee). http://ec.europa.eu/environment/waste/weee/index_en.htm

10.

Fiacco AV (1983) Introduction to sensitivity and stability analysis in nonlinear programming. Academic Press, New York

11.

Fleischmann M (2003) Reverse logistics network structures and design. https://ssrn.com/abstract=370907

12.

Fleischmann M, Bloemhof-Ruwaard JM, Beullens P, Dekker R (2004) Reverse logistics network design. In: Dekker R, Fleischmann M, Inderfurth K, Van Wassenhove LN (eds) Reverse Logistics. Springer, Berlin, pp 65–94

13.

Ginsburg J (2001) Manufacturing: Once is not enough. more companies are finding profits in remanufacturing. http://www.bloomberg.com/news/articles/2001-04-15/manufacturing-once-is-not-enough

14.

GlobalPetrolPricescom (2016a) Gasoline prices in europe, 10-oct-2016. http://www.globalpetrolprices.com/gasoline_prices/Europe/

15.

GlobalPetrolPricescom (2016b) Gasoline prices in north america, 10-oct-2016 http://www.globalpetrolprices.com/gasoline_prices/North-America/

16.

Govindan K, Soleimani H, Kannan D (2015) Reverse logistics and closed-loop supply chain: a comprehensive review to explore the future. Eur J Oper Res 240(3):603–626

17.

Hofmann F (2017) Choosing optimal reverse channel structures for the collection of used products. Masters thesis Departent of Logistics. Stellenbosch University, Stellenbosch

18.

Nelson K, Thomas J (2006) Encyclopedia of management. scenario planning. http://go.galegroup.com.ez.sun.ac.za/ps/i.do?p=GVRLsw=wu=27uosv=2.1it=rid=GALE

19.

Newell GF, Daganzo CF (1986) Design of multiple-vehicle delivery tours i: a ring-radial network. Trans Res Part B:, Methodol 20(5):345–363

20.

Pan X (2008) Platinum ratio search versus golden ratio search. Omega 36(6):1053–1056

21.

Rodrigue JP, Comtois c, Slack B (2013) The geography of transport systems. Routledge, Evanston

22.

Savaskan RC, Van Wassenhove LN (2006) Reverse channel design: the case of competing retailers. Manag Sci 52(1):1–14

23.

Savaskan RC, Bhattacharya S, Van Wassenhove LN (2004) Closed-loop supply chain models with product remanufacturing. Manage Sci 50(2):239–252

24.

Sundin E, Sakao T, Lindahl M, Kao C, Joungerious B, Ijomah W (2020) Business model landscape report. https://www.remanufacturing.eu/about-remanufacturing.php

25.

The Global Property Guide (2016a) Europe: Square metre prices. http://www.globalpropertyguide.com/Europe/square-meter-prices

26.

The Global Property Guide (2016b) North-america: Square metre prices. http://www.globalpropertyguide.com/North-America/square-meter-prices

27.

Vieira P, Vieira S, Gomes M, Barbosa-Povoa A, Sousa J (2015) Designing closed-loop supply chains with nonlinear dimensioning factors using ant colony optimization. Soft Comput 19(8):2245–2264

28.

Walsh GR (1975) Methods of optimization, John Wiley & Sons, Hoboken

29.

Wojanowski R, Verter V, Boyaci T (2007) Retail–collection network design under deposit–refund. Comput Operat Res 34(2):324–345
Additional information
Publisher's note
Springer Nature remains neutral with regard to jurisdictional claims in published maps and institutional affiliations.
About this article
Cite this article
Hofmann, F.M., Visagie, S.E. Choosing reverse logistics channel structures for the return of end-of-life products. Jnl Remanufactur 10, 239–258 (2020). https://doi.org/10.1007/s13243-020-00087-7
Received:

Accepted:

Published:

Issue Date:
Keywords
Non-linear and discontinuous logistics payoff functions

Closed-loop supply chains

Reverse logistics

Game theory