Abstract
Recycled gypsum derived from post-consumer sources is a promising resource that can be reincorporated in the production chain, offering opportunities to decrease manufacturing costs given its significantly lower price compared to conventional gypsum. The systematic usage of post-consumer recycled gypsum is a relatively new practice in the plasterboard industry and there is lack of extensive literature references on the potential effects on the manufacturig process, since the available related studies are limited to more holistic approaches. The current work is, to our knowledge, the first study to assess the practice of gypsum recycling from an economical and technical point of view within the boundaries of the plasterboard manufacturing process. The paper provides a detailed techno-economic impact assessment of the usage of recycled gypsum up to 30% by weight in feedstock in the manufacturing of Type A plasterboard, based on data collected from full-scale industrial production trials carried out in five representative European plants located in four different countries. The potential impacts are analyzed in relation to each affected process parameter. A series of options for process adjustments, modifications and corrective measures in order to amortize the effects on product quality and/or cost are also reported. The analysis indicates high dependence of the cost impacts on process-specific characteristics. A limited reduction of 0.6% in the average total manufacturing cost per m2 of plasterboard was calculated, which can be associated to the considerable decrease, by 9.5%, of raw material costs. The latter fully compensates the increases to other process costs, and mainly to chemical additives which increased by 8%. The overall analysis allows quantification of the process parameters and costs that are affected when the percentage of recycled gypsum incorporated in plasterboard production is significantly increased. The results and the methodology proposed in the study can serve as a basis for a representative cost impact assessment of high-percentage recycled gypsum incorporation in any typical plasterboard production line plant. The methodology can serve as a guideline for techno-economic assessment of industrial production lines where the input datasets originate from different plants and can be characterized as "non-homogeneous" due to case-specific differences.
This is a preview of subscription content, log in to check access.
Access options
Buy single article
Instant access to the full article PDF.
US$ 39.95
Price includes VAT for USA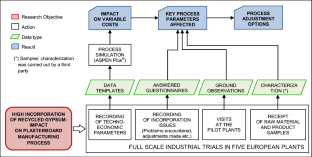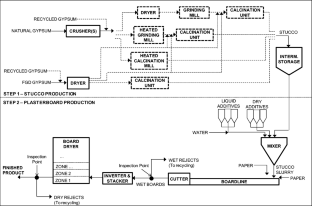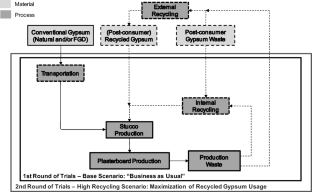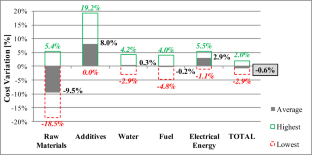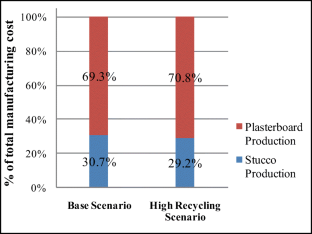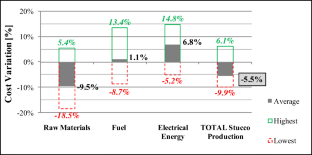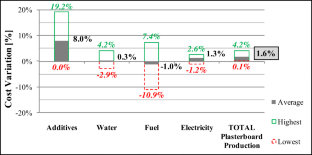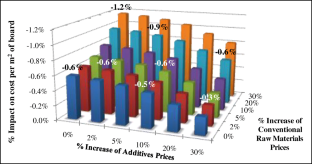 References
1.

BIO Intelligence Service (2013) Sectoral Resource Maps. Prepared in response to an Information Hub request. European Commission, DG Environment, available at http://ec.europa.eu/environment/enveco/resource_efficiency/pdf/report_Resource_Sectoral_Maps.pdf. (Last accessed 30 Sept 2018)

2.

European Commission (2001) Competitiveness of the Construction Industry – An Agenda for Sustainable Construction in Europe, A Report Drawn up by the Working Group for Sustainable Construction with Participants from the European Commission, Member States and Industry. http://www.etn-presco.net/library/SustConst_EC-TaskGroup.pdf. Last accessed 15 Dec 2015

3.

WFD (2008) Directive 2008/98/EC of the European Parliament and of the council on waste (waste framework directive). Off J Eur Union L312, 3–30

4.

Asakura H (2015) Sulfate and organic matter concentration in relation to hydrogen sulfide generation at inert solid waste landfill site – limit value for gypsum. Waste Manag 43:328–334. https://doi.org/10.1016/j.wasman.2015.06.018

5.

Sun W, Barlaz MA (2015) Measurement of chemical leaching potential of sulfate from landfill disposed sulfate containing wastes. Waste Manag 36:191–196. https://doi.org/10.1016/j.wasman.2014.11.014

6.

Xu Q, Townsend T, Reinhart D (2010) Attenuation of hydrogen sulfide at construction and demolition debris landfills using alternative cover materials. Waste Manag 30(4):660–666. https://doi.org/10.1016/j.wasman.2009.10.022

7.

Council Decision 2003/33/EC establishing criteria and procedures for the acceptance of waste at landfills. Off J Eur Commun L11: 27–49

8.

Jiménez Rivero A, de Guzmán Báez A, García Navarro J (2015) Gypsum waste: differences across ten European countries. Int J Sustain Policy Pract 11(4):1–9

9.

Jiménez-Rivero A, García Navarro J (2016) Indicators to measure the management performance of end-of-life gypsum: from deconstruction to production of recycled gypsum. Waste Biomass Valoriz 7(4):913–927. https://doi.org/10.1007/s12649-016-9561-x

10.

WRAP and Environmental Resources Management (ERM) Ltd (2008) WRAP Technical report: life cycle assessment of plasterboard. Waste and Resources Action Programe, Banbury, Oxon, UK

11.

Jiménez Rivero A, Sathre R, García Navarro J (2016) Life cycle energy and material flow implications of gypsum plasterboard recycling in the European Union. Resour Conserv Recycl 108:171–181. https://doi.org/10.1016/j.resconrec.2016.01.014

12.

Papailiopoulou N, Grigoropoulou H, Founti M (2017) Energy analysis of the effects of high-level reincorporation of post-consumer recycled gypsum in plasterboard manufacturing. Waste Biomass Valoriz 8(5):1829–1839. https://doi.org/10.1007/s12649-016-9750-7

13.

GtoG Project (2015). GtoG LIFE+ PROGRAMME LIFE11 ENV/BE/001039. DB4: report on production process parameters

14.

Bundesverband der Gipsindustrie e.V. (2006) GIPS-Datenbuch (Gypsum Data Book). Darmstadt: Bundesverband der Gipsindustrie e.V.

15.

Henkels, P.J. (2006). Gypsum plasters and wallboards. In: Kogel, J.E., Trivedi, N., Barker, J.M., Krukowski, S.T. (Eds), Industrial minerals & rocks – commodities, markets and uses. Society for Mining, metallurgy and exploration Inc., 7th edn, pp. 1143–1152. Colorado

16.

Venta GJ (Venta, Glaser and Associates) (1997) Life cycle analysis of gypsum board and associated finishing products. ATHENA sustainable materials institute, Ottawa, Canada

17.

Eurogypsum (2015) European federation of national associations of gypsum products manufacturers. www.eurogypsum.org. Last accessed 14 Dec 2015

18.

Jiménez-Rivero A, García Navarro J (2017) Best practices for the management of end-of-life gypsum in a circular economy. J Clean Prod 167:1335–1344. https://doi.org/10.1016/j.jclepro.2017.05.068

19.

Henkels PJ, Gaynor JC (1996) Characterizing synthetic gypsum for wallboard manufacture, in: preprints of papers, conference: spring national meeting of the American Chemical Society (ACS), New Orleans, LA (United States). Am Chem Soc Div Fuel Chem 41(2):569–574

20.

Eurogypsum (2007) Factsheet on what is gypsum. Environment and Raw Material Committee, European federation of national associations of gypsum products manufacturers. Available at: http://www.eurogypsum.org/wp-content/uploads/2015/04/whatisgypsum.pdf. Last accessed 14 Dec 2015

21.

BSI (2013) PAS 109:2013 specification for the production of reprocessed gypsum from waste plasterboard. The British Standards Institution

22.

Jiménez-Rivero A, García Navarro J (2017) Characterization of quality recycled gypsum and plasterboard with maximized recycled content. Mater Constr 67(328):137. https://doi.org/10.3989/mc.2017.06016

23.

Mahoney D, Miller P, Adams M, Surgi R, Lyons C (2010) Environmental, health, & safety impact of common water resistant additive Technologies in Gypsum Wallboard Production. 10th Global Gypsum Conference & Exhibition, October 2010, Paris, France

24.

Aspen Technology, Inc. Aspen Plus® Version (2006). http://www.aspentech.com/products/engineering/aspen-plus/. Last accessed 15 Sept 2016

25.

GtoG Project (2015) GtoG LIFE+ PROGRAMME LIFE11 ENV/BE/001039. DB2: inventory of best practices

26.

Jiménez-Rivero A, García Navarro J (2017) Exploring factors influencing post-consumer gypsum recycling and landfilling in the European Union. Resour Conserv Recycl 116:116–123. https://doi.org/10.1016/j.resconrec.2016.09.014
Acknowledgements
The authors are grateful to the E.U. for financial support through the GtoG Project (LIFE11 ENV/BE/001039) and to the industrial partners of GtoG for the provision of technical and operational data from the production trials.
About this article
Cite this article
Papailiopoulou, N., Grigoropoulou, H. & Founti, M. Techno-economic impact assessment of recycled gypsum usage in plasterboard manufacturing. Jnl Remanufactur 9, 141–167 (2019). https://doi.org/10.1007/s13243-018-0062-x
Received:

Accepted:

Published:

Issue Date:
Keywords
Recycled gypsum

Plasterboard manufacturing process

Techno-economic impact

Plasterboard manufacturing costs