Abstract
In recent years new innovations improved the technology of devices for transcatheter heart valve replacement. In order to fabricate an efficient, durable, less thrombogenic and very thin heart valved stent for transcatheter implantation, heart valve leaflets of Nitinol (NiTi) thin film were developed. This work presents a method to fabricate NiTi thin film leaflets for transcatheter aortic valve replacements. NiTi valve leaflets were fabricated in different film thicknesses (10, 15 and 20 µm) by magnetron sputter deposition and a subsequent forming process. Pulsatile testing was performed to investigate the transvalvular pressure differences during systole and diastole as well as the effective orifice area of the valves. Furthermore, the steady backflow leakage rate under hydrostatic pressure was evaluated. Two samples from Edwards Lifescience (SAV 19 mm, and Perimount Magna 25 mm) were taken as a reference. In this experimental study, we present first in vitro test results of the newly developed NiTi leaflets.
Access options
Buy single article
Instant access to the full article PDF.
US$ 39.95
Tax calculation will be finalised during checkout.
Subscribe to journal
Immediate online access to all issues from 2019. Subscription will auto renew annually.
US$ 79
Tax calculation will be finalised during checkout.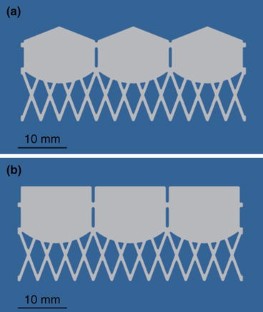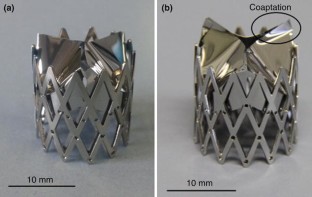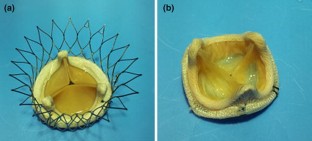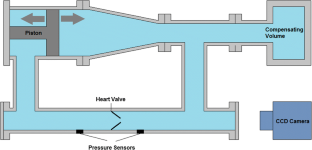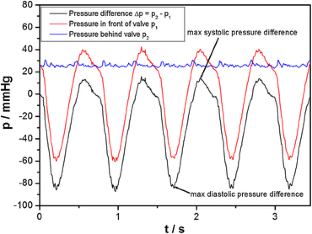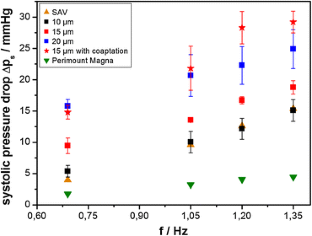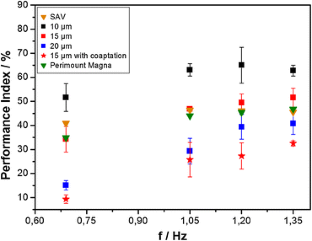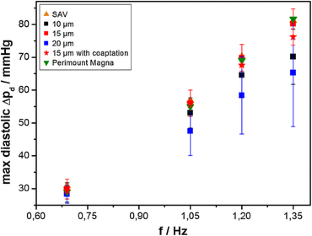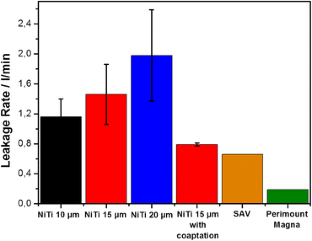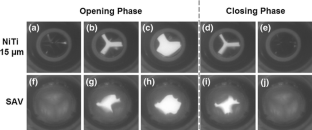 References
1.

Bonhoeffer, P., Y. Boudjemline, S. A. Qureshi, J. Le Bidois, L. Iserin, P. Acar, J. Merckx, J. Kachaner, and D. Sidi. Percutaneous insertion of the pulmonary valve. J. Am. Coll. Cardiol. 39(10):1664–1669, 2002.

2.

Carabello, B. A., and W. Grossman. Calculation of stenotic valve orifice area. In: Grossman's Cardiac Catheterization, Angiography and Intervention6th, edited by D. S. Baim, and W. Grossman. Philadelphia: Lippincott Williams & Wilkins, 2000.

3.

Cribier, A., E. Eltchaninoff, A. Bash, N. Borenstein, C. Tron, F. Bauer, G. Derumeaux, F. Anselme, F. Laborde, and M. B. Leon. Percutaneous transcatheter implantation of an aortic valve prosthesis for calcific aortic stenosis: first human case description. Circulation 106(24):3006–3008, 2002.

4.

Cubeddu, R. J., and I. F. Palacios. Percutaneous heart valve replacement and repair: advances and future potential. Expert Rev. Cardiovasc. Ther. 7(7):811–821, 2009.

5.

Lima de Miranda, R., C. Zamponi, and E. Quandt. Micropatterned freestanding superelastic TiNi films. Adv. Eng. Mater. 15(1–2):66–69, 2013.

6.

Fanning, J. P., D. G. Platts, D. L. Walters, and J. F. Fraser. Transcatheter aortic valve implantation (TAVI): valve design and evolution. Int. J. Cardiol. 168(3):1822–1831, 2013.

7.

Haaf, P., M. Steiner, T. Attmann, G. Pfister, J. Cremer, and G. Lutter. A novel pulse duplicator system: evaluation of different valve prostheses. Thorac. Cardiovasc. Surg. 57(1):10–17, 2009.

8.

Habijan, T., R. Lima de Miranda, C. Zamponi, E. Quandt, C. Greulich, T. A. Schildhauer, and M. Köller. The biocompatibility and mechanical properties of cylindrical NiTi thin films produced by magnetron sputtering. Mater. Sci. Eng. C 32(8):2523–2528, 2012.

9.

International Standard ISO 5840. Cardiovascular Implants—Cardiac Valve Prostheses. ISO, 2005.

10.

Kiefer, P., F. Gruenwald, J. Kempfert, H. Aupperle, J. Seeburger, F. W. Mohr, and T. Walther. Crimping may affect the durability of transcatheter valves: an experimental analysis. Ann. Thorac. Surg. 92(1):155–160, 2011.

11.

Lindroos, M., M. Kupari, J. Heikkilä, and R. Tilvis. Prevalence of aortic valve abnormalities in the elderly: an echocardiographic study of a random population sample. J. Am. Coll. Cardiol. 21(5):1220–1225, 1993.

12.

Marquez, S., R. T. Hon, and A. Yonganathan. Comparative hydrodynamic evaluation of bioprosthetic heart valves. J. Heart Valve Dis. 10(6):802–811, 2001.

13.

Melzer, A., and D. Stoeckel. Function and performance of Nitinol vascular implants. Open Med. Devices J. 2(2):32–41, 2010.

14.

Ozkan, A. Low gradient "severe" aortic stenosis with preserved left ventricular ejection fraction. Cardiovasc. Diagn. Ther. 2(1):19–27, 2012.

15.

Ryhänen, J. Biocompatibility Evolution of Nickel-Titanium Shape Memory Alloy. Oulu, Finland: Academic Dissertation, Faculty of Medicine, University of Oulu, 1999.

16.

Shabalovskaya, S. A. Surface, corrosion and biocompatibility aspects of nitinol as an implant material. Bio-Med. Mater. Eng. 12(1):69–109, 2002.

17.

Siekmeyer, G., A. Schüßler, R. Lima de Miranda, and E. Quandt. Comparison of the fatigue performance of commercially produced samples versus sputter-deposited nitinol. J. Mater. Eng. Perform. 23(7):2437–2445, 2014.
Acknowledgments
This work was supported by the German Research Foundation (QU146/11-1) (LU 663/11-1).
Conflict of Interest
Authors Klaas Loger, Alexander Engel and Martin Marczynski-Bühlow declare that they have no conflict of interest. Author Rodrigo Lima de Miranda is partner of the Acquandas GmbH (Kiel) and holds several patents on shape memory thin films techniques. Author Eckhard Quandt reports funding of the project by the German Research Foundation (DFG). He is partner of the Acquandas GmbH (Kiel) and holds several patents on shape memory thin films techniques. Author Georg Lutter reports funding of the project by the German Research Foundation (DFG).
Additional information
Associate Editor Ajit P. Yoganathan oversaw the review of this article.
About this article
Cite this article
Loger, K., de Miranda, R.L., Engel, A. et al. Fabrication and Evaluation of Nitinol Thin Film Heart Valves. Cardiovasc Eng Tech 5, 308–316 (2014). https://doi.org/10.1007/s13239-014-0194-6
Received:

Accepted:

Published:

Issue Date:
Keywords
Heart valves

Transcatheter aortic valve implantation

Prosthetic valves

Shape memory alloy

Nitinol