Proton-conducting polymers derived from radiation grafting and sulphonation of poly(tetraflouroethylene-perflourovinyl ether) film with three rare-earth elements
Abstract
Progress in the area of proton conducting polymer electrolyte membranes is closely with the enhancing of polymer electrolyte membrane fuel cells. Fluorinated polymers,
e.g.
poly(tetraflouroethylene-perflourovinyl ether) (PFA) film is largely driven by their thermal properties. In this article PFA film was developments to be suitable as proton conducting polymer electrolyte membranes. The grafting of acrylic acid (80%) onto the PFA film achieved by irradiation techniques and PFA-COOH was obtained. In addition, to synthesis of completely a new protonconducting sulfonated polymer ionomers this could be acheived by sequences of chemical modification steps. PFA-COOH has been anilination and sulfonated to a sufficient ionomers formation and complexion with the three rare-earth elements (Li, Cs, and Sr). After that the obtained PFA-CO-NH-ph-SO3M contains a sufficient equilibrium concentration of protons in a wet atmosphere to show useful proton conduction at ambient temperatures. The sulfonated polymers containing 63 mol% sulfonic acid, and characterized by FTIR-ATR and SEM The results show that PFACO-NH-ph-SO
3
M wet film showed a high proton-conductivity in water (10
-3
Scm
-1
) rather than methanol (10
-6
Scm
-1
) in order Li
+
> Sr
++
>Cs
+
. This approach has interesting potential for smart thin film materials and offers also the possibility to be used in sensors and fuel cells provided that the electrolyte film thickness is in the micrometre range.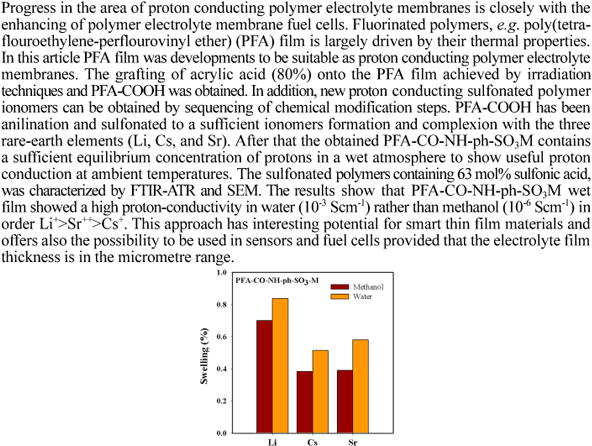 Keywords
proton conductivity 
electrolyte 
poly(tetraflouroethylene-perflourovinyl ether) 
fuel cell 
sulfonation 
earth element 
Copyright information
© The Polymer Society of Korea and Springer Science+Business Media B.V. 2017