Abstract
In this work, antibacterial, micro-structural, and fluorescence properties of silver (Ag) doped TiO2 nanoparticles were studied to analyze the effect of silver for effective improvement in antibacterial properties of TiO2. Antibacterial properties of pure TiO2 and Ag-TiO2 was studied using Escherichia coli, Pseudomonas aeruginosa as Gram Negative and Bacillus subtilis, Staphylococcus aureus as Gram positive bacteria, as a model for Agar disc diffusion assay method. The concept of inhibition zone diameter was applied to observe the antibacterial activity of TiO2 and Ag-TiO2. It was observed that the antibacterial activity of TiO2 improves with doping of Ag. Fluorescence spectra confirm the red shift in band edge emission at excitation wavelength of 360 nm which shows effective fluorescence properties of these nanoparticles. Microstructures of these nanoparticles have studied with the help of transmission electron microscopy (TEM) and atomic force microscopy (AFM).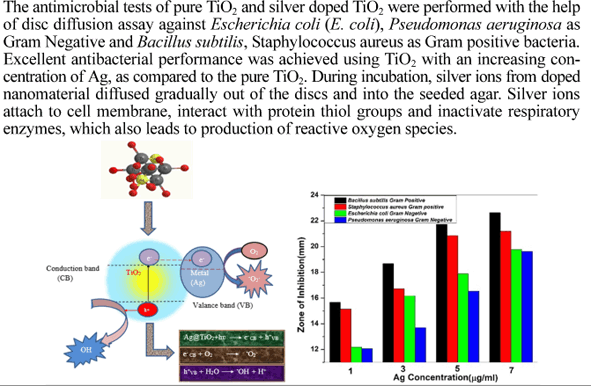 Access options
Buy single article
Instant access to the full article PDF.
USD 39.95
Price excludes VAT (USA)
Tax calculation will be finalised during checkout.
References
A. Fujishima, T. N. Rao, and D. A. Tryk, J. Photo. Chem. Photobiol. C, 1, 1 (2000).

A. K. P. D. Savio, J. Fletcher, K. Smith, R. Iyer, J. M. Bao, and F. C. R. Hernández, Appl. Catal. B, 182, 449 (2016).

Y. Huang, Q. Shang, D. Wang, S. Yang, H. Guan, Q. Lu, and S. C. Tsang, Appl. Catal. B, 187, 59 (2016).

M. Liu, H. Li, and W. Wanga, Catal. Today, 264, 236 (2016).

S. Ananthakumar, J. Ramkumar, and S. M. Babu, Renewable Sustainable Energy Rev., 57, 1307 (2016).

D.-H. Kuo, W.-T. Hsu, and Y.-Y. Yang, Appl. Catal. B, 184, 191 (2016).

K. Gupta, R. P. Singh, A. Pandey, and A. Pandey, Beilstein J. Nanotechnol., 4, 345 (2013).

M. Anpo, Pure Appl. Chem., 72, 1787 (2000).

A. Fuerte, M. D. Hernandez-Alonso, A. J. Maira, A. Martinez-Arias, M. Fernandez-Garcia, J. C. Conesa, and J. Soria, Chem. Commun., 24, 2718 (2001).

H. Yamashita, M. Harada, J. Misaka, M. Takeuchi, Y. Ichihashi, F. Goto, M. Ishida, T. Sasaki, and M. Anpo, J. Synchrotron Radiat., 8, 569 (2001).

H. A. Foster, I. B. Dittta, S. Varghese, and A. Steele, Appl. Microbiol. Biotechnol., 90, 1847 (2011).

M. M. Ba-Abbad, A. A. H. Kadhum, A. B. Mohamad, M. S. Takriff, and K. Sopian, Int. J. Electrochem. Sci., 7, 4871 (2012).

X. Fan, J. Fan, X. Hu, E. Liu, L. Kang, C. Tang, Y. Ma, H. Wu, and Y. Li, Ceram. Int., 40, 15907 (2014).

J. Bahadur, S. Agrawal, A. Parveen, A. Jawad, S. S. Z. Ashraf, and R. M. Ghalib, Mater. Focus., 4, 134 (2015).

Y. Matsumura, K. Yoshikata, S. Kunisaki, and T. Tsuchido, Appl. Environ. Microbiol., 69, 4278 (2003).

B. Guo, Z. Liu, L. Hong, and H. Jiang, Surf. Coat. Technol. 198, 24 (2005).

I. Sondi and B. S. Sondi, J. Colloid Interface Sci., 275, 177 (2004).

Q. L. Feng, J. Wu, G. Q. Chen, F. Z. Cui, T. N. Kim, and J. O. Kim, J. Biomed. Mater. Res., 52, 662 (2000).

J. Xu, S. Shi, L. Li, X. Zhang, Y. Wang, X. Chen, J. Wang, L. Lv, F. Zhang, and J. Zhong, J. Appl. Phys., 107, 053910 (2010).

Y. Lei, L. D. Zhang, G. W. Meng, G. H. Li, X. Y. Zhang, C. H. Liang, W. Chen, and S. X. Wang, Appl. Phys. Lett., 78, 1125 (2001).

S. Hu, A. Wang, X. Li, Y. Wang, and H. Löwe, Chem. Asian J., 5, 1171 (2010).

B. Choudhury and A. Choudhury, J. Lumin., 132, 174 (2012).

C. Xu, J. Sun, and L. Gao, J. Mater. Chem., 21, 11253 (2011).

A. Sotto, A. Boromand, S. Balta, J. Kim, and B. V. Bruggen, J. Mater. Chem., 21, 10311 (2011).
Electronic supplementary material
About this article
Cite this article
Bahadur, J., Agrawal, S., Panwar, V. et al. Antibacterial properties of silver doped TiO2 nanoparticles synthesized via sol-gel technique. Macromol. Res. 24, 488–493 (2016). https://doi.org/10.1007/s13233-016-4066-9
Received:

Revised:

Accepted:

Published:

Issue Date:

DOI: https://doi.org/10.1007/s13233-016-4066-9
Keywords