Characterization and preparation of bio-tubular scaffolds for fabricating artificial vascular grafts by combining electrospinning and a co-culture system
Abstract
Tissue-engineered vascular scaffolds provide a promising solution for the replacement of diseased vascular structures. However, a major challenge lies in enhancing endothelialization, host cell ingrowth, and angiogenesis. In this study, we investigated the feasibility of developing a bio-tubular scaffold from human dermal fibroblasts (HDFs) and human umbilical vein endothelial cells (HUVEC) co-cultured on electrospun poly(
L
-lactide-
co
-
ε
-caprolactone) membranes to address these issues. Confluent layers of HDFs stimulated the organization of HUVECs into capillary-like networks in an indirect contact (two-dimensional) co-culture on membranes. Bio-tubular scaffolds fabricated from co-cultured membranes were either grown statically
in vitro
or implanted subcutaneously in severe combined immunodeficient mice for up to 4 weeks for biocompatibility evaluation and functional performance.
In vitro
examination of co-cultures on scaffolds showed collagen remodeling and an improvement in biomechanical properties up to day 14. Morphological analysis of
in vitro
grown bio-tubular scaffolds revealed good attachment and growth of both cell types. After one month, co-cultured scaffolds
in vivo
showed higher infiltration of host cells and collagen remodeling as compared to the HDF-seeded grafts. After 4 weeks, thin continuous layers of endothelial cells and smooth muscle cells were formed as shown by staining with an antibody specific for CD31and
α
-actin (
α
-SMA). On the contrary, HDF-seeded scaffolds remained free of
α
-SMA-positive cells at all time points, whereas few CD31
+
cells appeared after 4 weeks. Thus, co-cultured membranes provide a solution for enhancing endothelialization, tissue regeneration, and growth in bio-tubular scaffolds and may have broader applications in regenerative medicine.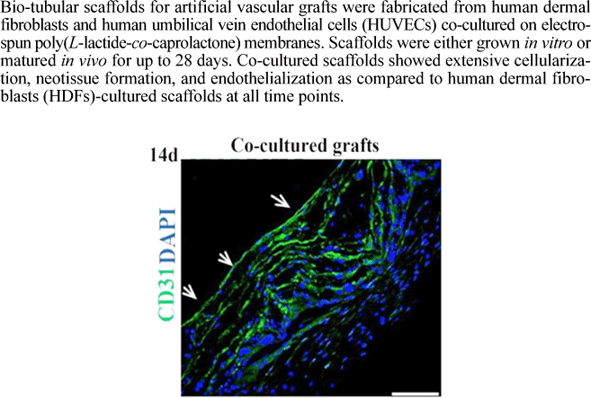 Keywords
angiogenesis 
endothelial cells 
electrospinning 
vascular scaffolds 
PLCL 
Copyright information
© The Polymer Society of Korea and Springer Sciene+Business Media Dordrecht 2016