Abstract
Coelomycete is a general term used for asexual fungi which produce conidia in fruiting bodies: pycnidial, acervular, cupulate, pycnothyria or stromatic conidiomata. The group contains numerous plant pathogenic, saprobic and endophytic species associated with a wide range of hosts. Traditionally, morphological characters and host associations have been used as criteria to identify and classify coelomycetes, and this has resulted in a poor understanding of their generic and species boundaries. DNA based taxonomic studies have provided a better outlook of the phylogenetic and evolutionary trends in coelomycetes. However, the present outcomes represent only a preliminary step towards the understanding of coelomycetes. Many genera have not been revisited since they were first described. The present study revises the classification of the hyaline-spored coelomycetes and provides a modern taxonomic framework based on both morphology and phylogeny. In total, 248 genera were investigated, of which less than 100 are known to have sequence data. Multi-locus sequence data analyses of 28S nrDNA, 18S nrDNA, ITS, RNA polymerase II second largest subunit (rpb2), and part of the translation elongation factor 1-alpha gene (tef1) and β-tubulin (tub2) gene regions were analysed. As a result, three new genera and 23 new species are introduced. In addition, three new links between sexual and asexual genera are provided. There are 138 genera that lack sequence data, and these are treated as Ascomycota, genera incertae sedis. Line drawings and descriptions are provided based on the examination of types and fresh collections and on the literature.
We're sorry, something doesn't seem to be working properly.
Please try refreshing the page. If that doesn't work, please contact support so we can address the problem.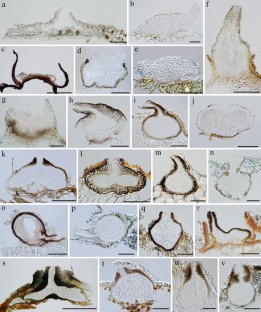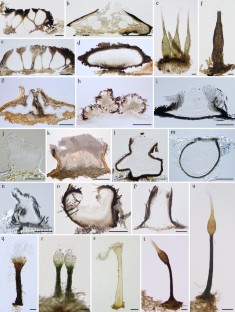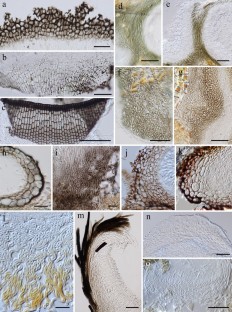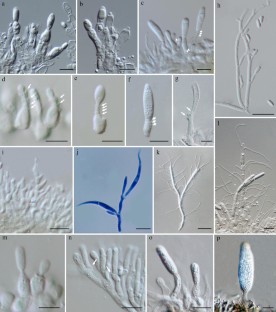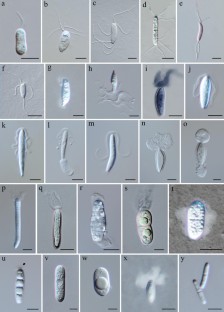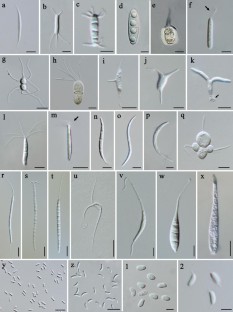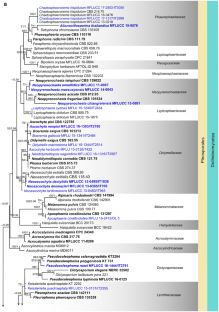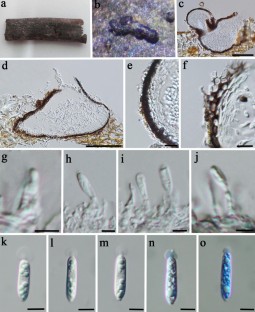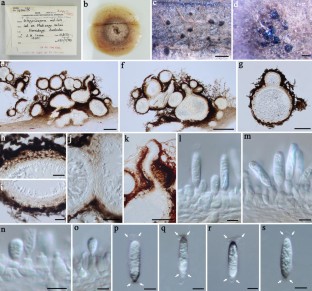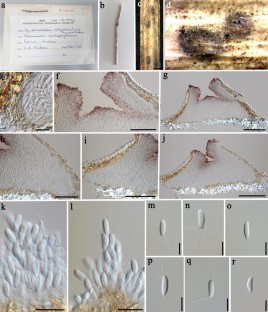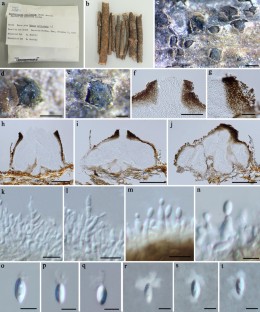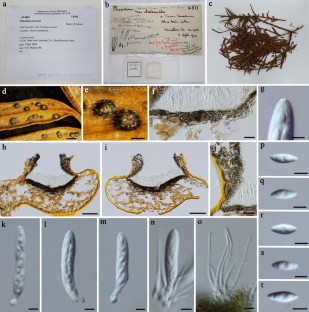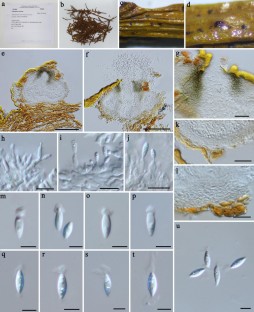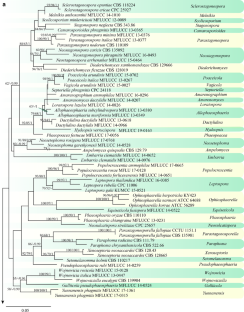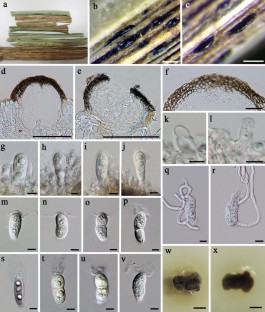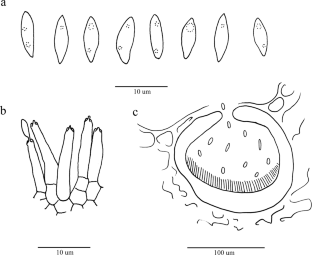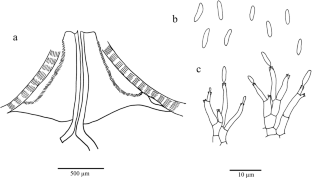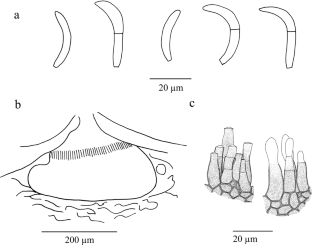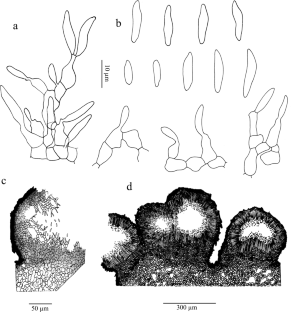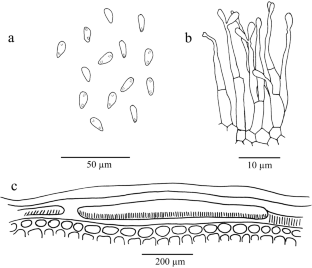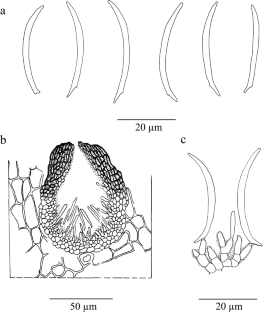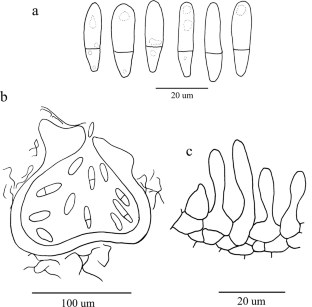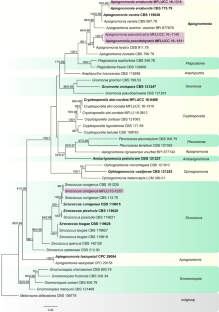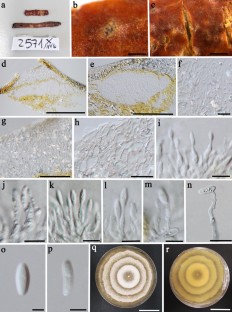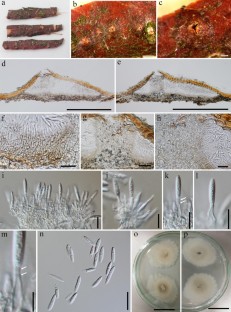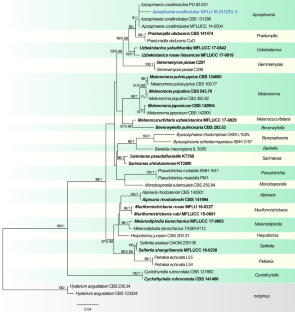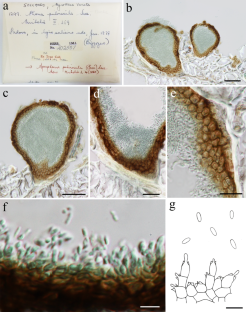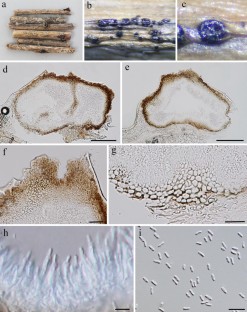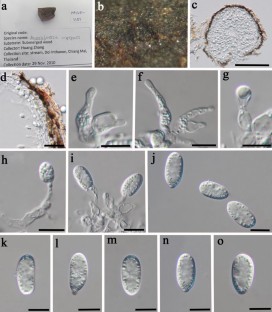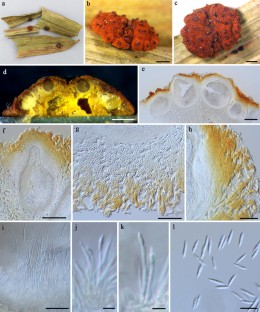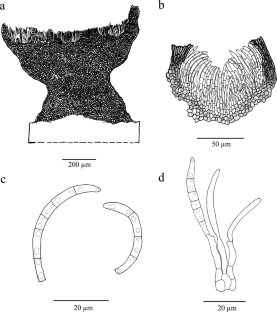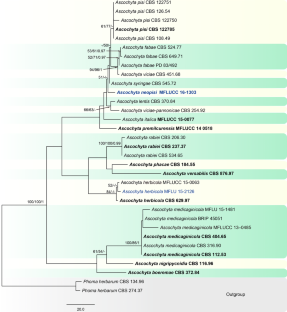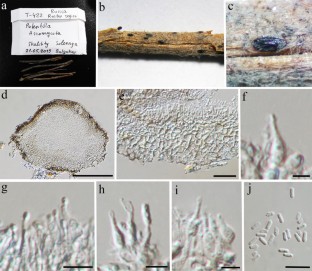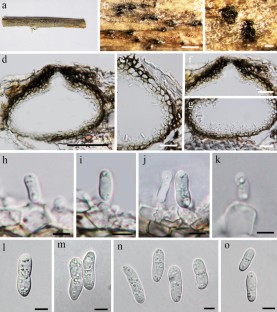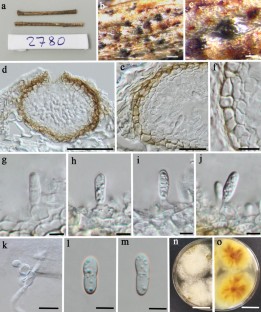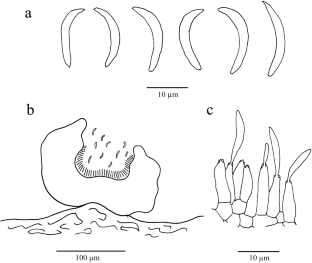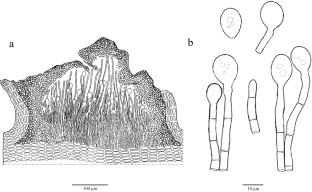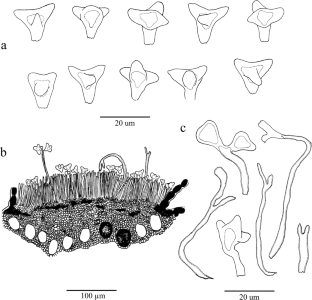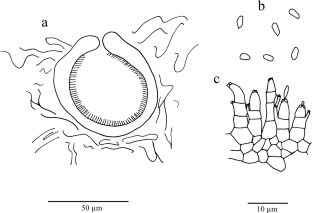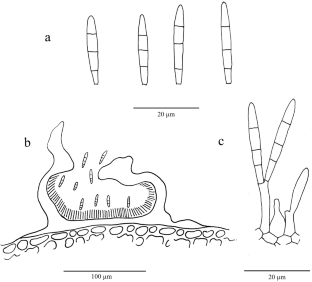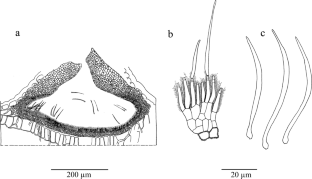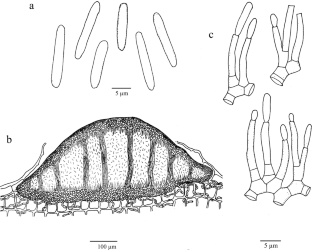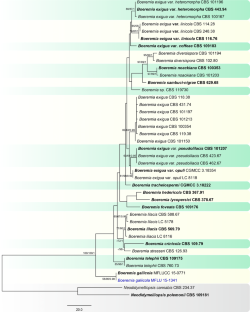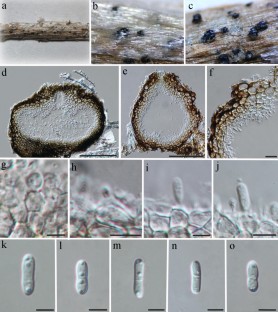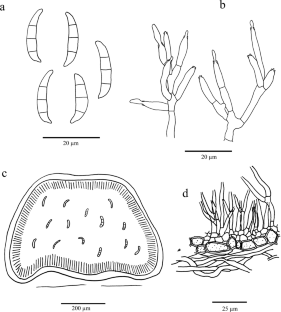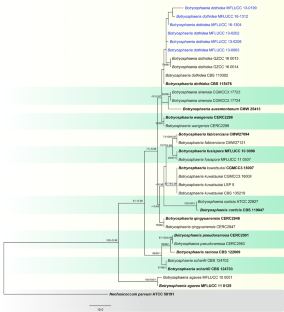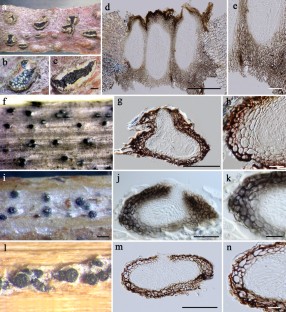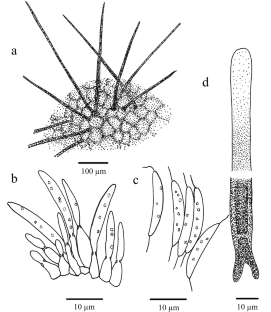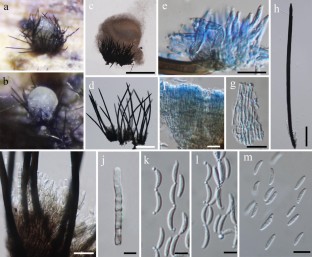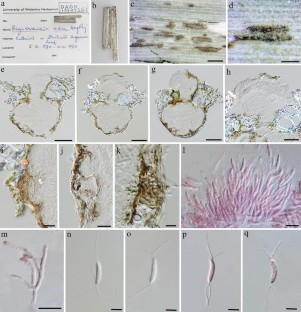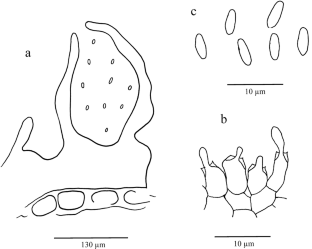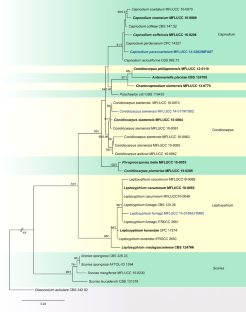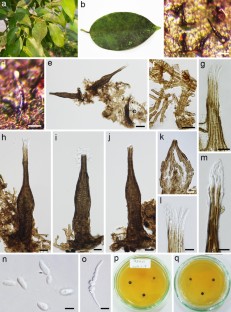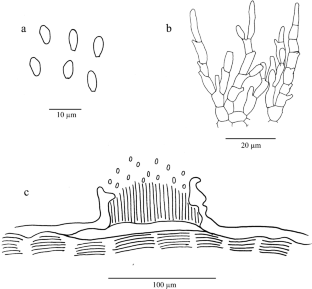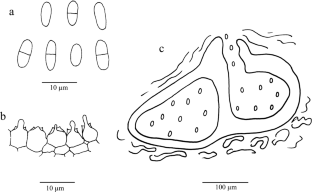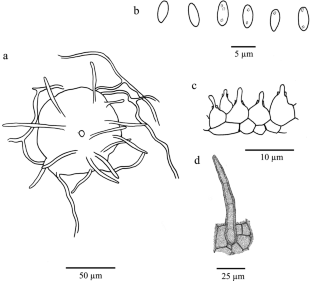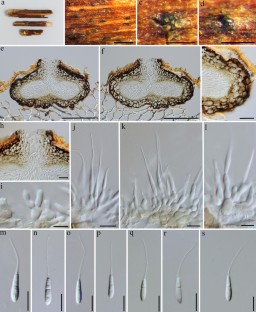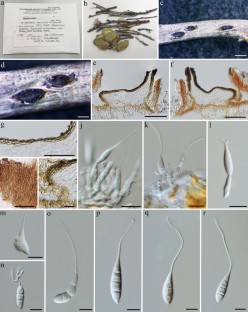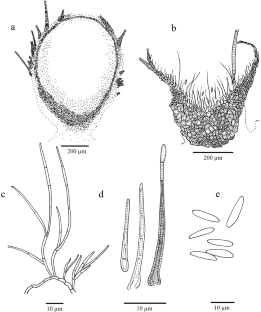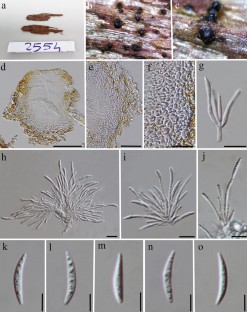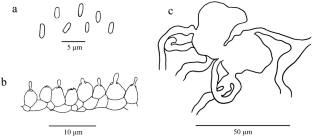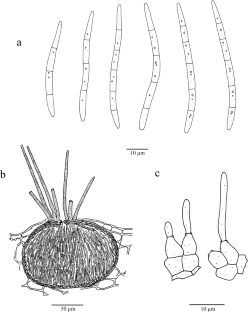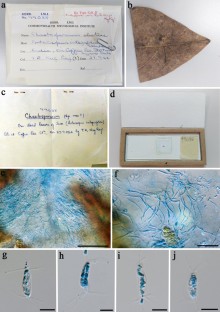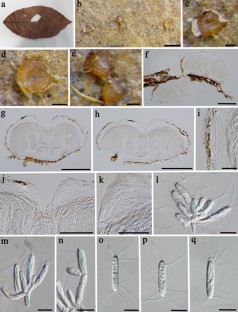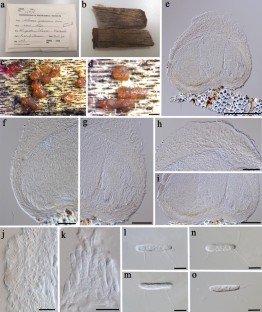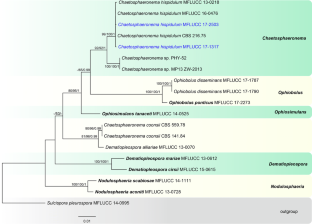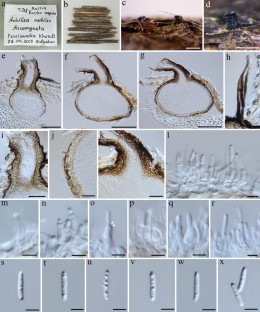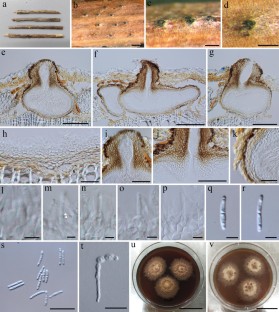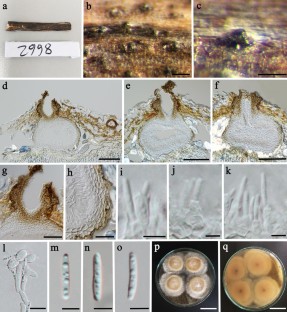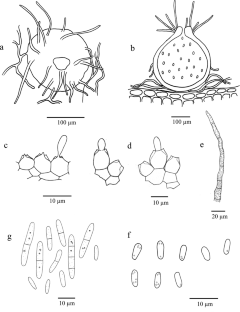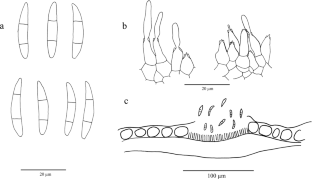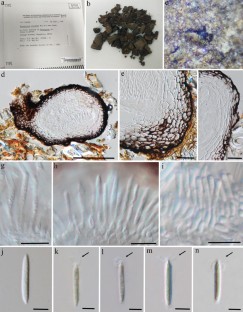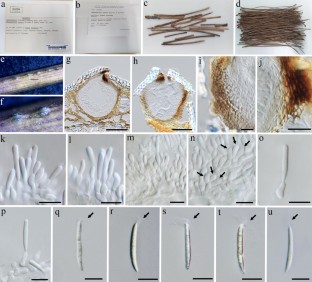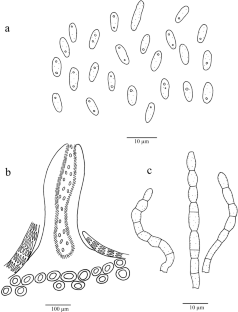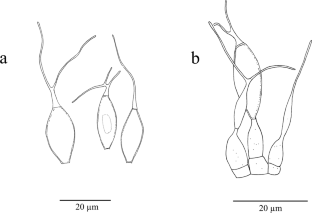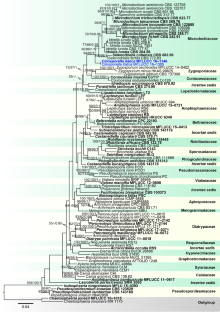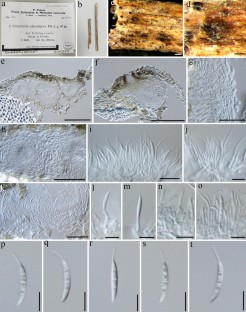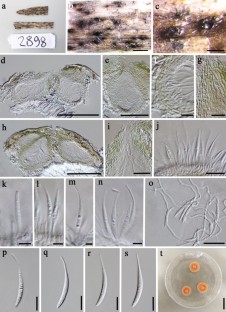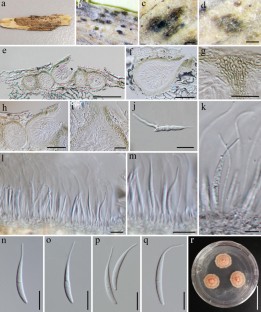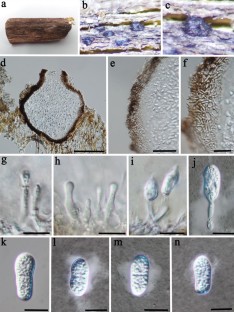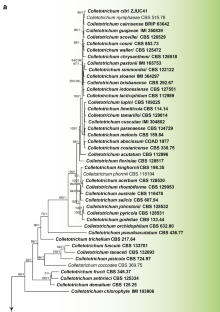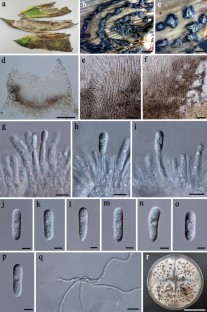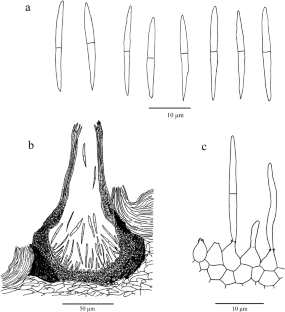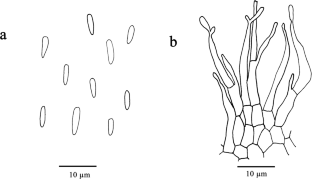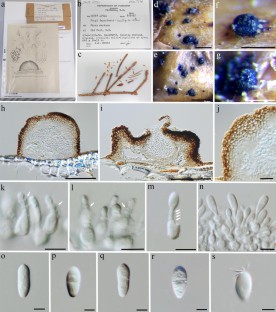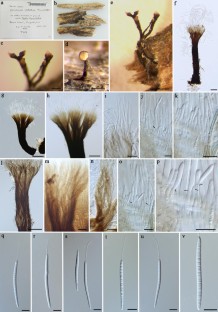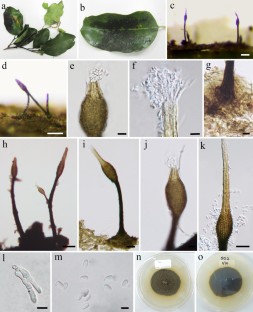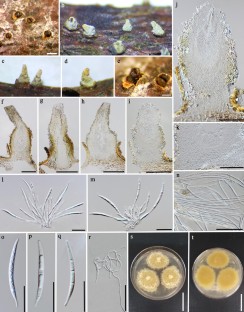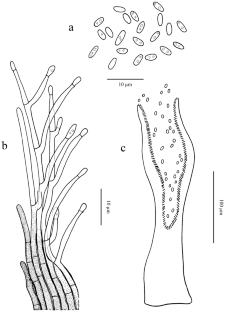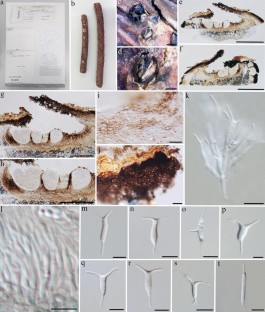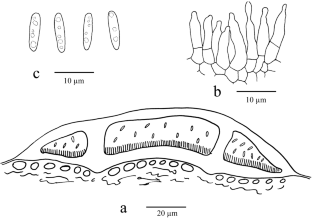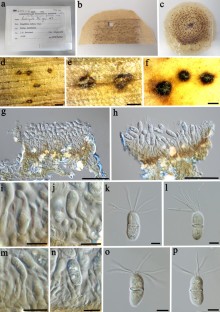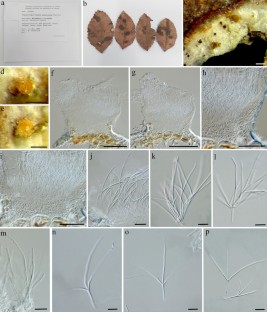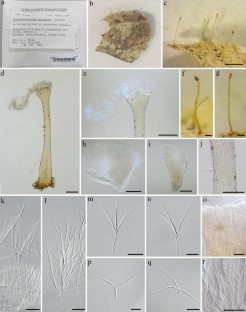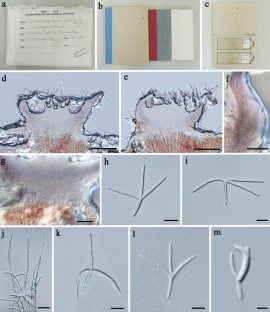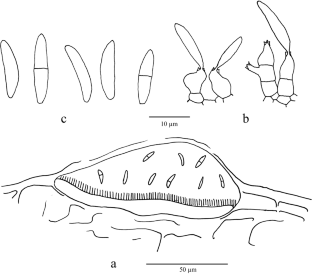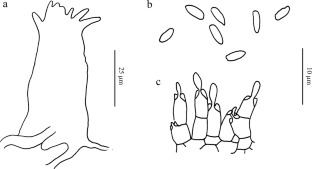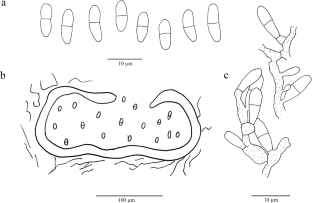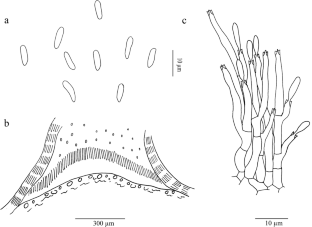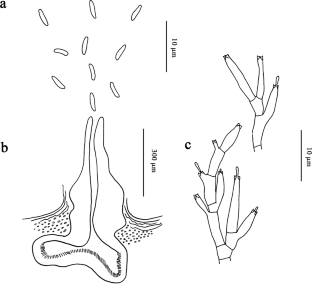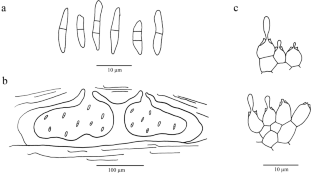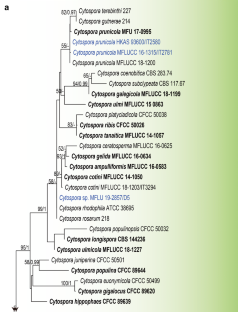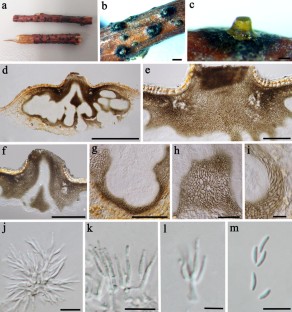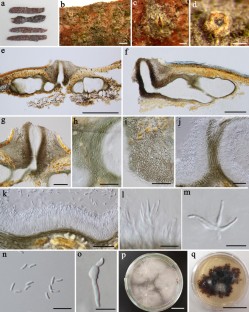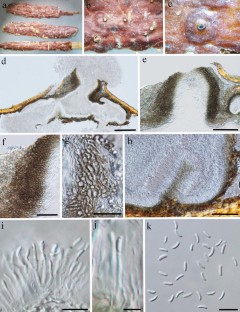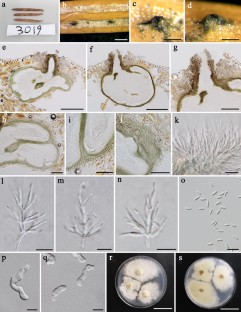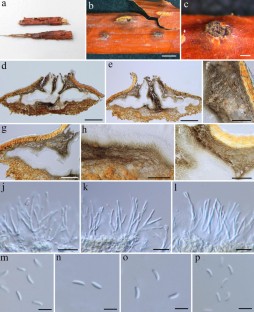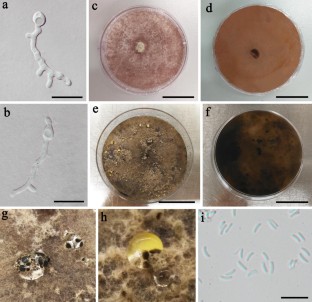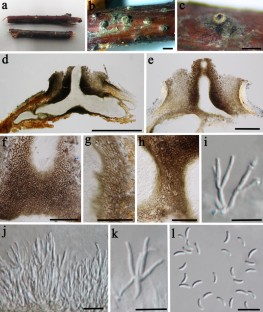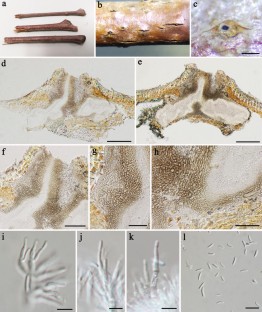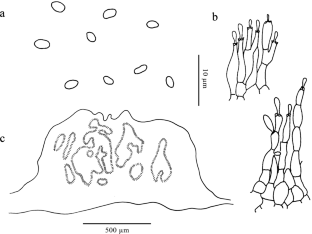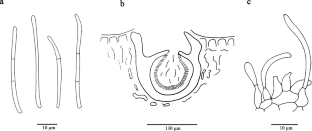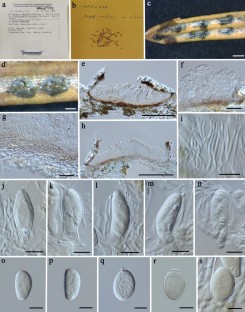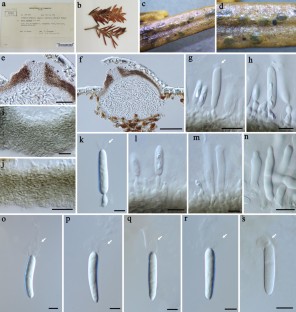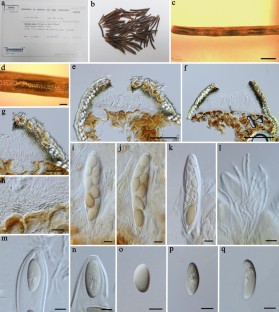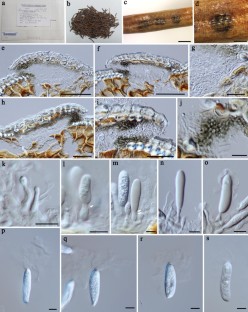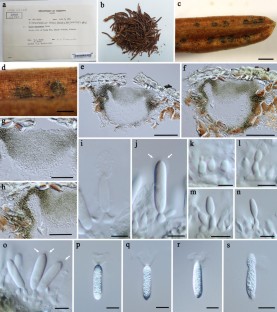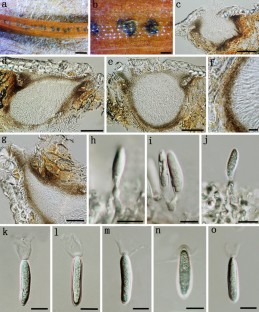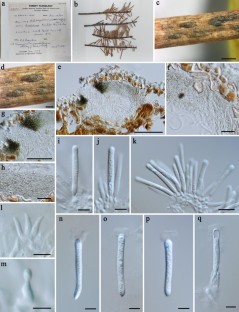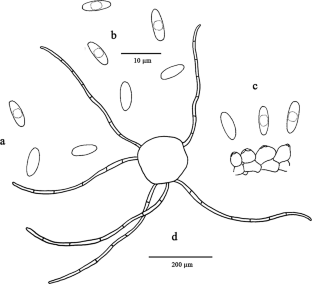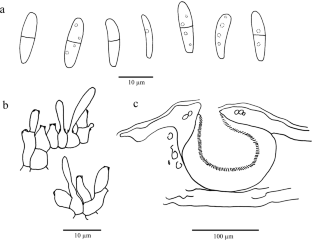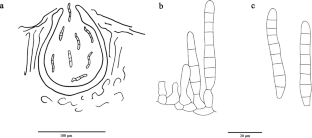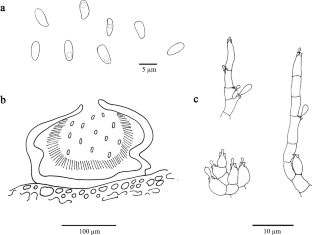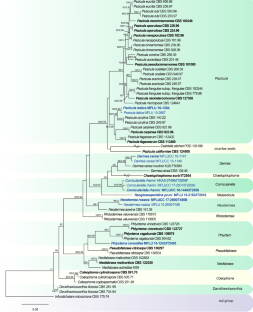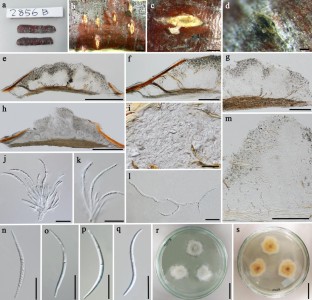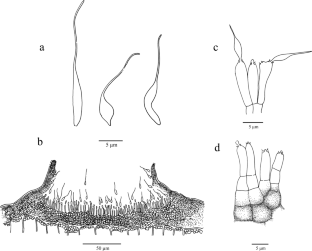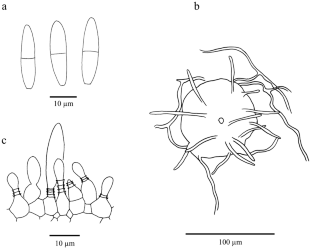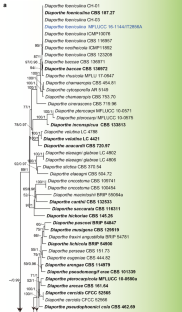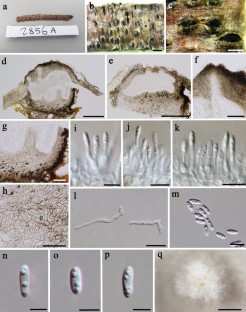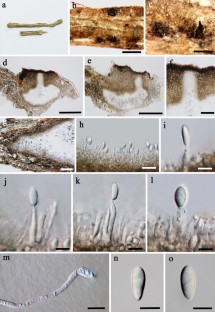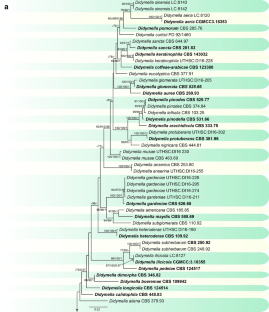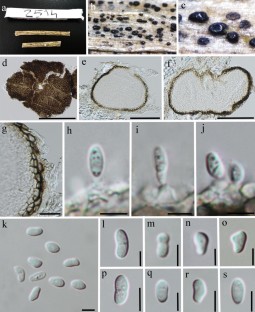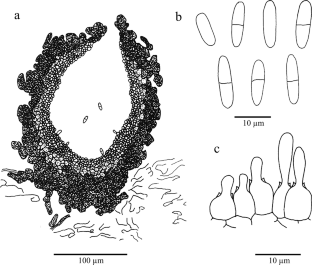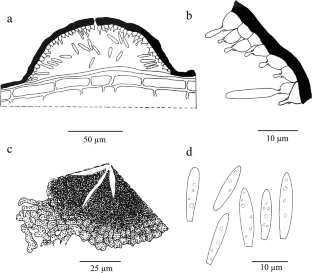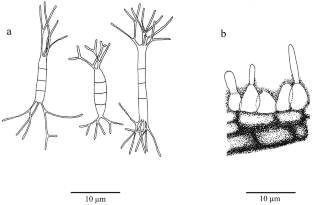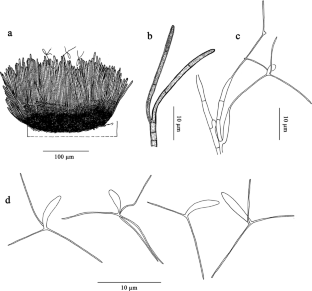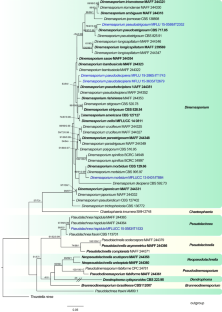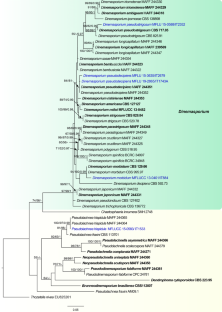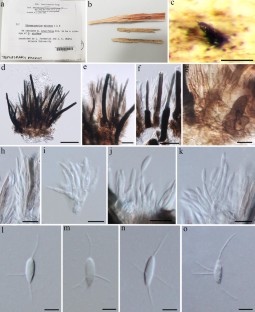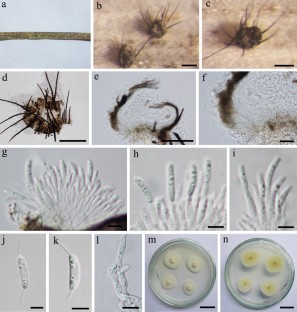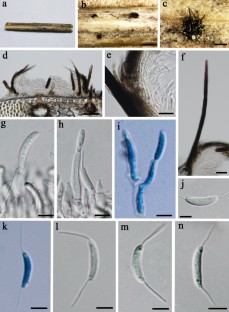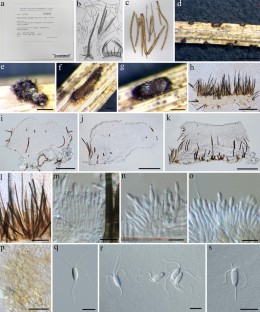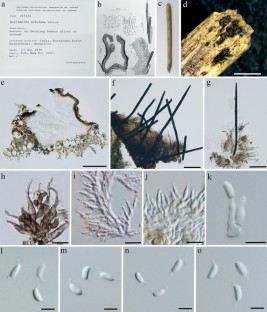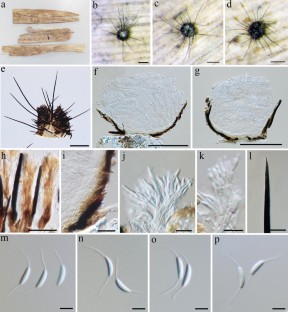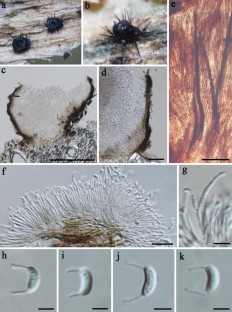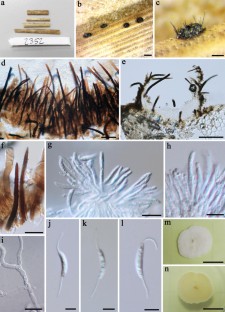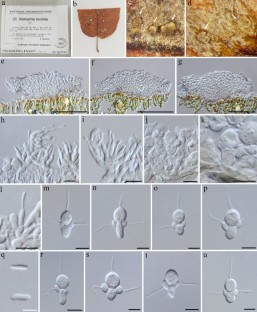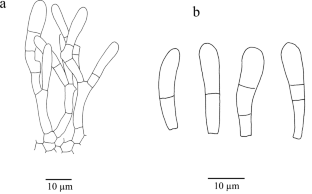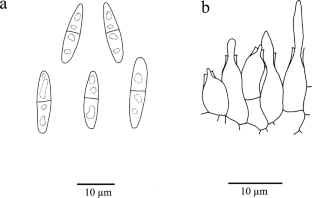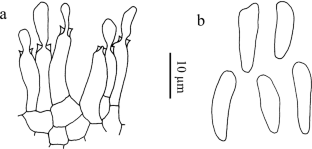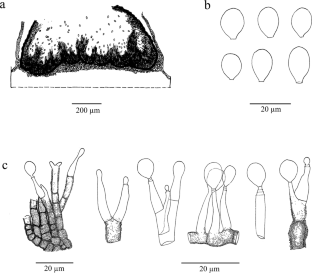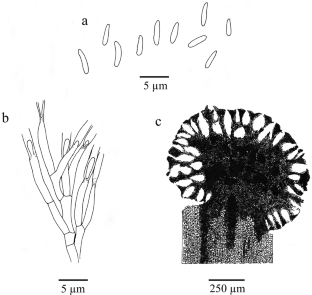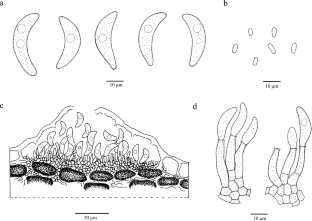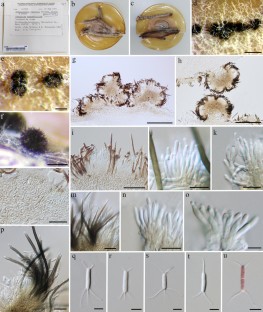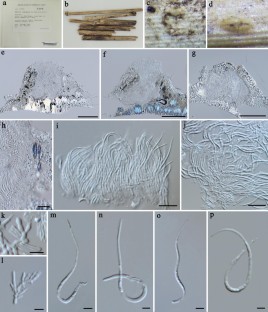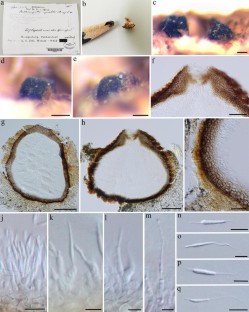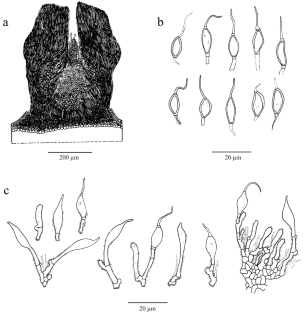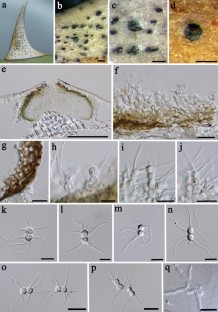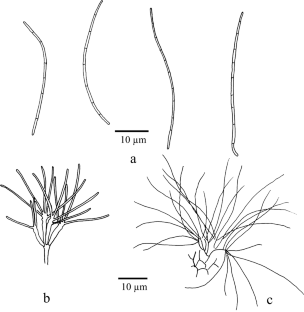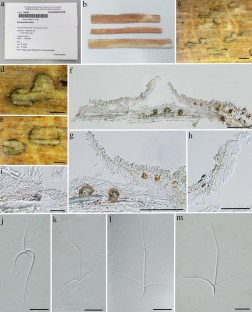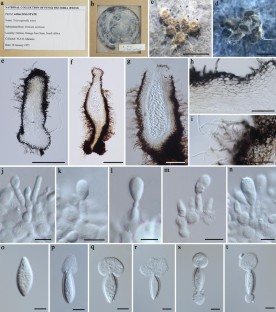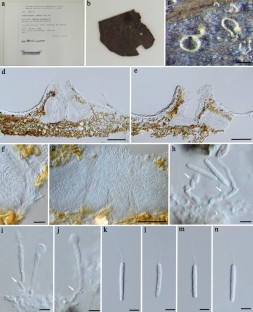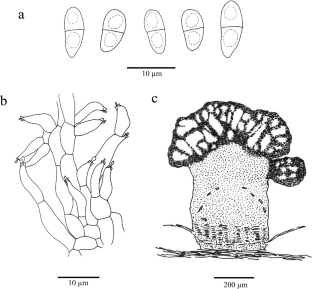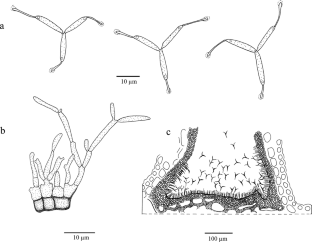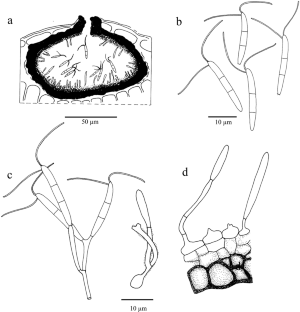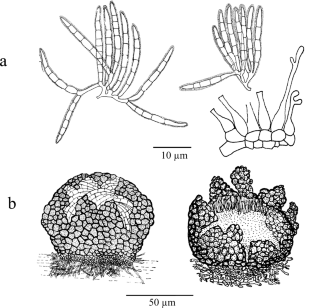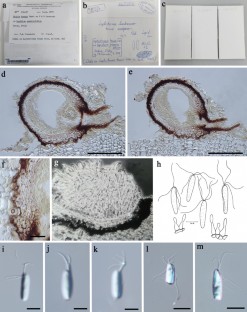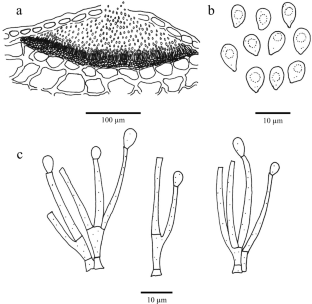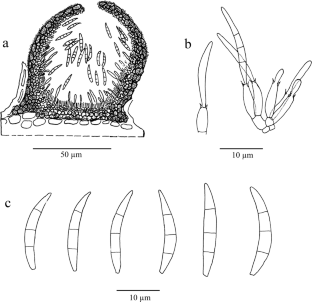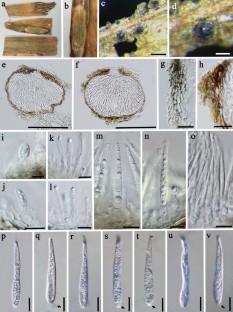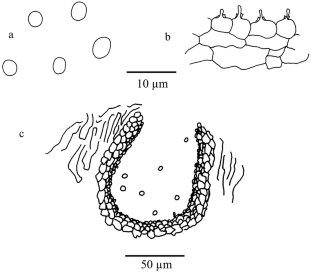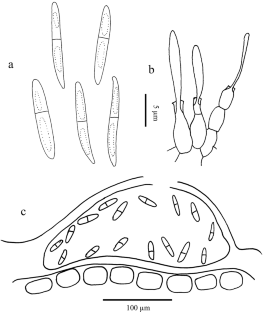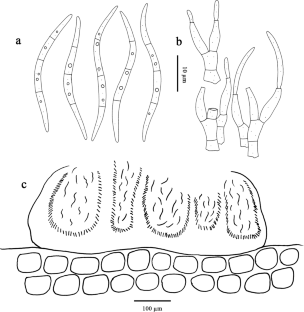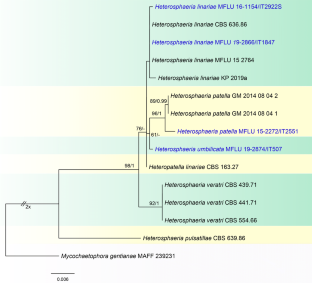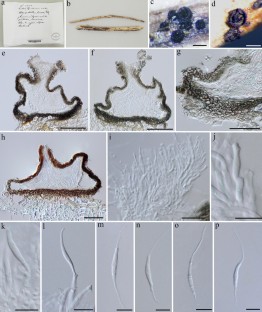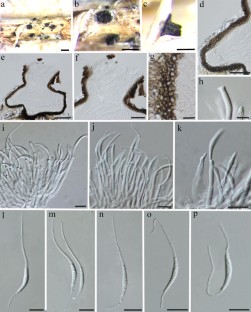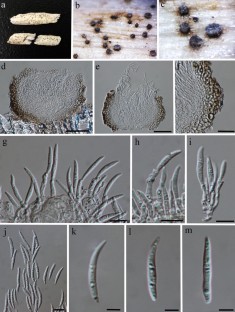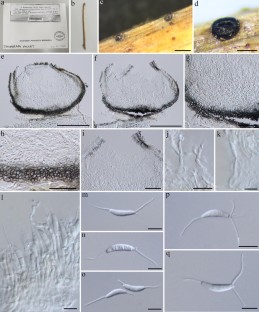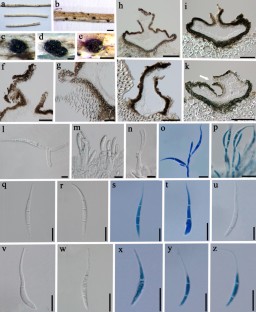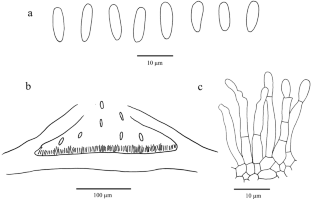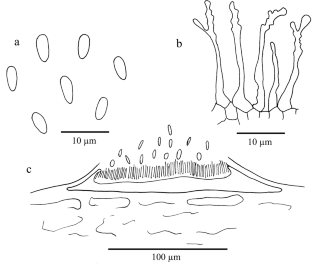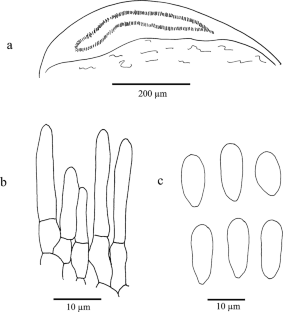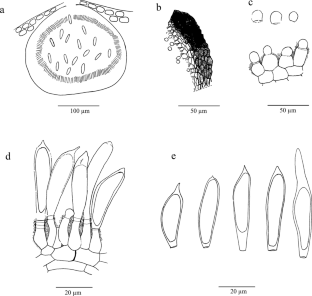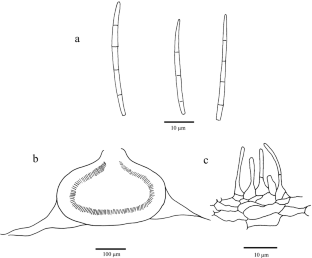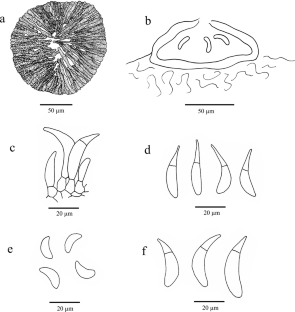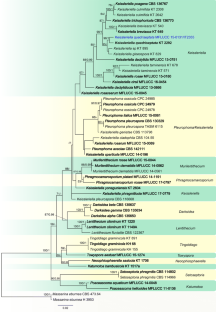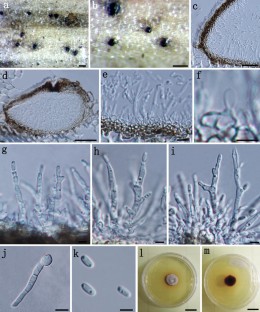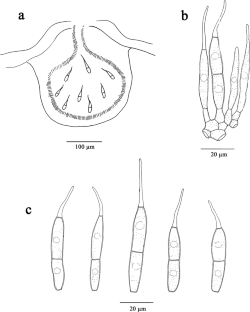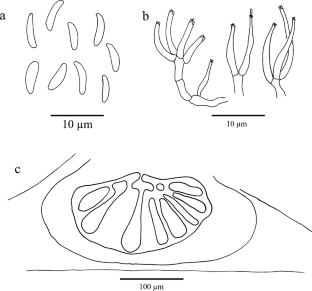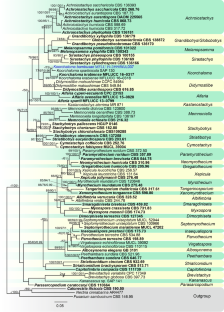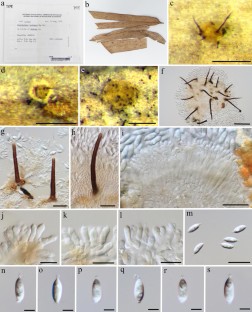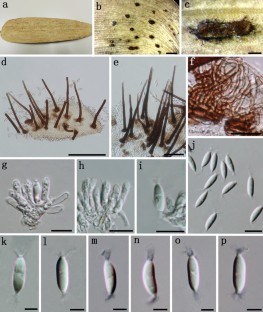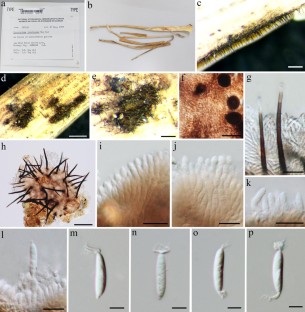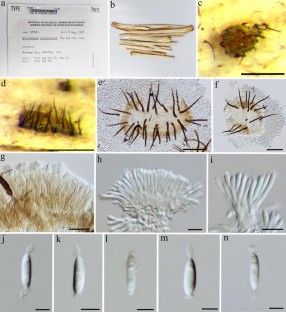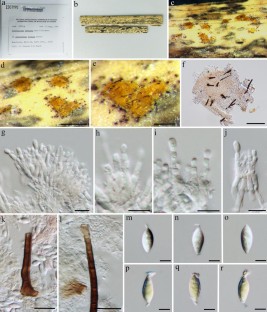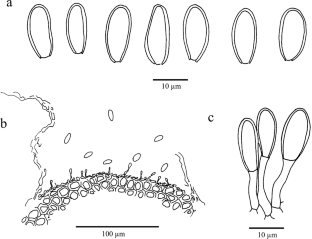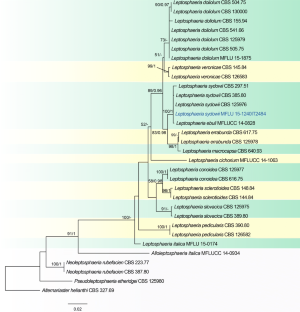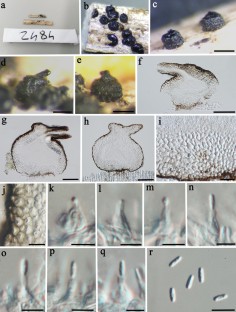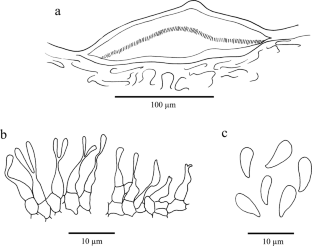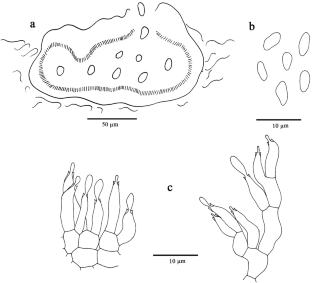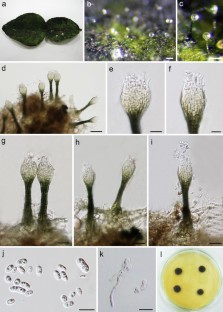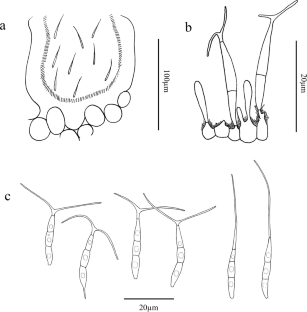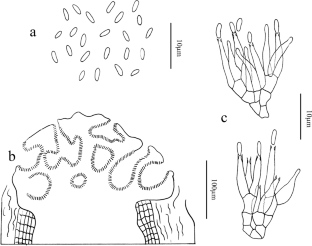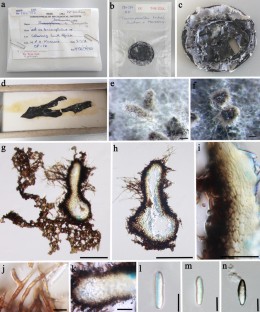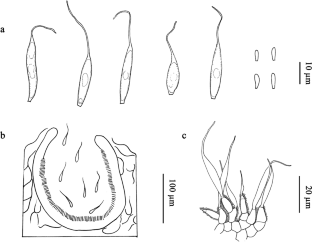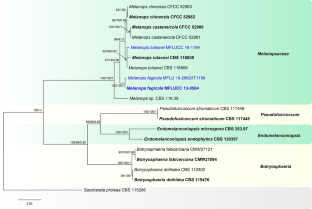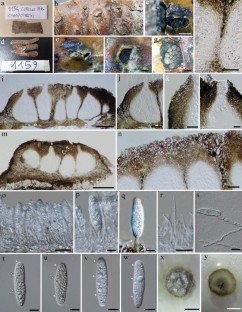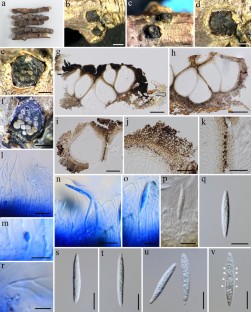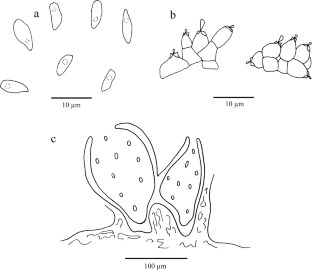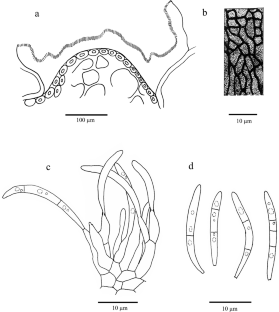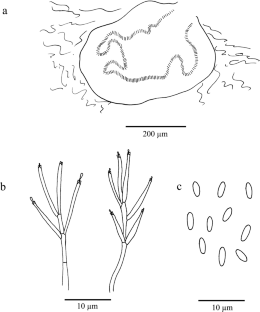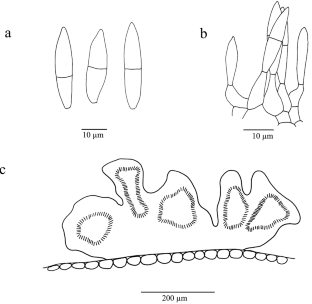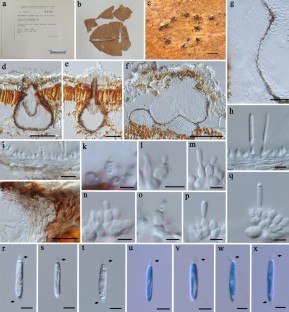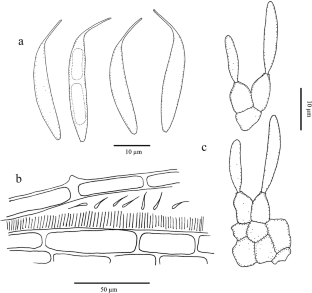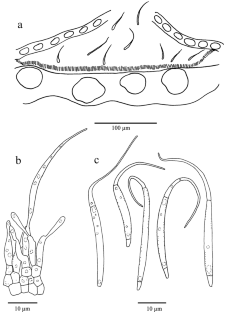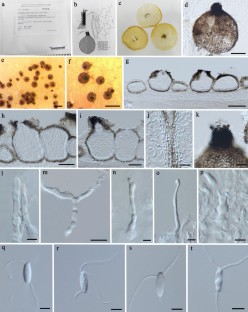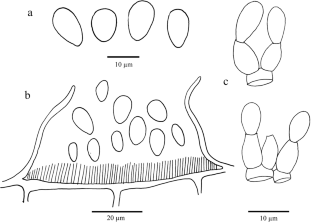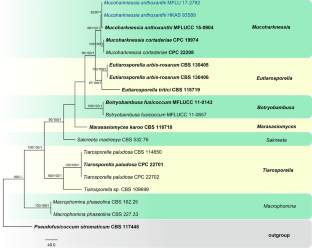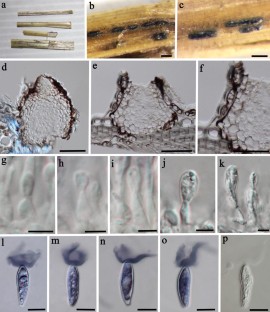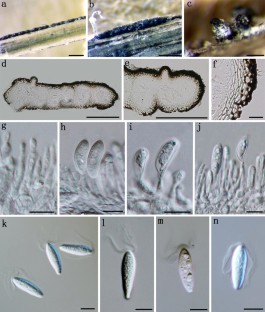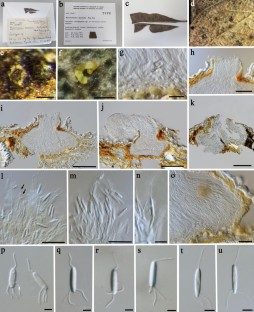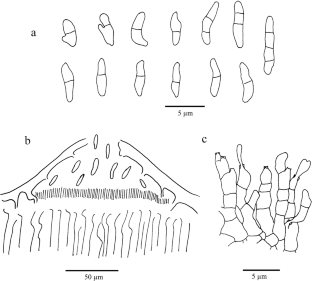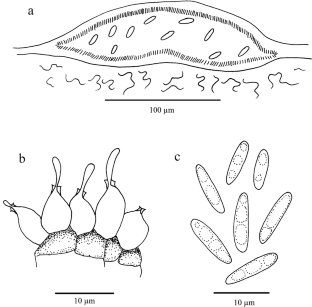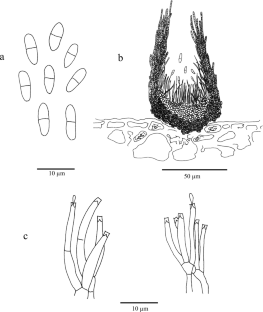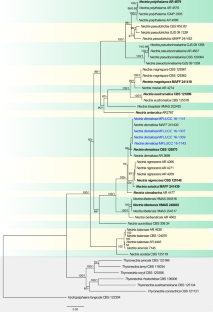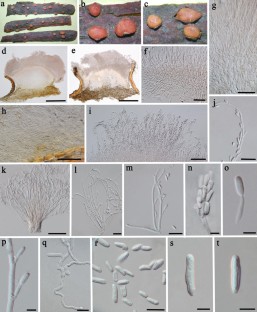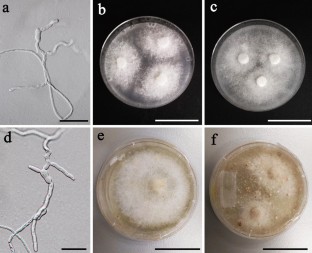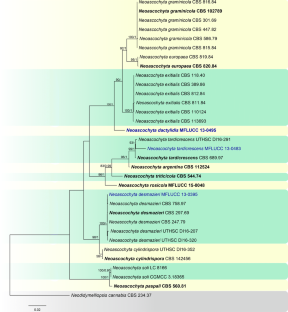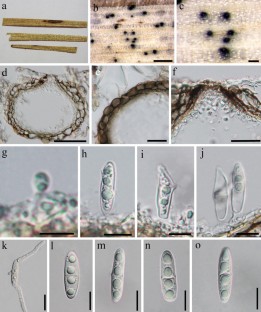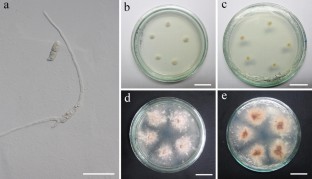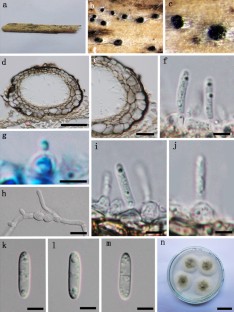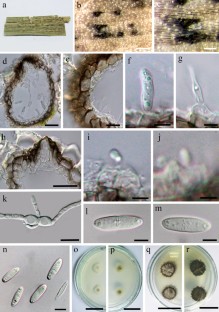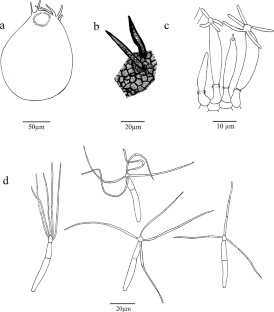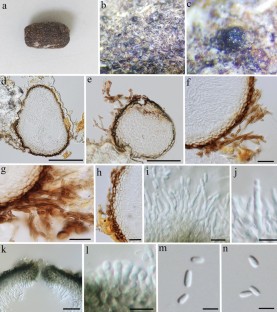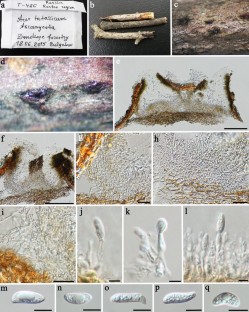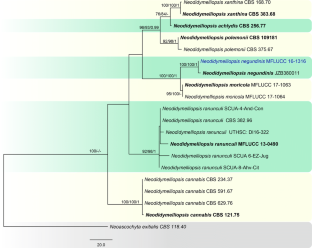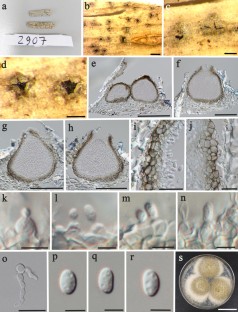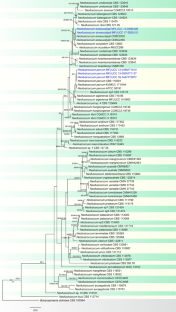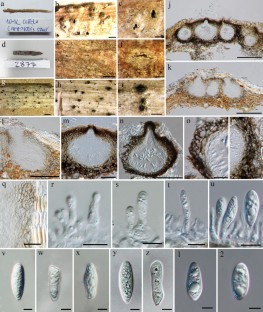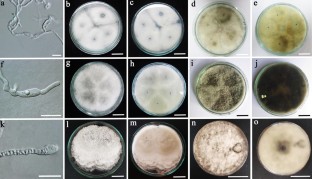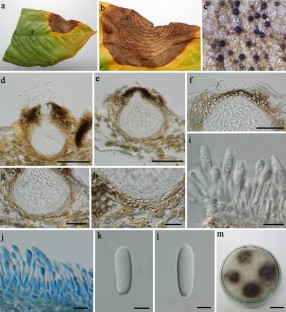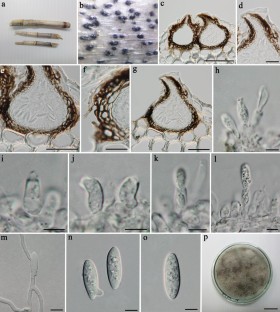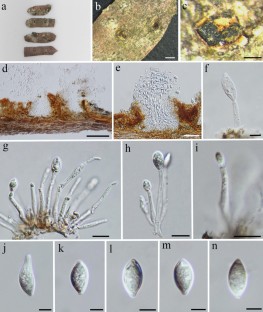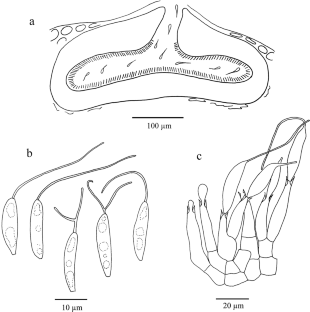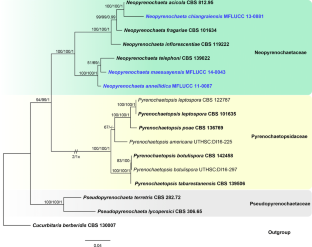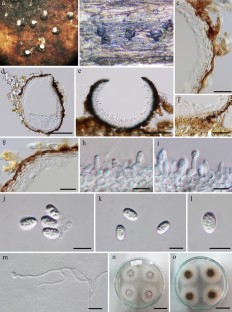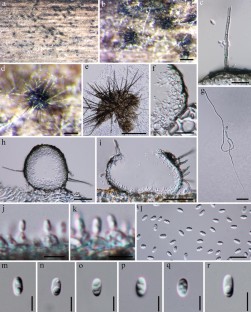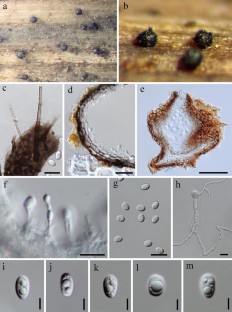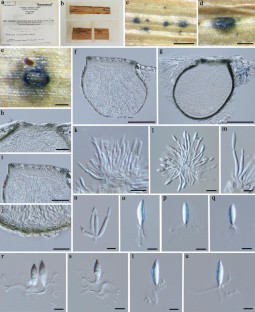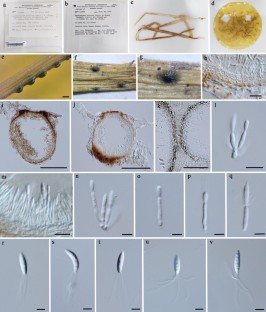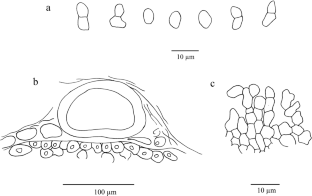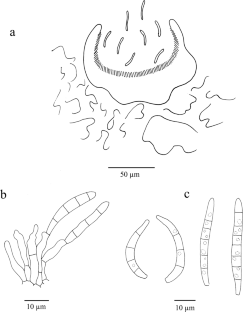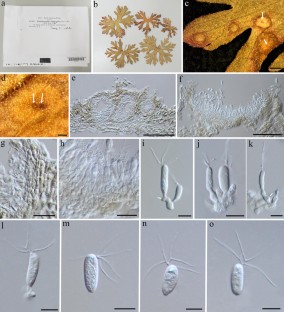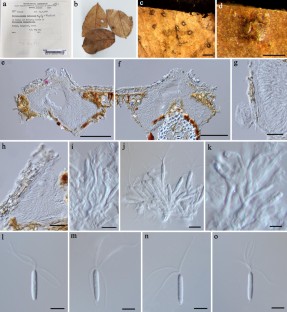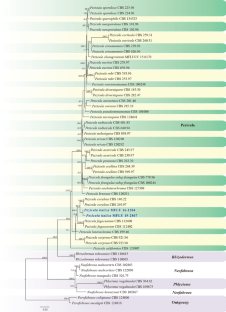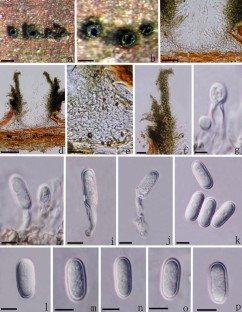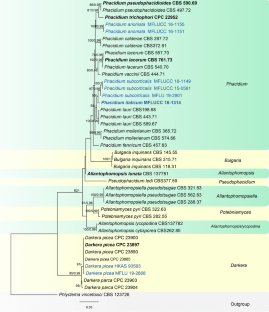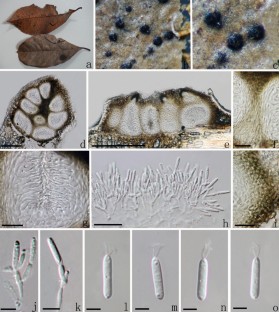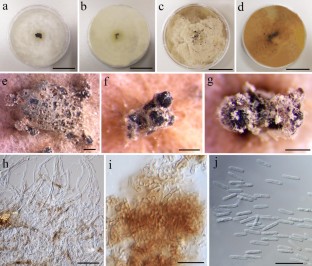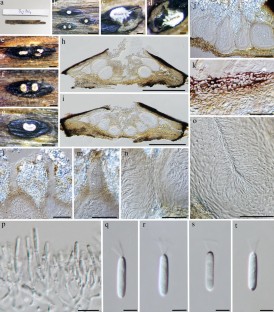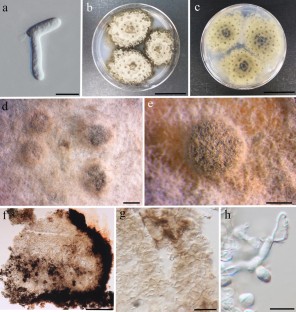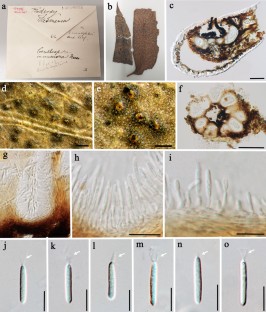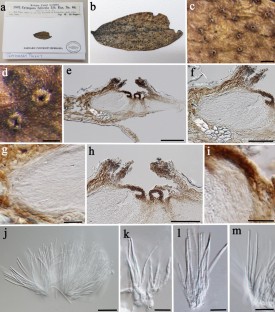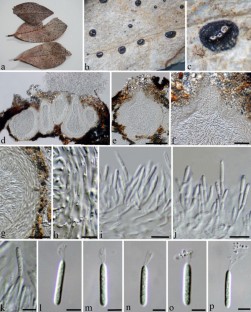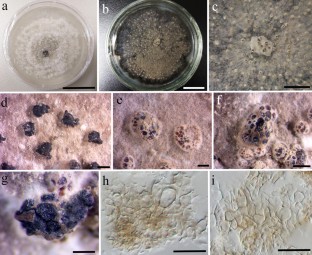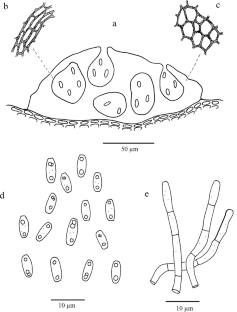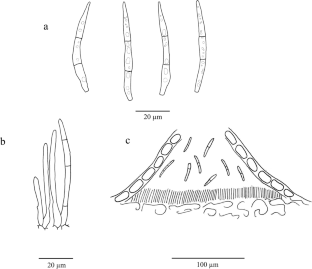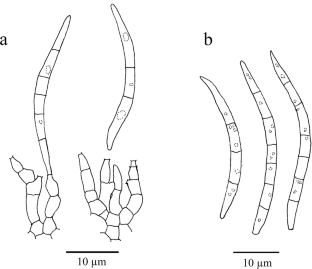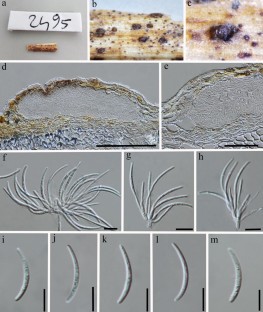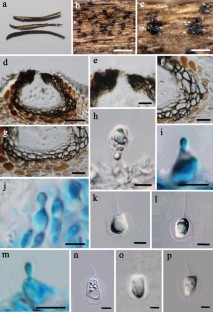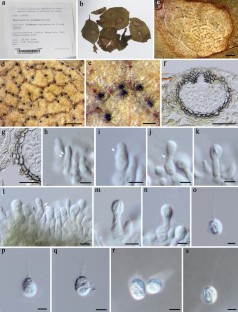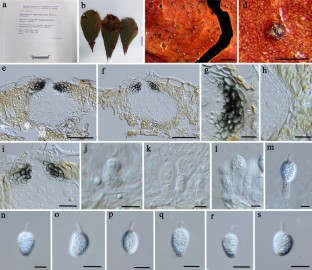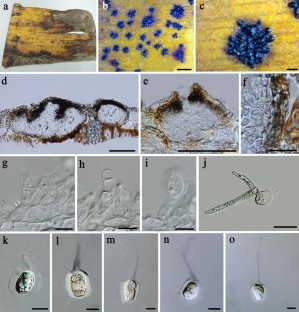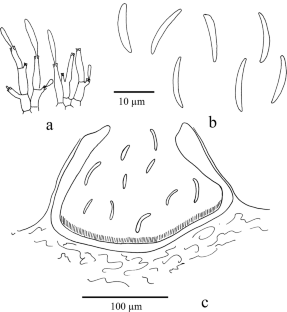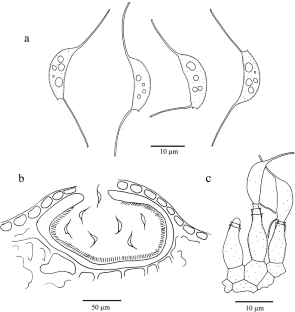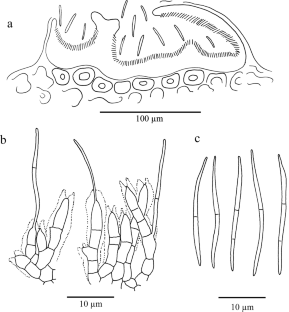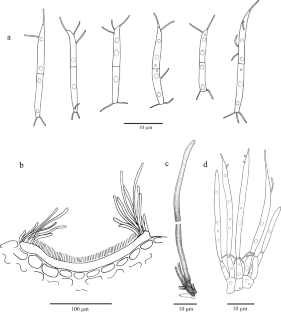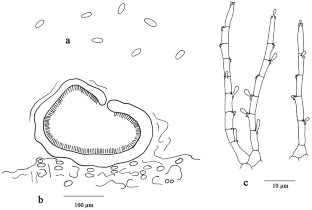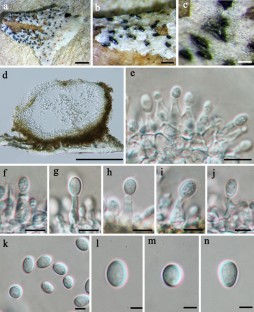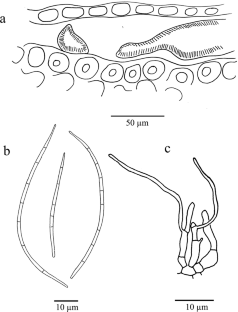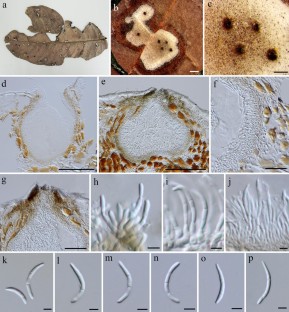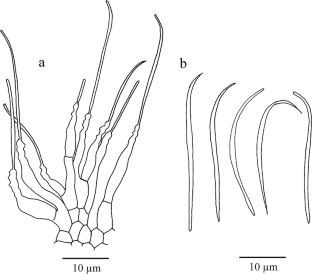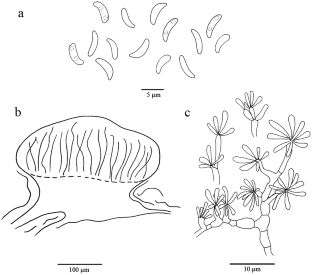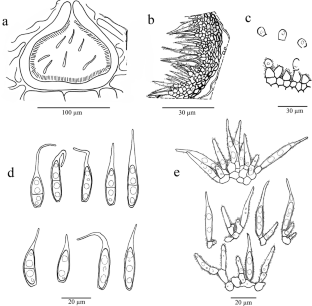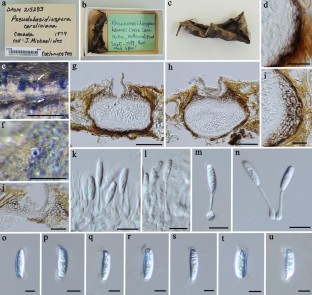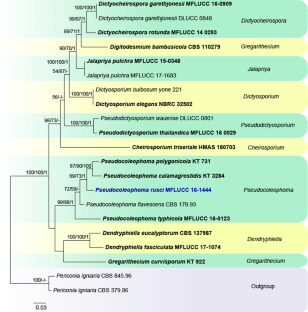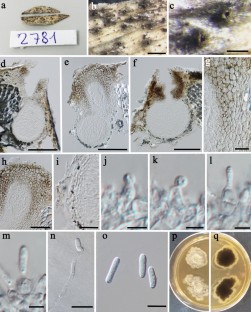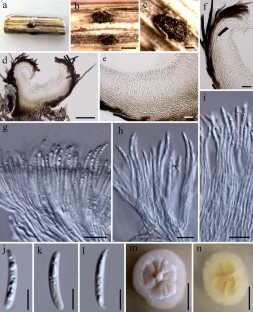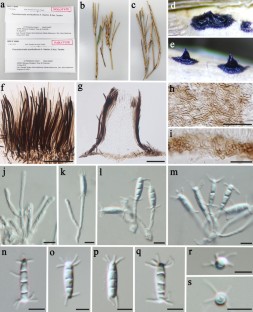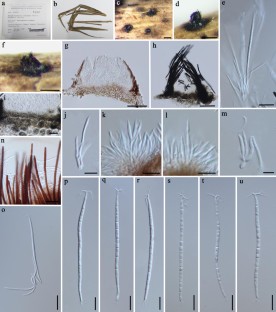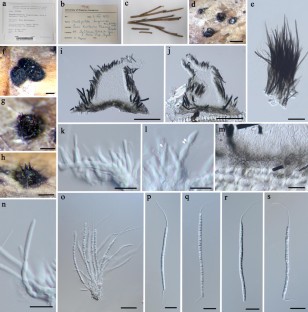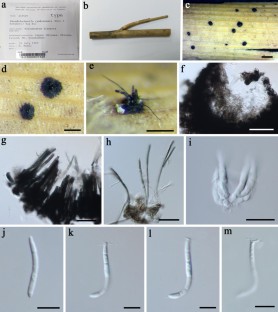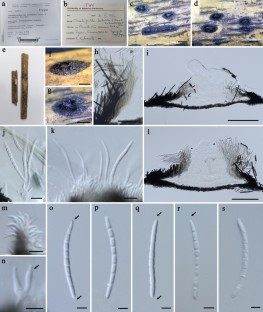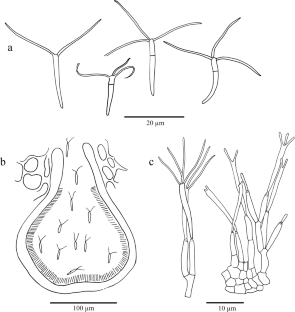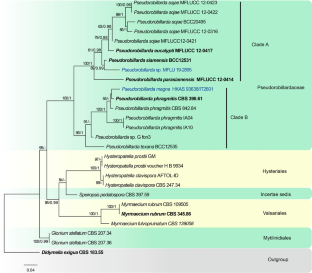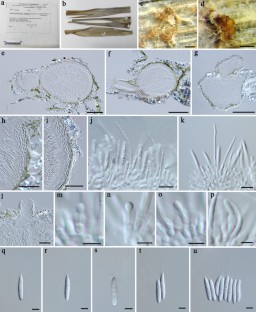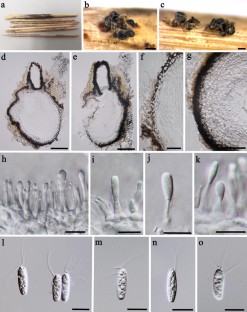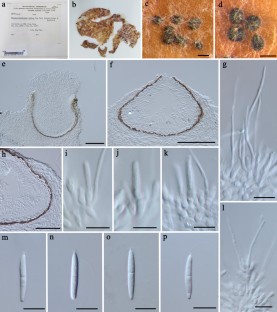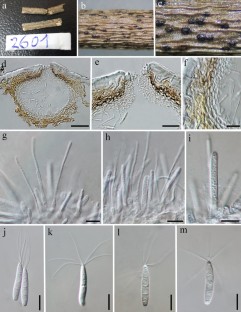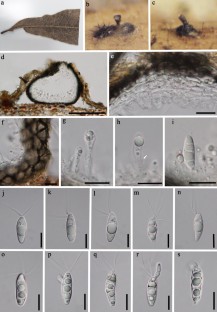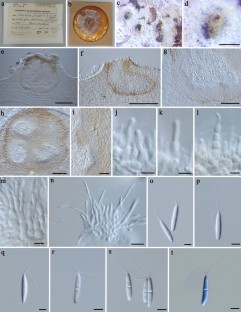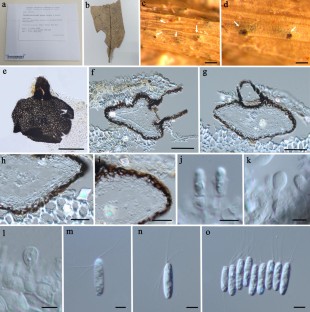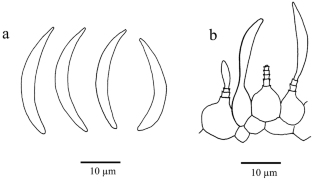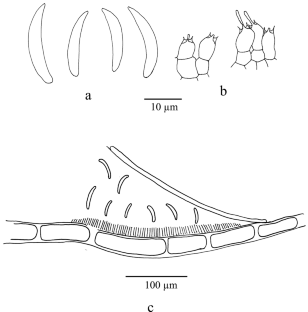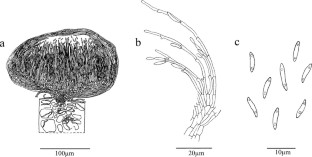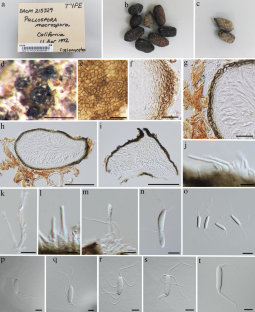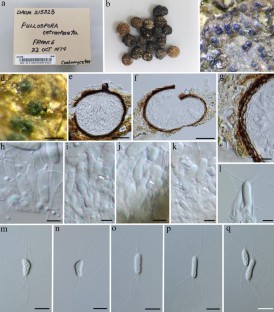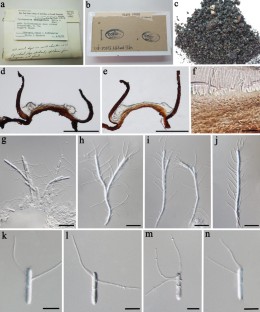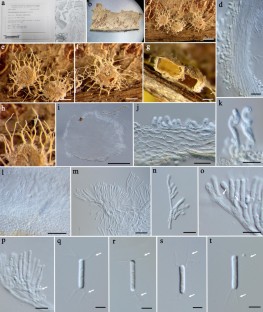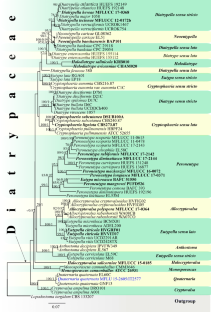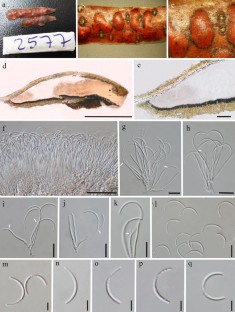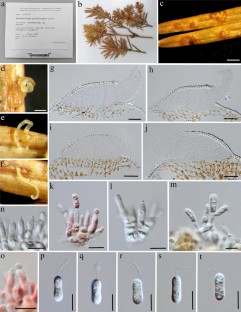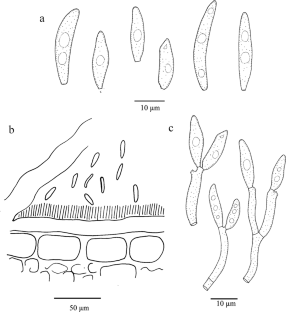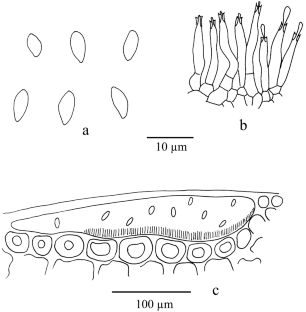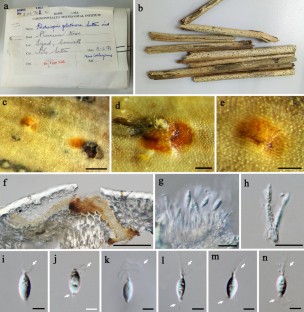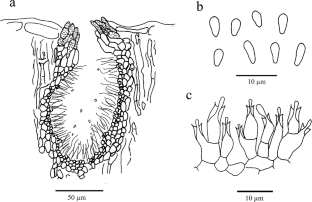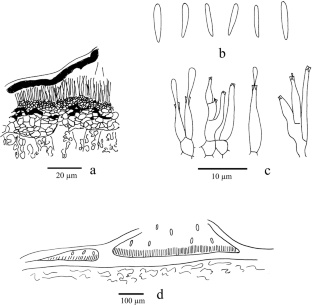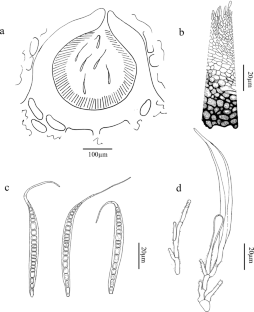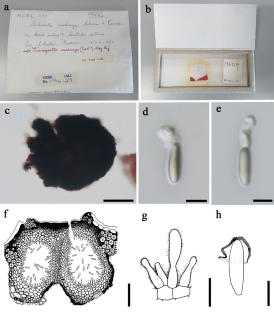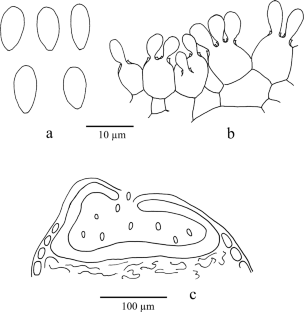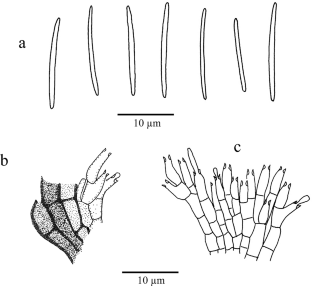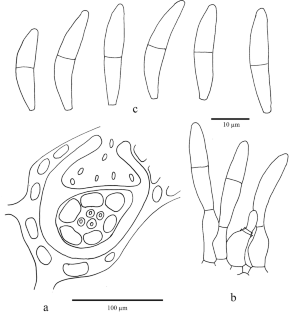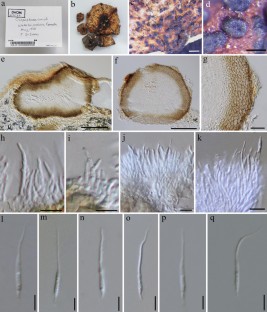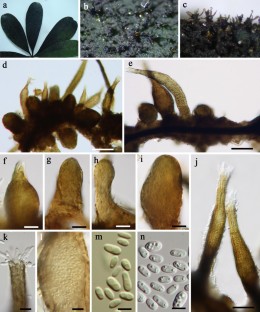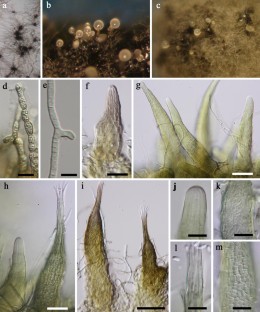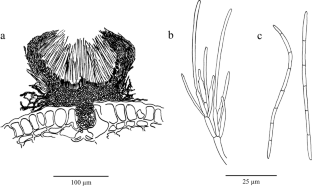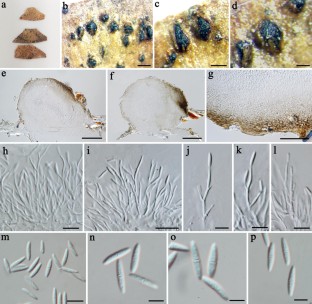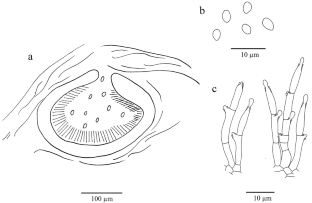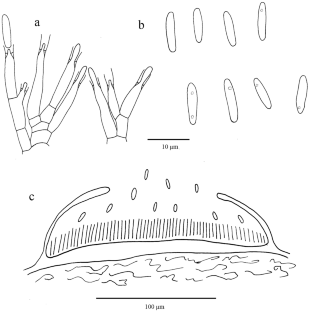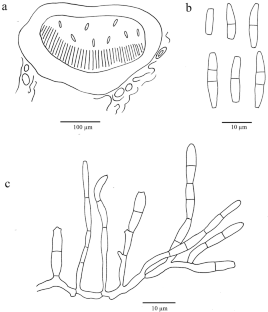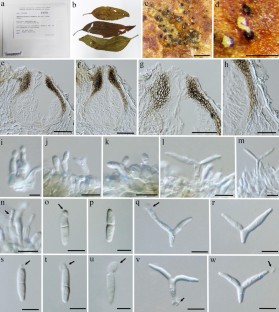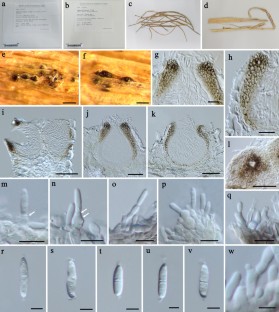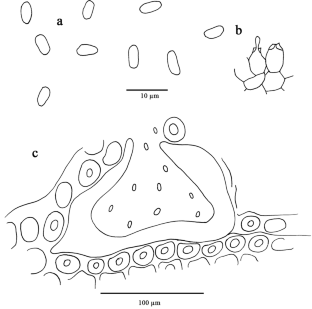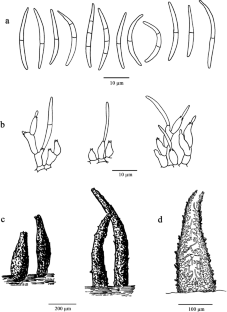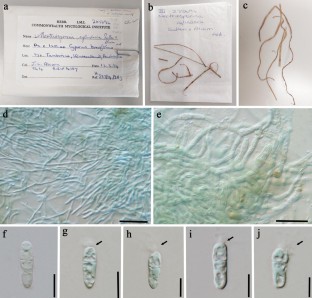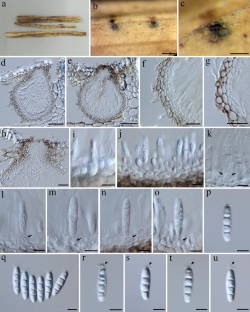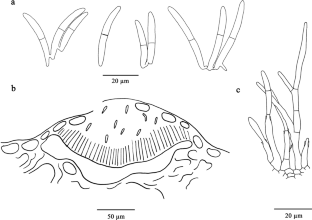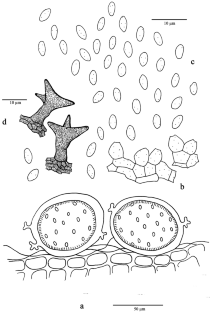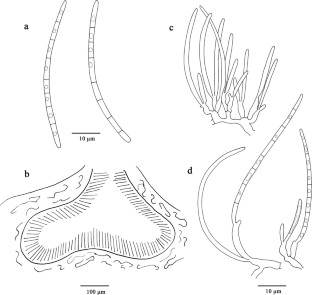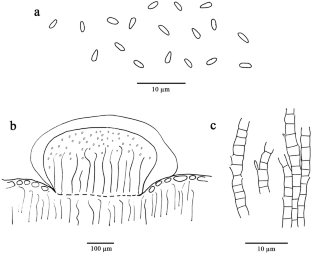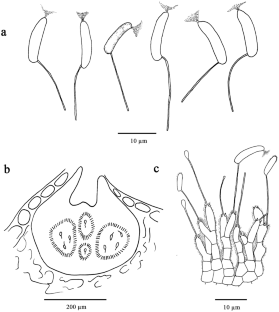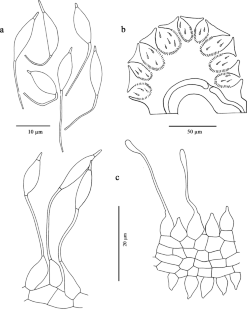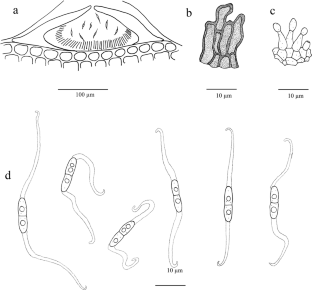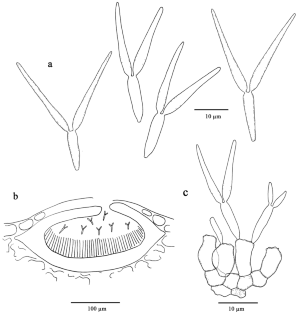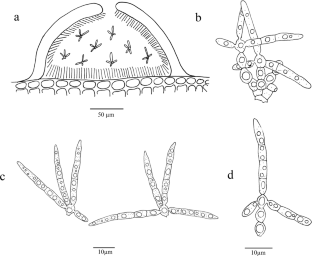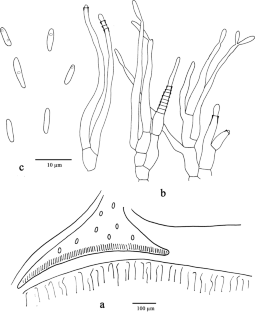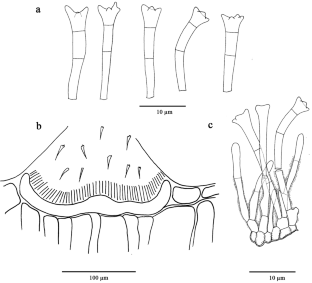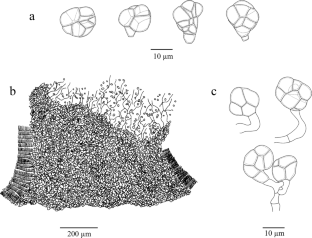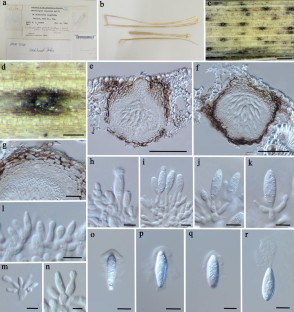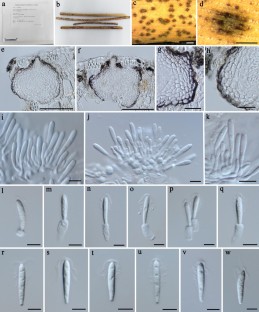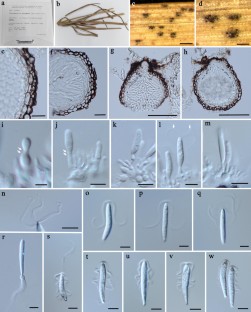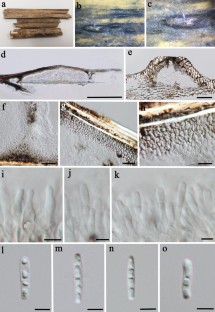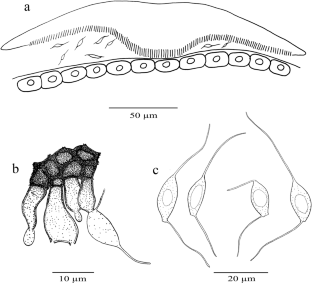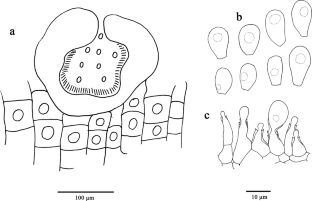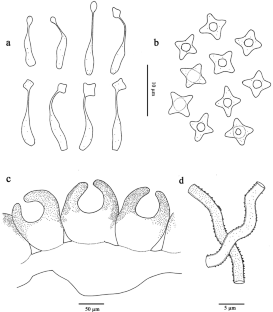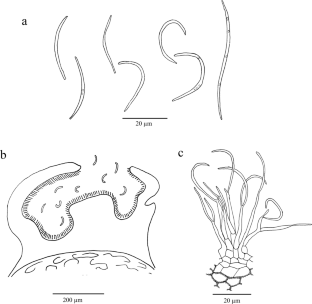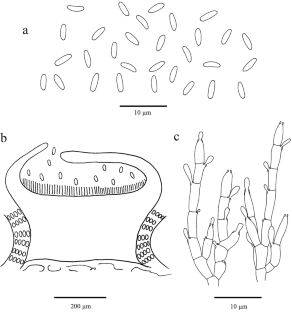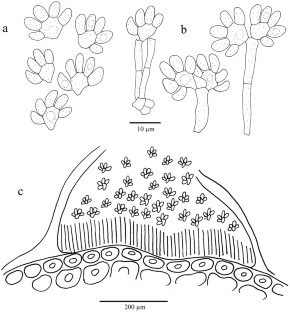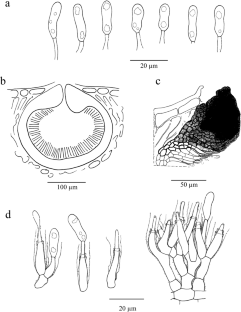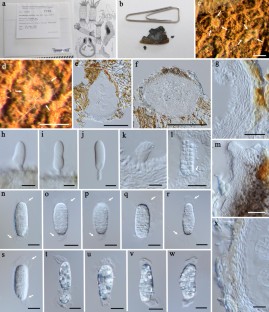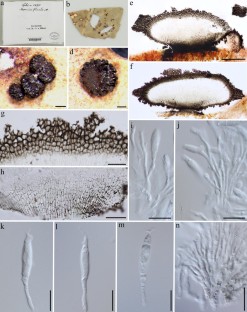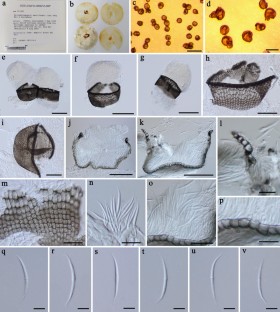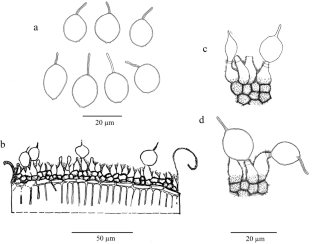 References
Abbas SQ, Sutton BC, Ghaffar A (1997) Conidial appendages as taxonomic criteria in coelomycetes. Pak J Bot 29:199–205

Abbas SQ, Sutton BC, Ghaffar A (1998) Studies on nuclei and appendages in some coelomycetes. Pak J Bot 30:51–68

Abbas SQ, Sutton BC, Ghaffar A (2002) Stauronematopsis Abbas, Sutton and Ghaffar gen. nov., an addition to coelomycetes. Can J Bot 34:117–124

Abdollahzadeh J, Zare R, Phillips AJL (2013) Phylogeny and taxonomy of Botryosphaeria and Neofusicoccum species in Iran, with description of Botryosphaeria scharifii sp. nov. Mycologia 105:210–220

Abeln ECA, De Pagter MA, Verkley GJM (2000) Phylogeny of Pezicula, Dermea and Neofabraea inferred from partial sequences of the nuclear ribosomal RNA gene cluster. Mycologia 92:685–693

Acero FJ, González V, Sánchez-Ballesteros J, Rubio V, Checa J, Bills GF, Salazar O, Platas G, Pelaé F (2004) Molecular phylogenetic studies on the Diatrypaceae based on rDNa-ITS sequences. Mycologia 96:249–259

Adamčíková K, Juhásová G, Kobza M (2011) The first report of Libertella spp. on Fagaceae in Slovakia. Mycoscience 52:268–270

Adams GC, Surve-iyer RS, Iezzoni AF (2002) Ribosomal DNA sequence divergence and group I introns within the Leucostoma species L. cinctum,L. persoonii, and L. parapersoonii sp. nov., ascomycetes that cause Cytospora canker of fruit trees. Mycologia 94:947–967

Adams GC, Wingfield MJ, Common R, Roux J (2005) Phylogenetic relationships and morphology of Cytospora species and related teleomorphs (Ascomycota, Diaporthales, Valsaceae) from Eucalyptus. Stud Mycol 52:1–144

Adams GC, Roux J, Wingfield MJ (2006) Cytospora species (Ascomycota, Diaporthales, Valsaceae): introduced and native pathogens of trees in South Africa. Austral Plant Pathol 35:521–548

Ahmad S (1961) Further contributions to the fungi of West Pakistan. I. Some corrections. Biol Lahore 6:257–258

Ahmadpour SA, Mehrabi-Koushki M, Farokhinejad R (2017) Neodidymelliopsis farokhinejadii, a new fungal species from dead branches of trees in Iran. Sydowia 69:171–182

Alcorn JL, Irwin JAG (1987) Acrocalymma medicaginis gen. et sp. nov. causing root and crown rot of Medicago sativa in Australia. Trans Br Mycol Soc 88:163–167

Aldaoud R, DeAlwis S, Salib S, Cunnington JH, Doughty S (2011) First record of Colletotrichum sansevieriae on Sansevieria sp. (mother- in-law's tongue) in Australia. Aust Plant Dis Notes 6:60–61

Allegrucci N, Elíades L, Cabello M, Arambarri A (2011) New species Koorchaloma and Ciliochorella from xeric forests in Argentina. Mycotaxon 115:175–181

Aptroot A, Diederich P, Sérusiaux E, Sipman HJM (1997) Lichens and lichenicolous fungi from New Guinea. Bibl Lichenol 64:1–220

Aptroot A, Lücking R, Sipman HJM, Umaña L, Chaves JL (2008) Pyrenocarpous lichens with bitunicate asci: a first assessment of the lichen biodiversity inventory in Costa Rica. Bibl Lichenol 97:1–162

Ariyawansa HA, Hawksworth DL, Hyde KD, Jones EBG, Maharachchikumbura SSN, Manamgoda DS, Thambugala KM, Udayanga D, Camporesi E, Daranagama A, Jayawardena R, Liu JK, McKenzie EHC, Phookamsak R, Senanayake IC, Shivas RG, Tian Q, Xu JC (2014) Epitypification and neotypification: guidelines with appropriate and inappropriate examples. Fungal Divers 69:57–91

Ariyawansa HA, Bulgakov TS, Phukhamsakda C, Thambugala KM, Bulgakov TS, Wanasinghe DN, Perera RH, Mapook A, Camporesi E, Kang JC, Jones EBG, Bahkali AH, Jayasiri SC, Hyde KD, Liu ZY, Bhat JD (2015a) Revision and phylogeny of Leptosphaeriaceae. Fungal Divers 74:19–51

Ariyawansa HA, Hyde KD, Jayasiri SC, Buyck B, Chethana KWT, Dai DQ, Dai YC, Daranagama DA, Jayawardena RS, Lücking R, Ghobad-Nejhad M, Niskanen T, Thambugala KM, Voigt K, Zhao RL, Li GJ, Doilom M, Boonmee S, Yang ZL, Cai Q, Cui YY, Bahkali AH, Chen J, Cui BK, Chen JJ, Dayarathne MC, Dissanayake AJ, Ekanayaka AH, Hashimoto A, Hongsanan S, Jones EBG, Larsson E, Li WJ, Li QR, Liu JK, Luo ZL, Maharachchikumbura SSN, Mapook A, McKenzie EHC, Norphanphoun C, Konta S, Pang KL, Perera RH, Phookamsak R, Phukhamsakda C, Pinruan U, Randrianjohany E, Singtripop C, Tanaka K, Tian CM, Tibpromma S, Abdel-Wahab MA, Wanasinghe DN, Wijayawardene NN, Zhang JF, Zhang H, Abdel-Aziz FA, Wedin M, Westberg M, Ammirati JF, Bulgakov TS, Lima DX, Callaghan TM, Callac P, Chang CH, Coca LF, Dal-Forno M, Dollhofer V, Fliegerová K, Greiner K, Griffith GW, Ho HM, Hofstetter V, Jeewon R, Kang JC, Wen TC, Kirk PM, Kytövuori I, Lawrey JD, Xing J, Li H, Liu ZY, Liu XZ, Liimatainen K, Lumbsch HT, Matsumura M, Moncada B, Nuankaew S, Parnmen S, de AzevedoSantiago ALCM, Sommai S, Song Y, de Souza CAF, de Souza-Motta CM, Su HY, Suetrong S, Wang Y, Wei SF, Wen TC, Yuan HS, Zhou LW, Réblová M, Fournier J, Camporesi E, Luangsa-ard JJ, Tasanathai K, Khonsanit A, Thanakitpipattana D, Somrithipol S, Diederich P, Millanes AM, Common RS, Stadler M, Yan JY, Li XH, Lee HW, Nguyen TTT, Lee HB, Battistin E, Marsico O, Vizzini A, Vila J, Ercole E, Eberhardt U, Simonini G, Wen HA, Chen XH, Miettinen O, Spirin V (2015b) Hernawati Fungal diversity notes 111–252—taxonomic and phylogenetic contributions to fungal taxa. Fungal Divers 75:27–274

Ariyawansa HA, Hyde KD, Liu JK, Wu SP, Liu ZY (2016) Additions to Karst fungi 1: Botryosphaeria minutispermatia sp. nov., from Guizhou Province, China. Phytotaxa 275:35–44

Arnaud G (1952) Mycologie concrète: genera. Bull Soc Mycol Fr 68:181–223

Ash GJ, Stodart B, Sakuanrungsirikul S, Anschaw E, Crump N, Hailstones D, Harper JDI (2010) Genetic characterization of a novel Phomopsis sp., a putative biocontrol agent for Carthamus lanatus. Mycologia 102:54–61

Aveskamp MM, de Gruyter J, Crous PW (2008) Biology and recent developments in the systematics of Phoma, a complex genus of major quarantine significance. Fungal Divers 31:1–18

Aveskamp MM, Woudenberg JHC, De Gruyter J, Turco E, Groenewald JZ, Crous PW (2009) Development of taxon-specific sequence characterized amplified region (SCAR) markers based on actin sequences and DNA amplification fingerprinting (DAF): a case study in the Phoma exigua species complex. Mol Plant Pathol 10:403–414

Aveskamp MM, De Gruyter J, Woudenberg JHC, Verkley GJM, Crous PW (2010) Highlights of the Didymellaceae: A polyphasic approach to characterise Phoma and related pleosporalean genera. Stud Mycol 65:1–60

Baayen RP, Bonants PJ, Verkley G, Carroll G, Van Der Aa H, De Weerdt M, Van Brouwershaven I, Schutte G, Maccheroni W Jr, De Blanco C (2002) Nonpathogenic isolates of the citrus black spot fungus, Guignardia citricarpa, identified as a cosmopolitan endophyte of woody plants, G. mangiferae (Phyllosticta capitalensis). Phytopathology 92:464–477

Bandre TR, Sasek V (1977) Antibiotic activity of pyrenomycetes under submerged conditions. Folia Microbiol 22:269–274

Barber PA, Crous PW, Groenewald JZ, Pascoe IG, Keane P (2011) Reassessing Vermisporium (Amphisphaeriaceae), a genus of foliar pathogens of eucalypts. Persoonia 27:90–118

Barghoorn ES, Linder DH (1944) Marine fungi: their taxonomy and biology. Farlowia 1:395–467

Barklund P, Kowalski T (1994) Endophytic fungi in branches of Norway spruce with particular reference to Tryblidopsis pinastri. Can J Bot 74:673–678

Barr E (1968) The Venturiaceae in North America. Can J Bot 46:799–864

Barr ME (1972) Preliminary studies on the Dothideales in temperate North America. Contributions from the University of Michigan Herbarium 9:523–638

Barr ME (1978) The Diaporthales in North America: with emphasis on Gnomonia and its segregates. Mycol Mem 7:1–232

Barr ME (1990) Melanommatales (Loculoascomycetes). N Am Flora Ser II 13:1–129

Barr ME (2001) Revisionary studies on the Dothioraceae. Harv Paper Bot 6:25–34

Batista AC, Ciferri R (1963) The sooty-molds of the family Asbolisiaceae. Quad Lab Crittogam Ist Bot Univ Pavia 31:1–229

Bedker PJ, Wingfield MJ (1983) Taxonomy of three canker-causing fungi of honey locust in the United States. Trans Br Mycol Soc 81:179–183

Berkeley MJ, Broome CE (1850) Notices of British fungi. Ann Mag Nat Hist 2:365–380

Berkeley MJ, Curtis MA (1869) Fungi Cubenses (Hymenomycetes). Biol J Linn Soc 10:280–392

Berraf-Tebbal A, Guereiro MA, Phillips AJL (2014) Phylogeny of Neofusicoccum species associated with grapevine trunk diseases in Algeria, with description of Neofusicoccum algeriense sp. nov. Phytopathol Mediterr 52:478–489

Berthet P (1964) Formes conidiennes de divers Discomycètes. Bull Soc Mycol France 80:125–149

Bessey EA (1906) Dilophospora alopecuri. J Mycol 12:57–58

Bi J, Yuan J, Pan J, Yu Y, Chen H, Zhu XD (2011) A new taxol-producing fungus (Pestalotiopsis malicola) and evidence for taxol as a transient product in the culture. Afr J Biotechnol 10(34):6647–6654

Bianchinotti MV (1997) A new species of Pseudorobillarda from a leguminous tree in Argentina. Mycol Res 101:1233–1236

Boerema GH, Bollen GJ (1975) Conidiogenesis and conidial septation ads differentiating criteria between Phoma and Ascochyta. Persoonia 8:111–144

Boerema GH, de Gruyter J, Noordeloos ME, Hamers MEC (2004) Phoma identification manual: differentiation of specific and infra-specific taxa in culture. CABI, Wallingford, p 470

Bonar L (1942) Studies on some California fungi: II. Mycologia 34:180–192

Bonar L (1962) Stegopezizella balsameae and Gloeosporium balsameae. Mycologia 54:395–399

Boom PVD, Sérusiaux E, Diederich P, Brand M, Aptroot A, Spier L (1998) A lichenlogical excursion in May 1997 near Han-sur-Lesse and Saint-Hubert, with notes on rare or critical taxa of the flora of Belgium and Luxembourg. Lejeunia (Belgium) 158:1–58

Bose T, Reynolds DR, Berbee ML (2014) Common, unsightly and until now undescribed: Fumiglobus pieridicola sp. nov., a sooty mold infesting Pieris japonica from western North America. Mycologia 106:746–756

Botella L, Diez JJ (2011a) Phylogenic diversity of fungal endophytes in Spanish stands of Pinus halepensis. Fungal Divers 47:9–18

Botella L, Diez JJ (2011b) Phylogenic diversity of fungal endophytes in Spanish stands of Pinus halepensis. Fungal Divers 47:9–18

Boudier E (1907) Histoire et classification des Discomycètes d'Europe. Paul Klincksieck, Paris

Boyette CD, Gealy D, Hoagland RE, Vaughn KC, Bowling AJ (2011) Hemp sesbania (Sesbania exaltata) control in rice (Oryza sativa) with the bioherbicidal fungus Colletotrichum gloeosporioides f. sp. aeschynomene formulated in an invert emulsion. Biocontrol Sci Technol 21:1399–1407

Braun U (2013) (2210–2232) Proposals to conserve the teleomorph- typified name Blumeria against the anamorph-typified name Oidium and twenty-two teleomorph-typified powdery mildew species names against competing anamorph-typified names (Ascomycota: Erysiphaceae. Taxon 62:1328–1331

Breton A, Faurel L (1970) Etude comparative des Monodia elegans nov. gen., nov. sp., et Pullospora tetrachaeta Faur. et Schott. Sphaeropsidales. Rev Mycol 35:22–40

Brisson JD, Pauze JF (1975) A new Coelomycete (Dwayalomella vaccinii gen. and sp. nov.) from Vaccinium angustifolium in Canada. Can J Bot 53:2866–2871

Bronson JJ, Stanosz GR, Putnam ML (2003) First report of Sirococcus conigenus on deodar cedar in Oregon. Plant Dis 87:1006

Brubacher DC, Rawla GS, Sharma R (1984) A new species of Crucellisporiopsis from India. Mycotaxon 21:449–458

Buchan A, Newell SY, Moreta JIL, Moran MA, (2002) Analysis of Internal Transcribed Spacer (ITS) Regions of rRNA Genes in Fungal Communities in a Southeastern U.S. Salt Marsh. Micro Ecol 43:329–340

Buddin W, Wakefield EM (1926) On the life-history of a fungus parasitic on Antirrhinum majus, with some remarks on the genus Heterosphaeria. Trans Br Mycol Soc 11:169–186

Burton JHM, Gwendolyn M (1943) Study of Bagnisiopsis species on the Melastomaceae. Mycologia 35:312–334

Butin H (1977) Taxonomy and morphology of Ascodichaena gen. et sp. nov. Trans Br Mycol Soc 69:249–254

Butin H, Kher R (1998) Gloeosporidina platani sp. nov., the spermatial state of the anthracnose fungus Apiognomonia veneta (Sacc., Speg.) Höhn. Eur J Plant Pathol 28:297–305

Cai L, Zhang KQ, McKenzie EHC, Hyde KD (2003) Freshwater fungi from bamboo and wood submerged in the Liput River in the Philippines. Fungal Divers 13:1–12

Cai L, Ji KF, Hyde KD (2006) Variation between freshwater and terrestrial fungal communities on decaying bamboo culms. Antonie Van Leeuwenhoek 89:293–301

Cai L, Hyde KD, Taylor PWJ, Weir B, Waller J, Abang MM, Zhang JZ, Yang YL, Phoulivong S, Liu ZY, Prihastuti H, Shivas RG, Mckenzie EHC, Johnston PR (2009) A polyphasic approach for studying Colletotrichum. Fungal Divers 39:183–204

Campbell J, Shearer C, Crane J, Fallah P (2003) A reassessment of two freshwater ascomycetes, Ceriospora caudae-suis and Submersisphaeria aquatica. Mycologia 95:41–53

Campbell R (1979) Ultrastructure of conidium ontogeny of Pseudobasidiospora caroliniana. Trans Br Mycol Soc 72:207–212

Cannon PF (1996) Systematics and diversity of the Phyllachoraceae associated with Rosaceae, with a monograph of Polystigma. Mycol Res 100:1409–1427

Cannon PF, Damm U, Johnston PR, Wei BS (2012) Colletotrichum-current status and future directions. Stud Mycol 73:181–213

Cannon PF, Kirk PM (2007) Fungal Families of the world, illustrate. CABI, Wallingford, p 456

Cannon PF, Minter DW (1983) The nomenclatural history and typification of Hypoderma and Lophodermium. Taxon 32:572–583

Cannon PF, Minter DW (1984) Rhytisma acerinum. CMI Descrip Pathog Fungi Bact 791:1–2

Carbone I, Kohn LM (1999) A method for designing primer sets for speciation studies in filamentous ascomycetes. Mycologia 91:553–556

Carlucci A, Raimondo ML, Cibelli F, Phillips AJL, Lops F (2013) Pleurostomophora richardsiae, Neofusicoccum parvum and Phaeoacremonium aleophilum associated with a decline of olives in southern Italy. Phytopathol Mediterr 52:517–527

Carmichael WJ (1981) Pleomorphism. In: Coke GT, Kendrick B (eds) Biology of conidial fungi, vol 1. Academic, New York, pp 135–143

Carmona M, Barreto D, Fortugno C (1996) Occurrence of halo spot in barley caused by Pseudoseptoria donacis in Argentina. EPPO Bull 26:437–439

Carris LM (1990) Cranberry black rot fungi: Allantophomopsis cytisporea and Allantophomopsis lycopodina. Can J Bot 68:2283–2291

Cash EK (1934) Godronia urceolus and Other Cenangiaceae on Ribes. Mycologia 26:266–272

Castagne L (1851) Supplément au catalogue des plantes qui croissent naturellement aux environs de Marseille. Olicot & Pardigon, Charleston

Castañeda RF (1987) Fungi cubensis II. Instituto de Investigaciones Fundamentales en Agricultura tropical "Alejandro de Humboldt.", La Habana

Castañeda RF, Kendrick B (1991) Ninety-nine conidial fungi from Cuba and three from Canada. Univ Waterloo Biol Ser 35:1–132

Chaverri P, Liu M, Hodge KT (2008) A monograph of the entomopathogenic genera Hypocrella, Moelleriella, and Samuelsia gen. nov. (Ascomycota, Hypocreales, Clavicipitaceae), and their aschersonia-like anamorphs in the Neotropics. Stud Mycol 60:1–66

Checa J, Jaklitsch WM, Blanco MN, Moreno G, Olariaga I, Tello S, Voglmayr H (2015) Two new species of Thyronectria from Mediterranean Europe. Mycologia 107:1314–1322

Cheewangkoon R, Groenewald JZ, Summerell BA, Hyde KD, To-anun C, Crous PW (2009) Myrtaceae, a cache of fungal biodiversity. Persoonia 23:55–85

Chen XH, Wu JR, Zhang JL (1991) White vein disease: a new disease in Cinnamomum glanduliferum. J Southwest For College 11:205–207

Chen SF, Pavlic D, Roux J, Slippers B, Xie YJ, Wingfield MJ, Zhou XD (2011) Characterization of Botryosphaeriaceae from plantation-grown Eucalyptus species in South China. Plant Pathol 60:739–751

Chen Q, Jiang JR, Zhang GZ, Crous PW (2015) Resolving the Phoma enigma. Stud Mycol 82:137–217

Chen C, Verkley GJM, Sun G, Groenewald JZ, Crous PW (2016) Redefining common endophytes and plant pathogens in Neofabraea, Pezicula, and related genera. Fungal Biol 120:1291–1322

Chen Q, Hou LW, Duan WJ, Crous PW, Cai L (2017) Didymellaceae revisited. Stud Mycol 87:105–159

Chilvers MI, Rogers JD, Dugan FM, Stewart JE, Chen W, Peever TL (2009) Didymella pisi sp. nov., the teleomorph of Ascochyta pisi. Mycol Res 113:391–400

Chomnunti P, Schoch CL, Aguirre-Hudson B, Ko-Ko TW, Hongsanan S, Jones EBG, Kodsueb R, Phookamsak R, Chukeatirote E, Bahkali AH, Hyde KD (2011) Capnodiaceae. Fungal Divers 51:103–134

Chomnunti P, Hongsanan S, Aguirre-hudson B, Tian Q, PerŠoh D, Dhami MK, Alias AS, Xu JC, Liu XZ, Stadler M, Hyde KD (2014) The sooty moulds. Fungal Divers 66:1–36

Clark J, Lott T (1989) Age heterokaryon studies in Didymium iridis. Mycologia 81:636–638

Clements RE, Shear CL (1931) The Genera of Fungi, 2nd edn. New York, H.W, Wilson

Cole GT, Kendrick B (1981) Biology of Conidial Fungi, vol 1. Academic Press, INC., New York

Collado J, Platas G, Bills GF, Basilio A, Vicente F, Tormo JR, Hernández P, Díez MT, Peláez F (2006) Studies on Morinia: Recognition of Morinia longiappendiculata sp. nov. as a new endophytic fungus, and a new circumscription of Morinia pestalozzioides. Mycologia 98:616–627

Conners IL (1959) Species of Leptothyrium and Kabatia on Lonicera. Can J Bot 37:419–429

Cooke MC (1883) New American Fungi. Grevillea 12:22–33

Cooke MC, Ellis JB (1877) New Jersey fungi. Grevillea 6:1–18

Crandall BS (1942) Thyronectria disease of honey locust in the South. Plant Dis Report 26:376

Crane JL (1971) Illinois fungi. 1. Chaetosticta. Can J Bot 49:31–34

Crouch JA, Tredway LP, Clarke BB, Hillman BI (2009) Phylogenetic and population genetic divergence correspond with habitat for the pathogen Colletotrichum cereale and allied taxa across diverse grass communities. Mol Ecol 18:123–135

Crous PW (1991) Two newly reported leaf pathogens of Eucalyptus grandis in South Africa. S Afr For J 157:12–15

Crous PW (1993) New and interesting fungi. 13. Foliicolous microfungi. S Afr J Bot 59:602–610

Crous PW (2009) Taxonomy and phylogeny of the genus Mycosphaerella and its anamorphs. Fungal Divers 38:1–24

Crous PW, Groenewald JZ (2017) The Genera of Fungi-G4: Camarosporium and Dothiora. IMA Fungus 8:131–152

Crous PW, Wingfield MJ, Koch SH (1990) New and Interesting records of South Africal fungi. X. New records of Eucalyptus leaf fungi. S Afr J Bot 56:583–586

Crous PW, Mohammed C, Glen M, Verkley GJM, Groenewald JZ (2007) Eucalyptus microfungi known from culture. 3. Eucasphaeria and Sympoventuria genera nova, and new species of Furcaspora, Harknessia, Heteroconium and Phacidiella. Fungal Divers 25:19–36

Crous PW, Slippers B, Wingfield MJ, Rheeder J, Marasas WFO, Philips AJL, Alves A, Burgess T, Barber P, Groenewald JZ (2006a) Phylogenetic lineages in the Botryosphaeriaceae. Stud Mycol 55:235–254

Crous PW, Verkley GJM, Groenewald JZ (2006b) Eucalyptus microfungi known from culture. 1. Cladoriella and Fulvoflamma genera nova, with notes on some other poorly known taxa. Stud Mycol 55:53–63

Crous PW, Schoch CL, Hyde KD, Wood AR, Gueidan C, de Hoog GS, Groenewald JZ (2009) Phylogenetic lineages in the Capnodiales. Stud Mycol 64:17–47

Crous PW, Groenewald JZ, Shivas RG, Edwards J, Seifert KA, Alfenas AC, Alfenas RF, Burgess TI, Carnegie AJ, Hardy GESTJ, Hiscock N, Hüberli D, Jung T, Louis-Seize G, Okada G, Pereira OL, Stukely MJC, Wang W, White GP, Young AJ, McTaggart AR, Pascoe IG, Porter IJ, Quaedvlieg W (2011a) Fungal planet description sheets: 69–91. Persoonia 26:108–156

Crous PW, Summerell BA, Shivas RG, Romberg M, Mel'nik VA, Verkley GJM, Groenewald JZ (2011b) Fungal Planet description sheets: 92–106. Persoonia 27:130–162

Crous PW, Summerell BA, Alfenas AC, Edwards J, Pascoe IG, Porter IJ, Groenewald JZ (2012a) Genera of diaporthalean coelomycetes associated with leaf spots of tree hosts. Persoonia 28:66–75

Crous PW, Verkley GJM, Christensen M, Castañeda-Ruiz RF, Groenewald JZ (2012b) How important are conidial appendages? Persoonia 28:126–137

Crous PW, Wingfield MJ, Guarro J, Cheewangkoon R, van der Bank M, Swart WJ, Stchige AM, Cano-Lira JF, Roux J, Madrid H, Damm U, Wood AR, Shuttleworth LA, Hodges CS, Munster M, de Jesús Yáñez-Morales M, Zúñiga-Estrada L, Cruywagen EM, de Hoog GS, Silvera C, Najafzadeh J, Davison EM, Davison PJN, Barrett MD, Barrett RL, Manamgoda DS, Minnis AM, Kleczewski NM, Flory SL, Castlebury LA, Clay K, Hyde KD, Maússe-Sitoe SND, Chen SF, Lechat C, Hairaud M, Lesage-Meessen L, Pawłowska J, Wilk M, Śliwińska-Wyrzychowska A, Mętrak M, Wrzosek M, Pavlic-Zupanc D, Maleme HM, Slippers B, Mac Cormack WP, Archuby DI, Grünwald NJ, Tellería MT, Dueñas M, Martín MP, Marincowitz S, de Beer ZW, Perez CA, Gené J, Marin-Felix Y, Groenewald JZ (2013) Fungal Planet description sheets: 154–213. Persoonia 31:188–296

Crous PW, Giraldo A, Hawksworth DL, Robert V, Kirk PM, Guarro J, Robbertse B, Schoch CL, Damm U, Trakunyingcharoen T, Groenewald JZ (2014a) The Genera of Fungi: fixing the application of type species of generic names. IMA Fungus 5:141–160

Crous PW, Quaedvlieg W, Hansen K, Hawksworth DL, Groenewald JZ (2014b) Phacidium and Ceuthospora (Phacidiaceae) are congeneric: taxonomic and nomenclatural implications. IMA Fungus 5:173–193

Crous PW, Wingfield MJ, Schumacher RK, van der Bank M, Zhang Y, Summerell BA, Guarro J, Wingfield MJ, Wood AR, Alfenas AC, Braun U, Cano-Lira JF, García D, Marin-Felix Y, Alvarado P, Andrade JP, Armengol J, Assefa A, den Breeÿen A, Camele I, Cheewangkoon R, De Souza JT, Duong TA, Esteve-Raventós F, Fournier J, Frisullo S, García-Jiménez J, Gardiennet A, Gené J, Hernández-Restrepo M, Hirooka Y, Hospenthal DR, King A, Lechat C, Lombard L, Mang SM, Marbach PAS, Marincowitz S, Marin-Felix Y, Montaño-Mata NJ, Moreno G, Perez CA, Pérez Sierra AM, Robertson JL, Roux J, Rubio E, Schumacher RK, Stchigel AM, Sutton DA, Tan YP, Thompson EH, van der Linde E, Walker AK, Walker DM, Wickes BL, Wong PTW, Groenewald JZ (2014c) Fungal Planet description sheets: 214–280. Persoonia 33:212–289

Crous PW, Wingfield MJ, Schumacher RK, van der Bank M, Zhang Y, Summerel BA, Guarro J, Wingfield MJ, Wood AR, Alfenas AC, Braun U, Cano-Lira JF, García D, Marin-Felix Y, Alvarado P, Andrade JP, Armengol J, Assefa A, den Breeÿen A, Camele I, Cheewangkoon R, De Souza JT, Duong TA, Esteve-Raventós F, Fournier J, Frisullo S, García-Jiménez J, Gardiennet A, Gené J, Hernández-Restrepo M, Hirooka Y, Hospenthal DR, King A, Lechat C, Lombard L, Mang SM, Marbach PAS, Marincowitz S, Marin-Felix Y, Montaño-Mata NJ, Moreno G, Perez CA, Pérez Sierra AM, Robertson JL, Roux J, Rubio E, Schumacher RK, Stchige AM, Sutton DA, Tan YP, Thompson EH, van der Linde E, Walker AK, Walker DM, Wickes BL, Wong PTW, Groenewald JZ (2014d) Fungal Planet description sheets: 281–319. Persoonia 32:184–306

Crous PW, Carris LM, Giraldo A, Groenewald JZ, Hawksworth DL, Hernández-Restrepo M, Jaklitsch WM, Lebrun Marc-Henri, Schumacher RK, Stielow JB, Van der Linde EJ (2015a) The Genera of Fungi: fixing the application of the type species of generic names-G 2: Allantophomopsis, Latorua, Macrodiplodiopsis, Macrohilum, Milospium, Protostegia, Pyricularia, Robillarda, Rotula, Septoriella, Torula, and Wojnowicia, IMA Fungus 6:163–198

Crous PW, Müller MM, Sánchez RM, Giordano L, Bianchinotti MV, Anderson FE, Groenewald JZ (2015b) Resolving Tiarosporella spp. allied to Botryosphaeriaceae and Phacidiaceae. Phatotaxa 202:73–93

Crous PW, Schumacher RK, Wingfield MJ, Lombard L, Giraldo A, Christensen M, Gardiennet A, Nakashima C, Pereira OL, Smith AJ, Groenewald JZ (2015c) Fungal systematics and evolution: FUSE 1. Sydowia 67:81–118

Crous PW, Wingfield MJ, Guarro J, Hernández-Restrepo M, Sutton DA, Acharya K, Barber PA, Boekhout T, Dimitrov RA, Dueñas M, Dutta AK, Gené J, Gouliamova DE, Groenewald M, Lombard L, Morozova OV, Sarkar J, Smith MTh, Stchige AM, Wiederhold NP, Alexandrova AV, Antelmi I, Armengo J, Barnes I, Cano-Lira JF, Castañeda Ruiz RF, Contu M, PrR Courtecuisse, da Silveira AL, Decock CA, de Goes A, Edathodu J, Ercole E, Firmino AC, Fourie A, Fournier J, Furtado EL, Geering ADW, Gershenzon J, Giraldo A, Gramaje D, Hammerbacher A, He XL, Haryadi D, Khemmuk W, Kovalenko AE, Krawczynski R, Laich F, Lechat C, Lopes UP, Madrid H, Malysheva EF, Marín-Felix Y, Martín MP, Mostert L, Nigro F, Pereira OL, Picillo B, Pinho DB, Popov ES, Rodas Peláez CA, Rooney-Latham S, Sandoval-Denis M, Shivas RG, Silva V, Stoilova-Disheva MM, Telleria MT, Ullah C, Unsicker SB, van der Merwe NA, Vizzini A, Wagner HG, Wong PTW, Wood AR, Groenewald JZ (2015d) Fungal Planet description sheets: 320–370. Persoonia 34:167–266

Crous PW, Wingfield MJ, Le Roux JJ, Richardson DM, Strasberg D, Shivas RG, Alvarado P, Edwards J, Moreno G, Sharma R, Sonawane MS, Tan YP, Altés A, Barasubiye T, Barnes CW, Blanchette RA, Boertmann D, Bogo A, Carlavilla JR, Cheewangkoon R, Daniel R, de Beer ZW, de Jesús Yáñez-Morales M, Duong TA, Fernández-Vicente J, Geering ADW, Guest DI, Held BW, Heykoop M, Hubka V, Ismail AM, Kajale SC, Khemmuk W, Kolařík M, Kurli R, Lebeuf R, Lévesque CA, Lombard L, Magista D, Manjón JL, Marincowitz S, Mohedano JM, Nováková A, Oberlies NH, Otto EC, Paguigan ND, Pascoe IG, Pérez-Butrón JL, Perrone G, Rahi P, Raja HA, Rintoul T, Sanhueza RMV, Scarlett K, Shouche YS, Shuttleworth LA, Taylor PWJ, Thorn RG, Vawdrey LL, Solano-Vidal R, Voitk A, Wong PTW, Wood AR, Zamora JC, Groenewald JZ (2015e) Fungal Planet description sheets: 371–399. Persoonia 35:264–327

Crous PW, Wingfield MJ, Burgess TI, Hardy GESTJ, Crane C, Barrett S, Cano-Lira JF, Le Roux JJ, Thangave R, Guarro J, Stchige AM, Martín MP, Alfredo DS, Barber PA, Barreto RW, Baseia IG, Cano-Canals J, Cheewangkoon R, Ferreira RJ, Gené J, Lechat C, Moreno G, Roets F, Shivas RG, Sousa JO, Tan YP, Wiederhold NP, Abell SE, Accioly T, Albizu JL, Alves JL, Antoniolli ZI, Aplin N, Araújo J, Arzanlou M, Bezerra JDP, Bouchara J-P, Carlavilla JR, Castillo A, Castroagudín VL, Ceresini PC, Claridge GF, Coelho G, Coimbra VRM, Costa LA, da Cunha KC, da Silva SS, Daniel R, de Beer ZW, Dueñas M, Edwards J, Enwistle P, Fiuza PO, Fournier J, García D, Gibertoni TB, Giraud S, Guevara-Suarez M, Gusmão LFP, Haituk S, Heykoop M, Hirooka Y, Hofmann TA, Houbraken J, Hughes DP, Kautmanová I, Koppel O, Koukol O, Larsson E, Latha KPD, Lee DH, Lisboa DO, Lisboa WS, López-Villalba Á, Maciel JLN, Manimohan P, Manjón JL, Marincowitz S, Marney TS, Meijer M, Miller AN, Olariaga I, Paiva LM, Piepenbring M, Poveda-Molero JC, Raj KNA, Raja HA, Rougeron A, Salcedo I, Samadi R, Santos TAB, Scarlett K, Seifert KA, Shuttleworth LA, Silva GA, Silva M, Siqueira JPZ, Souza-Motta CM, Stephenson SL, Sutton DA, Tamakeaw N, Telleria MT, Valenzuela-Lopez N, Viljoen A, Visagie CM, Vizzini A, Wartchow F, Wingfield BD, Yurchenko E, Zamora JC, Groenewald JZ (2016a) Fungal Planet description sheets: 469–557. Persoonia 37:218

Crous PW, Wingfield MJ, Burgess TI, Le Roux JJ, Strasberg D, Edwards J, Roets F, Hubka V, Taylor PWJ, Heykoop M, Martín MP, Moreno G, Sutton DA, Wiederhold NP, Barnes CW, Carlavilla JR, Gené J, Giraldo A, Guarnaccia V, Guarro J, Hernández-Restrepo M, Kolařík M, Manjón JL, Pascoe IG, Popov ES, Sandoval-Denis M, Woudenberg JHC, Acharya K, Alexandrova AV, Alvarado P, Barbosa RN, Baseia IG, Blanchette RA, Boekhout T, Burgess TI, Cano-Lira JF, Čmoková A, Dimitrov RA, Dyakov MY, Dueñas M, Dutta AK, Esteve-Raventós F, Fedosova AG, Fournier J, Gamboa P, Gouliamova DE, Grebenc T, Groenewald M, Hanse B, Hardy GESTJ, Held BW, Jurjević Ž, Kaewgrajang T, Latha KPD, Lombard L, Luangsa-ard JJ, Lysková P, Mallátová N, Manimohan P, Miller AN, Mirabolfathy M, Morozova OV, Obodai M, Oliveira NT, Ordóñez ME, Otto EC, Paloi S, Peterson SW, Phosri C, Roux J, Salazar WA, Sánchez A, Sarria GA, Shin H-D, Silva BDB, Silva GA, Smith MTH, Souza-Motta CM, Stchigel AM, Stoilova-Disheva MM, Sulzbacher MA, Telleria MT, Toapanta C, Traba JM, Valenzuela-Lopez N, Watling R, Groenewald JZ (2016b) Fungal Planet description sheets: 400–468. Persoonia 36:316–458

Crous PW, Wingfield MJ, Burgess TI, Carnegie AJ, Hardy GESTJ, Smith D, Summerell BA, Cano-Lira JF, Guarro J, Houbraken J, Lombard L, Martín MP, Sandoval-Denis M, Alexandrova AV, Barnes CW, Baseia IG, Bezerra JDP, Guarnaccia V, May TW, Hernández-Restrepo M, Stchigel AM, Miller AN, Ordoñez ME, Abreu VP, Accioly T, Agnello C, Agustin Colmán A, Albuquerque CC, Alfredo DS, Alvarado P, Araújo-Magalhães GR, Arauzo S, Atkinson T, Barili A, Barreto RW, Bezerra JL, Cabral TS, Camello Rodríguez F, Cruz RHSF, Daniëls PP, da Silva BDB, de Almeida DAC, de Carvalho Júnior AA, Decock CA, Delgat L, Denman S, Dimitrov RA, Edwards J, Fedosova AG, Ferreira RJ, Firmino AL, Flores JA, García D, Gené J, Giraldo A, Góis JS, Gomes AAM, Gonçalves CM, Gouliamova DE, Groenewald M, Guéorguiev BV, Guevara-Suarez M, Gusmão LFP, Hosaka K, Hubka V, Huhndorf SM, Jadan M, Jurjević Ž, Kraak B, Kučera V, Kumar TKA, Kušan I, Lacerda SR, Lamlertthon S, Lisboa WS, Loizides M, Luangsa-ard JJ, Lysková P, Mac Cormack WP, Macedo DM, Machado AR, Malysheva EF, Marinho P, Matočec N, Meijer M, Mešić A, Mongkolsamrit S, Moreira KA, Morozova OV, Nair KU, Nakamura N, Noisripoom W, Olariaga I, Oliveira RJV, Paiva LM, Pawar P, Pereira OL, Peterson SW, Prieto M, Rodríguez-Andrade E, Rojo De Blas C, Roy M, Santos ES, Sharma R, Silva GA, Souza-Motta CM, Takeuchi-Kaneko Y, Tanaka C, Thakur A, Smith MTh, Tkalčec Z, Valenzuela-Lopez N, van der Kleij P, Verbeken A, Viana MG, Wang XW, Groenewald JZ (2017) Fungal Planet description sheets: 625–715. Persoonia 39:270–467

Crous PW, Wingfield MJ, Burgess TI, Hardy GESTJ, Gené J, Guarro J, Baseia IG, García D, Gusmão LFP, Souza-Motta CM, Thangavel R, Adamčík S, Barili A, Barnes CW, Bezerra JDP, Bordallo JJ, Cano-Lira JF, de Oliveira RJV, Ercole E, Hubka V, Iturrieta-González I, Kubátová A, Martín MP, Moreau P-A, Morte A, Ordoñez ME, Rodríguez A, Stchige AM, Vizzini A, Abdollahzadeh J, Abreu VP, Adamčíková K, Albuquerque GMR, Alexandrova AV, Álvarez Duarte E, Armstrong-Cho C, Banniza S, Barbosa RN, Bellanger J-M, Bezerra JL, Cabral TS, Caboň M, Caicedo E, Cantillo T, Carnegie AJ, Carmo LT, Castañeda-Ruiz RF, Clement CR, Čmoková A, Conceição LB, Cruz RHSF, Damm U, da Silva BDB, da Silva GA, da Silva RMF, de A Santiago ALCM, de Oliveira LF, de Souza CAF, Déniel F, Dima B, Dong G, Edwards J, Félix CR, Fournier J, Gibertoni TB, Hosaka K, Iturriaga T, Jadan M, Jany J-L, Jurjević Ž, Kolařík M, Kušan I, Landell MF, Leite Cordeiro TR, Lima DX, Loizides M, Luo S, Machado AR, Madrid H, Magalhães OMC, Marinho P, Matočec N, Mešić A, Miller AN, Morozova OV, Neves RP, Nonaka K, Nováková A, Oberlies NH, Oliveira-Filho JRC, Oliveira TGL, Papp V, Pereira OL, Perrone G, Peterson SW, Pham THG, Raja HA, Raudabaugh DB, Řehulka J, Rodríguez-Andrade E, Saba M, Schauflerová A, Shivas RG, Simonini G, Siqueira JPZ, Sousa JO, Stajsic V, Svetasheva T, Tan YP, Tkalčec Z, Ullah S, Valente P, Valenzuela-Lopez N, Abrinbana M, Viana Marques DA, Wong PTW, Xavier de Lima V, Groenewald JZ (2018a) Fungal Planet description sheets: 716–784. Persoonia 40:240–393

Crous PW, Wingfield MJ, Carnegie AJ, Carnegie AJ, Hernández-Restrepo M, Lombard L, Roux J, Barreto RW, Baseia IG, Cano-Lira JF, Martín MP, Morozova OV, Stchige AM, Summerel BA, Brandrud TE, Dima B, García D, Giraldo A, Guarro J, Gusmão LFP, Khamsuntorn P, Noordeloos ME, Nuankaew S, Pinruan U, Rodríguez-Andrade E, Souza-Motta CM, Thangavel R, van Iperen AL, Abreu VP, Accioly T, Alves JL, Andrade JP, Bahram M, Bara HO, Barbier E, Barnes CW, Bendiksen E, Bernard E, Bezerra JDP, Bezerra JL, Bizio E, Blair JE, Bulyonkova TM, Cabral TS, Caiafa MV, Cantillo T, Colmán AA, Conceição LB, Cruz S, Cunha AOB, Darveaux BA, da Silva AL, da Silva GA, da Silva GM, da Silva RMF, de Oliveira RJV, Oliveira RL, De Souza JT, Dueñas M, Evans HC, Epifani F, Felipe MTC, Fernández-López J, Ferreira BW, Figueiredo CN, Filippova NV, Flores JA, GenéJ Ghorbani G, Gibertoni TB, Glushakova AM, Healy R, Huhndorf SM, Iturrieta-González I, Javan-Nikkhah M, Juciano RF, Jurjević Ž, Kachalkin AV, Keochanpheng K, Krisai-Greilhuber I, Li YC, Lima AA, Machado AR, Madrid H, Magalhães OMC, Marbach PAS, Melanda GCS, Miller AN, Mongkolsamrit S, Nascimento RP, Oliveira TGL, Ordoñez ME, Orzes R, Palma MA, Pearce CJ, Pereira OL, Perrone G, Peterson SW, Pham THG, Piontelli E, Pordel A, Quijada L, Raja HA, Rosas de Paz E, Ryvarden L, Saitta A, Salcedo SS, Sandoval-Denis M, Santos TAB, Seifert KA, Silva BDB, Smith ME, Soares AM, Sommai S, Sousa JO, Suetrong S, Susca A, Tedersoo L, Telleria MT, Thanakitpipattana D, Valenzuela-Lopez N, Visagie CM, Zapata M, Groenewald JZ (2018b) Fungal Planet description sheets: 785–867. Persoonia 41:238–417

Crous PW, Schumacher RK, Akulov A, Thangavel R, Hernández-Restrepo M, Carnegie AJ, Cheewangkoon R, Wingfield MJ, Summerell BA, Quaedvlieg W, Coutinho TA, Roux J, Wood AR, Giraldo A, Groenewald JZ (2019) New and interesting fungi.2. Fungal Syst Evol 3:57–134

Crowe F, Starkey D, Lengkeek V (1982) Honey locust canker in Kansas caused by Thyronectria austro-americana. Plant Dis 66:155–158

Croxall HE (1950) Studies on British Pyrenomycetes. III. The British species of the genus Diatrypella Cesati and de Notaris. Trans Br Mycol Soc 33:45–72

Cunnell GJ (1957) On Neottiospora caricina (Desm.) Hohnel. Trans. Brit. Mycol. Soc. 40:433–442

Cunnington JH, Priest MJ, Powney RA, Cother NJ (2007) Diversity of Botryosphaeria species on horticultural plants in Victoria and New South Wales. Austral Plant Pathol 36:157–159

Da Luz Calado M, Barata M (2012) Salt marsh fungi. In: Jones EBG, Pang K-L (eds) Marine fungi: and fungal-like organisms. Walter de Gruyter, Berlin

Dai DQ, Wijayawardene NN, Bhat DJ, Chukeatirote E, Zhao RL, Wang Y, Bahkali AH, Hyde KD (2014) The Phylogenetic placement of Eriosporella bambusicola sp. nov. in Capnodiales. Cryptogam Mycol 35:41–49

Dai DQ, Phookamsak R, Wijayawardene NN, Li WJ, Bhat DJ, Xu JC, Taylor JE, Hyde KD, Chukeatirote E (2017) Bambusicolous fungi. Fungal Divers 82:1–105

Damm U, Fourie PH, Crous PW (2010) Coniochaeta (Lecythophora), Collophora gen. nov. and Phaeomoniella species associated with wood necroses of Prunus trees. Persoonia 24:60–80

Damm U, Cannon PF, Woudenberg JHC, Crous PW (2012a) The Colletotrichum acutatum species complex. Stud Mycol 73:37–113

Damm U, Cannon PF, Woudenberg JHC, Johnston PR, Weir BS, Tan YP, Shivas RG, Crous PW (2012b) The Colletotrichum boninense species complex. Stud Mycol 73:1–36

Damm U, Sato T, Alizadeh A, Groenewald JZ, Crous PW (2019) The Colletotrichum dracaenophilum, C. magnum and C. orchidearum species complexes. Stud Mycol 46:1–46

Darker GD (1963) A new genus of Phacidiaceae on Picea mariana. Can J Bot 41:1389–1393

Darker GD (1967) Revision of the genera of the Hypodermataceae. Can J Bot 45:1399–1444

Davidson JA, Hartley D, Priest M, Krysinska-Kaczmarek M, Herdina McKay A, Scott ES (2009) A new species of Phoma causes ascochyta blight symptoms on field peas (Pisum sativum) in South Australia. Mycologia 101:120–128

Dayarathne MC, Phookamsak R, Ariyawansa HA, Jones EBG, Camporesi E, Hyde KD (2015) Phylogenetic and morphological appraisal of Leptosphaeria italica sp. nov. (Leptosphaeriaceae, Pleosporales) from Italy. Mycosphere 6:634–642

Dayarathne M, Maharachchikumbura S, Jones EBG, Goonasekara ID, Bulgakov TS, Al-Sadi AM, Hyde KD, Lumyong S, McKenzie EHC (2017) Neophyllachora gen nov. (Phyllachorales), three new species of Phyllachora from Poaceae and resurrection of Polystigmataceae. Mycosphere 8:1598–1625

De Bivona-Bernadi A (1813–1816) Stirpium rariorum, minusque cognitarum in Sicilia sponte provenientium descriptione, nonnullis iconibus auctae Manipulus I–IV. Typis Regiis, Palermo

De Gruyter J, Aveskamp MM, Woudenberg JHC, Verkley GJM, Groenewald JZ, Crous PW (2009) Molecular phylogeny of Phoma and allied anamorph genera: towards a re-classification of the Phoma complex. Mycol Res 113:508–519

De Gruyter J, Woudenberg JHC, Aveskamp MM, Verkley GJM, Groenewald JZ, Crous PW (2010) Systematic reappraisal of species in Phoma section Paraphoma, Pyrenochaeta and Pleurophoma. Mycologia 102:1066–1081

De Gruyter J, Woudenberg JHC, Aveskamp MM, Verkley GJM, Groenewald JZ, Crous PW (2013) Redisposition of phoma-like anamorphs in Pleosporales. Stud Mycol 75:1–36

Dean R, Van Kan JAL, Pretorius ZA, Hammond-Kosack KE, Di Pietro A, Spanu PD, Rudd JJ, Dickman M, Kahmann R, Ellis J, Foster GD (2012) The Top 10 fungal pathogens in molecular plant pathology. Mol Plant Pathol 13:414–430

Dearness J (1928) New and noteworthy fungi-V. Mycologia 20:235–246

Decock C, Delgado Rodriguez G, Seifert K (2005) Taxonomy and phylogeny of Synchaetomella lunatospora, a new genus and species of synnematous fungi from Southeast Asia. Antonie van Leeuwenhoek 88:231–240

Denman PW, Taylor JE, Kang JC, Pascoe I, Michael J (2000) An overview of the taxonomic history of Botryosphaeria, and a re-evaluation of its anamorphs based on morphology and ITS rDNA phylogeny. Stud Mycol 45:29–140

Dennis RWG (1978) British Ascomycetes. CABI, Egham, Surrey, UK

Desmazières JBHJ (1840) Sur un genre nouveau de l'ordre des Pyrenomycetes. Ann Sci Nat Bot Sér 2(14):5–7

Desmazièrcs JBHJ (1843) Dixième notice sur quelques plantes cryptogames, la plupart inédites, récemment découvertes en France, et qui vont paraître en nature dans la collection publiée par l'auteur. Ann Sci nat Bot 2:335–373

Dettrakul S, Kittakoop P, Isaka M, Nopichai S, Suyarnsestakorn C, Tanticharoenb M, Thebtaranonth Y (2003) Antimycobacterial pimarane diterpenes from the fungus Diaporthe sp. Bioorg Med Chem Lett 7:1253–1255

Dharkar N, Hande D, Shahezad MA (2009) Ajrekarella asetosa, A new coelomycete from Vidarbha, India. Kavaka 37:3–5

Dianese JC, Tessman DJ, Furlanetto C (1994) Reinstating Oswaldina icarahyensis as the name of the anamorph of Apiosphaeria guaranitica. Sydowia 46:233–237

Dicosmo F (1978) A revision of Corniculariella. Can J Bot 56:1665–1690

DiCosmo F, Nag Raj TR, Kendrick B (1983) Prodromus for a revision of the Phacidiaceae and related anamorphs. Can J Bot 61:31–44

DiCosmo F, Nag Raj TR, Kendrick B (1984) A revision of the Phacidiaceae and related anamorphs. Mycotaxon 21:1–234

Diederich P, Pvanden Boom, Aptroot A, Diederich P (2001) Cladonhcola staurospora gen. et sp. nov., a new lichenicolous coelomycete from western Europe. Belg J Bot 134:127–130

Diederich P, Lawrey JD, Sikaroodi M, van den Boom PPG, Ertz D (2012) Briancoppinsia, a new coelomycetous genus of Arthoniaceae (Arthoniales) for the lichenicolous Phoma cytospora, with a key to this and similar taxa. Fungal Divers 52:1–12

Diedicke H (1912) Die Abteilung Hyalodidymae der Sphaerioideen. Ann Mycol 10:135–152

Diogo ELF, Santos JM, Phillips AJL (2010) Phylogeny, morphology and pathogenicity of Diaporthe and Phomopsis species on almond in Portugal. Fungal Divers 44:107–115

Dissanayake AJ, Phillips AJL, Li XH, Hyde KD (2016) Botryosphaeriaceae: current status of genera and species. Mycosphere 7:1001–1073

Dixon JR (1975) Chlorosplenium and its segregates. II. The genera Chlorociboria and Chlorencoelia. Mycotaxon 1:193–237

Doilom M, Dissanayake AJ, Wanasinghe DN, Boonmee S, Liu JK, Bhat DJ, Taylor JE, Bahkali AH, McKenzie EHC, Hyde KD (2017) Microfungi on Tectona grandis (teak) in Northern Thailand. Fungal Divers 82:107–182

Duan JX, Wu WP, Liu XZ (2007) Dinemasporium (coelomycetes). Fungal Divers 26:205–218

Dyko BJ, Sutton BC (1978) Two new genera of water-borne coelomycetes from submerged leaf litter. Nova Hedwig 29:167–175

Dyko BJ, Sutton BC (1979a) A revision of Linodochium, Pseudocenaizgiuin, Septopatella, and Siroscyphella. Can J Bot 57:370–385

Dyko BJ, Sutton BC (1979b) Two new and unusual deuteromycetes. Trans Br Mycol Soc 72:411–417

Dyko BJ, Sutton BC, Roquebert MF (1979) The genus Protostegia. Mycologia 71:918–934

Ekanayaka AH, Ariyawansa HA, Hyde KD, Jones EBG, Daranagama DA, Phillips AJL, Hongsanan S, Jayasiri SC, Zhao Q (2017) DISCOMYCETES: the apothecial representatives of the phylum Ascomycota. Fungal Divers 87:237–298

Ekanayaka AH, Hyde KD, Jones EBG, Zhao Q (2018) Taxonomy and phylogeny of operculate discomycetes: Pezizomycetes. Fungal Divers 90:161–243

Ekanayaka AH, Hyde KD, Gentekaki E, McKenzie EHC, Zhao Q, Bulgakov TS, Camporesi E (2019) Preliminary classification of Leotiomycetes. Mycosphere 10:310–489

Ellis DE, Gill LS (1945) Mycological society of a new Rhabdogloeum associated with Rhabdocline pseudotsugae in the Southwest. Mycologia 37:326–332

Ellis JB (1882) New North American fungi. Bull Torrey Bot Club 9:18–20

Ellwood SR, Kamphuis LG, Oliver RP (2006) Identification of sources of resistance to Phoma medicaginis isolates in Medicago truncatula SARDI core collection accessions, and multigene differentiation of isolates. Phytopathology 96:1330–1336

Ertz D, Diederich P, Lawrey JD, Berger F, Freebury CE, Coppins B, Gardiennet A, Hafellner J (2015) Phylogenetic insights resolve Dacampiaceae (Pleosporales) as polyphyletic: Didymocyrtis (Pleosporales, Phaeosphaeriaceae) with phoma-like anamorphs resurrected and segregated from Polycoccum (Trypetheliales, Polycoccaceae fam. nov.). Fungal Divers 74:53–89

Evans HC (1984) The genus Mycosphaerella and its anamorphs Cercoseptoria, Dothistroma and Lecanosticta on pines. Myc Papers 153:1–102

Fallah PM, Shearer CA (1998) Freshwater Ascomycetes: Phomatospora spp. from lakes in Wisconsin. Mycologia 91:145–156

Fan XL, Hyde KD, Liu M, Liang YM, Tian CM (2015a) Cytospora species associated with walnut canker disease in China, with description of a new species C. gigalocus. Fungal Biol 119:310–319

Fan XL, Hyde KD, Yang Q, Liang YM, Ma R, Tian CM (2015b) Cytospora species associated with canker disease of three anti-desertification plants in northwestern China. Phytotaxa 197:227–244

Fan XL, Bezerra JDP, Tian CM, Crous PW (2018) Families and genera of diaporthalean fungi associated with canker and dieback of tree hosts. Persoonia 40:119–134

Fan XL, Bezerra JDP, Tian CM, Crous PW (2020) Cytospora (Diaporthales) in China. Persoonia 45:1–45

Farr DF, Rossman AY (2016) Fungal databases, systematic mycology and microbiology laboratory, ARS, USDA. http://nt.ars-grin.gov/fungaldatabases/. Accessed 11 Jan 2015

Farr ML (1968) The nomenclatural status and synonymy of Phyllachora bambusina, Lateropeltis bambusarun, and their conidial stages. Mycologia 60:924–931

Farr ML, Horner HTJ (1968) Fungi on Selaginella. Nova Hedwig 15:239–283

Faurel L, Schotter G (1965) Notes mycologiques. IV. Champignons coprophiles du Sahara central et notamment de la Tefedest. Rev Mycol 30:141–165

Feau N, Hamelin RC, Bernier L (2006) Attributes and congruence of three molecular data sets: Inferring phylogenies among Septoria related species from woody perennial plants. Mol Phylogenet Evol 40:808–829

Ferreira FA, Demuner NL, Rezende DV (1992) Mancha de folha, desfolha e antracnose do Jatobá (Hymenaea spp.) causadas por Erythrogloeum hymenaeae. Fitopatol Bras 17:106–109

Ferrer C, Pérez-Santonja JJ, Rodríguez AE, Colom MF, Gené J, Alio JL, Verkley GJM, Guarro J (2009) New Pyrenochaeta species causing keratitis. J Clin Microbiol 47:1596–1598

Flakus A, Farkas E (2013) A contribution to the taxonomy of Lyromma (Lyrommataceae, lichenized Ascomycota) with a species key. Mycotaxon 124:127–141

Fonseka RN (1960) The morphology of Chaetospermum chaetosporum. Trans Br Mycol Soc 43:631–636

Fries EM (1825) Systema orbis vegetabilis, vol 1. Typographia Academica, Lund, pp 1–374

Fries EM (1828) Elenchus fungorum, vol II. E. Mauritius, Greifswald

Fries EM (1832) Systema Mycologicum. E. Moritz, Greifswald, Germany 3:261–524

Fries EM (1849) Summa Vegetabilum Scandinaviae. Typographia Academica. Holmiae & Lipsiae, Uppsala

Fuckel L (1870) Symbolae mycologicae: Beiträge zur Kenntniss der rheinischen Pilze. Jahrb Nassau Vereins Nat 23–24:1–459

Funk A (1979) Rileya, a new genus of Coelomycetes. Can J Bot 57:7–10

Furtado JS (1966) Significance of the clamp-connection in the basidiomycetes. Persoonia 4:125–144

Gabel AC (1993) Sizes of Cryptomycina pteridis (=  Cryptomycella pteridis) Macroconidia. Mycologia 85:861–865

Gams W (1994) Report of the Committee for Fungi: 4. Taxon 43:265–267

Gamundí IJ, Minter DW, Romero AI, Barrera VA, Giaiotti AL, Messuti MI, Stecconi M (2004) Checklist of the Discomycetes (Fungi) of Patagonia, Tierra del Fuego and Adjacent Antarctic Areas. Darwiniana 42:63–164

Gangadevi V, Muthumary J (2008) Taxol, an anticancer drug produced by an endophytic fungus Bartalinia robillardoides Tassi, isolated from a medicinal plant, Aegle marmelos Correa ex Roxb. World J Microbiol Biot 24:717–724

Gao YH, Liu F, Duan WJ, Crous PW, Cai L (2017) Diaporthe is paraphyletic. IMA Fungus 8:153–187

Gerl C, Kalb K (1993) Die Flechtengattung Dibaeis. Eine Übersicht Ober die rosafrüchtigen Arten von Baeomyces sens. lat. nebst Anmerkungen zu Phyllobaeis gen. nov. Herzogia 9:593–645

Gernand DS, Camacho FJ, Stone JK (1997) Meria laricis, an anamorph of Rhabdocline. Mycologia 89:735–744

Gernandt DS, Platt JL, Stone JK, Spatafora JW, Holst-Jensen A, Hamelin RC, Kohn LM (2001) Phylogenetics of Helotiales and Rhytismatales based on partial small subunit nuclear ribosomal DNA sequences. Mycologsia 93:915–933

Ghazanfar MU, Sahi ST, Wakil W (2010) Effect of ascochyta blight on the agronomic characters of selected chickpea cultivars/lines. Pak J Phytopathol 22:113–119

Glass NL, Donaldson G (1995) Development of primer sets designed for use with PCR to amplify conserved genes from filamentous ascomycetes. Appl Environ Microbiol 61:1323–1330

Glienke C, Pereira O, Stringari D, Fabris J, Kava-Cordeiro V, Galli-Terasawa L, Cunnington J, Shivas R, Groenewald J, Crous PW (2011) Endophytic and pathogenic Phyllosticta species, with reference to those associated with citrus black spot. Persoonia 26:47–56

Golzar H, Burgess TI (2011) Neofusicoccum parvum, a causal agent associated with cankers and decline of Norfolk Island pine in Australia. Australas Plant Pathol J 40:484–489

Gomes R, Glienke C, Videira S, Lombard L, Groenewald J, Lombard L, Groenewald JZ, Crous PW (2013) Diaporthe: a genus of endophytic, saprobic and plant pathogenic fungi. Persoonia 31:1–41

Grasso FM, Marini M, Vitale A, Firrao G, Granata G (2012) Canker and dieback on Platanus acerifolia caused by Diaporthe scabra. For Pathol 42:510–513

Greene HC (1949) Notes on Wisconsin Parasitic Fungi. XIII. Am Midl Nat 41:740–758

Gremmen J (1955) New and noteworthy discomycetous fungi on coniferous hosts from Switzerland. Sydowia 9:432–437

Gremmen J (1957) Further notes on Discomycetous fungi on coniferous hosts. Sydowia Beih 1:179–182

Greville RK (1828) Scottish Cryptogamic Flora. Edinburgh: MacLachlan Stewart. 6:331–360

Grove WB (1919) Mycological notes IV. J Bot Lond 57:206–210

Grove WB (1935) British stem- and leaf-fungi, 1-2. University Press, Cambridge. 488:1937

Grove WB (1937) British stem- and leaf-fungi (coelomycetes). 1 sphaeropsidales, vol II. Cambridge University Press, Cambridge

Groves JW (1946) North American species of Dermea. Mycologia 38:351–431

Groves JW (1936) Ascocalyx abietis and Bothrodiscus pinicola. Mycologia 28:451–462

Groves JW (1940) Three Pezicula species occurring on Alnus. Mycologia 32:112–123

Groves JW (1952) The genus Tympanisi. Can J Bot 30:571–651

Groves JW (1965) The genus Godronia. Can J Bot 43:1195–1276

Groves JW (1968) Two new species of Ascocalyx. Can J Bot 46:1273–1278

Gruber E (2006) Studien über die equiseticole Gattung Stamnaria Fuckel (Ascomycota, Helotiales, Helotiaceae), einschließlich ökologischer Beobachtungen in der Steiermark (Österreich). Karl-Franzens-Universität, Graz, Austria, Thesis

Guarnaccia V, Vitale A, Cirvilleri G, Aiello D, Susca A, Epifani F, Perrone G, Polizzi G (2016) Characterisation and pathogenicity of fungal species associated with branch cankers and stem-end rot of avocado in Italy. Eur J Plant Pathol 146:963–976

Guarnaccia V, Groenewald JZ, Li H, Glienke C, Carstens E, Hattingh V, Fourie PH, Crous PW (2017) First report of Phyllosticta citricarpa and description of two new species, P. paracapitalensis and P. paracitricarpa, from citrus in Europe. Stud Mycol 87:161–185

Guerber JC, Correll JC (2001) Characterization of Glomerella acutata, the teleomorph of Colletotrichum acutatum. Mycologia 93:216–229

Guo B, Dai JR, Ng S, Huang Y, Leong C, Ong W, Carté BK (2000) Cytonic acids A and B: Novel tridepside inhibitors of hCMV protease from the endophytic fungus Cytonaema species. J Nat Prod 63:602–604

Habibi A, Banihashemi Z (2016) Mating system and role of pycnidiospores in biology of Polystigma amygdalinum, the causal agent of almond red leaf blotch. Phytopathol Mediterr 55:98–108

Habibi A, Banihashemi Z, Mostowfizadeh-Ghalamfarsa R (2015) Phylogenetic analysis of Polystigma and its relationship to Phyllachorales. Phytopathol Mediterr 54:45–54

Haelewaters D, Filippova NV, Baral HO (2018) A new species of Stamnaria (Leotiomycetes, Helotiales) from Western Siberia. MycoKeys 32:49–63

Hall TA (1999) BioEdit: a user-friendly biological sequence alignment editor and analysis program for Windows 95/98/NT. Nucl Acid Symp Ser 41:95–98

Hamza S, Samir S, Rebai A, Salah R, Kahl G, Moncef H (2000) Pathotype variation of the representative genotypes of Ascochyta rabiei in the Beja region. J Plant Pathol 82:23–28

Hanlin RT (1997) Illustrated genera of Ascomycetes. Volume II. APS Press

Hantula J, Hallaksela AM, Kurkela T (1998) Relationship between Prosthemium betulinum and Pleomassaria siparia. Mycol Res 102:1509–1512

Hashimoto A, Sato G, Matsuda T (2015a) Molecular taxonomy of Dinemasporium and its allied genera. Mycoscience 56:86–101

Hashimoto A, Sato G, Matsuda T, Matsumura M, Hatakeyama S, Harada Y, Ikeda H, Tanaka K (2015b) Taxonomic revision of Pseudolachnea and Pseudolachnella and establishment of Neopseudolachnella and Pseudodinemasporium gen. nov. Mycologia 107:383–408

Hashimoto A, Matsumura M, Hirayama K, Fujimoto R, Tanaka K (2017) Pseudodidymellaceae fam. nov.: Phylogenetic affiliations of mycopappus-like genera in Dothideomycetes. Stud Mycol 87:187–206

Hawksworth DL (1976) New and interesting microfungi from Slapton, South Devonshire: Deuteromycotina III. Trans Br Mycol Soc 67:51–59

Hawksworth DL (1981a) A survey of the fungicolous conidial fungi. In: Coke GT, Kendrick B (eds) Biology of conidial fungi. Academic, New York, pp 171–244

Hawksworth DL (1981b) The lichenicolous Coelomycetes. Bull Br Mus Nat Hist Bot 9:1–98

Hawksworth DL (1983) The nomenclature of the Beech Bark Fungus: a solution to the complex case of Ascodichaena, Dichaena and Polymorphum. Taxon 32:212–217

Hawksworth DL (2012) Managing and coping with names of pleomorphic fungi in a period of transition. IMA Fungus 3:15–24

Hawksworth DL, Dyko BJ (1979) Lichenodiplis and Vouauxiomyces: two new genera of lichenicolous coelomycetes. Lichenologist 11:51–61

Hawksworth DL, Punithalingam E (1973) Typification and nomenclature of Dichaena Fr., Heterographa Fée, Polymorphum Chev., Psilospora Rabenh. and Psilosporina Died. Trans Br Mycol Soc 60:501–509

He MQ, Zhao RL, Hyde KD, Begerow D, Kemler M, Yurkov A, McKenzie EHC, Raspé O, Kakishima M, Sánchez-Ramıírez S, Vellinga EC, Halling R, Papp V, Zmitrovich IV, Buyck B, Ertz D, Wijayawardene NN, Cui BK, Schoutteten N, Liu XZ, Li TH, Yao YJ, Zhu XY, Liu AQ, Li GJ, Zhang MZ, Ling ZL, Cao B, Antonín V, Boekhout T, da Silva BDB, De Crop E, Decock C, Dima B, Dutta AK, Fell JW, Geml J, Ghobad-Nejhad M, Giachini AJ, Gibertoni TB, Gorjón SP, Haelewaters D, He SH, Hodkinson BP, Horak E, Hoshino T, Justo A, Lim YW, Menolli N Jr, Mešić A, Moncalvo JM, Mueller GM, Nagy LG, Nilsson RH, Noordeloos M, Nuytinck J, Orihara T, Ratchadawan C, Rajchenberg M, Silva-Filho AGS, Sulzbacher MA, Tkalčec Z, Valenzuela R, Verbeken A, Vizzini A, Wartchow F, Wei TZ, Weiß M, Zhao CL, Kirk PM (2019) Notes, outline and divergence times of Basidiomycota. Fungal Divers 99:105–367

Healy R, Pfister DH, Rossman AY, Marvanová L, Hansen K (2016) Competing sexual-asexual generic names of Pezizomycetes and recommendations for use. IMA Fungus 7:285–288

Hennings P (1902) Fungi blumenaeviensis. II. a cl. Alfr Möller lecti Hedwig 41:1–33

Hennings P (1904) Einige neue Pilze aus Japan. Hedwigia 43:140–146

Hern M, Akulov A, Carnegie AJ, Akulov A, Carnegie AJ, Cheewangkoon R, Gramaje D, Groenewald JZ, Guarnaccia V, Halleen F, Lombard L, Luangsa-ard J, Marincowitz S, Moslemi A, Mostert L, Quaedvlieg W, Schumacher RK, Spies CFJ, Thangavel R, Taylor PWJ, Wilson AM, Wingfield BD, Wood AR, Crous PW (2019) Genera of phytopathogenic fungi: GOPHY 2. Stud Mycol 92:47–133

Hesler LR, Smith AH (1963) North American species of Hygrophorus. Univ. Tenn. Press, Knoxville. USA

Hillis DM, Bull JJ (1993) An empirical test of bootstrapping as a method for assessing confidence in phylogenetic analysis. Syst Biol 42:182–192

Hirooka Y, Rossman AY, Samuels GJ, Chaverri P (2010) Taxonomy and biogeography of Nectria pseudotrichia (Nectriaceae, Hypocreales, Sordariomycetes) based on a multiple-locus phylogeny. Inoculum 61:55

Hirooka Y, Rossman AY, Chaverri P (2011) A morphological and phylogenetic revision of the Nectria cinnabarina species complex. Stud Mycol 68:35–56

Hirooka Y, Rossman AY, Samuels GJ, Lechat C, Chaverri P (2012) A monograph of Allantonectria, Nectria, and Pleonectria (Nectriaceae, Hypocreales, Ascomycota) and their pycnidial, sporodochial, and synnematous anamorphs. Stud Mycol 71:1–210

Hohnel F (1909) Fragmente zur Mykologie (VII. Mitteilung, Nr. 289 bis 353). Sitzungsberichte der Kaiserliche Akademie der Wissenschaften in Wien Mathematische-Naturwissenschaftliche Klasse. Abt. 1:813–904

Holm L (1957) Études taxonomiques sur les Pléosporacées. Symb Bot Ups 14:5–188

Holst-Jensen A, Kohn LM, Schumacher T (1997) Nuclear rDNA phylogeny of the Sclerotiniaceae. Mycologia 89:885–899

Holst-Jensen A, Vralstad T, Schumacher T (2004) Kohninia linnaeicola, a new genus and species of the Sclerotiniaceae pathogenic to Linnaea borealis. Mycologia 96:135–142

Hongsanan S, Tian Q, Hyde KD, Chomnunti P (2015) Two new species of sooty moulds, Capnodium coffeicola and Conidiocarpus plumeriae in Capnodiaceae. Mycosphere 6:814–824

Hongsanan S, Maharachchikumbura SSN, Hyde KD, Samarakoon MC, Jeewon R, Zhao Q, Al-Sadi AM, Bahkali AH (2017) An updated phylogeny of Sordariomycetes based on phylogenetic and molecular clock evidence. Fungal Divers 84:25–41

Hooker JD (1855) The botany of the Antarctic Voyage II. Fl Nov Zel 2:1–378

Hou CL, Piepenbring M (2005) Two new species of Colpoma on trees from China. For Path 35:359–364

Hou LW, Liu F, Duan WJ, Cai L (2016) Colletotrichum aracearum and C. camelliae-japonicae, two holomorphic new species from China and Japan. Mycosphere 7:1111–1123

Hoyo MP, Gómez-Bolea A (2004) Suttoniella arnaudii sp. nov. (Coelomycetes) on dead leaves of Buxus sempervirens. Mycotaxon 89:39–45

Hsieh WH (1979) The causal organism of sugarcane leaf blight. Mycologia 71:892–898

Huang WY, Cai YZ, Surveswaran S, Hyde KD, Corke H, Sun M (2009) Molecular phylogenetic identification of endophytic fungi isolated from three Artemisia species. Fungal Divers 36:69–88

Huang F, Chen GQ, Hou X, Fu YS, Cai L, Hyde KD, Li HY (2013) Colletotrichum species associated with cultivated citrus in China. Fungal Divers 61:61–74