Abstract
Based on our previous molecular phylogenetic analyses, four new genera are described, namely Baorangia, Lanmaoa, Parvixerocomus, and Rugiboletus, and one known genus, Neoboletus, is re-delimitated. Four new species and nine new combinations are proposed. Morphological characters of each genus and related eleven species are described and illustrated. Most of species in the genera described from southwestern China are wild edible mushrooms and can be found in free markets.
Access options
Buy single article
Instant access to the full article PDF.
US$ 39.95
Tax calculation will be finalised during checkout.
Subscribe to journal
Immediate online access to all issues from 2019. Subscription will auto renew annually.
US$ 79
Tax calculation will be finalised during checkout.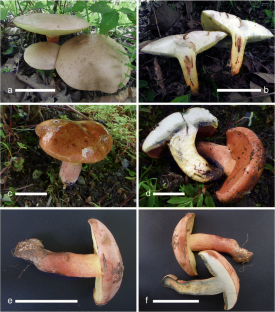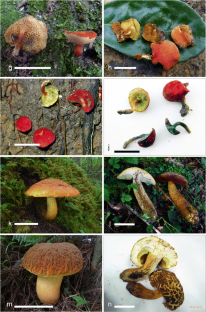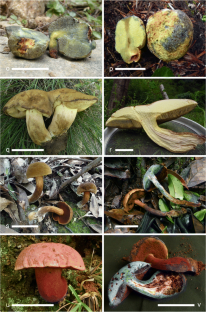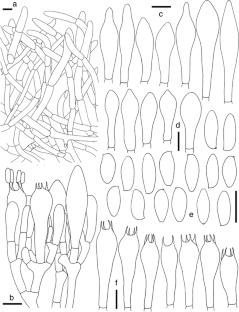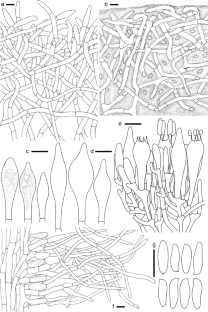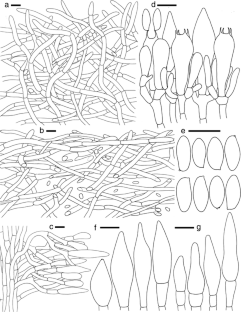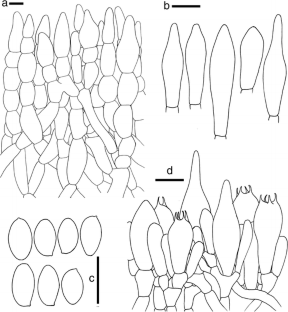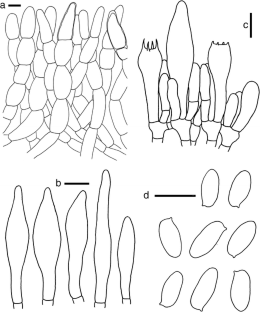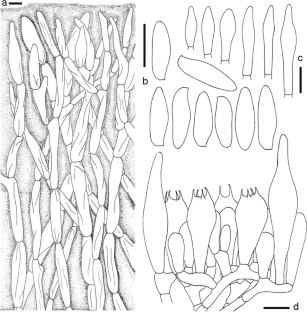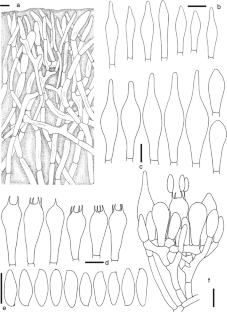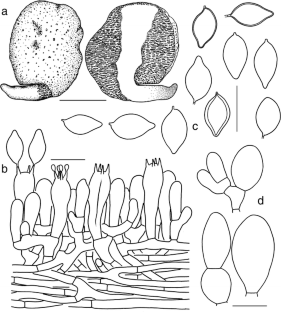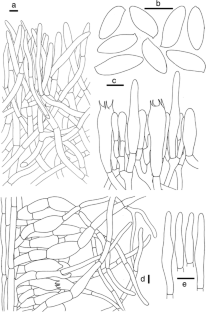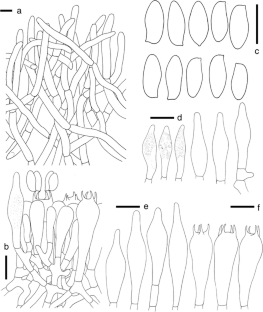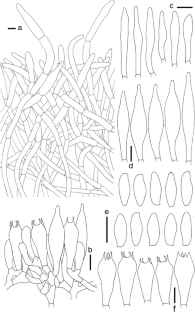 References
Alessio C (1985) Fungi Europaei 2: Boletus Dill. ex L. (sensu lato) Libreria editrice Biella Giovanna, Saronno

Arora D, Frank JL (2014) Clarifying the butter Boletes: a new genus, Butyriboletus, is established to accommodate Boletus sect. Appendiculati, and six new species are described. Mycologia 106:464–480

Bessette A, Roody WC, Bessette AR (2000) North American Boletes: a color guide to the fleshy pored mushrooms. Syracuse University Press, New York

Bi ZS, Lu DJ, Zheng GY (1982) Basidiomycetes from Dinghu Mountain of China. II. Some species of Boletaceae (1). Acta Bot Yunnanica 4:55–64

Binder M, Besl H (2000) 28S rDNA sequence data and chemotaxonomical analyses on the generic concept of Leccinum (Boletales). In: Associazone Micologica Bresadola (ed) Micologia 2000. Grafica Sette, Brescia, pp 75–86

Both E (1998) New taxa of boletes and two boletes with identity problems. Bull Buffalo Soc Nat Sci 36:215–232

Cázares E, Trappe J (1991) Alpine and subalpine fungi of the Cascade Mountains. 3. Gastroboletus ruber comb. nov. Mycotaxon 42:339–345

Chantorn K, Pachinburavan A, Sanoamuang N (2007) Nine new records of boletes (Boletales, Hymenomycetes) from Nam Nao and Phu Rua National Parks, Thailand. KKU Res J 12:257–264

Chiu WF (1948) The boletes of Yunnan. Mycologia 40:199–231

Christensen M (2009) Phenology of ectomycorrizal fungi in subtropical evergreen Castanopsis forest. Botan orient 6:8–11

Cribb J (1956) The gasteromycetes of Queensland. II. Secotiaceae. Pap Dept Biol Univ Queensland 3:107–111

den Bakker HC, Noordeloos M (2005) A revision of European species of Leccinum Gray and notes on extralimital species. Persoonia 18:511–587

den Bakker HC, Zuccarello GC, Kuyper TW, Noordeloos ME (2004) Evolution and host specificity in the ectomycorrhizal genus Leccinum. New Phytol 163:201–215

den Bakker HC, Zuccarello GC, Kuyper TW, Noordeloos ME (2007) Phylogeographic patterns in Leccinum sect. Scabra and the status of the arctic-alpine species L. rotundifoliae. Mycol Res 111:663–672

Drehmel D, James T, Vilgalys R (2008) Molecular phylogeny and biodiversity of the boletes. Fungi 1:17–23

Gelardi M, Simonini G, Ercole E, Vizzini A (2014a) Alessioporus and Pulchroboletus gen. nov. (Boletaceae, Boletineae), two novel genera to accommodate Xerocomus ichnusanus and X. roseoalbidus from European Mediterranean basin: molecular and morphological evidence. Mycologia 106:1168–1187

Gelardi M, Simonini G, Vizzini A (2014b) Neoboletus. Index Fungorum 192:1

Gelardi M, Vizzini A, Simonini G (2014c) Cyanoboletus. Index Fungorum 176:1

Halling RE, Mata M (2004) Boletus flavoruber un nouveau bolet du Costa Rica. Bull Soc Mycol France 120:257–262

Halling RE, Mueller GM (2005) Common mushrooms of the Talamanca Mountains, Costa Rica. Mem N Y Bot Gard 90:1–195

Halling RE, Nuhn M, Fechner NA, Osmundson TW, Soytong K, Arora D, Hibbett DS, Binder M (2012) Sutorius: a new genus for Boletus eximius. Mycologia 104:951–961

Hansen L, Knudsen H (1992) Nordic macromycetes: Vol. 2. Polyporales, Boletales, Agaricales, Russulales. Nordsvamp, Copenhagen

Hellwig V, Dasenbrock J, Gräf C, Kahner L, Schumann S, Steglich W (2002) Calopins and cyclocalopins−bitter principles from Boletus calopus and related mushrooms. Eur J Org Chem 2002:2895–2904

Hongo T (1963) Notes on Japanese larger fungi (16). J Jap Bot 38:233–240

Hongo T (1972) Notulae mycologicae (11). Mem Shiga Univ 22:63–68

Hongo T (1984) Materials for the fungus flora of Japan (35). Trans Mycol Soc Japan 25:281–285

Hongo T, Izawa M (1994) Yama-Kei field book on mushrooms. Yama-Kei Publishers Co. Ltd., Tokyo

Kim DS, Kim YS, Park YH, Hongo T (1975) Taxonomic study on Korean basidiomycetes. Korean J Mycol 3:31–33

Kornerup A, Wanscher JH (1981) Taschenlexikon der farben, 3rd edn. Muster-Schmidt Verlag, Aufl. Göttingen

Li Y, Bau T (2003) Mushrooms of Changbai Mountains. Science Press, Beijing, China, China

Li YC, Li F, Zeng NK, Cui YY, Yang ZL (2014a) A new genus Pseudoaustroboletus (Boletaceae, Boletales) from Asia as inferred from molecular and morphological data. Mycol Prog 13:1207–1216

Li YC, Ortiz-Santana B, Zeng NK, Feng B, Yang ZL (2014b) Molecular phylogeny and taxonomy of the genus Veloporphyrellus. Mycologia 106:291–306

Matsuura M, Yamada M, Saikawa Y, Miyairi K, Okuno T, Konno K, Ji U, Hashimoto K, Nakata M (2007) Bolevenine, a toxic protein from the Japanese toadstool Boletus venenatus. Phytochemistry 68:893–898

Nagasawa E (1996) A new poisonous species of Boletus from Japan. Rep Tottori Mycol Inst 33:1–6

Nuhn ME, Binder M, Taylor AFS, Halling RE, Hibbett DS (2013) Phylogenetic overview of the Boletineae. Fungal Biol 117:479–511

Rauschert S (1987) Nomenklatorische studien bei höheren pilzen. III: röhrlinge (Boletales). Nova Hedwig 45:501–508

Singer R (1947) The Boletineae of Florida with notes on extralimital species III. The Boletoideae of Florida. Am Midl Nat 37:1–135

Singer R (1962) Agaricales in modern taxonomy, 2nd edn. J. Cramer, Weinheim

Singer R (1986) The Agaricales in modern taxonomy, 4th edn. Koeltz Scientific Books, Koenigstein

Smith AH, Thiers HD (1971) The boletes of Michigan. University of Michigan Press, Ann Arbor

Thiers B (2014) Index Herbariorum: A global directory of public herbaria and associated staff. New York Botanical Garden's Virtual Herbarium Disponível em< http://sweetgum.nybgorg/ih/>

Vassiljeva LN (1950) Species novae fungorum. Notul Syst Sect Cryptog Inst Bot Acad Sci USSR 6:188–200

Vizzini A (2014a) Caloboletus. Index Fungorum 146:1

Vizzini A (2014b) Imleria. Index Fungorum 147:1

Wang SR, Wang Q, Wang DL, Li Y (2014) Gastroboletus thibetanus: a new species from China. Mycotaxon 129:79–83

Wu G, Feng B, Xu J, Zhu XT, Li YC, Zeng NK, Hosen MI, Yang ZL (2014) Molecular phylogenetic analyses redefine seven major clades and reveal 22 new generic clades in the fungal family Boletaceae. Fungal Divers 69:93–115

Yang ZL (2011) Molecular techniques revolutionize knowledge of basidiomycete evolution. Fungal Divers 50:47–58

Zang M (2013) Flora fungorum sinicorum: Boletaceae (II). Science Press, Beijing

Zeller SM (1939) New and noteworthy Gasteromycetes. Mycologia 31:1–32

Zeng NK, Wu G, Li YC, Liang ZQ, Yang ZL (2014) Crocinoboletus, a new genus of Boletaceae (Boletales) with unusual polyene pigments boletocrocins. Phytotaxa 175:133–140

Zhao K, Wu G, Feng B, Yang ZL (2014a) Molecular phylogeny of Caloboletus (Boletaceae) and a new species in East Asia. Mycol Prog 13:1127–1136

Zhao K, Wu G, Yang ZL (2014b) A new genus, Rubroboletus, to accommodate Boletus sinicus and its allies. Phytotaxa 188:61–77
Acknowledgments
The authors thank the New York Botanical Garden (NY), Buffalo Museum of Science (BUF), and Dr. Li-Ping Tang, Xiao-Fei Shi, Mr. Xiao-Bin Liu, Ms Qing Cai, Ms Yan-Jia Hao, and Ms Jiao Qin (Kunming Institute of Botany, KIB) for loaning or providing valuable specimens. Thanks are also given to Prof. Tai-Hui Li (Guangdong Institute of Microbiology) for his assists in field work in Guangdong Province. Dr. R. Kirschner (Department of Life Sciences, National Central University) is acknowledged for his discussion on Latin names. The authors are also grateful to the anonymous reviewers for constructive comments and suggestions. This work was supported by the Funds for International Cooperation and Exchange of the National Natural Science Foundation of China (31210103919), the Fundamental Research Program of the Ministry of Science and Technology, China (2013FY110400), and the CAS/SAFEA International Partnership Program for Creative Research Teams. RE Halling thanks the National Science Foundation (USA) for funding under grants DEB-9972018, DEB-0414665 and DEB-1020421, and the National Geographic Society Committee for Research and Exploration in grants 7341–02 and 8457–08.
About this article
Cite this article
Wu, G., Zhao, K., Li, YC. et al. Four new genera of the fungal family Boletaceae . Fungal Diversity 81, 1–24 (2016). https://doi.org/10.1007/s13225-015-0322-0
Received:

Accepted:

Published:

Issue Date:
Keywords
Boletaceae

Boletes

New lineages

Taxonomy