Abstract
Stachybotrys (asexual Hypocreales) has a worldwide distribution. This genus inhabits substrates rich in cellulose and is closely related to Memnoniella. Classification of species has previously been based on morphology, with conidial characters being considered as important. This study re-evaluates Stachybotrys and Memnoniella, which is shown to include at least seven species-groups; while Memnoniella is a synonym of Stachybotrys. The sexual genera Ornatispora and Melanopsamma are also synonyms of Stachybotrys. With the exception of Stachybotrys subsimplex, species formed a well-supported monophyletic group in LSU data analysis belonging to Stachybotriaceae. Seventy-four accepted Stachybotrys species are discussed, while eight species are considered to belong to other genera or are doubtful in this paper and a key to these species provided. Twelve new combinations and 1 nomina nova is proposed. The status of Stachybotrys species on health, as human or animal pathogens, in indoor environments, and use as biocontrol agents and compound discovery are also discussed.
Access options
Buy single article
Instant access to the full article PDF.
USD 39.95
Price excludes VAT (USA)
Tax calculation will be finalised during checkout.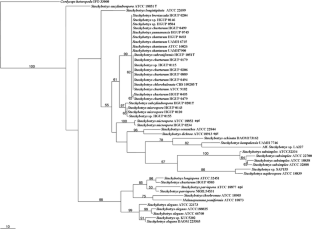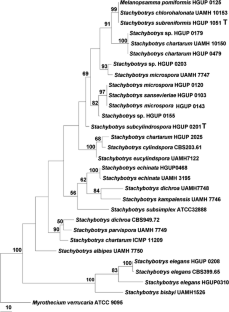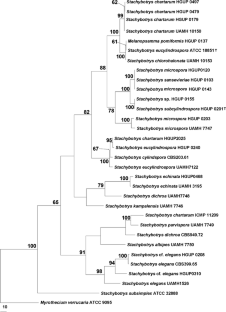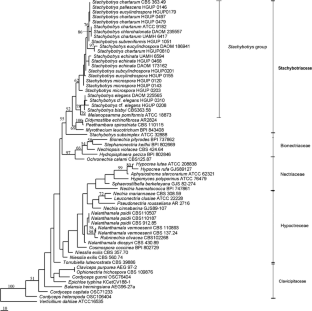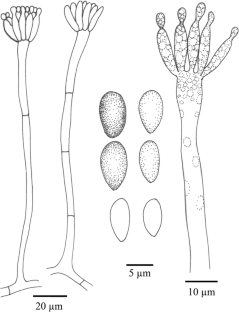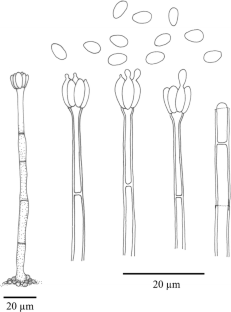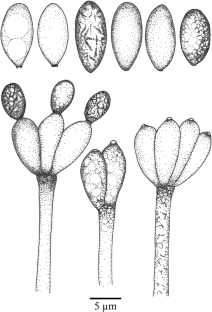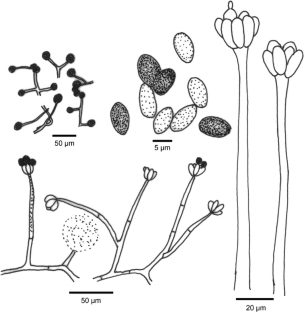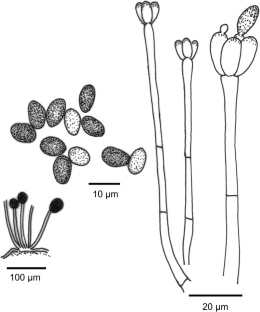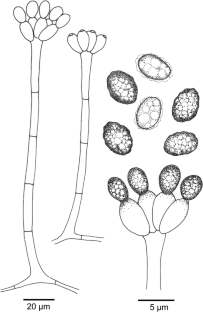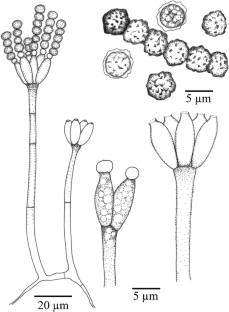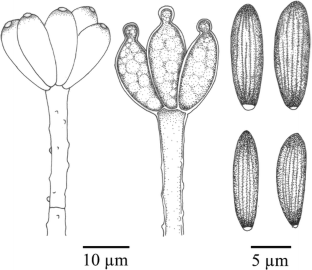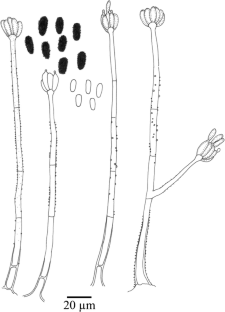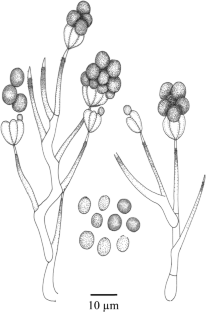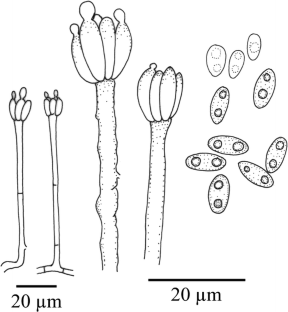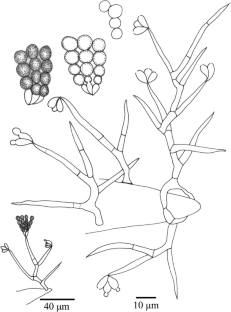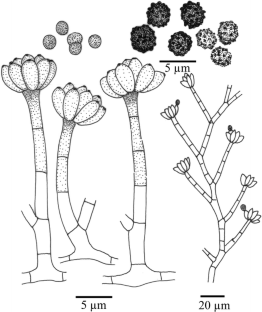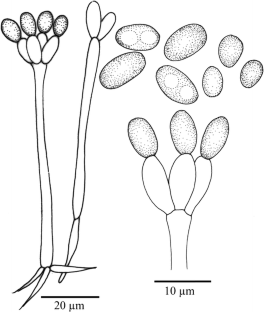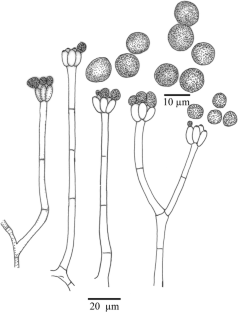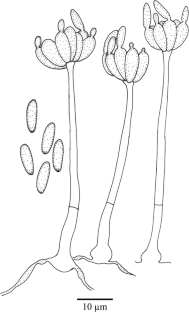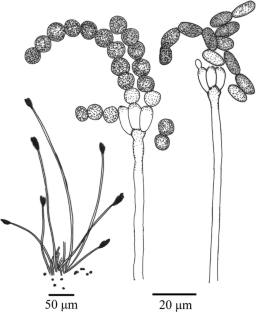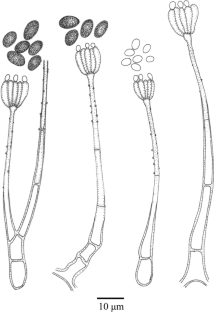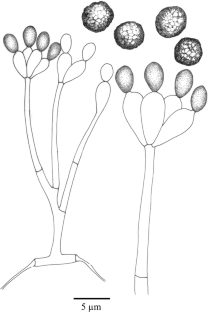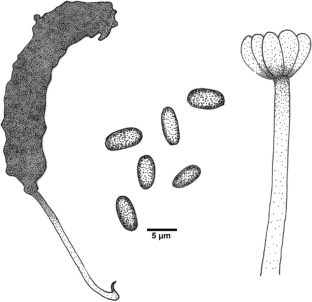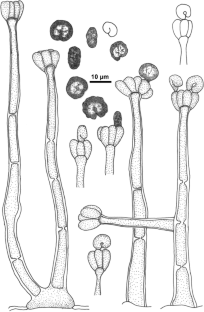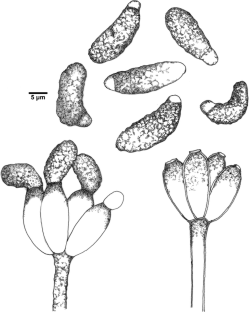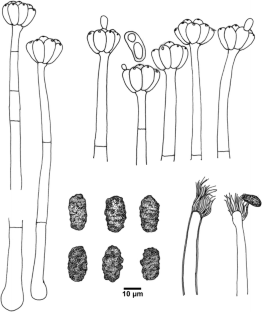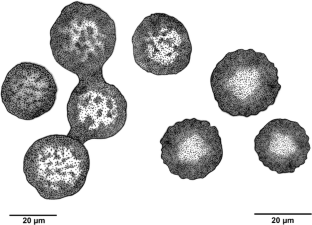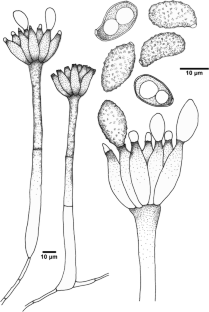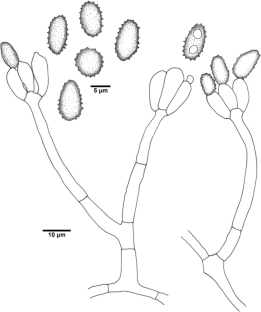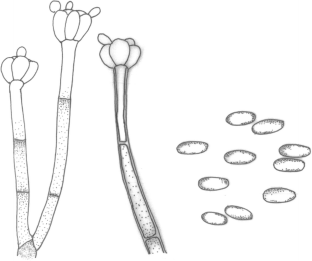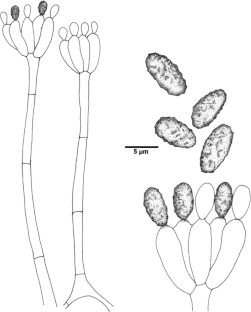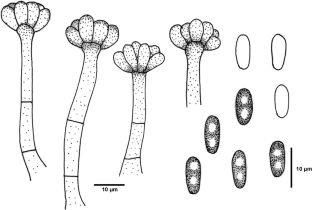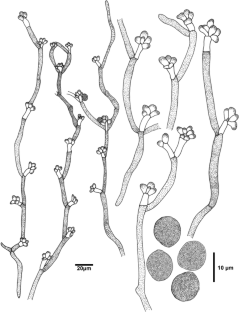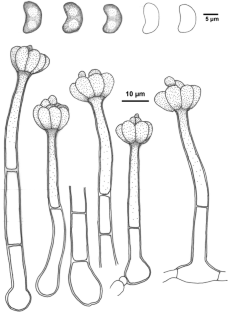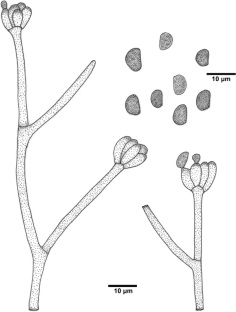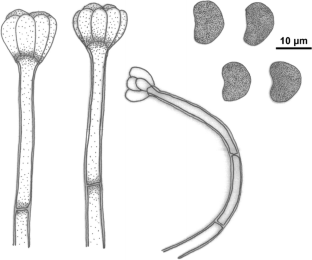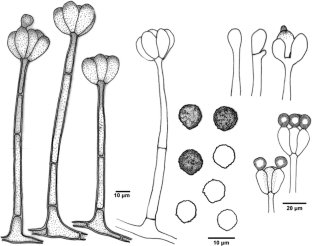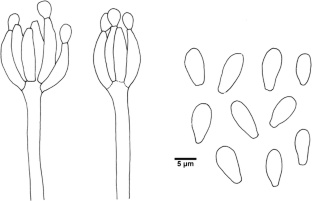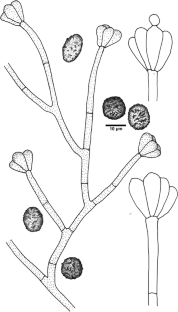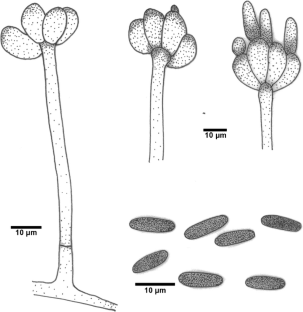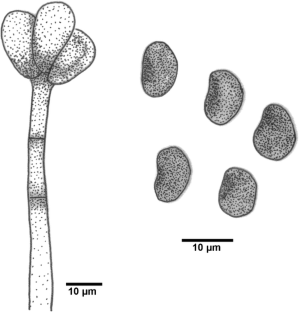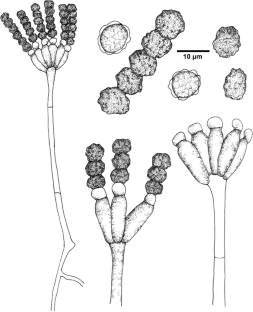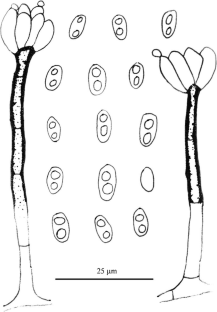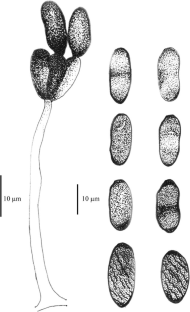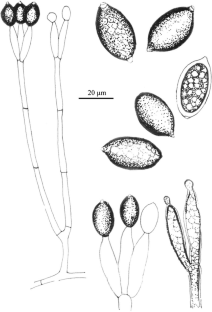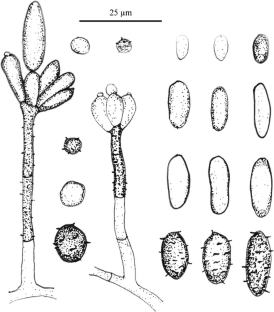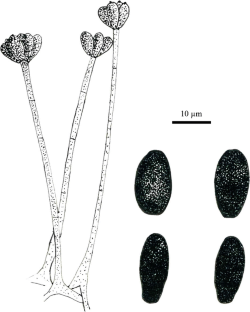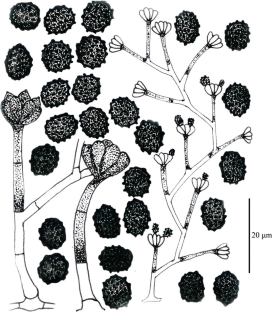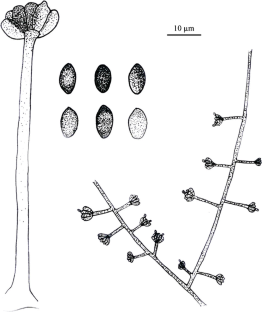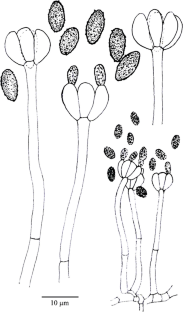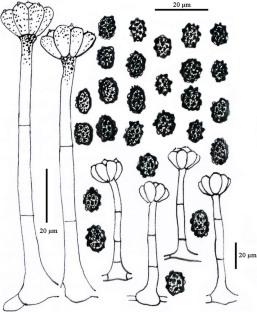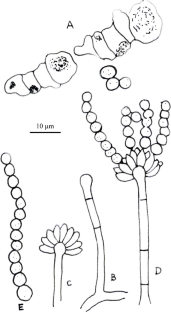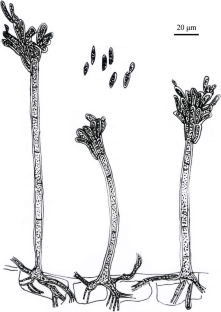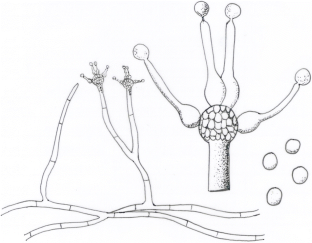 References
Abbas S, Katelaris CH, Singh AB et al (2012) World allergy organization study on aerobiology for creating first pollen and mold calendar with clinical significance in Islamabad, Pakistan: a project of World Allergy Organization and Pakistan Allergy, Asthma & Clinical Immunology Centre of Islamabad. World Allergy Organ J 5(9):103–110

Abdeljalil S, Hmad IB, Saiba W, Amouri B, Maalej, Kaaniche M, Koubaa A, Gargouri A (2014) Investigations on hydrolytic activities from Stachybotrys microspora and their use as an alternative in yeast DNA extraction. Appl Microbiol Biotechnol 172(3):1599–1611

Akamatsu N, Fueta Y, Endo Y et al (2001) Decreased susceptibility topentylenetetrazol-induced seizures after low-frequency transcranial magneticstimulation in rats. Neurosci Lett 310:153–156

Al-Ahmad M, Manno M, Ng V, Ribeiro M, Liss G, Tarlo S (2010) Symptoms after mould exposure including Stachybotrys chartarum, and comparison with darkroom disease. Allergy 65(2):245–255

Amuzie CJ, Islam Z, Kim JK, Seo JH, Pestka JJ (2010) Kinetics of satratoxin g tissue distribution and excretion following intranasal exposure in the mouse. Toxicol Sci 116:433–440

Andersen B, Nielsen KF, Jarvis BB (2002) Characterization of Stachybotrys from water-damaged buildings based on morphology, growth, and metabolite production. Mycologia 94(3):392–403

Andersen B, Nielsen KF, Thrane U, Szaro T, Taylor JW, Jarvis BB (2003) Molecular and phenotypic descriptions of Stachybotrys chlorohalonata sp. nov. and two chemotypes of Stachybotrys chartarum found in water-damaged buildings. Mycologia 95(6):1227–1238

Archambault P, Roff JC, Bourget E, Bang B, Ingram GR (1998) Nearshore abundance of zooplankton in relation to coastal topographical heterogeneity and mechanisms involved. J Plankton Res 20:671–690

Barr M (1990) Prodromus to nonlichenized, pyrenomycetous members of class Hymenoascomycetes. Mycotaxon 39:43–184

Barron G (1968) The genera of hyphomycetes from soil. Williams & Wilkins Company, Baltimore

Batista A (1961) Um pugilo do gêneros novos de líquens imperfeitos. Publicações Instituto de Micologia da Universidade do Recife & Instituto Nacional de Pesquisas da Amazonia, Conselho Nacional de Pesquisas 320:1–31, 35 figs

Batista AC, Bezerra JL, Peres GEP (1960) Singera n. gen. e outros fungos Moniliales. Publicações Inst Micol Univ Rsecife 298:1–33

Begerow D, Nilsson H, Unterseher M, Maier W (2010) Current state and perspectives of fungal DNA barcoding and rapid identification procedures. Appl Microbiol Biotechnol 87(1):99–108

Benyagoub M, Jabaji-Hare SH (1992) Parasitism of hyphae and sclerotia of Rhizoctonia solani by Stachybotrys elegans. Phytopathology 82:1119

Bhan U, Newstead MJ, Zeng X, Ballinger MN, Standiford LR, Standiford TJ (2011) Stachybotrys chartarum-induced hypersensitivity pneumonitis is TLR9 dependent. Am J Pathol 179(6):2779–2787

Bidochka MJ, De Koning J (2001) Are teleomorphs really necessary?: modelling the potential effects of Muller's Ratchet on deuteromycetous entomopathogenic fungi. Mycol Res 105(08):1014–1019

Bisby G (1943) Stachybotrys. Trans Br Mycol Soc 26(3):133–143

Bisby G, Ellis M (1949) Stachybotrys dichroa Grove. Trans Br Mycol Soc 32(2):158–161

Booth C (1957) Studies on Pyrenomycetes. I. Four species of Chaetosphaeria, two with Catenularia conidia. II. Melanopsamma pomiformis and its Stachybotrys conidia. Mycol Pap 68:1–27

Brasel TL, Martin JM, Carriker CG, Wilson SC, Straus DC (2005) Detection of airborne Stachybotrys chartarum macrocyclic trichothecene mycotoxins in the indoor environment. Appl Environ Microbiol 71(11):7376–7388

Cannon PF, Kirk PM (2007) Fungal families of the world. CABI Publishing, Oxfordshire

Carey SA, Plopper CG, Hyde DM, Islam Z, Pestka JJ, Harkema JR (2012) Satratoxin-G from the black mold Stachybotrys chartarum induces rhinitis and apoptosis of olfactory sensory neurons in the nasal airways of rhesus monkeys. Toxicol Pathol 40:887–898

Carmichael JW, Kendrick WB, Conners I, Sigler L (1980) Genera of hyphomycetes. University Alberta Press, Edmonton

Castañeda RF (1986) Fungi cubenses rev. Jard. Bot. Nac., Univ. Habana

Castlebury LA, Rossman AY, Sung GH, Hyten AS, Spatafora JW (2004) Multigene phylogeny reveals new lineage for Stachybotrys chartarum, the indoor air fungus. Mycol Res 108(8):864–872

Centers for Disease Control and Prevention (2012) Facts about Stachybotrys chartarum and Other Molds. Retrieved August 04, 2012, from http://www.cdc.gov/mold/stachy.htm

Chamoun R, Jabaji S (2011) Expression of genes of Rhizoctonia solani and the biocontrol Stachybotrys elegans during mycoparasitism of hyphae and sclerotia. Mycologia 103(3):483–493

Chamoun R, Aliferis KA, Jabaji SH (2013) Characterization and transcriptional regulation of mitogenactivated-protein kinase gene s following mycoparasitism and starvation conditions. Curr Genet 59(1–2):43–54

Chaverri P, Samuels GJ, van Wetenschappen KNA (2003) Hypocrea/Trichoderma (Ascomycota, Hypocreales, Hypocreaceae): Species with green ascospores. Centraalbureau voor Schimmelcultures Utrecht

Chung YJ, Copeland LB, Doerfler DL, Ward MDW (2010) The relative allergenicity of Stachybotrys chartarum compared to house dust mite extracts in a mouse model. Inhal Toxicol 22(6):460–468

Corda A (1837) Icones fungorum hucusque cognitorum, vol 1. J.G. Calve, Prague

Crous PW, Shivas RG, Quaedvlieg W, van der Bank M, Zhang Y, Summerell BA, Guarro J, Wingfield MJ, Wood AR, Alfenas AC, Braun U, Cano-Lira JF, García D, Marin-Felix Y, Alvarado P, Andrade JP, Armengol J, Assefa A, den Breeÿen A, Camele I, Cheewangkoon R, De Souza JT, Duong TA, Esteve-Raventós F, Fournier J, Frisullo S, García-Jiménez J, Gardiennet A, Gené J, Hernández-Restrepo M, Hirooka Y, Hospenthal DR, King A, Lechat C, Lombard L, Mang SM, Marbach PA, Marincowitz S, Marin-Felix Y, Montaño-Mata NJ, Moreno G, Perez CA, Pérez Sierra AM, Robertson JL, Roux J, Rubio E, Schumacher RK, Stchigel AM, Sutton DA, Tan YP, Thompson EH, van der Linde E, Walker AK, Walker DM, Wickes BL, Wong PT, Groenewald JZ (2014) Fungal planet description sheets: 214–280. Persoonia - Mol Phylogenet Evol Fungi 32:184–306

Cruse M, Telerant R, Gallagher T, Lee T, Taylor JW (2002) Cryptic species in Stachybotrys chartarum. Mycologia 94(5):814–822

Deighton FC (1960) African fungi. I. Mycol Pap 78:1–43

Dorai M, Vittal BPR (1987) A new Stachybotrys from eucalyptus litter. Trans Br Mycol Soc 87(4):642–644

Elidemir O, Colasurdo GN, Rossmann SN, Fan LL (1999) Isolation of Stachybotrys from the lung of a child with pulmonary hemosiderosis. Pediatrics 104(4):964–966

Ellis MB (1971) Dematiaceous hyphomycetes. Commonwealth Mycological Institute, Kew

Ellis MB (1976) More dematiaceous hyphomycetes. CABI Publishing, Kew, Surrey

Etzel RA, Montana E, Sorenson W, Kullman GJ, Allan TM, Dearborn DG (1998) Acute pulmonary hemorrhage in infants associated with exposure to Stachybotrys atra and other fungi. Arch Pediatr Adolesc Med 152(8):757–762

Foarde KK, Menetrez MY (2002) Factors relating to the release of Stachybotrys chartarum spores from contaminated sources. In: Levin H (ed) Indoor Air 2002. Proceedings of International Conference on Indoor Air Quality and Climate, Santa Cruz

Forgacs J (1972) Stachybotryotoxicosis. In: Kadis S, Ciegler A, Ajl S (eds) Microbial toxins, vol 8, Fungal toxins. Academic, New York, pp 95–128

Forgacs J, Carll WT, Herring AS, Hinshaw WR (1958) Toxicity of Stachybotrys atra for animals. N Y Acad Sci 20:787–808

Frazer S, Pestka J, Kim JK, Medina A, Aldred D, Magan N (2012) Impact of environmental factors on growth and satratoxin G production by strains of Stachybotrys chartarum. World Mycotoxin J 5(1):37–43

Fu X, Lindgren T, Guo M, Cai GH, Lundgren H, Norbäck D (2013) Furry pet allergens, fungal DNA and microbial volatile organic compounds (MVOCs) in the commercial aircraft cabin environment. Environ Sci Processes Impacts 15:1228–1234

Geiser DM, Jiménez-Gasco MM, Kang S, Makalowska I, Veeraraghavan N, Ward TJ, Zhang N, Kuldau GA, O'Donnell K (2004) FUSARIUM-ID v. 1.0: A DNA sequence database for identifying Fusarium. Eur J Plant Pathol 110:473–479

GenBank (2014) http://www.ncbi.nlm.nih.gov/GenBank/

Gilly M, Benson NR et al (1985) Affinity labeling the ribosome with eukaryotic-specific antibiotics: (bromoacetyl) trichodermin. Biochemistry 24(21):5787–5792

Grove WB (1886) New or noteworthy fungi. Part III. J Bot Br Foreign 24:197–207

Hansford CG (1943) Cotributions towards the fungus flora of Uganda, V. Fungi imperfecti. Proc Linn Soc 1:34–67

Haugland RA, Heckman JL (1998) Identification of putative sequence specific PCR primers for detection of the toxigenic fungal species Stachybotrys chartarum. Mol Cell Probes 12:387–396

Haugland RA, Vesper SJ, Harmon SM (2001) Phylogenetic relationships of Memnoniella and Stachybotrys species and evaluation of morphological features for Memnoniella species identification. Mycologia 54:54–65

Hawksworth DL (2011) A new dawn for the naming of fungi: impacts of decisions made in Melbourne in July 2011 on the future publication and regulation of fungal names. IMA Fungus 2(2):155–162

Hebert PDN, Cywinska A, Ball SL, deWaard JR (2003) Biological identifications through DNA barcodes. Proc R Soc B 270:313–321

Hibbett DS, Taylor JW (2013) Fungal systematics: is a new age of enlightenment at hand? Nat Rev Microbiol 11(2):129–133

Hinkley SF, Jiang J, Mazzola EP, Jarvis BB (1999) Atranones, novel diterpenoids from the toxigenic mold, Stachybotrys atra. Tetrahedron Lett 40:2725–2728

Hinkley SF, Mazzola EP, Fettinger JC, Lam YKT, Jarvis BB (2000) Atranones A-G, from the toxigenic mold Stachybotrys chartarum. Phytochemistry 55:663–673

Hinkley SF, Moore JA, Squillari J, Tak H, Oleszewski R, Mazzola EP, Jarvis BB (2003) New atranones from the fungus, Stachybotrys chartarum. Magn Reson Chem 47:337–343

Hodgson MJ, Morey P, Leung WY, Morrow L, Miller D, Jarvis BB, Robbins H, Halsey JF, Storey E (1998) Building-associated pulmonary disease from exposure to Stachybotrys chartarum and Aspergillus versicolor. J Occup Environ Med 40(3):241–249

Hossain MA, Ahmed MS, Ghannoum MA (2004) Attributes of Stachybotrys chartarum and its association with human disease. J Allergy Clin Immunol 113:200–208

Hu FB, Willett WC, Li T, Stampfer MJ, Colditz GA, Manson JE (2004) Adiposity as compared with physical activity in predicting mortality among women. N Engl J Med 351(26):2694–2703

Hughes SJ (1952) Fungi from the Gold Coast. I. Mycol Pap 48:1–91

Hughes SJ (1958) Revisiones hyphomycetum aliquot cum appendice de nominibus rejiciendis. Can J Bot 36(6):727–836

Huguenin B (2013) List of publications and reports of Bernard Huguenin.

Hyde KD, Goh TK, Taylor JE, FrÖHlich J (1999) Byssosphaeria, Chaetosphaeria, Niesslia and Ornatispora gen. nov., from palms. Mycol Res 103(11):1423–1439

Hyde KD, Jones EG, Liu J-K, Ariyawansa H, Boehm E, Boonmee S, Braun U, Chomnunti P, Crous PW, Dai D-Q (2013) Families of Dothideomycetes. Fungal Divers 63(1):1–313

Index Fungorum (2014) Index Fungorum. http://www.indexfungorum.org. Accessed 9 April 2014

Islam Z, Harkema JR, Pestka JJ (2006) Satratoxin G from the black mold Stachybotrys chartarum evokes olfactory sensory neuron loss and inflammation in the murine nose and brain. Environ Health Perspect 114:1099–1107

Islam Z, Shinozuka J, Harkema JR, Pestka JJ (2009) Purification and comparative neurotoxicity of the trichothecenes satratoxin G and roridin L2 from Stachybotrys chartarum. J Toxicol Environ Health A 72(20):1242–1251

Jarvis BB (1986) Potential indoor air pollution problems associated with macrocyclic trichothecene producing fungi. In: Health and Welfare Canada Working Group on Fungi and Indoor Air (ed) Significance of fungi in indoor air: report of a Working Group. Health and Welfare Canada, Ottawa

Jarvis BB (1991) Macrocyclic trichothecenes. In: Sharma RP, Salunkhe DK (eds) Mycotoxins and phytoalexins. CRC Press, Boca Raton, pp 361–421

Jarvis BB (2002) Chemistry and toxicology of molds isolated from water-damaged buildings. Adv Exp Med Biol 504:43–52

Jarvis BB (2003) Analysis for mycotoxins: the chemist's perspective. Arch Environ Health 58(8):479–483

Jeewon R, Liew E, Hyde K (2004) Phylogenetic evaluation of species nomenclature of Pestalotiopsis in relation to host association. Fungal Divers 17:39–55

Jiang Y, Zhang T (2009) Notes on soil dematiaceous hyphomycetes from Sichuan Province, China. Mycosystema 28(5):644–647

Jie C-Y, Geng K, Jiang Y-L, Xu J-J, Hyde K, McKenzie EC, Zhang T-Y, Bahkali A, Li D-W, Wang Y (2013) Stachybotrys from soil in China, identified by morphology and molecular phylogeny. Mycol Prog 12(4):693–698

Jong S, Davis E (1976) Contribution to the knowledge of Stachybotrys and Memnoniella in culture. Mycotaxon 3(3):409–485

Judd WS, Campbell CS, Kellogg EA, Stevens PF, Donoghue MJ (2002) Plant systematics: a phylogenetic approach, 2nd edn. Sinauer Associates, Sunderland, pp 1–39

Karandikar K, Kulkarni S, Patwardhan P (1992) Some new and interesting Hyphomycetes from India. Biovigyanam 18(2):78–81

Keshava Prasad T, Asha L, Bhat D (2003) A new species of Memnoniella from India. Mycotaxon 85:341–344

Kirk P, Cannon PF, Minter D, Stalpers J (2008) Dictionary of the fungi, 10th edn. CAB International, Wallingford

Kong H-Z (1997) Stachybotrys yunnanensis sp. nov. and Neosartorya delicata sp. nov. isolated from Yunnan, China. Mycotaxon 62:427–434

Kong J, Zhang T, Zhang W (2007) Notes on soil dematiaceous hyphomycetes from Hexi Corridor, Gansu Province. Mycosystema 26(2):196–201

Kordula T, Banbula A, Macomson J, Travis J (2002) Isolation and properties of stachyrase A, a chymotrypsin-like serine proteinase from Stachybotrys chartarum. Infect Immun 70(1):419–421

Koster B, Scott J, Wong B, Malloch D, Straus N (2003) A geographically diverse set of isolates indicates two phylogenetic lineages within Stachybotrys chartarum. Can J Bot 81(6):633–643

Koster B, Wong B, Straus N, Malloch D (2009) A multi-gene phylogeny for Stachybotrys evidences lack of trichodiene synthase (tri5) gene for isolates of one of three intrageneric lineages. Mycol Res 113:877–886

Kuhn DM, Ghannoum MA (2003) Indoor mold, toxigenic fungi, and Stachybotrys chartarum: infectious disease perspective. Clin Microbiol Rev 16:144–172

Lechat C, Hairaud M, Lesage-Meessen L (2013) Stachybotrys oleronensis Lechat, Hairaud & Lesage-Messen, sp. nov., Fungal Planet 208. Persoonia 31:282–283

Li DW (2007) Stachybotrys eucylindrospora, sp. nov. resulting from a re-examination of Stachybotrys cylindrospora. Mycologia 99(2):332–339

Li DW (2011) Stachybotrys thaxteri sp. nov. and the nomenclatural status of three Stachybotrys species. Mycotaxon 115(1):239–250

Li QR, Jiang YL (2011) Stachybotrys subreniformis, new from soil in China. Mycotaxon 115(1):171–173

Li DW, Yang CS (2004a) Fungal contamination as a major contributor to sick building syndrome. Adv Appl Microbiol 55:31–112

Li DW, Yang CS (2004b) Notes on indoor fungi I: new records and noteworthy fungi from indoor environments. Mycotaxon 89(2):473–488

Li D-W, Yang CS (2005) Taxonomic history and current status of Stachybotrys chartarum and related species. Indoor Air 15(S9):5–10

Li DW, Yang CS, Haugiand R, Vesper S (2003) A new species of Memnoniella. Mycotaxon 85:253–257

Linnik YV (1949) On the theory of nonuniform Markov chains. Izv Akad Nauk SSSR 13(1):65–94

Liu YJ, Hall BD (2004) Body plan evolution of ascomycetes, as inferred from an RNA polymerase II, phylogeny. Proc Natl Acad Sci U S A 101:4507–4512

Mena-Portales J, Heredia-Abarca G, Mercado-Sierra A, Hernández CIB, Mota RMA, Cornelio SAG (2009) Species of Stachybotrys Corda (anamorphic fungi) from tropical and subtropical regions of Mexico. Bol Soc Micol Madrid 33:7–23

Manoharachary C, Agarwal DK, Sureshkumar G, Kunwar IK, Sharath BK (2006) Memnoniella mohanramii sp. nov. and Zygosporium anupamvarmae sp. nov. from India. Indian Phytopathol 59(4):489–491

Marchal E (1895) Champignons copropiles de Belgique. VII. Bull Soc R Bot Belg 34:125–149

Matsushima T (1971) Microfungi of the Solomon Islands & Papua - New Guinea. Matsushima, Kobe

Matsushima T (1975) Icones Microfungorum: a Matsushima lectorum. Matsushima, Kobe

Matsushima T (1985) Matsushima mycological memoirs 4. Matsushima, Kobe

Matsushima T (1989) Matsushima mycological memoirs 6. Matsushima, Kobe

Matsushima T (1995) Matsushima mycological memoirs 8. Matsushima, Kobe

Mayden RL (1997) A hierarchy of species concepts: the denoument in the saga of the species problem. In: Claridge MF, Dawah HA, Wilson MR (eds) Species: the units of diversity. Chapman and Hall, London, pp 381–423

McKenzie EHC (1991) Dematiaceous hyphomycetes on Freycinetia (Pandanaceae). I, Stachybotrys. Mycotaxon 41(1):179–188

Mercado-Sierra A, Mena-Portales J (1988) Nuevos o raros hifomicetes de Cuba. V. Especies de Stachybotrys. Acta Bot Cuba 55:1–8

Minagawa K, Kouzuki S, Yoshimoto J et al (2002a) Stachyflin and acetylstachyflin, novel anti-influenza A virus substances, produced by Stachybotrys sp. RF-7260. I. Isolation, structure elucidation and biological activities. J Antibiot 55:155–164

Minagawa K, Kouzuki S, Kamigauchi T (2002b) Stachyflin and acetylstachyflin, novel anti-influenza A virus substances, produced by Stachybotrys sp. RF-7260. II. Synthesis and preliminary structure-activity relationships of stachyflin derivatives. J Antibiot 55:165–171

Misra PC (1975) A new species of Stachybotrys. Mycotaxon 2(1):107–108

Misra P (1976) Stachybotrys renispora sp. nov. Mycotaxon 4:161–162

Misra P, Srivastava S (1982) Two undescribed Stachybotrys species from Índia. Trans Br Mycol Soc 78(3):556–559

Morgan-Jones G, Karr G Jr (1976) Notes on hyphomycetes. XVI. A new species of Stachybotrys. Mycotaxon 4(2):510–512

Morgan-Jones G, Sinclair R (1980) Notes on hyphomycetes: XXXIII. Stachybotrys sphaerospora sp. nov. from South Africa. Mycotaxon 10:372–374

Morissette DC, Driscoll BT, Jabaji-Hare S (2003) Molecular cloning, characterisation, and expression of a cDNA encoding an endochitinase gene from the mycoparasite Stachybotrys elegans. Fungal Genet Biol 39:276–285

Mouchacca J (1997) Thermophilic fungi: biodiversity and taxonomic status. Cryptogam Mycol 18(1):19–69

Motohashi Y, Igarashi M, Okamatsu M, Noshi T, Sakoda Y, Yamamoto N, Ito K, Yoshida R, Kida H (2013) Antiviral activity of stachyflin on influenza A viruses of different hemagglutinin subtypes. Virol J 10:118

Muhsin TM, Al-Helfi M (1981) Hyphomycetes of Iraq—the genus Stachybotrys. Sydowia 34:130–134

Munjal R, Kapoor J (1969) Some hyphomycetes from the Himalayas. Mycopathologia 39(2):121–128

Munk A (1957) Danish pyrenomycetes. Dansk Bot Ark 17(1):1–491

MycoBank (2014) MycoBank (Fungal databases nomenclature and species banks). www.mycobank.org. Accessed 8 April 2014

Nagayoshi M, Tada Y, West J, Ochiai E, Watanabe A, Toyotome T, Tanabe N, Takiguchi Y, Shigeta A, Yasuda T (2011) Inhalation of Stachybotrys chartarum evokes pulmonary arterial remodeling in mice, attenuated by rho-kinase inhibitor. Mycopathologia 172:5–15

Nielsen K (2003) Mycotoxin production by indoor molds. Fungal Genet Biol 39:103–117

Nielsen KF, Huttunen K, Hyvärinen A, Andersen B, Jarvis BB, Hirvonen MR (2002) Metabolite profiles of Stachybotrys isolates from water-damaged buildings and their induction of inflammatory mediators and cytotoxicity in macrophages. Mycopathologia 154(4):201–206

Nilsson RH, Hyde KD, Pawlowska J et al (2014) Improving ITS sequence data for identification of plant pathogenic fungi. Fungal Divers 67:11–19

Norback D, Cai G-H (2011) Fungal DNA in hotel rooms in Europe and Asia-associations with latitude, precipitation, building data, room characteristics and hotel ranking. J Environ Monitor 13(10):2895–2903

Ochiai E, Kamei K, Hiroshima K, Watanabe A, Hashimoto Y, Sato A, Ando A (2005) The pathogenicity of Stachybotrys chartarum. Nippon Ishink Gakkai Zassi 46:109–117

O'Donnell K, Cigelnik E, Nirenberg HI (1998) Molecular systematics and phylogeography of the Gibberella fujikuroi species complex. Mycologia:465–493

Orpurt P (1954) Studies on the soil microfungi of Wisconsin prairies. Ph. D. Disseration, University of Wisconsin, Madison

Peay KG, Kennedy PG, Bruns TD (2008) Fungal community ecology: a hybrid beast with a molecular master. Bioscience 58:799–810

Peck CH (1890) Report of the Botanist. Ann Rep N Y State Mus Nat Hist (1889) 43:51–97

Pei R, Gunsch CK (2013) Inflammatory cytokine gene expression in THP-1 cells exposed to Stachybotrys chartarum and Aspergillus versicolor. Environ Toxicol 28:51–60

Penttinen P, Pelkonen J, Huttunen K, Hirvonen MR (2006) Co-cultivation of Streptomyces californicus and Stachybotrys chartarum stimulates the production of cytostatic compound(s) with immunotoxic properties. Toxicol Appl Pharmacol 217:342–351

Pestka JJ, Yike I, Dearborn DG, Ward MDW, Harkema JR (2007) Stachybotrys chartarum, trichothecene mycotoxins, and damp building-related illness: new insights into a public health enigma. Toxicol Sci 104(1):4–26

Pestka JJ, Yike I, Dearborn DG, Ward MD, Harkema JR (2008) Stachybotrys chartarum, trichothecene mycotoxins, and damp building–related Illness: new insights into a public health enigma. Toxicol Sci 104(1):4–26

Photita W, Lumyong P, McKenzie EHC, Hyde KD, Lumyong S (2003) Memnoniella and Stachybotrys species from Musa acuminata. Crypt Mycol 24(2):147–152

Pidoplichko NM (1953) Fungus flora of coarse fodders. Izdatel'stvo Akademii Nauk Ukrainskoj SSR, Kiev

Piecková E, Hurbánková M, Černá S, Lišková A, Kováčiková Z, Kolláriková Z, Wimmerová S (2009) Inflammatory and haematotoxic potential of indoor Stachybotrys chartarum (Ehrenb.) hughes metabolites. Arch Ind Hyg Toxicol 60(4):401–409

Pinruan U, McKenzie EHC, Jones EBG, Hyde KD (2004) Two new species of Stachybotrys, and a key to the genus. Fungal Divers 17:145–157

Pound R, Clements FE (1896) A re-arrangement of the North American hyphomycetes. Minn Bot Stud 9:644–673

Rakkestad KE, Skaar I, Ansteinsson VE, Solhaug A, Holme JA, Pestka JJ, Samuelsen JT, Dahlman HJ, Hongslo JK, Becher R (2010) DNA damage and DNA damage responses in THP-1 monocytes after exposure to spores of either Stachybotrys chartarum or Aspergillus versicolor or to T-2 toxin. Toxicol Sci 115(1):140–155

Rao VC (1962) Some new records of fungi Imperfeeti from India. Sydowia 16(1–6):41–45

Réblová M, Seifert K (2011) Discovery of the teleomorph of the hyphomycete, Sterigmatobotrys macrocarpa, and epitypification of the genus to holomorphic status. Stud Mycol 68(1):193–202

Réblová M, Barr M, Samuels G (1999) Chaetosphaeriaceae, a new family for Chaetosphaeria and its relatives. Sydowia 51:49–70

Reeb V, Lutzoni F, Roux C (2004) Contribution of RPB2 to multilocus phylogenetic studies of the euascomycetes (Pezizomycotina, Fungi) with special emphasis on the lichen-forming acarosporaceae and evolution of polyspory. Mol Phylogenet Evol 32:1036–1060

Rifai M (1964) Stachybotrys bambusicola sp. nov. Trans Br Mycol Soc 47(2):269–272

Rossman AY (2007) Report of the planning workshop for all fungi DNA barcoding. Inoculum 58:1–5

Rossman AY, Mckemy JM, Pardo-Schultheiss RA, Schroers HJ (2001) Molecular studies of the Bionectriaceae using large subunit rDNA sequences. Mycologia 93:100–110

Saibi W, Amouri B, Gargouri A (2007) Purification and biochemical characterization of a transglucosilating β-glucosidase of Stachybotrys strain. Appl Microbiol Biotechnol 77(2):293–300

Saito K (1939) Studies on the fungi in the Orient (V) (東洋産菌類知見(第5報)). J Ferment Technol (Osaka, Japan) 17(1):1–6

Sakurai J, Kikuchi T, Takahashi O, Watanabe K, Katoh T (2011) Enantioselective total synthesis of (+)-stachyflin: a potential anti-influenza A virus agent isolated from a microorganism. Eur J Org Chem 2011(16):2948–2957

Samuels GJ, Barr ME (1997) Notes on and additions to the niessliaceae (hypocreales). Can J Bot 75(12):2165–2176

Schoch CL, Seifert KA, Huhndorf S, Robert V, Spouge JL, Levesque CA, Chen W, Fungal Barcoding Consortium (2012) Nuclear ribosomal internal transcribed spacer (ITS) region as a universal DNA barcode marker for Fungi. Proc Natl Acad Sci U S A 109:6241–6246

Schroers HJ, Geldenhuis MM, Wingfield MJ, Schoeman MH, Yen YF, Shen WC, Wingfield BD (2005) Classification of the guava wilt fungus Myxosporium psidii, the palm pathogen Gliocladium vermoesenii and the persimmon wilt fungus Acremonium diospyri in Nalanthamala. Mycologia 97:375–395

Seifert KA, Morgan-Jones G, Gams W, Kendrick B (2011) The genera of hyphomycetes. Centraalbureau voor Schimmelcultures (CBS-KNAW Fungal Diversity Centre), Utrecht

Shanks OC, Kelty CA, Archibeque S, Jenkins M, Newton RJ, McLellan SL, Huse SM, Sogin ML (2011) Community structures of fecal bacteria in cattle from different animal feeding operations. Appl Environ Microbiol 77:2992–3001

Shelton BG, Kirkland KH, Flanders WD, Morris GK (2002) Profiles of airborne fungi in buildings and outdoor environments in the United States. Appl Environ Microbiol 68(4):1743–1753

Shenoy BD, Jeewon R, Hyde KD (2007) Impact of DNA sequence-data on the taxonomy of anamorphic fungi. Fungal Divers 26:1–54

Shenoy BD, Jeewon R, Wang H, Amandeep K, Ho WH, Bhat DJ, Crous PW, Hyde KD (2010) Sequence data reveals phylogenetic affinities of fungal anamorphs Bahusutrabeeja, Diplococcium, Natarajania, Paliphora, Polyschema, Rattania and Spadicoides. Fungal Divers 44:161–169

Smith G (1962) Some new and interesting species of micro-fungi. III. Trans Br Mycol Soc 45(3):387–394

Sorenson W, Frazer DG, Jarvis BB, Simpson J, Robinson V (1987) Trichothecene mycotoxins in aerosolized conidia of Stachybotrys atra. Appl Environ Microbiol 53(6):1370–1375

Straus D (2011) The possible role of fungal contamination in sick building syndrome. Front Biosci (Elite Ed) 3:562–580

Subramanian C (1954) Fungi Imperfecti from Madras-VI. Indian Bot Soc 33:36–42

Subramanian C (1957) Hyphomycetes-IV. Proc Plant Sci 46(5):324–335

Summerbell RC, Gueidan C, Schroers H-J, de Hoog GS, Starink M, van Iperen A, Arocha Rosete Y, Guarro J, Scott JA (2011) Acremonium phylogenetic overview and revision of Gliomastix, Sarocladium, and Trichothecium. Stud Mycol 68:139–162

Talbot PHB (1971) Principles of fungal taxonomy. The Macmillan Press, London, pp 1–274

Tang AMC, Jeewon R, Hyde KD (2007) Phylogenetic utility of protein (RPB2, β-tubulin) and ribosomal (LSU, SSU) gene sequences in the systematics of sordariomycetes (ascomycota, fungi). Anton Leeuw Int J G 91(4):327–349

Taylor JW (2011) One fungus= one name: DNA and fungal nomenclature twenty years after PCR. IMA Fungus Glob Mycol J 2(2):113–120

Taylor J, Jacobson D, Fisher M (1999) The evolution of asexual fungi: reproduction, speciation and classification. Annu Rev Phytopathol 37(1):197–246

Taylor JW, Geiser DM, Jacobson DJ, Kroken S, Kasuga T, Geiser DM, Hibbett DS, Fisher MC (2000) Phylogenetic species recognition and species concepts in fungi. Fungal Genet Biol 31:21–32

Taylor G, Suha J, Pierre M, Wagahatullam K (2002) Purification and characterization of an extracellular exochitinase, B-N-acetylhexosaminidase, from the fungal mycoparasite Stachybotrys elegans. Can J Microbiol 48:311–319

Tripi PA, Modlin S, Sorenson W, Dearborn DG (2000) Acute pulmonary haemorrhage in an infant during induction of general anaesthesia. Pediatr Anesth 10(1):92–94

Tubaki K (1963) Notes on the Japanese Hyphomycetes. I. Chloridium, Clonostachys, Isthmospora, Pseudobotrytis, Stachybotrys and Stephanoma. Trans Mycol Soc Jpn 4:83–90

Tweddell RJ, Jabaji-Hare SH, Charest PM (1994) Production of chitinases and β-1,3-glucanases by Stachybotrys elegans, a mycoparasite of Rhizoctonia solani. Appl Environ Microbiol 60(2):489–495

Tweddell RJ, Marchall J, Jabaji-Hare SH (1996) Endo-1,3 b-glucanase production by Stachybotrys elegans, a mycoparasite of Rhizoctonia solani. Mycologia 88:410–415

Udaiyan K (1991) Some interesting hyphomycetes from the industrial water cooling towers of Madras. J Econ Taxon Bot 15(3):627–647

Verona O, Mazzucchetti G (1968) I Generi "Stachybotrys" E "Memnoniella". Publicazioni Dell'Ente Nazionale, Per La Cellulosa E Per La Carta, Laboratorio Di Cartotecnica Speciale, Roma

Vesper SJ, Vesper MJ (2002) Stachylysin may be a cause of hemorrhaging in humans exposed to Stachybotrys chartarum. Infect Immun 70(4):2065–2069

Vesper SJ, Magnuson ML, Dearborn DG, Yike I, Haugland RA (2001) Initial characterization of the hemolysin stachylysin from Stachybotrys chartarum. Infect Immun 69(2):912–916

Vittal BPR, Dorai M (1986) Civisubramaniania eucalypti gen. et sp. nov. Trans Br Mycol Soc 87(3):482–485

von Höhnel F (1923) Studien über Hphomyzeten. Centralb f Bakt Abt II LX 2:1–26

von Szilvinyi A (1941) Mikrobiologische Boden untersuchungen im Lunzer Gebiet. Zentr Bakteriol Parasit Abt II 103:133–189

Wang Y-Z (2011) Three species excluded from Melanopsamma (Ascomycetes). Mycotaxon 115(1):365–368

Wang HF, Zhang TY (2009) Notes on soil dematiaceous hyphomycetes from the Qaidam Basin, Qinghai Province, China. Mycosystema 28:20–24

Whitton SR, McKenzie EHC, Hyde KD (2001) Microfungi on the pandanaceae: Stachybotrys, with three new species. N Z J Bot 39(3):489–499

Whitton SR, McKenzie EHC, Hyde KD (2012) Teleomorphic microfungi associated with Pandanaceae. In: Fungi associated with pandanaceae. Fungal diversity research series 21. Springer Netherlands, pp 23–124

Wu Y, Zhang T (2009) Two new species of Stachybotrys from soil. Mycotaxon 109:461–464

Wu Y-M, Zhang T-Y (2011) [2010] Two new species of Stachybotrys from soil. Mycotaxon 114(1):459–462

Wu H-X, Tian Q, Li WJ, Hyde KD (2014) A reappraisal of Microthyriaceaea. Phytotaxa 176(1):201–212

Ye TT, Huang JX, Shen YE, Lu PL, Christiani DC (1998) Respiratory symptoms and pulmonary function among Chinese rice-granary workers. Int J Occup Med Environ Health 4:155–159

Yike I, Dearborn D (2011) Guest editorial — novel insights into the pathology of Stachybotrys chartarum. Mycopathologia 172:1–3

Zuck RK (1946) Isolates intermediate between Stachybotrys and Memnoniella. Mycologia 38(1):69–76
Acknowledgments
Authors are appreciative to Dr. John Haines for allowing us access to type specimen of Stachybotrys elongata. The authors are also very grateful to Drs. Walter Gams, Rafael F. Castañeda Ruíz, Hongxin Mao, Weidong Wu, and Ariunaa Jalsrai for their assistance in finding literatures, especially the ones in Japan, Russia, and Ukraine. Without their assistance some references would not be available to us. This project was supported by the International Scientific Cooperated Project of Guizhou Province (No [2013]7004).
Electronic supplementary material
Below is the link to the electronic supplementary material.
About this article
Cite this article
Wang, Y., Hyde, K.D., McKenzie, E.H.C. et al. Overview of Stachybotrys (Memnoniella) and current species status. Fungal Diversity 71, 17–83 (2015). https://doi.org/10.1007/s13225-014-0319-0
Received:

Accepted:

Published:

Issue Date:

DOI: https://doi.org/10.1007/s13225-014-0319-0
Keywords
Current species

Nomen excludendum

Phylogeny

Synonyms

Taxonomic history