Abstract
As a result of fundamental changes in the International Code of Nomenclature on the use of separate names for sexual and asexual stages of fungi, generic names of many groups should be reconsidered. Members of the ECMM/ISHAM working group on Pseudallescheria/Scedosporium infections herein advocate a novel nomenclature for genera and species in Pseudallescheria, Scedosporium and allied taxa. The generic names Parascedosporium, Lomentospora, Petriella, Petriellopsis, and Scedosporium are proposed for a lineage within Microascaceae with mostly Scedosporium anamorphs producing slimy, annellidic conidia. Considering that Scedosporium has priority over Pseudallescheria and that Scedosporium prolificans is phylogenetically distinct from the other Scedosporium species, some name changes are proposed. Pseudallescheria minutispora and Petriellidium desertorum are renamed as Scedosporium minutisporum and S. desertorum, respectively. Scedosporium prolificans is renamed as Lomentospora prolificans.
Access options
Buy single article
Instant access to the full article PDF.
USD 39.95
Price excludes VAT (USA)
Tax calculation will be finalised during checkout.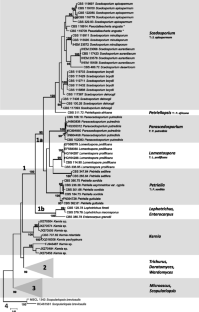 References
Borman AM, Campbell CK, Linton CJ, Bridge PD, Johnson EM (2006) Polycytella hominis is a mutated form of Scedosporium apiospermum. Med Mycol 44:33–39. doi:10.1080/13693780500179678

Carmichael JW (1962) Chrysosporium and some other aleuriosporic Hyphomycetes. Can J Bot 40:1137–1173. doi:10.1139/b62-104

Castellani A, Chalmers AJ (1919) Manual of tropical medicine. Baillière, Tindal & Cox, London, p 2436

de Beer ZW, Seifert KA, Wingfield MJ (2013) The ophiostomatoid fungi: their dual position in the Sordariomycetes. In: Seifert KA, de Beer ZW, Wingfield MJ (eds) The ophiostomatoid fungi: expanding frontiers, CBS fungal biodiversity series 12. CBS-KNAW Fungal Biodiversity Centre, Utrecht, pp 1–19

de Hoog GS, Guarro J, Gené J, Figueras MJ (2000) Atlas of clinical fungi. Centraalbureau voor schimmelcultures. Universitat Rovira i Virgili, Utrecht

de Hoog GS, Haase G, Chaturvedi V, Walsh TJ, Meyer W, Lackner M (2013) Taxonomy of medically important fungi in the molecular era. Lancet Infect Dis 13:385–386. doi:10.1016/S1473-3099(13)70058-6

Dowding P (1969) The dispersal and survival of spores of fungi causing bluestain in pine. Trans Br Mycol Soc 52:125–137

Guarro J (2012) Taxonomy and biology of fungi causing human infection. Enferm Infecc Microbiol Clin 30:33–39. doi:10.1016/j.eimc.2011.09.006

Guarro J, Kantarcioglu AS, Horré R, Rodriguez-Tudela JL, Estrella MC, Berenguer J, de Hoog GS (2006) Scedosporium apiospermum: changing clinical spectrum of a therapy-refractory opportunist. Med Mycol 44:295–327. doi:10.1080/13693780600752507

Guarro J, Gené J, Stchigel AM, Figueras MJ (2012) Atlas of soil Ascomycetes. CBS biodiv Ser 10. CBS-KNAW Fungal Biodiversity Centre, Utrecht

Hawksworth DL (2011) A new dawn for the naming of fungi: impacts of decisions made in Melbourne in July 2011 on the future publication and regulation of fungal names. IMA Fungus 2:155–162

Hennebert GL, Desai BG (1974) Lomentospora prolificans, a new hyphomycete from greenhouse soil. Mycotaxon 1(1):45–50

Hughes SJ (1958) Revisiones hyphomycetum aliquot cum appendice de nominibus rejiciendis. Can J Bot 36:727–836

Issakainen J, Jalava J, Saari J, Campbell CK (1999) Relationship of Scedosporium prolificans with Petriella confirmed by partial LSU rDNA sequences. Mycol Res 103:1179–1184. doi:10.1017/S0953756299008333

Issakainen J, Jalava J, Hyvönen J, Sahlberg N, Pirnes T, Campbell CK (2003) Relationships of Scopulariopsis based on LSU rDNA sequences. Med Mycol 41:31–42. doi:10.1080/mmy.41.1.31.42

Kirk PM, Stalpers JA, Braun U, Crous PW, Hansen K, Hawksworth DL, Hyde KD, Lücking R, Lumbsch TH, Rossman AY, Seifert KA, Stadler M (2013) A without-prejudice list of generic names of fungi for protection under the international code of nomenclature for algae, fungi, and plants. IMA Fungus 4:381–443. doi:10.5598/imafungus.2013.04.02.17

Lackner M, de Hoog GS (2011) Parascedosporium and its relatives: phylogeny and ecological trends. IMA Fungus 2:39–48. doi:10.5598/imafungus.2011.02.01.07

Lackner M, de Hoog GS, Verweij PE, Najafzadeh MJ, Curfs-Breuker I, Klaassen CH, Meis JF (2012) Species-specific antifungal susceptibility patterns of Scedosporium and Pseudallescheria species. Antimicrob Agents Chemother 56:2635–2642. doi:10.1128/AAC.05910-11

Lackner M, Hagen F, Meis JF, Gerrits van den Ende, Vu D, Robert V, Fritz J, Moussa AA, de Hoog GS (2014) Susceptibility and diversity in therapy-refractory genus Scedosporium. Antimicrob Agents Chemother, in press

Malloch D, Cain RF (1971) The genus Kernia. Can J Bot 49:855–867

McGinnis MR, Padhye AA, Ajello L (1982) Pseudallescheria Negroni et Fischer, 1943 and its later synonym Petriellidium Malloch, 1970. Mycotaxon 14:94–102

Ortoneda M, Pastor FJ, Mayayo E, Guarro J (2002) Comparison of the virulence of Scedosporium prolificans strains from different origins in a murine model. J Med Microbiol 51:924–928

Rainer J, Kaltseis J (2010) Diversity in Scedosporium dehoogii (Microascaceae): S. deficiens sp. nov. Sydowia 62:137–147

Sakayaroi J, Pang K-L, Jones EGB (2011) Multi-gene phylogeny of the Halosphaeriaceae: its ordinal status, relationships between genera and morphological character evolution. Fungal Divers 46:87–109

Seifert KA, Morgan-Jones G, Gams w, Kendrick WB (2011) The Genera of Hyphomycetes, vol 9. CBS Biodiv Ser

Seifert KA, de Beer W, Wingfield MJ (2013) Ophiostomatoid Fungi—Expanding Frontiers. CBS Biodiv Ser 12. CBS-KNAW Fungal Biodiversity Centre, Utrecht, The Netherlands

Tintelnot K, Wagner N, Seibold M, de Hoog GS, Horré R (2008) Re-identification of clinical isolates of the Pseudallescheria boydii-complex involved in near-drowning. Mycoses 51(Suppl 3):11–16

von Arx JA (1973) The genera Petriellidium and Pithoascus (Microascaceae). Persoonia 7:367–375

von Arx JA, Müller E (1954) Die gattungen der amerosporen pyrenomyceten. Beitr KryptFl Schweiz XI(1):1–434
Acknowledgments
Some of the proposals elaborated in this paper were discussed during a workshop of the ECMM/ISHAM working group on Scedosporium infections in Innsbruck, Austria, 16–18 May, 2013.
Additional information
Taxonomic novelties
Scedosporium minutisporum (Gilgado et al.) Lackner & de Hoog, Scedosporium desertorum (v. Arx & Moustafa) Lackner & de Hoog
This is a document of the ECMM/ISHAM working group on Scedosporium infections www.scedosporium-ecmm.com.
Electronic supplementary material
Below is the link to the electronic supplementary material.
About this article
Cite this article
Lackner, M., de Hoog, G.S., Yang, L. et al. Proposed nomenclature for Pseudallescheria, Scedosporium and related genera. Fungal Diversity 67, 1–10 (2014). https://doi.org/10.1007/s13225-014-0295-4
Received:

Accepted:

Published:

Issue Date:

DOI: https://doi.org/10.1007/s13225-014-0295-4
Keywords