Abstract
Foliar fungal pathogens affect forest ecosystem processes by exerting highly species-specific impacts on growth and survival of trees. As many ecosystem processes in forests depend on functional diversity of specific tree species, a close relationship is expected between this and foliar fungal pathogen infestation. Testing for such a relationship in the German tree diversity experiment BIOTREE (Bechstedt), we hypothesized that pathogen richness and pathogen load decline with increasing functional diversity of tree communities. Using macro- and microscopic analyses, we assessed pathogen richness and load on 16 tree species in plots that, although differing in functional diversity, had the same tree species richness. We found no effects of functional diversity on pathogen richness or load. However, we encountered strong species identity effects in plot species composition, as susceptible tree species contributed positively to each community's pathogen richness and load. Furthermore, testing for effects of particular leaf traits and geographical range size of host species revealed a significant effect of total leaf phenolics, which was unexpected as pathogen richness increased with increasing content in polyphenolics. Our study showed that at the community level, host species' identity was more important for foliar fungal pathogen richness and load than the functional diversity of host trees. The positive relationship between pathogen richness and phenolics in leaves, along with the finding that pathogen richness is very much conserved in tree species, point to an evolutionary arms race between hosts and fungi resulting from fungi increasing their capacity to infect tree leaves and trees boosting their defences.
This is a preview of subscription content, log in to check access.
Access options
Buy single article
Instant access to the full article PDF.
US$ 39.95
Price includes VAT for USA
Subscribe to journal
Immediate online access to all issues from 2019. Subscription will auto renew annually.
US$ 99
This is the net price. Taxes to be calculated in checkout.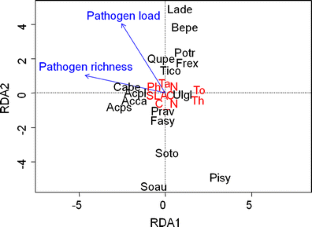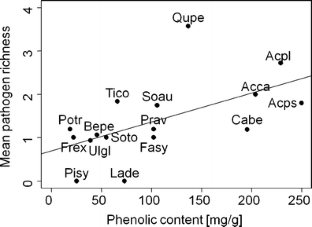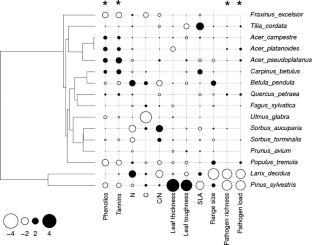 References
Allen E, van Ruijven J, Crawley MJ (2010) Foliar fungal pathogens and grassland biodiversity. Ecology 91:2572–2582

Azaiez A, Boyle B, Levée V, Séguin A (2009) Transcriptome profiling in hybrid poplar following interactions with Melampsora rust fungi. MPMI 22:190–200

Bagchi R, Swinfield T, Gallery RE, Lewis OT, Gripenberg S, Narayan L, Freckleton RP (2010) Testing the Janzen-Connell mechanism: pathogens cause overcompensating density dependence in a tropical tree. Ecol Lett 13:1262–1269

Blodgett JT, Herms DA, Bonello P (2005) Effects of fertilization on red pine defense chemistry and resistance to Sphaeropsis sapinea. For Ecol Manage 208:373–382

Blomberg SP, Garland T, Ives AR, Crespi B (2003) Testing for phylogenetic signal in comparative data: behavioral traits are more labile. Evolution 57:717–745

Böhnke M, Kröber W, Welk E, Wirth C, Bruelheide H (2013) Maintenance of constant functional diversity during secondary succession of a subtropical forest in China. J Veg Sci. doi:10.1111/jvs.12114

Botta-Dukát Z (2005) Rao's quadratic entropy as a measure of functional diversity based on multiple traits. J Veg Sci 16:533–540

Bradley DJ, Gilbert GS, Parker IM (2003) Susceptibility of clover species to fungal infection: The interaction of leaf surface traits and environment. Am J Bot 90:857–864

Brandenburger W (1985) Parasitische Pilze an Gefäßpflanzen in Europa. Gustav Fischer Verlag, Stuttgart

Braun U, Cook RTA (2012) Taxonomic Manual of the Erysiphales (Powdery Mildews). CBS Biodiversity Series 11:1–707

Cardinale BJ, Duffy JE, Gonzalez A, Hooper DU, Perrings C, Venail P, Narwani A, Mace GM, Tilman D, Wardle DA, Kinzig AP, Daily GC, Loreau M, Grace JB, Larigauderie A, Srivastava DS, Naeem S (2012) Biodiversity loss and its impact on humanity. Nature 486:59–67

Chisholm ST, Coaker G, Day B, Staskawicz BJ (2006) Host-microbe interactions: Shaping the evolution of the plant immune response. Cell 124:803–814

Clay K, Kover PX (1996a) Evolution and stasis in plant-pathogen associations. Ecology 77:997–1003

Clay K, Kover PX (1996b) The red queen hypothesis and plant/pathogen interactions. Annu Rev Phytopathol 34:29–50

Connell JH (1971) On the role of natural enemies in preventing competitive exclusion in some marine animals and in rain forest trees. In: de Boer PJ, Gradwell GR (eds) Dynamics of Populations. Center for Agricultural Publishing and Documentation, Wageningen, pp 298–312

Crous PW, Braun U (2003) Mycosphaerella and its anamorphs: 1. Names published in Cercospora and Passalora. CBS Biodiversity Series 1:1–500

Crous PW, Braun U, Hunter GC, Wingfield MJ, Verkley GJM, Shin HD, Nakashima C, Groenewald JC (2012) Phylogenetic lineages in Pseudocercospora. Stud Mycol 75:37–114

Dawkins R, Krebs JR (1979) Arms races between and within species. Proc R Soc Lond B 205:489–511

Díaz S, Hodgson JG, Thompson K, Cabido M, Cornelissen JHC, Jalili A, Montserrat-Martí G, Grime JP, Zarrinkamar F, Asri Y, Band SR, Basconcelo S, Castro-Díez P, Funes G, Hamzehee B, Khoshnevi M, Pérez-Harguindeguy N, Pérez-Rontomé MC, Shirvany FA, Vendramini F, Yazdani S, Abbas-Azimi R, Bogaard A, Boustani S, Charles M, Dehghan M, de Torres-Espuny L, Falczuk V, Guerrero-Campo J, Hynd A, Jones G, Kowsary E, Kazemi-Saeed F, Maestro-Martínez M, Romo-Díez A, Shaw S, Siavash B, Villar-Salvador P, Zak MR (2004) J Veg Sci 15:295–304

Díaz S, Lavorel S, Chapin FS, Tecco PA, Gurvich DE, Grigulis K (2007) In: Canadell J, Pataki DE, Pitelka LF (eds) Terrestrial Ecosystem in a Changing World. Springer, Berlin, pp 79–91

Don A, Arenhövel W, Jacob R, Scherer-Lorenzen M, Schulze E-D (2007) Establishment success of 19 different tree species on afforestations – Results of a biodiversity experiment. AFJZ 178:164–171

Duplessis S, Major I, Martin F, Séguin A (2009) Poplar and pathogen interactions: Insights from populus genome-wide analyses of resistance and defense gene families and gene expression profiling. Crit Rev Plant Sci 28:309–334

Durka W, Michalski SG (2012) Daphne: a dated phylogeny of a large European flora for phylogenetically informed ecological analyses. Ecology 93:2297

Eisenhauer N, Beßler H, Engels C, Gleixner G, Habekost M, Milcu A, Partsch S, Sabais ACW, Scherber C, Steinbeiss S, Weigelt A, Weisser WW, Scheu S (2010) Plant diversity effects on soil microorganisms support the singular hypothesis. Ecology 91:485–496

Eisenhauer N, Milcu A, Allan E, Nitschke N, Scherber C, Temperton V, Weigelt A, Weisser WW, Scheu S (2011) Impact of above- and below-ground invertebrates on temporal and spatial stability of grassland of different diversity. J Ecol 99:572–582

El-Hajj Z, Kavanagh K, Rose C, Kanaan-Atallah Z (2004) Nitrogen and carbon dynamics of a foliar biotrophic fungal parasite in fertilized Douglas-fir. New Phytol 163:139–147

Ellis MB, Ellis JP (1997) Microfungi on land plants: an identification handbook, 2nd edn. Richmond Pub, University of Michigan

Fernández-Aparicio M, Prats E, Emeran AA, Rubiales D (2009) Characterization of resistance mechanisms to powdery mildew (Erysiphe betae) in beet (Beta vulgaris). Phytopathology 99:385–389

Gilbert GS, Webb CO (2007) Phylogenetic signal in plant pathogen–host range. PNAS 104:4979–4983

Gilbert GS, Magarey R, Suiter K, Webb CO (2012) Evolutionary tools for phytosanitary risk analysis: phylogenetic signal as a predictor of host range of plant pests and pathogens. Evol Appl 5:869–878

Hacquard S, Petre B, Frey P, Hecker A, Rouhier N, Duplessis S (2011) The poplar-poplar rust interaction: Insights from genomics and transcriptomics. J Pathog. doi:10.4061/2011/716041

Hajji M, Dreyer E, Marçais B (2009) Impact of Erysiphe alphitoides on transpiration and photosynthesis in Quercus robur leaves. Eur J Plant Pathol 125:63–72

Hantsch L, Braun U, Scherer-Lorenzen M, Bruelheide H (2013) Species richness and species identity effects on occurrence of foliar fungal pathogens in a tree diversity experiment. Ecosphere 4:81

Huang WY, Cai YZ, Hyde KD, Corke H, Sun M (2008) Biodiversity of endophytic fungi associated with 29 traditional Chinese medicinal plants. Fung Divers 33:61–75

Humphries CJ, Cox JM, Nielsen ES (1986) Nothofagus and its parasites: a cladistic approach to coevolution. In: Stone AR, Hawksworth DL (eds) Coevolution and systematics. Clarendon Press, Oxford, pp 55–76

Iason GR, Lennon JJ, Pakeman RJ, Thoss V, Beaton JK, Sim DA, Elston DA (2005) Does chemical composition of individual Scots pine trees determine the biodiversity of their associated ground vegetation? Ecol Lett 8:364–369

Janzen DH (1970) Herbivores and the number of tree species in tropical forests. Am Nat 104:501–508

Jones CG, Lawton JH (1991) Plant chemistry and insect species richness of British Umbellifers. J Anim Ecol 60:767–777

Keen NT (1990) Gene-for-gene complementarity in plant-pathogen interactions. Annu Rev Genet 24:447–463

Keesing F, Holt RD, Ostfeld RS (2006) Effects of species diversity on disease risk. Ecol Lett 9:485–498

Keesing F, Belden LK, Daszak P, Dobson A, Harvell CD, Holt RD, Hudson P, Jolles A, Jones KE, Mitchell CE, Myers SS, Bogich T, Ostfeld RS (2010) Impacts of biodiversity on the emergence and transmission of infectious diseases. Nature 468:647–652

Kloppholz S, Kuhn H, Requena N (2011) A secreted fungal effector of Glomus intraradices promotes symbiotic biotrophy. Curr Biol 21:1204–1209

Kröner A, Marnet N, Andrivon D, Val F (2012) Nicotiflorin, rutin and chlorogenic acid: phenylpropanoids involved differently in quantitative resistance of potato tubers to biotrophic and necrotrophic pathogens. Plant Physiol Biochem 57:23–31

Lafferty KD, Allesina S, Arim M, Briggs CJ, De Leo G, Dobson AP, Dunne JA, Johnson PTJ, Kuris AM, Marcogliese DJ, Martinez ND, Memmott J, Marquet PA, McLaughlin JP, Mordecai EA, Pascual M, Poulin R, Thieltges DW (2008) Parasites in food webs: the ultimate missing links. Ecol Lett 11:533–546

Lavandero B, Labra A, Ramírez CC, Niemeyer HM, Fuentes-Contreras E (2009) Species richness of herbivorous insects on Nothofagus trees in South America and New Zealand: The importance of chemical attributes of the host. Basic Appl Ecol 10:10–18

Lavorel S, Garnier E (2002) Predicting changes in community composition and ecosystem functioning from plant traits: revisiting the Holy Grail. Funct Ecol 16:545–556

Legendre P, Legendre L (2012) Numerical Ecology, 3rd English edn. Elsevier

Lewinsohn TM, Novotny V, Basset Y (2005) Insects on plants: Diversity of herbivore assemblages revisited. Annu Rev Ecol Evol Syst 36:597–620

Loreau M, Naeem S, Inchausti P, Bengtsson J, Grime JP, Hector A, Hooper DU, Huston MA, Raffaelli D, Schmid B, Tilman D, Wardle DA (2001) Biodiversity and ecosystem functioning: Current knowledge and future challenges. Science 294:804–808

Maor R, Shirasu K (2005) The arms race continues: battle strategies between plants and fungal pathogens. Curr Opin Microbiol 8:399–404

Mason NWH, MacGillivray K, Steel JB, Wilson JB (2003) An index of functional diversity. J Veg Sci 14:71–578

McElrone AJ, Reid CD, Hoye KA, Hart E, Jackson RB (2005) Elevated CO2 reduces disease incidence and severity of a red maple fungal pathogen via changes in host physiology and leaf chemistry. Glob Chang Biol 11:1828–1836

Mitchell CE, Blumenthal D, Jarošik V, Pukett EE, Pyšek P (2010) Controls on pathogen species richness in plants introduced and native ranges: roles of residence time, range size and host traits. Ecol Lett 13:1525–1535

Moore SM, Borer ET (2012) The influence of host diversity and composition on epidemiological patterns at multiple spatial scales. Ecology 93:1095–1105

Mouillot D, Villéger S, Scherer-Lorenzen M, Mason NWH (2011) Functional structure of biological communities predicts ecosystem multifunctionality. PLoS ONE 6:e17476

Mraja A, Unsicker SB, Reichelt M, Gershenzon J, Roscher C (2011) Plant community diversity influences allocation to direct chemical defence in Plantago lanceolata. PLoS ONE 6:e28055

Nadrowski K, Wirth C, Scherer-Lorenzen M (2010) Is forest diversity driving ecosystem function and service? Curr Opin Environ Sustainability 2:75–79

Naeem S, Li S (1997) Biodiversity enhances ecosystem reliability. Nature 390:507–509

Naeem S, Loreau M, Inchausti P (2002) Biodiversity and ecosystem functioning: the emergence of a synthetic ecological framework. In: Loreau M, Naeem S, Inchausti P (eds) Biodiversity and ecosystem functioning. Oxford University Press, Oxford, pp 3–11

Petchey OL (2004) On the statistical significance of functional diversity effects. Func Ecol 18:297–303

Petchey OL, Gaston KJ (2002a) Extinction and the loss of functional diversity. Proc R Soc Lond 269:1721–1727

Petchey OL, Gaston KJ (2002b) Functional diversity (FD), species richness and community composition. Ecol Lett 5:402–411

Petchey OL, Gaston KJ (2006) Functional diversity: back to basics and looking forward. Ecol Lett 9:741–758

Pociecha E, Płażek A, Janowiak F, Waligórski P, ZwierZykowski Z (2009) Changes in abscisic acid, salicylic acid and phenylpropanoid concentrations during cold acclimation of androgenic forms of Festulolium (Festuca pratensis × Lolium multiflorum) in relation to resistance to pink snow mould (Microdochium nivale). Plant Breed 128:397–403

Prell H (1996) Interaktionen von Pflanzen und phytopathogenen Pilzen. Gutav Fischer Verlag, Jena, Stuttgart

Proulx R, Wirth C, Voigt W, Weigelt A, Roscher C, Attinger S, Baade J, Barnard RL, Buchmann N, Buscot F, Eisenhauer N, Fischer M, Gleixner G, Halle S, Hildebrandt A, Kowalski E, Kuu A, Lange M, Milcu A, Niklaus PA, Oelmann Y, Rosenkranz S, Sabais A, Scherber C, Scherer-Lorenzen M, Scheu S, Schulze E-D, Schumacher J, Schwichtenberg G, Soussana J-F, Temperton VM, Weisser WW, Wilcke W, Schmid B (2010) Diversity Promotes Temporal Stability across Levels of Ecosystem Organization in Experimental Grasslands. PLoS ONE 5:e13382

Rajala T, Velmala SM, Tuomivirta T, Haapanen M, Müller M, Pennanen T (2013) Endophyte communities vary in the needles of Norway spruce clones. Fung Biol 117:182–190

Rao CR (1982) Diversity and dissimilarity coefficients: A unified approach. Theor Popul Biol 21:24–43

R Core Team (2013) R: A language and environment for statistical computing. Vienna, Austria, R Foundation for Statistical Computing. http://www.R-project.org/. Assessed 28 November 2013

Reich PB, Tilman D, Isbell F, Mueller K, Hobbie SE, Flynn DFB, Eisenhauer N (2012) Impacts of Biodiversity Loss Escalate Through Time as Redundancy Fades. Science 336:589–592

Roscher C, Weigelt A, Proulx R, Marquard E, Schumacher J, Weisser WW, Schmid B (2011) Identifying population- and community-level mechanisms of diversity–stability relationships in experimental grasslands. J Ecol 99:1460–1469

Sabais ACW, Scheu S, Eisenhauer N (2011) Plant species richness drives the density and diversity of Collembola in temperate grassland. Acta Oecol 37:195–202

Sanchez-Azofeifa A, Oki Y, Fernandes GW, Ball RA, Gamon J (2012) Relationships between endophyte diversity and leaf optical properties. Trees 26:291–299

Scherber C, Eisenhauer N, Weisser WW, Schmid B, Voigt W, Fischer M, Schulze E-D, Roscher C, Weigelt A, Allan E, Beßler H, Bonkowski M, Buchmann N, Buscot F, Clement LW, Ebeling A, Engels C, Halle S, Kertscher I, Klein A-M, Koller R, König S, Kowalski E, Kummer V, Kuu A, Lange M, Lauterbach D, Middelhoff C, Migunova VD, Milcu A, Müller R, Partsch S, Petermann JS, Renker C, Rottstock T, Sabais A, Scheu S, Schumacher J, Temperton VM, Tscharntke T (2010) Bottom up effects of plant diversity on multitrophic interactions in a biodiversity experiment. Nature 468:553–556

Scherer-Lorenzen M (2008) Functional diversity affects decomposition processes in experimental grasslands. Func Ecol 22:547–555

Scherer-Lorenzen M, Schulze E-D, Don A, Schumacher J, Weller E (2007) Exploring the functional significance of forest diversity: A new long-term experiment with temperate tree species (BIOTREE). Perspect Plant Ecol Evol Syst 9:53–70

Schleuter D, Daufresne M, Massol F, Argillier C (2010) A user's guide to functional diversity indices. Ecol Monogr 80:469–484

Schubert K, Ritschel A, Braun U (2003) A monograph of Fusicladium s.lat. (Hyphomycetes). Schlechtendalia 9:1–132

Schuldt A, Bruelheide H, Durka W, Eichenberg D, Fischer M, Kröber W, Härdtle W, Keping M, Michalski SG, Palm WU, Schmid B, Welk E, Zhou H, Assmann T (2012) Plant traits affecting herbivory on tree recruits in highly diverse subtropical forests. Ecol Lett 15:732–739

Shanmugam V, Ronen M, Shalaby S, Larkov O, Rachamim Y, Hadar R, Rose MS, Carmeli S, Horwitz BA, Lev S (2010) The fungal pathogen Cochliobolus heterostrophus responds to maize phenolics: novel small molecule signals in a plant-fungal interaction. Cell Microbiol 12:1421–1434

Shetty R, Fretté X, Jensen B, Shetty NP, Jensen JD, Jørgensen HJL, Newman M-A, Christensen LP (2011) Silicon-induced changes in antifungal phenolic acids, flavonoids, and key phenylpropanoid pathway genes during the interaction between miniature roses and the biotrophic pathogen Podosphaera pannosa. Plant Physiol 157:2194–2205

Sonnemann I, Baumhaker H, Wurst S (2012) Species specific responses of common grassland plants to a generalist root herbivore (Agriotes spp. larvae). Basic Appl Ecol 13:579–586

Specht J, Scherber C, Unsicker SB, Köhler G, Weisser WW (2008) Diversity and beyond: plant functional identity determines herbivore performance. J Anim Ecol 77:1047–1055

Spehn EM, Joshi J, Schmid B, Alphei J, Körner C (2000) Plant diversity effects on soil heterotrophic activity in experimental grassland ecosystems. Plant Soil 224:217–230

Suding KN, Lavorel S, Chapin FS III, Cornelissen JHC, Diaz S, Garnier E, Goldberg D, Hooper DU, Jackson ST, Navas M-L (2008) Scaling environmental change through the community-level: A trait-based response-and-effect framework for plants. Glob Chang Biol 14:1125–1140

Sun X, Ding Q, Hyde KD, Guo LD (2012) Community structure and preference of endophytic fungi of three woody plants in a mixed forest. Fung Ecol 5:624–632

Swenson NG, Anglada-Cordero P, Barone JA (2011) Deterministic tropical tree community turnover: evidence from patterns of functional beta diversity along an elevational gradient. Proc R Soc London, Ser B 278:877–884

Tedersoo L, Mett M, Ishida TA, Bahram M (2013) Phylogenetic relationships among host plants explain differences in fungal species richness and community composition in ectomycorrhizal symbiosis. New Phytol 199:822–831

Thompson JN (1999) The evolution of species interactions. Science 284:2116–2118

Thuiller W, Lavorel S, Sykes MT, Araújo MB (2006) Using niche-based modelling to assess the impact of climate change on tree functional diversity in Europe. Divers Distrib 12:49–60

Tilman D (2001) Functional diversity. In: Levin SA (ed) Encyclopedia of Biodiversity. Academic Press, San Diego, pp 109–120

Valkama E, Koricheva J, Salminen J-P, Helander M, Saloniemi I, Saikkonen K, Pihlaja K (2005) Leaf surface traits: overlooked determinants of birch resistance to herbivores and foliar micro-fungi? Trees 19:191–197

Villar R, Robleto JR, de Jong Y, Poorter H (2006) Differences in construction costs and chemical composition between deciduous and evergreen woody species are small as compared to differences among families. Plant Cell Environ 29:1629–1643

Villéger S, Mason NWH, Mouillot D (2008) New multidimensional functional diversity indices for a multifaceted framework in functional ecology. Ecology 89:2290–2301

Walker BH (1992) Biodiversity and ecological redundancy. Conserv Biol 6:18–23

Walker B, Kinzig AP, Langridge J (1999) Plant attribute diversity, resilience, and ecosystem function: The nature and significance of dominant and minor species. Ecosystems 2:95–113

Weiher E, van der Werf A, Thompson K, Roderick M, Garnier E, Eriksson O (1999) Challenging Theophrastus: A common core list of plant traits for functional ecology. J Veg Sci 10:609–620

Whitfield TJS, Novotny V, Miller SE, Hrcek J, Klimes P, Weiblen GD (2012) Predicting tropical insect herbivore abundance from host plant traits and phylogeny. Ecology 93:S211–S222

Wright IJ, Reich PB, Westoby M, Ackerly D, Baruch Z, Bongers F, Cavender-Bares J, Chapin T, Cornelissen H, Diemer M, Flexas J, Garnier E, Groom PK, Gullas J, Hikosaka K, Lamont BB, Lee T, Lee W, Lusk C, Midgley JJ, Navas M-L, Niinemets Ü, Oleksyn J, Osada N, Poorter H, Poot P, Prior L, Pyankov VI, Roumet C, Thomas SC, Tjoelker MG, Veneklaas EJ, Villar R (2004) The worldwide leaf economics spectrum. Nature 428:821–827
Acknowledgments
We are grateful to M. Baudis for helping with the field work. For technical support on leaf trait analyses, we thank D. Eichenberg, C. Ristok, K. Schmon and S. Wedi-Pumpe. Thanks are due to G. Seidler for providing tree species' range sizes. For the analysis of leaf areas, we used the free Lafore software (LeafAreaFOREveryone, © V. Lehsten, Oldenburg, Germany). A Graduate Scholarship of Saxony-Anhalt and a grant from the Scholarship Programme of the German Federal Environmental Foundation (DBU) are highly acknowledged. The research leading to these results also attracted funding from the European Union's Seventh Framework Programme (FP7/2007–2013) under grant agreement no. 265171, project FunDivEUROPE as well as of the BACCARA project, which received funding from the European Commission's Seventh Framework Programme (FP7/2007–2013), under grant agreement no. 226299. O.P. and H.B. also acknowledge the support of the German Centre for Integrative Biodiversity Research (iDiv) Halle-Jena-Leipzig, funded by the German Science Foundation (FZT 118).
Electronic supplementary material
Below is the link to the electronic supplementary material.
About this article
Cite this article
Hantsch, L., Braun, U., Haase, J. et al. No plant functional diversity effects on foliar fungal pathogens in experimental tree communities. Fungal Diversity 66, 139–151 (2014). https://doi.org/10.1007/s13225-013-0273-2
Received:

Accepted:

Published:

Issue Date:
Keywords
Biodiversity–ecosystem functioning

BIOTREE experiment

Host defence traits

Phylogenetic pattern

Polyphenolics

Tree species identity effects