Abstract
This study provides new insights on the phylogenetic position of the lichenicolous fungal genus Abrothallus based on six molecular markers (nuSSU, nuLSU, mtSSU, RPB1, RPB2 and TEF-α). In a broad-scale analysis, we detected high support for inclusion of the genus within Dothideomycetes. A further analysis provided support for Abrothallus as a member of the subclass Pleosporomycetidae as a sister group of Jahnulales, an order of aquatic Dothideomycetes. Given the exclusive characters of this group of apotheciate fungi within the Dothidiomycetes, a new monotypic order Abrothallales is here introduced together with the new family Abrothallaceae. In a multi-locus analysis (based on the six loci indicated above plus ITS) restricted to 12 putative Abrothallus species, two clearly separated clades were observed: one comprising species growing on lichens of the families Parmeliaceae and Ramalinaceae, and the second including species that live on lichens of the order Peltigerales and the family Cladoniaceae.
Access options
Buy single article
Instant access to the full article PDF.
USD 39.95
Price excludes VAT (USA)
Tax calculation will be finalised during checkout.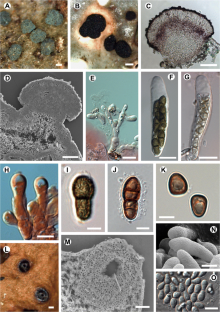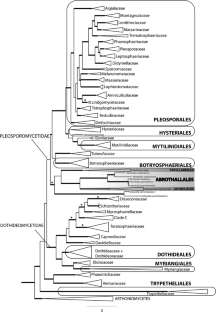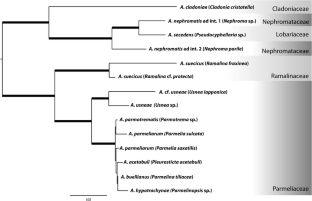 References
Akaike H (1974) A new look at the statistical model identification. IEEE Trans Autom Control 19(6):716–723

Arnold AE, Miadlikowska J, Higgins KL et al (2009) A phylogenetic estimation of trophic transition networks for ascomycetous fungi: are lichens cradles of symbiotrophic fungal diversification? Syst Biol 58:283–297

Bellemère A, Malherbe MC, Chacun H, Hafellner J (1986) Étude ultrastructurale des asques et des ascospores chez les espèces lichénicoles non lichénisées Abrothallus bertianus de Not. et A. parmeliarum (Sommerf.) Nyl. Cryptog Mycolog 7:47–85

Berbee ML, Taylor JW (1992) Two ascomycete classes based on fruiting-body characters and ribosomal DNA sequence. Mol Biol Evol 9(2):278–284

Castresana J (2000) Selection of conserved blocks from multiple alignments for their use in phylogenetic analysis. Mol Biol Evol 17:540–552

Clauzade G, Diederich P, Roux C (1989) Nelikenigintaj fungoj likenlogaj. Ilustrita determinlibro. Bull Soc Linn Provence Numéro Spécial 1:1–42

De Notaris G (1845) Abrothallus novum lichenum genus. Mem Reale Accad Sci Torino ser. 2, 10:351–355

De Notaris G (1846) Frammenti lichenografici di un lavoro inedito. G Bot Ital 1:174–224

Diederich P (2004) Abrothallus. In: Nash TH III, Ryan BD, Diederich P, Gries C, Bungartz F (eds) Lichen Flora of the Greater Sonoran Desert Region, vol 2, Lichens Unlimited. Arizona State University, Tempe, pp 626–630

Don R, Cox P, Wainwright B, Baker K, Mattick J (1991) 'Touchdown' PCR to circumvent spurious priming during gene amplification. Nucleic Acids Res 19(14):4008

Edgar RC (2004) MUSCLE: multiple sequence alignment with high accuracy and high throughput. Nucleic Acids Res 32(5):1792–1797

Etayo J, Osorio HS (2004) Algunos hongos liquenícolas de Sudamérica, especialmente del Uruguay. Comun Bot Mus Nac Hist Nat Antrop 6(129):1–19

Etayo J, van den Boom PG (2006) Some lichenicolous fungi from Guatemala, with the description of a new species. Herzogia 19:191–197

Fink B (1935) The Lichen Flora of the United States. Completed for Publication by Joyce Hedrick. University of Michigan Press, Ann Arbor

Gardes M, Bruns TD (1993) ITS primers with enhanced specificity for basidiomycetes—application to the identification of mycorrhizae and rusts. Mol Ecol 2:113–118

Gargas A, Taylor JW (1992) Polymerase chain reaction (PCR) primers for amplifying and sequencing 18S rDNA from lichenized fungi. Mycologia 84:589–592

Granberg Å (2001) The phylogenetic relationships of Abrothallus, a genus of lichenicolous fungi. Degree thesis, Umeå University

Hafellner J (1994) Beiträge zu einem Prodromus der lichenicolen Pilze Österreichs und angrenzender Gebiete. I. Einige neue oder seltene Arten. Herzogia 10:1–28

Hafellner J, Herzog G, Mayrhofer H (2008) Zur Diversität von lichenisierten und lichenicolen Pilzen in den Ennstaler Alpen (Österreich: Steiermark, Oberösterreich). Mitt Naturwiss Ver Steiermark 137:131–204

Hall TA (1999) BioEdit: a user-friendly biological sequence alignment editor and analysis program for Windows 95/98/NT. Nucleic Acids Symp Ser 41:95–98

Hawksworth DL (1983) A key to the lichen-forming, parasitic, parasymbiotic and saprophytic fungi occurring on lichens in the British Isles. Lichenologist 15:1–44

Hawksworth DL (1990) Notes on British lichenicolous fungi: VI. Notes Roy Bot Gard Edinburgh 46(3):391–403

Hibbett DS, Binder M, Bischoff JF et al (2007) A higher-level phylogenetic classification of the Fungi. Mycol Res 111(5):509–547

Hofstetter V, Miadlikowska J, Kauff F, Lutzoni F (2007) Phylogenetic comparison of protein-coding versus ribosomal RNA-coding sequence data: a case study of the Lecanoromycetes (Ascomycota). Mol Phylogenet Evol 44:412–426

Hyde KD, Jones EBG, Liu J-K, Ariyawansa H et al (2013) Families of dothideomycetes. Fungal Divers. doi:10.1007/s13225-013-0263-4

Jatta A (1911) Lichenes (end) Flora Italica Cryptogama, Firenze Pars III. Fasc 4–6:461–958

Kauff F, Lutzoni F (2002) Phylogeny of the Gyalectales and Ostropales (Ascomycota, Fungi): among and within order relationships based on nuclear ribosomal RNA small and large subunits. Mol Phylogenet Evol 25:138–156

Kirk PM, Cannon PF, Stalpers JA, Minter DW (eds) (2008) Dictionary of fungi, 10th edn. Commonwealth Scientific and Industrial Research Organisation, UK

Körber GW (1855) Systema Lichenum Germaniae. Trewendt & Granier, Breslau, Germany

Korf RP (1973) Discomycetes and Tuberales. In: Ainsworth GC, Sparrow FK, Sussman AS (eds) The fungi: an advanced treatise, vol 4A. Academic, London, pp 249–319

Kotte I (1909) Einige neue Fälle von Nebensymbiose (Parasymbiose). Zentralbl Bakteriol Parasitenkd II 24:74–93

Kutorga E, Hawksworth DL (1997) A reassessment of the genera referred to the family Patellariaceae (Ascomycota). Syst Ascomycetum 15(1–2):1–110

Lawrey JD, Diederich P (2003) Lichenicolous fungi: interactions, evolution, and biodiversity. Bryologist 106(1):81–120

Lawrey JD, Diederich P, Nelsen MP, Freebury C, Van Den Broeck D, Sikaroodi M, Ertz D (2012) Phylogenetic placement of lichenicolous Phoma species in the Phaeosphaeriaceae (Pleosporales, Dothideomycetes). Fungal Divers 55:195–213

Lindau G (1897) Pezizineae. In: Engler A, Prantl K (eds) Die Natürlichen Pflanzenfamilien I. W. Engelmann, Leipzig, pp 178–242

Lindsay WL (1857) Monograph of the genus Abrothallus (De Notaris and Tulasne emend.). Q J Microsc Sci 5:27–63

Liu YJ, Whelen S, Hall BD (1999) Phylogenetic relationships among ascomycetes: evidence from an RNA polymerase II subunit. Mol Biol Evol 16:1799–1808

Lumbsch HT, Huhndorf SM (2007) Whatever happened to the pyrenomycetes and loculoascomycetes?. Mycol Res 111:1064–1074

Lumbsch HT, Huhndorf SM (2010) Myconet volume 14. Fieldiana 1:1–64

Lumbsch HT, Lindemuth R (2001) Major lineages of Dothideomycetes (Ascomycota) inferred from SSU and LSU rDNA sequences. Mycol Res 105:901–908

Matheny PB, Liu YJ, Ammirati JF, Hall BD (2002) Using RPB1 sequences to improve phylogenetic inference among mushrooms (Inocybe, Agaricales). Am J Bot 89:688–698

Millanes AM, Diederich P, Ekman S, Wedin M (2011) Phylogeny and character evolution in the jelly fungi (Tremellomycetes, Basidiomycota, Fungi). Mol Phylogenet Evol 61(1):12–28

Moncalvo JM, Rehner SA, Vilgalys R (1993) Systematics of Lyophyllum section Difformia based on evidence from culture studies and ribosomal DNA sequences. Mycologia 85:788–794

Montagne C (1851) Morphologischer Grundriss der Familie der Flechten. Graeger, Halle, Germany

Montagne C (1856) Cryptogamia Guyanensis seu plantarum cellularium in Guyana gallica annis 1835–1849 a cl. Leprieur collectarum enumeratio universalis. suite. Ann Sci Nat 16:47–81

Nannfeldt JA (1932) Studien über die Morphologie und Systematik der Nicht-Lichenisieren inoperculaten Discomycetes. Nova Acta Regiae Soc Sci Ups 8(2):1–368

Nordin I (1964) Abrothallus suecicus, a common lichenicolous fungus. Sven Bot Tidskr 58(1):225–232

Pang K-L, Abdel-Wahab MA, Sivichai S, El-Sharaouney HM, Jones EBG (2002) Jahnulales, (Dothideomycetes, Ascomycota): a new order of lignicolous freshwater ascomycetes. Mycol Res 106(9):1031–1042

Pérez-Ortega S, Suija A, de los Ríos A (2011) The connection between Abrothallus and its anamorph state Vouauxiomyces established by Denaturing Gradient Gel Electrophoresis (DGGE). Lichenologist 43(3):277–279

Peršoh D, Rambold G (2002) Phacopsis—a lichenicolous genus of the family Parmeliaceae. Mycol Prog 1(1):43–55

Peršoh D, Rambold G (2012) Lichen-associated fungi of the Letharietum vulpinae. Mycol Prog 11(3):753–760

Posada D (2008) jModelTest: phylogenetic model averaging. Mol Biol Evol 25(7):1253–1256

Rambaut A, Drummond AJ (2007) Tracer v1.4. Available from http://beast.bio.ed.ac.uk/Tracer

Rehm H (1896) Ascomyceten: Hysteriaceen und Discomyceten. In: Rabenhorst's Kryptogamen-Flora von Deutschland, Oesterreich und der Schweiz, 1(3):209–336

Rehner S, Samuels GJ (1994) Taxonomy and phylogeny of Gliocladium analyzed from nuclear large subunits ribosomal DNA sequences. Mycol Res 98:625–634

Ronquist F, Huelsenbeck JP (2003) MrBayes 3: Bayesian phylogenetic inference under mixed models. Bioinformatics 19:1572–1574

Saccardo PA (1889) Sylloge fungorum. Published by the author, Pavia

Santesson R, Moberg R, Nordin A, Tønsberg T, Vitikainen O (2004) Lichen-forming and lichenicolous fungi of Fennoscandia. Museum of Evolution, Uppsala University, Uppsala

Schaechtelin J, Werner RG (1927) Développement et biologie de l'Abrothallus parmeliarum Smft. Bull Soc Mycol France 42:233–243

Schoch CL, Shoemaker RA, Seifert KA, Hambleton S, Spatafora JW, Crous PW (2006) A multigene phylogeny of the Dothideomycetes using four nuclear loci. Mycologia 98(6):1041–1052

Schoch CL, Crous PW, Groenewald JZ et al (2009a) A class-wide phylogenetic assessment of Dothideomycetes. Stud Mycol 64:1–15

Schoch CL, Sung GH, López-Giráldez F et al (2009b) The Ascomycota tree of life: a phylum-wide phylogeny clarifies the origin and evolution of fundamental reproductive and ecological traits. Syst Biol 58(2):224–239

Shearer CA, Raja HA, Miller AN et al (2009) The molecular phylogeny of freshwater Dothideomycetes. Stud Mycol 64:145–153

Sikaroodi M, Lawrey JD, Hawksworth DL, DePriest PT (2001) The phylogenetic position of selected lichenicolous fungi: Hobsonia, Illosporium, and Marchandiomyces. Mycol Res 105(4):453–460

Stamatakis A (2006) RAxML-VI-HPC: maximum likelihood-based phylogenetic analyses with thousands of taxa and mixed models. Bioinformatics 22(21):2688

Stamatakis A, Hoover P, Rougemont J (2008) A rapid bootstrap algorithm for the RAxML web servers. Syst Biol 57(5):758–771

Stiller J, Hall BD (1997) The origin of red algae: implications for plastid evolution. PNAS 94:4520–4525

Suija A (2006) Variation of morphological characters in the lichenicolous ascomycete genus Abrothallus. Ann Bot Fenn 43:193–204

Tulasne L-R (1852) Mémoire pour servir à l'histoire organographique et physiologique des lichens. Ann Sci Nat 17:5–128

U'Ren JM, Lutzoni F, Miadlikowska J, Laetsch A, Arnold AE (2012) Host and geographic structure of endophytic and endolichenic fungi at a continental scale. Am J Bot 99(5):898–914

Vilgalys R, Hester M (1990) Rapid genetic identification and mapping of enzymatically amplified ribosomal DNA from several Cryptococcus species. J Bacteriol 172:4239–4246

von Keissler K (1929) Die Flechtenparasiten Deutschlands, Österreichs und der Schweiz mit Berücksichtigung der übrigen Länder Europas sowie der angrenzenden Meeresgebiete. Leipzig, Germany

Vouaux L (1913) Synopsis des champignons parasites de Lichens (Suite). Bull Soc Mycol France 29:33–128, 399–444, 447–494

Wedin M (1994) New and noteworthy lichenicolous fungi from southernmost South America. Lichenologist 26(3):301–310

Werth S, Millanes AM, Wedin M, Scheidegger C (2013) Lichenicolous fungi show population subdivision by host species but do not share population history with their hosts. Fungal Biol 117(1):71–84

White TJ, Bruns TD, Lee SB, Taylor JW (1990) Amplification and direct sequencing of fungal ribosomal RNA genes for phylogenetics. In: Innis MA, Gelfand DH, Sninsky JJ, White TJ (eds) PCR protocols—a guide to methods and applications. Academic, San Diego, pp 315–322

Zhuang W-Y, Liu C-Y (2012) What an rRNA secondary structure tells about phylogeny of fungi in Ascomycota with emphasis on evolution of major types of ascus. PLoS ONE 7(10):e47546

Zoller S, Scheidegger C, Sperisen C (1999) PCR primers for the amplification of mitochondrial small subunit ribosomal DNA of lichen-forming ascomycetes. Lichenologist 31(5):511–516
Acknowledgments
We thank Tiiu Tõrra, Ede Leppik and Martin Kukwa for collecting the specimens and the curator of NY for granting specimens loan. AS would like to thank Kadri Vaidla, Kadi Jairus, Peeter Laas for performing the lab work. We would like to thank the staff of the microscopy facility of the Museo Nacional de Ciencias Naturales (CSIC, Madrid) for their technical assistance, and Ana Burton for revising the English. SPO and AdR were supported by the grant CTM2012-38222-C02-02 from the Spanish Ministry of Economy and Competitiveness. We thank Maria José Malo (Madrid) for her technical assistance during lab work. The work by AS was supported by a grant awarded by the Estonian Science Foundation no. GP1LM7321, target-financing project SF0180012s09 and the European Regional Development Fund (Centre of Excellence FIBIR).
Electronic supplementary material
Below is the link to the electronic supplementary material.
Six-locus phylogeny (50 % majority rule consensus tree) depicting phylogenetic relationships among classes of Ascomycota including Abrothallus species. Branches in bold indicate PP ≥ 95 % and ML bootstrap values ≥ 75 %. (JPEG 89 kb)
Accession numbers corresponding to taxa from different classes of Ascomycota used in the phylogenetic analyses. (DOCX 23 kb)
Accession numbers corresponding to taxa from Dothideomycetes and Arthoniomycetes used in the phylogenetic analyses. (DOC 217 kb)
Nucleotide substitution models used for each partition in the three different analyses run in this study. (DOCX 10.7 KB)
About this article
Cite this article
Pérez-Ortega, S., Suija, A., Crespo, A. et al. Lichenicolous fungi of the genus Abrothallus (Dothideomycetes: Abrothallales ordo nov.) are sister to the predominantly aquatic Janhulales. Fungal Diversity 64, 295–304 (2014). https://doi.org/10.1007/s13225-013-0269-y
Received:

Accepted:

Published:

Issue Date:

DOI: https://doi.org/10.1007/s13225-013-0269-y
Keywords
Lichenicolous

Multi-locus analysis

Taxonomy

Pleosporomycetidae

Jahnulales