Abstract
Rhizopus microsporus has been used for centuries in the production of oriental fermented foods, but the species is also known as a toxin producer and from severe human infections. To study the diversity and species delimitation of Rhizopus microsporus, 48 isolates from the reference collection of the CBS-KNAW Fungal Biodiversity Centre, comprising nine environmental, ten clinical, and 23 foodborne strains, in addition to six strains from unknown sources and representing all existing varieties of the species, were examined. Sequence diversity was based on the internal transcribed spacer (ITS), and on a part of the actin (ACT) and translation elongation factor 1-α (TEF) genes. Differences in physiological properties were assessed including temperature relationships. Spore morphology was studied, mating type tests were performed, and MALDI-ToF profiles were generated. Clinical and food-associated strains as well as members of different varieties mated successfully and consequently they belong to a single biological species. Molecular differences did not match with any other parameter investigated. Based on these results the varieties of Rhizopus microsporus are reduced to synonyms.
Access options
Buy single article
Instant access to the full article PDF.
USD 39.95
Price includes VAT (USA)
Tax calculation will be finalised during checkout.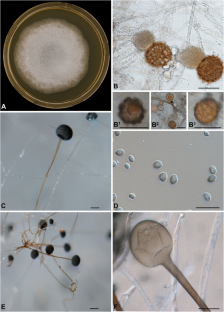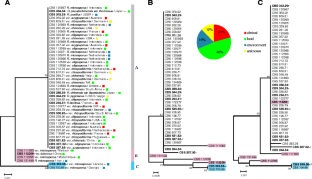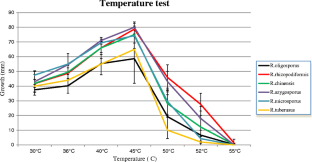 References
Abe A, Oda Y, Asano K, Sone T (2006) The molecular phylogeny of the genus Rhizopus based on rDNA sequences. Biosci Biotechnol Biochem 70:2387–2393

Abe A, Oda Y, Asano K, Sone T (2007) Rhizopus delemar is the proper name for Rhizopus oryzae fumaric-malic acid producers. Mycologia 99:714–722

Abe A, Oda Y, Asano K, Sone T (2010) A molecular phylogeny-based taxonomy of the genus Rhizopus. Biosci Biotechnol Biochem 74:1325–1331

Alastruey-Izquierdo A, Hoffmann K, de Hoog GS, Rodriguez-Tudela JL, Voigt K, Bibashi E, Walther G (2010) Species recognition and clinical relevance of the zygomycetous genus Lichtheimia (syn. Absidia pro parte, Mycocladus). J Clin Microbiol 48:2154–2170

Benagli C, Rossi V, Dolina M, Tonolla M, Petrini O (2011) Matrix-assisted laser desorption ionization-time of flight mass spectrometry for the identification of clinically relevant bacteria. PLoS One 6:e16424

Caldwell BA, Cairney JWG (2000) Laccases and other polyphenol oxidases in ecto- and ericoid mycorrhizal fungi. Mycorrhiza 12:105–116

Chakrabarti A, Marak RSK, Shivaprakash MR, Gupta S, Garg R, Sakhuja V, Singhal S, Baghela A, Dixit A, Garg MK, Padhye AA (2010) Cavitary pulmonary zygomycosis caused by Rhizopus homothallicus. J Clin Microbiol 48:1965–1969

Cheng VC, Chan JF, Ngan AH, To KK, Leung SY, Tsoi HW, Yam WC, Tai JW, Wong SS, Tse H, Li IW, Lau SK, Woo PC, Leung AY, Lie AK, Liang RH, Que TL, Ho PL, Yuen KY (2009) Outbreak of intestinal infection due to Rhizopus microsporus. J Clin Microbiol 47:2834–2843

de Hoog GS, Gerrits van den Ende AHG (1998) Molecular diagnostics of clinical strains of filamentous basidiomycetes. Mycoses 41:183–189

de Hoog GS, Guarro J, Gene J, Figueras MJ (2009) Atlas of clinical fungi, 2nd edition. CBS-KNAW Fungal Biodiversity Centre, Utrecht/Universitat Rovira I Virgili, Reus, pp 12–20

de Mol P, Meis JFGM (2009) Disseminated Rhizopus microsporus infection in a patient on oral corticosteroid treatment: a case report. Neth J Med 67:25–28

Dettman JR, Jacobson DJ, Taylor JW (2003) A multilocus genealogical approach to phylogenetic species recognition in the model eukaryote Neurospora. Evolution 57:2703–2720

Durand CM, Alonso CD, Subhawong AP, Kwiatkowski NP, Showel M, Carroll KC, Marr KA (2011) Rapidly progressive cutaneous Rhizopus microsporus infection presenting as Fournier's gangrene in a patient with acute myelogenous leukemia. Transpl Infect Dis 13:392–396

Ellis JJ (1981) The effect of medium, temperature and age on Rhizopus delemar sporangiospore size. Mycologia 73:362–367

Ellis JJ, Hesseltine CW (1965) The genus Absidia: globose-spored species. Mycologia 57:222–230

Enache-Angoulvant A, Fartoukh M, Parrot A, Develoux M, Hennequin C (2006) Fatal pulmonary infection due to Rhizopus microsporus in a patient with sickle disease. J Mycol Med 17:63–64

Frisvad JC, Andersen B, Thrane U (2008) The use of secondary metabolite profiling in chemotaxonomy of filamentous fungi. Mycol Res 112:231–240

Goel A, Rao SV, Mathews MS, George A, Kurien M, Amritanand A, Masilamani VP, Zachariah U, Eapen CE (2011) Rhino-orbital zygomycosis in a patient with pregnancy related liver disease and multi-organ failure. Indian J Gastroenterol 30:49–50

Gramss G, Gunther TH, Fritsche W (1998) Spot tests for oxidative enzymes in ectomycorrhizal, wood- and litter- decaying fungi. Mycol Res 102:67–72

Gryganskyi AP, Lee SC, Litvintseva AP, Smith ME, Bonito G, Porter TM, Anishchenko IM, Heitman J, Vilgalys R (2010) Structure, function, and phylogeny of the mating locus in the Rhizopus oryzae complex. PLoS One 5:e15273

Guimarães LHS, Peixoto-Nogueira SC, Michelin M, Rizzatti ACS, Sandrim VC, Zanoelo FF, Aquino ACMM, Junior AB, Polizeli MLTM (2006) Screening of filamentous fungi for production of enzymes of biotechnological interest. Braz J Microbiol 37:474–480

Hong SB, Kim DH, Lee M, Baek SY, Kwon SW, Houbraken J, Samson RA (2012) Zygomycota associated with traditional Meju, a fermented soybean starting material for soy sauce and soybean paste. J Microbiol 50:386–393

Hornewer A, Nguyen-The C, Nicolas J, Souty M (1987) Purification of Rhizopus stolonifer polygalacturonase. Sci Aliment 7:361–379

Hyvernat H, Dunais B, Burel-Vandenbos F, Guidicelli S, Bernardin G, Gari-Toussaint M (2010) Fatal peritonitis caused by Rhizopus microsporus. Med Mycol 48:1096–1098

Ibrahim AS, Spellberg B, Walsh TJ, Kontoyiannis DP (2012) Pathogenesis of mucormycosis. Clin Infect Dis 54:S16–S22

Jennessen J, Nielsen KF, Houbraken J, Lyhne EK, Schnurer J, Frisvad JC, Samson RA (2005) Secondary metabolite and mycotoxin production by the Rhizopus microsporus group. J Agric Food Chem 53:1833–1840

Jin B, van Leeuwen HJ, Patela B, Doellec HW, Yud Q (1999) Production of fungal protein and glucoamylase by Rhizopus oligosporus from starch processing wastewater. Process Biochem 34:59–65

Kobayashi M, Hiruma M, Matsushita A, Kawai M, Ogawa H, Udagawa S (2001) Cutaneous zygomycosis: a case report and review of Japanese reports. Mycoses 44:311–315

Krisch J, Bencsik O, Papp T, Vágvölgyi C, Takó M (2012) Characterization of a β-glucosidase with transgalactosylation capacity from the zygomycete Rhizomucor miehei. Bioresour Technol 114:555–560

Kwasna H, Nirenberg HI (2008) Siepmannia, a new genus in the Mucoraceae. Mycologia 100:259–274

Kwon-Chung KJ (2012) Taxonomy of fungi causing mucormycosis and entomophthoramycosis (Zygomycosis) and nomenclature of the disease: molecular mycologic perspectives. Clin Infect Dis 54(suppl 1):S8–S15

Lackner G, Mobius N, Scherlach K, Partida-Martinez LP, Winkler R, Schmitt I, Hertweck C (2009) Global distribution and evolution of a toxinogenic Burkholderia-Rhizopus symbiosis. Appl Environ Microbiol 75:2982–2986

Laternier F, Sun HY, Ribaud P, Singh N, Kontoyiannis DP, Lortholary O (2012) Mucormycosis in organ and stem cell transplant recipients. Clin Infect Dis 54(suppl 1):S35–S43

Lebeau O, Delden CV, Garbino J, Robert J, Lamoth F, Passweg J, Chalandon Y (2010) Disseminated Rhizopus microsporus infection cured by salvage allogeneic hematopoietic stem cell transplantation, antifungal combination therapy, and surgical resection. Transpl Infect Dis 12:269–272

Lekakis LJ, Lawson A, Prante J, Ribes J, Davis GJ, Monohan G, Baraboutis IG, Skoutelis AT, Howard DS (2009) Fatal Rhizopus pneumonia in allogeneic stem cell transplant patients despite posaconazole prophylaxis: two cases and review of the literature. Biol Blood Marrow Transplant 15:991–995

Liou GY, Chen SR, Wei YH, Lee FL, Fu HM, Yuan GF, Stalpers JA (2007) Polyphasic approach to the taxonomy of the Rhizopus stolonifer group. Mycol Res 111:196–203

Liu XY, Huang H, Zheng RY (2007) Molecular phylogenetic relationships within Rhizopus based on combined analyses of ITS rDNA and pyrG gene sequences. Sydowia 59:235–253

Liu XY, Huang H, Zheng RY (2008) Delimitation of Rhizopus varieties based on IGS rDNA sequences. Sydowia 60:93–112

Lu X, Najafzadeh MJ, Dolatabadi S, Ran YP, Gerrits van den Ende AHG, Shen Y, Li CY, Xi L, Hao F, Zhang Q, Li R, Hu Z, Lu G, Drogari-Apiranthitou M, Klaassen C, Meis JF, Hagen F, Liu W, de Hoog GS (2013) Taxonomy and epidemiology Mucor irregularis, agent of chronic cutaneous mucormycosis. Persoonia 30:48–56

Lutzoni F, Kauff F, Cox CJ, McLaughlin D, Celio G, Dentinger B, Padamsee M, Hibbett D, James TY, Baloch E, Grube M, Reeb V, Hofstetter V, Schoch C, Arnold AE, Miadlikowska J, Spatafora J, Johnson D, Hambleton S, Crockett M, Shoemaker R, Sung G-H, Lücking R, Lumbsch T, O'Donnell K, Binder M, Diederich P, Ertz D, Gueidan C, Hansen K, Harris RC, Hosaka K, Lim Y-W, Matheny B, Nishida H, Pfister D, Rogers J, Rossman A, Schmitt I, Sipman H, Stone J, Sugiyama J, Yahr R, Vilgalys R (2004) Assembling the fungal tree of life: progress, classification, and evolution of subcellular traits. Am J Bot 91:1446–1480

Maas RH, Springer J, Eggink G, Weusthuis RA (2008) Xylose metabolism in the fungus Rhizopus oryzae: effect of growth and respiration on L-(+)-lactic acid production. J Ind Microbiol Biotechnol 35:569–578

Manachini PL, Fortinam G, Parini C (1987) Purification and properties of an endopolygalacturonase produced by Rhizopus stolonifer. Biotechnol Lett 9:219–224

Mandyam K, Loughin T, Jumpponen A (2010) Isolation and morphological and metabolic characterization of common endophytes in annually burned tallgrass prairie. Mycologia 102:813–821

Marklein G, Josten M, Klanke U, Muller E, Horré R, Maier T, Wenzel T, Kostrzewa M, Bierbaum G, Hoerauf A, Sahl HG (2009) Matrix-assisted laser desorption ionization-time of flight mass spectrometry for fast and reliable identification of clinical yeast isolates. J Clin Microbiol 47:2912–2917

Monecke S, Hochauf K, Gottschlich B, Ehricht R (2006) A case of peritonitis caused by Rhizopus microsporus. Mycoses 49:139–142

Nagao K, Ota T, Tanikawa A et al (2005) Genetic identification and detection of human pathogenic Rhizopus species, a major mucormycosis agent, by multiplex PCR based on internal transcribed spacer region of rRNA gene. J Dermatol Sci 39:23–31

Nawange SR, Singh SM, Naidu J, Jain S, Nagpal T, Behrani DS, Mellado E, Tudela JL (2012) Zygomycosis caused by Rhizopus microsporus and Rhizopus oryzae in Madhya Pradesh (M.P.) Central India: areport of two cases. Mycopathologia 174:171–176

Nout MJR, Rombouts FM (1990) Recent developments in tempe research. J Appl Bacteriol 69:609–633

O'Donnell K, Lutzoni FM, Ward TJ, Benny GL (2001) Evolutionary relationships among mucoralean fungi (Zygomycota): evidence for family polyphyly on a large scale. Mycologia 93:286–296

Partida-Martinez LP, de Looss CF, Ishida K, Ishida M, Roth M, Buder K, Hertweck C (2007) Rhizonin, the first mycotoxin isolated from the zygomycota, is not a fungal metabolite but is produced by bacterial endosymbionts. Appl Environ Microbiol 73:793–797

Peixoto SC, Jorge JA, Terenzi HF, Polizeli MLTM (2003) Rhizopus microsporus var. rhizopodiformis: a thermotolerant fungus with potential for production of thermostable amylases. Int Microbiol 6:269–273

Pinto-Marques P, Hockenbery DM, Hackman RC, Tapper D, McDonald GB (2003) Successful medical treatment of intestinal ulceration caused by Rhizopus microsporus. Bone Marrow Transplant 32:739–740

Pitt JI, Hocking AD (1985) Fungal and food spoilage. Academic, Orlando

Quan C, Spellberg B (2010) Mucormycosis, pseudallescheriasis, and other uncommon mold infections. Proc Am Thorac Soc 7:210–215

Ribeiro LC, Wanke da Silva M, Dias LB, Mello R, Canavarros FAPB, Leite DP, Hahn RC (2012) Mucormycosis in Mato Grosso, Brazil: a case reports, caused by Rhizopus microsporus var. oligosporus and Rhizopus microsporus var. rhizopodiformis. Mycopathologia 173:187–192

Rogers TR (2008) Treatment of zygomycosis: current and new options. J Antimicrob Chemother 61:135–139

Rohm B, Scherlach K, Mobius N, Partida-Martinez LP, Hertweck C (2010) Toxin production by bacterial endosymbionts of a Rhizopus microsporus strain used for tempe/sufu processing. Int J Food Microbiol 136:368–371

Roilides E, Kontoyiannis DP, Walsh TJ (2012) Host defenses against zygomycetes. Clin Infect Dis 54:S61–S66

Sachde AG, Al-Bakir AY, Sarhanh R (1987) Effect of cultural conditions on the production of polygalacturonase from Rhizopus arrhizus. Iraqi J Agric Sci Zanco 5:61–72

Sauer S, Freiwald A, Maier T, Kube M, Reinhardt R, Kostrzewa M, Geider K (2008) Classification and identification of bacteria by mass spectrometry and computational analysis. PLoS One 3:e2843

Schell WA, O'Donnell K, Alspaugh JA (2011) Heterothallic mating in Mucor irregularis and first isolate of the species outside of Asia. Med Mycol 49:714–723

Schipper MAA (1976) On Mucor circinelloides, Mucor racemosus and related species. Stud Mycol 12:1–37

Schipper MAA, Stalpers JA (1984) The Rhizopus microsporus group. Stud Mycol 25:20–34

Schipper MAA, Gauger W, van den Ende H (1985) Hybridization of Rhizopus species. J Gen Microbiol 131:2359–2365

Scholer HJ (1970) Mucormykosen bei Mensch und Tier. Taxonomie der Erreger. Chemotherapie im Tierexperiment und in der Klinik. HabilSchr, Basel

Scholer HJ, Muller E (1971) Taxonomy of the pathogenic species of Rhizopus. Abstract 7th Ann. Meeting Br. Soc. Mycopathologia., Edinburgh

Schwarz P, Bretagne S, Gantier JC, Garcia-Hermoso D, Lortholary O, Dromer F, Dannaoui E (2006) Molecular identification of Zygomycetes from culture and experimentally infected tissues. J Clin Microbiol 44:340–349

Sedlacek P, Vavra V, Masova I, Codl D, Laznickova T, Malaskova L, Nyc O, Stary J (2008) Successful therapy with ABLC, surgery and posaconazole for Rhizopus microsporus var. rhizopodiformis liver eumycetoma in a child with acute leukaemia. Mycoses 52:276–279

Skiada A, Pagano L, Groll A, Zimmerli S, Dupont B, Lagrou K, Lass-Florl C, Bouza E, Klimko N, Gaustad P, Richardson M, Hamal P, Akova M, Meis JF, Rodriguez-Tudela JL, Roilides E, Mitrousia-Ziouva A, Petrikkos G (2011) Zygomycosis in Europe: analysis of 230 cases accrued by the registry of the European Confederation of Medical Mycology (ECMM) Working Group on Zygomycosis between 2005 and 2007. Clin Microbiol Infect 17:1859–1867

Souser ML, Miller L (1977) Characterization of the lipase produced by Rhizopus oligosporus. The tempeh fungus. Abstracts of the Annual Meeting of the American Society for Microbiology 77: 258

Stark D, Milliken S, Marriott D, Harkness J (2007) Rhizopus microsporus var. rhizopodiformis sinus-orbital zygomycosis in an immunosuppressed patient: successful treatment with posaconazole after a complicated clinical course. J Med Microbiol 56:699–701

Sutard I, Buckle KA (1988) Characterization of extra- and intracellular phytases from Rhizopus oligosporus used in tempeh production. Int J Food Microbiol 6:67–79

Taylor JW, Jacobson DJ, Kroken S, Kasuga T, Geiser DM, Hibbett DS, Fisher MC (2000) Phylogenetic species recognition and species concepts in fungi. Fungal Genet Biol 31:21–32

Teather RM, Wood PJ (1982) Use of congo red-polysaccharide interactions in the enumeration and characterization of cellulolytic bacteria from the bovine rumen. Appl Environ Microbiol 43:777–780

Vijayaraghavan P, Remya CS, Prakash Vincent SG (2011) Production of α-amylase by Rhizopus microsporus using agricultural by-products in solid state fermentation. Res J Microbiol 6:366–375

Vilgalys R, Hester M (1990) Rapid genetic identification and mapping of enzymatically amplified ribosomal DNA from several Cryptococcus species. J Bacteriol 172:4238–4246

Voigt K, Wöstemeyer J (2000) Reliable amplification of actin genes facilitates deep-level phylogeny. Microbiol Res 155:179–195

Walther G, Pawłowska J, Alastruey-Izquierdo A, Wrzosek M, Rodriguez-Tudela JL, Dolatabadi S, Chakrabarti A, de Hoog GS (2013) DNA barcoding in Mucorales: an inventory of biodiversity. Persoonia 30:11–47

West BC, Arnold D, Oberle AD, Kwon-Chung KJ (1995) Mucormycosis caused by Rhizopus microsporus var. microsporus: cellulitis in the leg of a diabetic patient cured by amputation. J Med Microbiol 33:3341–3344

Zheng RY, Chen GQ, Huang H, Liu XY (2007) A monograph of Rhizopus. Sydowia 59:273–372
About this article
Cite this article
Dolatabadi, S., Walther, G., Gerrits van den Ende, A.H.G. et al. Diversity and delimitation of Rhizopus microsporus . Fungal Diversity 64, 145–163 (2014). https://doi.org/10.1007/s13225-013-0229-6
Received:

Accepted:

Published:

Issue Date:
Keywords
Rhizopus microsporus

Phylogeny

Taxonomy

Physiology

MALDI-ToF

Mating type

Foodborne fungi

Medical mycology

Sporulation