Abstract
In this paper we revisit the Capnodiaceae with notes on selected genera. Type specimens of the ascomycetous genera Aithaloderma, Anopeltis, Callebaea, Capnodaria, Echinothecium, Phragmocapnias and Scorias were re-examined, described and illustrated. Leptoxyphium is anamorphic Capnodiaceae and Polychaeton is a legitimate and earlier name for Capnodium, but in order to maintain nomenclatural stability we propose that the teleomorphic name should be considered for the approved lists of names currently in preparation for fungi. Notes are provided on the ascomycetous genus Scoriadopsis. However, we were unable to locate the type of this genus during the time frame of this study. The ascomycetous genera Aithaloderma, Ceramoclasteropsis, Hyaloscolecostroma and Trichomerium are excluded from Capnodiaceae on the basis of having ascostromata and trans-septate hyaline ascospores and should be accommodated in Chaetothyriaceae. Callebaea is excluded as the ascomata are thyriothecia and the genus is placed in Micropeltidaceae. Echinothecium is excluded as synonym of Sphaerellothecium and is transferred to Mycosphaerellaceae. The type specimen of Capnophaeum is lost and this should be considered as a doubtful genus. The coelomycetous Microxiphium is polyphyletic, while the status of Fumiglobus, Polychaetella and Tripospermum is unclear. Fourteen new collections of sooty moulds made in Thailand were isolated and sequenced. The nuclear large and small rDNA was partially sequenced and compared in a phylogeny used to build a more complete understanding of the relationships of genera in Capnodiaceae. Four new species are described and illustrated, while Phragmocapnias and Scorias are epitypified with fresh collections.
Access options
Buy single article
Instant access to the full article PDF.
US$ 39.95
Tax calculation will be finalised during checkout.
Subscribe to journal
Immediate online access to all issues from 2019. Subscription will auto renew annually.
US$ 79
Tax calculation will be finalised during checkout.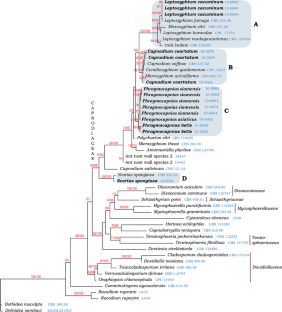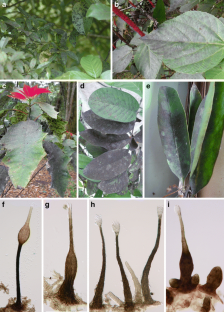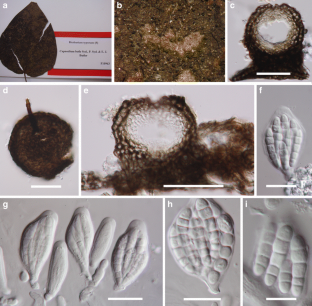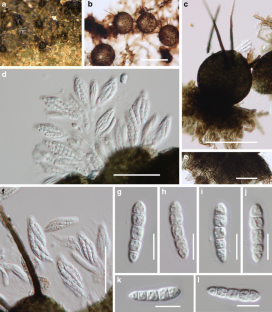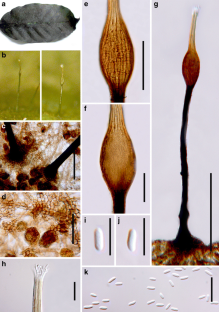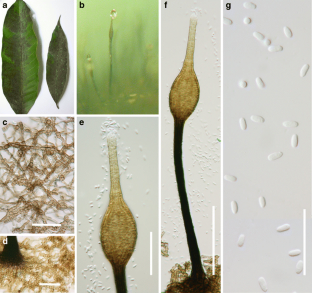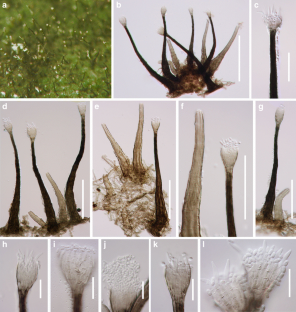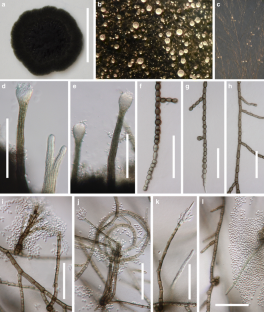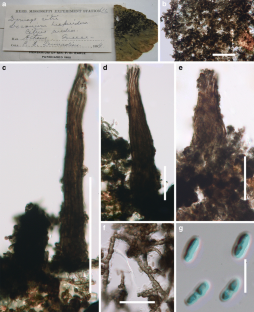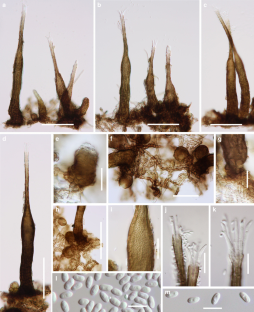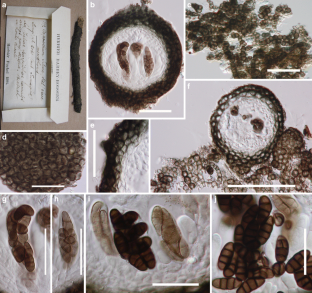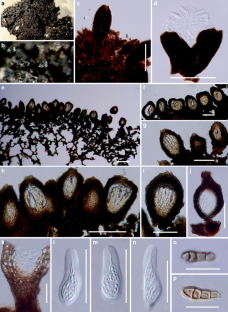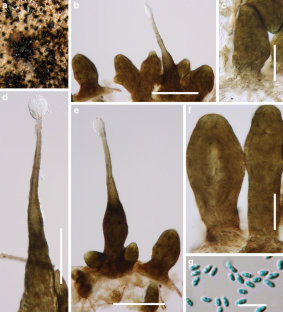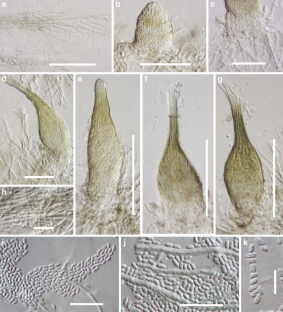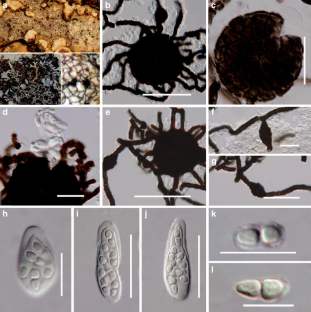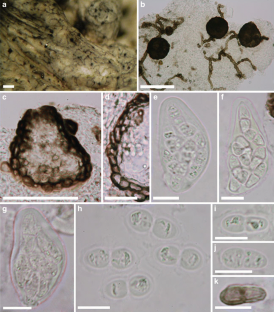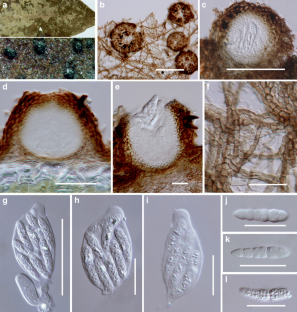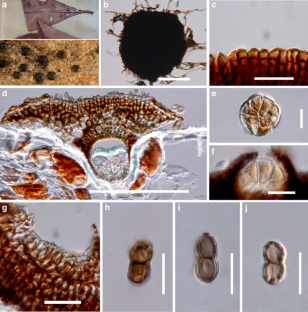 References
Andrew JH (1982) Biological control in the phyllosphere. Annu Rev Phytopathol 30:603–635

Barr ME (1987) Prodomus to class Loculoascomycetes. Amherst. University of Massachusetts, Massachusetts

Batista AC, Ciferri R (1962) The Chaetothyriales. Sydowia 3:1–129

Batista AC, Ciferri R (1963a) Capnodiales. Capnodiales. Saccardoa 2:1–296

Batista AC, Ciferri R (1963b) The sooty-molds of the family Asbolisiaceae. Quad Ist Bot Univ Lab Crittogam Pavia 31:1–229

Batista AC, da Silva JO (1967) Hyaloscolecostroma Batista & J. Oliveira, um novo gênero de Phaeosaccardinulaceae. Atas Inst Micol Univ Recife 5:447–452

Batista AC, Peres GEP, Bezerra JL (1962) Novos fungos de fumagina, da família Phaeosaccardinulaceae. Brotéria, SérTrim Cienc Nat 31(2):93–118

Berkeley MJ, Desmazières JBHJ (1849) On some moulds referred by authors to Fumago and to certain allied or analogous forms. J Hortic Soc London 4:3–19

Blakeman JP, Fokkema NJ (1982) Potential for biological control of plant diseases on the phylloplane. Annu Rev Phytopathol 20:162–192

Calatayud V, Navarro-Rosinés P, Hafellner J (2002) A synopsis of Lichenostigma subgen. Lichenogramma (Arthoniales), with a key to the species. Mycol Res 106(10):1230–1242

Cheewangkoon R, Groenewald JZ, Summerell BA, Hyde KD, To-anun C, Crous PW (2009) Myrtaceae, a cache of fungal biodiversity. Persoonia 23:55–85

Chevenet F, Brun C, Banuls AL, Jacq B, Christen R (2006) TreeDyn: towards dynamic graphics and annotations for analyses of trees. BMC Bioinforma 7:439

Chomnunti P, Ko Ko TW, Cai L, Jones EBG, Chukeatirote E, Kodsueb R, Bahkali AH, Hang C, Hyde KD (2012) Phylogeny of Chaetothyriaceae in northern Thailand including three new species. Mycologia, in press

Crous PW, Schoch CL, Hyde KD, Wood AR, Gueidan C, de Hoog GS, Groenewald JZ (2009) Phylogenetic lineages in the Capnodiales. Stud Mycol 64:17–47

Etayo J (2008) Líquenes y hongos liquenícolas del LIC de Ablitas (S. Navarra, España). Cryptog Mycol 29(2):63–94

Faull JL, Olejnik I, Ingrouille M, Reynolds D (2002) A reassessment of the taxonomy of some tropical sooty moulds. Trop Mycol 2:33–40

Fraser L (1935) An investigation of the sooty mould of New South Wales IV The species of the Eucapnodieae. Proc Linn Soc New South Wales 40:159–178

Friend RJ (1965) What is Fumago vagena? Trans Brit Mycol Soc 48:371–375

Geiser DM, Gueidan C, Miadlikowska J, Lutzoni F, Kauff F, Hofstetter V, Fraker E, Schoch CL, Tibell L, Untereiner WA, Aptroot A (2006) Eurotiomycetes: eurotiomycetidae and Chaetothyriomycetidae. Mycologia 98(6):1053–1064

Hall T (2004) Bioedit 7.0.1 Isis Pharmaceuticals, U.S.A.: a user-friendly biological sequence alignment editor and analysis program for Windows 95/98/NT. Nucleic Acids Sym Ser 41:95–98

Hansford CG (1947) New or interesting tropical fungi I. Proc Linn Soc London 158(1):28–50

Hawksworth DL (2011) A new dawn for the naming of fungi: impacts of decisions made in Melbourne in July 2011 on the future publication and regulation of fungal names. MycoKeys 1:7–20

Hosagoudar VB, Riju MC (2011) Some interesting Meliolaceae members from Western Ghats Region of Kerala State. Plant Pathol Quar 1(2):121–129

Huelsenbeck JP, Ronquist F (2001) MRBAYES: Bayesian inference of phylogenetic trees. Bioinformatics 17:754–755

Huelsenbeck JP, Ronquist F, Nielsen R, Bollback JP (2001) Bayesian inference of phylogeny and its impact on evolutionary biology. Science 294:2310–2314

Hughes SJ (1951) Studies on micro-fungi X. Zygosporium. Mycol Pap 44:1–18

Hughes SJ (1972) New Zealand Fungi 17. Pleomorphism in Cuantennariaceae and Metacapnodiaceae, two new families of sooty moulds. N Z J Bot 10:225–242

Hughes SJ (1976) Sooty moulds. Mycologia 68:693–820

Hughes SJ (2003) Capnofrasera dendryphioides, a new genus and species of sooty moulds. N Z J Bot 41:139–146

Hyde KD, McKenzie EHC, KoKo TW (2011) Towards incorporating anamorphic fungi in a natural classification-checklist and notes for 2010. Mycosphere 2(1):1–88

Katoh K, Asimenos G, Toh H (2009) Multiple alignment of DNA sequences with MAFFT. Meth Mol Biol 537:39–64

Kirk PM, Cannon PF, Minter DW, Stalpers JA (2008) Dictionary of the Fungi, 10th edn. CABI Bioscience, UK

Léveillé JH (1847) Mycologie, Mycétologie. In: D'Orbigny, Dictionnaire univ d'Hist nat 9:261–303

Liu K, Raghavan S, Nelesen S, Linder CR, Warnow T (2009) Rapid and accurate large-scale coestimation of sequence alignments and phylogenetic trees. Science 324:1561–1564

Lumbsch HT, Huhndorf SM (2010) Outline of Ascomycota—2009. Fieldiana Life Earth Sci 1:1–60

Matsushima T (2003) Matsushima Mycological Memoirs 9. Mats Mycol Mem 10:1–214

Miller MA, Pfeiffer W, Schwartz T (2010) Creating the CIPRES Science Gateway for inference of large phylogenetic trees. In: Proceedings of the Gateway Computing Environments Workshop (GCE), 14 Nov. 2010, New Orleans, LA, pp 1–8

Montagne C (1849) De Capnodio. novum fungorum genus. Ann Sci Nat Bot sér 3, 11:233–234

Navarro-Rosines P, Gomez-Bolea A (1989) Rhagadostoma-Lichenicola (D. Not.) Keissler i Echinothecium reticulatum (Zopf) dos fongs liquenícoles nous per a la Península Ibèrica. Folia Bot Misc Barcelona 6:61–64

Olejnik IM, Ingrouille M, Faull JL (1999) Numerical taxonomy of the sooty moulds Leptoxyphium. Caldariomyces and Aithaloderma based on micromorphology and physiology. Mycol Res 103:333–346

Pohlad BR (1988) Rhombostilbella parasitizing Chaetothyriaceae and Capnodiaceae. Mycologia 80(5):757–759

Reynolds DR (1975) Observation on growth forms of sooty mold fungi. Nova Hedwig 26:179–193

Reynolds DR (1978) Foliicolous ascomycetes 2: Capnodium salicinum Montagne emend. Mycotaxon 7:501–507

Reynolds DR (1979) Foliicolous ascomycetes: 3. The stalked capnodiaceous species. Mycotaxon 8(2):417–445

Reynolds DR (1982) Foliicoloius Ascomycetes: 4. The capnodiaceous genus Trichomerium Spegazzini emend. Mycotaxon 14:189–220

Reynolds DR (1986) Foliicolous ascomycetes 7. Phylogenetic systematics of the Capnodiaceae. Mycotaxon 27:377–403

Reynolds DR (1998) Capnodiaceous sooty mold phylogeny. Can J Bot 76:2125–2130

Reynolds DR (1999) Capnodium citri: the sooty mold fungi comprising the taxon concept. Mycopathologia 148:141–147

Reynolds DR, Gilbert GS (2005) Epifoliar fungi from Queensland, Australia. Aust Syst Bot 18:265–289

Reynolds DR, Gilbert GS (2006) Epifoliar fungi from Panama Cryptog. Myocol 27(3):249–270

Ruibal C, Gueidan C, Selbmann L, Gorbushina AA, Crous PW, Groenewald JZ, Muggia L, Grube M, Isola D, Schoch CL, Staley JT, Lutzoni F, de Hoog GS (2009) Phylogeny of rock–inhabiting fungi related to Dothideomycetes. Stud Mycol 64:123–133

Saccardo PA (1822) Sylloge fungorum1. Patavii: 83

Saccardo PA, Sydow P (1899) Sylloge fungorum 14. Patavii: 1–1316

Schlick-Steiner BC, Steiner FM, Konrad H, Seifert B, Christian E, Moder K, Stauffer C, Crozier RH (2008) Specificity and transmission mosaic of ant nest-wall fungi. Proc Nat Acad Sci 105:940–943

Schoch CL, Shoemaker RA, Seifert KA, Hambleton S, Spatafora JW, Crous PW (2007) A multigene phylogeny of the Dothideomycetes using four nuclear loci. Mycologia 98:1041–1052

Schoch CL, Crous PW, Groenewald JZ, Boehm EW, Burgess TI, de Gruyter J, de Hoog GS, Dixon LJ, Grube M, Gueidan C, Harada Y, Hatakeyama S, Hirayama K, Hosoya T, Huhndorf SM, Hyde KD, Jones EB, Kohlmeyer J, Kruys A, Li YM, Lucking R, Lumbsch HT, Marvanova L, Mbatchou JS, McVay AH, Miller AN, Mugambi GK, Muggia L, Nelsen MP, Nelson P, Owensby CA, Phillips AJ, Phongpaichit S, Pointing SB, Pujade-Renaud V, Raja HA, Plata ER, Robbertse B, Ruibal C, Sakayaroj J, Sano T, Selbmann L, Shearer CA, Shirouzu T, Slippers B, Suetrong S, Tanaka K, Volkmann-Kohlmeyer B, Wingfield MJ, Wood AR, Woudenberg JH, Yonezawa H, Zhang Y, Spatafora JW (2009) A class-wide phylogenetic assessment of Dothideomycetes. Stud Mycol 64:1–15

Sivanesan A (1984) The bitunicate ascomycetes. Cramer, Vaduz

Spegazzini C (1918) Notas Micológicas. Physis (Buenos Aires) 4:281–295

Stamatakis A (2006) RAxML-VI-HPC: maximum likelihood-based phylogenetic analyses with thousands of taxa and mixed models. Bioinformatics 22:2688–2690

Stamatakis A, Hoover P, Rougemont J (2008) A rapid bootstrap algorithm for the RAxML Web Servers. Syst Biol 57:758–771

Stevens FL (1930) Parasitic fungi of British Guiana, Trinidad and Costa Rica. Ann Mycol 28(5/6):346–371

Sutton BC (1977) Coelomycetes VI. Nomenclature of generic names proposed for Coelomycetes. Mycol Pap 141:1–253

Sydow H, Sydow P (1913) Novae fugorum species-X. Ann Mycol 11:254–271

Von Arx JA, Müller E (1975) A re-evaluation of the bitunicate ascomycetes with keys to families and genera. Stud Mycol 9:1–159

von Höhnel F (1909) Fragmente zur Mykologie VIII. Sitzungsberichten der kaiserlichen Kaiserl. Akad Wiss Math-Naturwiss Cl Abt1 118:1157–1246

von Höhnel F (1910) Fragmente zur Mykologie (Xi Mitteilung, Nr. 527 bis 573). Sitsungsber, Kaiserl. Akad Wiss Math-Naturwiss Cl Abt 1 119:618–679

Woronichin NN (1926) Zur Kenntnis der Morphologie und Systematik der Russtaupilze Transkaukasiens. Ann Mycol 24(3/4):231–264

Wu HX, Schoch CL, Boonmee S, Bahkali AH, Chomnunti P, Hyde KD (2011) A reappraisal of Microthyriaceae. Fungal Divers (In press)

Yamamoto W (1954) Taxonomic studies on the Capnodiaceae 2 On the species of the Eucapnodiae. Ann Phytopath Soc Japan 19(1–2):1–5
Acknowledgments
This work was supported by the Thailand Research Fund BRG528002. The Global Research Network for Fungal Biology and King Saud University are also thanked for support. Library staff from the Royal Botanic Gardens, Kew are thanked for their support locating obscure literature and providing access to their collections. The curators from herbaria G, NY, S are thanked for loaning specimens. The second author acknowledges support by the Intramural Research Program of the NIH, National Library of Medicine.
Electronic supplementary material
Below is the link to the electronic supplementary material.
About this article
Cite this article
Chomnunti, P., Schoch, C.L., Aguirre-Hudson, B. et al. Capnodiaceae . Fungal Diversity 51, 103–134 (2011). https://doi.org/10.1007/s13225-011-0145-6
Received:

Accepted:

Published:

Issue Date:
Keywords
Chaetothyriaceae
Micropeltidaceae

Molecular phylogeny

Sooty moulds