Abstract
Genera assigned to the Jahnulales are morphologically diverse, especially in ascospores equipped with or without appendages, sheaths or apical caps. They are predominantly freshwater fungi occurring on woody substrata, with Manglicola guatemalensis, Xylomyces chlamydosporus and X. rhizophorae the only species known from marine habitats. The order Jahnulales with 4 teleomorphic genera: Jahnula (15 species), Aliquandostipite (5), Megalohypha (1), Manglicola (2) and the anamorphic genera Brachiosphaera (2), Speiropsis (9), Xylomyces (8), amounting to a total of 42 species, is reviewed and nomenclatural changes are proposed. Twenty species are treated at the molecular level, with 94 sequences, 13 of which are newly generated for this review. Three species are rejected (Speiropsis irregularis, Xylomyces aquaticus, X. elegans) while the phylogenetic placement of 6 Xylomyces, 7 Speiropsis, 1 Brachiosphaera and 1 Manglicola require molecular data to confirm their placement in the order. Sequences are derived from ex-holotype isolates and new collections made in Thailand. Most taxa are included in the family Aliquandostipitaceae and a new family Manglicolaceae is erected for the marine ascomycete Manglicola guatemalensis with its large ascomata (1,100–1,750 × 290–640 μm), wide ostioles and ascospores that are fusiform, unequally one-septate with the apical cell larger than the turbinate basal cell and bear apical gelatinous appendages. The genus Jahnula is polyphyletic grouping in three clades with J. aquatica, J. granulosa, J. rostrata, J. potamophila and Megalohypha aqua-dulces in the Jahnula sensu stricto clade. No taxonomical changes are proposed for Jahnula species not grouping in the Jahnula sensu stricto clade, until further species are isolated and sequenced.
Access options
Buy single article
Instant access to the full article PDF.
US$ 39.95
Tax calculation will be finalised during checkout.
Subscribe to journal
Immediate online access to all issues from 2019. Subscription will auto renew annually.
US$ 79
Tax calculation will be finalised during checkout.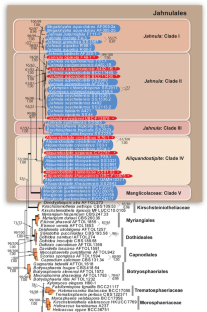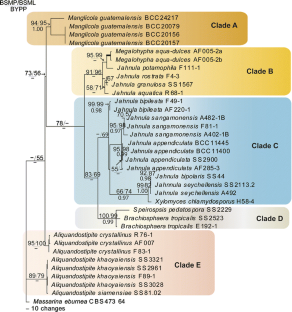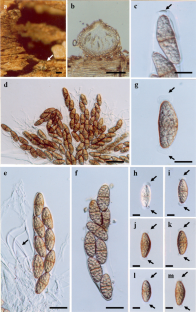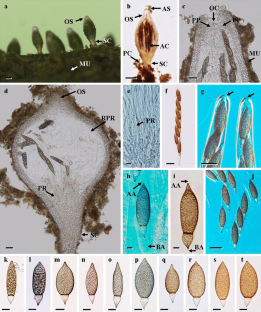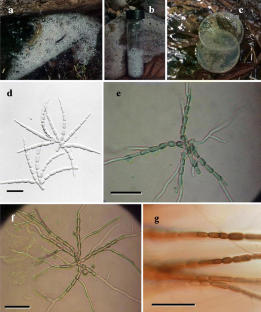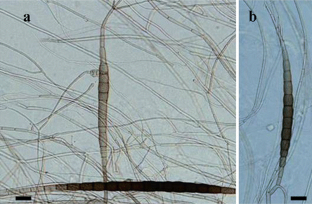 References
Bunyard BA, Nicholson MS, Royse DJ (1994) A systematic assessment of Morcella using RFLP analysis of the 28S ribosomal RNA gene. Mycologia 86:762–772

Campbell J, Ferrer A, Raja HA, Sivichai S, Shearer CA (2007) Phylogenetic relationships among taxa in the Jahnulales inferred from 18S and 28S nuclear ribosomal DNA sequences. Can J Bot 85:873–882

Castañeda RF, Kendrick B (1990) Conidial fungi from Cuba: II. Univ Waterloo Biol Ser 33:1–61

Chang HS (1994) Notes on the genus Brachiosphaera from Taiwan. Bot Bull Acad Sin 35:125–127

Descal EC, Webster J (1978) Miladina lechithina (Pezizales), the ascigerous state of Actinospora megalospora. Trans Br Mycol Soc 70:466–472

Dudka IA (1966) New and rare species of fungi imperfecti from the basins of the southern part of Kiev Polessye. Ukrain Bot J 23:91–95

Edgar R (2004) MUSCLE: multiple sequence alignment with high accuracy and high throughput. Nucl Acids Res 32:1792–1797

Farris JS (1989) The retention index and the rescaled consistency index. Cladistics 5:417–419

Felsenstein J (1985) Confidence intervals on phylogenies: an approach using the bootstrap. Evolution 39:783–791

Ferrer A, Sivichai S, Shearer CA (2007) Megalohypha, a new genus in the Jahnulales from aquatic habitats in the tropics. Mycologia 99:456–460

Goh TK, Ho WH, Hyde KD, Tsui KM (1997) Four new species of Xylomyces from submerged wood. Mycol Res 101:1323–1328

Gönczöl J, Révay Á, Fisher PJ (1990) Notes on Vargamyces aquaticus, a water borne dematiaceous hyphomycete. Mycotaxon 39:301–310

Goos RD, Brooks RD, Lamore BJ (1977) An undescribed hyphomycete from wood submerged in a Rhode Island stream. Mycologia 69:280–286

Hall T (2004) Bioedit version 6.0.7. Department of Microbiology, North Carolina State University. http://www.mbio.ncsu.edu/BioEdit/bioedit.html

Hawksworth D (1984) Observations on Jahnula Kirschst., a remarkable aquatic pyrenomycete. Sydowia 37:43–46

Huelsenbeck JP, Ronquist FR (2001) MRBAYES: Bayesian inference of 380 phylogenetic trees. Biometrics 17:754–755

Huhndorf SM (1994) Neotropical Ascomycetes 5. Hypsostromataceae, a new family of Loculoascomycetes and Manglicola samuelsii, a new species from Guyana. Mycologia 86:266–269

Hyde KD (1988) Studies on the tropical marine fungi of Brunnei. Bot J Linn Soc 98:135–151

Hyde KD (1992) Tropical Australian Freshwater Fungi. II. Annulatascus velatispora gen. et sp. nov., A. bipolaris sp. nov. and Nais aquatica sp. nov. (Ascomycetes). Aust Syst Bot 5:117–124

Hyde KD (1993) Tropical Australian Freshwater Fungi. V* Bombardia sp., Jahnula australiensis sp. nov., Savoryella aquatica sp. nov. and S. lignicola sp. nov. Aust Syst Bot 6:161–167

Hyde KD, Goh TK (1999) Fungi on submerged wood in the River Coln, the Cotswolds. UK Mycol Res 103:1561–1574

Hyde KD, Wong SW (1999) Tropical Australian freshwater fungi. XV. The ascomycetes genus Jahnula, with five new species and one new combination. Nova Hedw 68:489–509

Inderbitzin P, Landvik S, Abdel-Wahab MA, Barbee ML (2001) Aliquandostipitaceae, a new family for two new tropical ascomycetes with unusually wide hyphae and dimorphic ascomata. Am J Bot 88:52–61

Kirschstein W (1936) Beiträge zur Kenntnis der Ascomyceten und ihrer Nebenformen besonders aus der Mark Brandenburg und dem Bayerischen Walde. Annales Mycologici 34:180–210

Kishino H, Hasegawa M (1989) Evaluation of the maximum likelihood estimate of the evolutionary tree topologies from DNA sequence data, and the branching order of Hominoidea. J Mol Evol 29:170–179

Kluge AG, Farris JS (1969) Quantitative physics and the evolution of anurans. Syst Zool 18:1–32

Kohlmeyer J, Kohlmeyer E (1971) Marine fungi from tropical America and Africa. Mycologia 63:831–861

Kohlmeyer J, Kohlmeyer E (1979) Marine mycology. The higher Fungi. Academic, New York

Kohlmeyer J, Volkmann-Kohlmeyer B (1998) A new marine Xylomyces on Rhizophora from the Caribbean and Hawaii. Fungal Divers 1:159–164

Landvik S (1996) Neolecta, a fruit–body–producing genus of the basal ascomycetes, as shown by SSU and LSU rDNA sequence. Mycol Res 100:199–202

Marvanová L, Descals E (1987) New taxa and new combinations of aquatic Hyphomycetes. Trans Br Mycol Soc 89:499–507

Mugambi GK, Huhndorf SM (2009) Molecular phylogenetics of Pleosporales: Melanommataceae and Lophiostomataceae re-circumscribed (Plesporomycetidae), Dothideomycetes, Ascomycota). Stud Mycol 64:103–121

Nylander JAA (2004) MrModeltest 2.2: Program distributed by the author. Evolutionary Biology Centre Uppsala University, Sweden

O'Donnell K, Cigelnik E, Weber NS, Trappe JM (1997) Phylogenetic relationships among ascomycetous truffles and the true and false morels inferred from 18S and 28S ribosomal DNA sequence analysis. Mycologia 89:48–65

Page RMD (1996) Treeview: An application to display phylogenetic trees on personal computers. Comput Appl Biosci 12:357–358

Pang KL, Abdel-Wahab MA, Sivichai S, El-Sharouney H, Jones EBG (2002) Jahnulales (Dothidiomycetes, Ascomycota): a new order of lignicolous freshwater ascomycetes. Mycol Res 106:1031–1042

Pinruan U, Jones EBG, Hyde KD (2002) Aquatic fungi from peat swamp palms: Jahnula appendiculata sp. nov. Sydowia 54:242–247

Prihatini R, Boonyuen N, Sivichai S (2008) Phylogenetic evidence that two submerged-habitat fungal species, Speiropsis pedatospora and Xylomyces chlamydosporus belong to the order Jahnulales Incertae Sedis Dothideomycetes. Microbiol Indonesia 2:136–140

Raja H, Shearer CA (2006) Jahnula species from North and Central America, including three new species. Mycologia 98:319–332

Raja HA, Carter A, Platt HW, Shearer CA (2008) Freshwater ascomycetes: Jahnula apiospora (Jahnulales, Dothideomycetes), a new species from Prince Edward Island, Canada. Mycoscience 49:326–328

Raja HA, Ferrer A, Shearer CA (2005) Aliquandostipite crystallinus, a new ascomycete species from submerged wood in freshwater habitats. Mycotaxon 91:207–215

Rambaut A (1996) Sequence alignment editor. Version 2.0. Department of Zoology, University of Oxford, Oxford, Available from http://evolve.zoo.ox.ac.uk/Se-Al/Se-Al.html

Rehner S (2001) Primers for Elongation Factor 1-a (EF1-a). http://ocid.NACSE.ORG/research/deephyphae/EF1primer.pdf

Scheinpflug H (1958) Untersuchungen über die Gattung Didymosphaeria Fuck. und einige verwandte Gattungen. Berichte der schweizerischen Botanischen Gesellschaft 68:325–385

Schoch CL, Shoemaker RA, Seifert KA, Hambleton S, Spatafora JW, Crous PW (2006) A multiple phylogeny of the Dothideomycetes using four nuclear loci. Mycologia 98:1041–1052

Schoch CL, Sung GH, Lopez-Giraldez F, Townsend JP, Miadlikowska J, Hofstetter V, Robbertse B, Matheny PB, Kauff F, Wang Z, Gueidan C, Andrie R, Trippe K, Ciufetti LM, Wynns A, Fraker E, Hodkinson B, Bonito G, Groenewald JZ, Arzanlou M, de Hoog GS, Crous PW, Hewitt D, Pfister DH, Peterson K, Gryzenhout M, Wingfield MJ, Aptroot A, Suh SO, Blackwell M, Hillis DM, Griffith GW, Castlebury LA, Rossman AY, Lumbsch TH, Lucking RL, Budel B, Rauhut A, Diederich P, Ertz D, Geiser DM, Hosaka K, Inderbitzin P, Kohlmeyer J, Volkmann-Kohlmeyer B, Mostert L, O'donnell K, Sipman H, Rogers JD, Shoemaker RA, Sugiyama J, Summerbell RC, Untereiner W, Johnston PR, Stenroos S, Zuccaro A, Dyer PS, Crittenden PD, Cole MS, Hansen K, Trappe JM, Yahr R, Lutzoni F, Spatafora JW (2009) The Ascomycota Tree of Life: A Phylum-wide phylogeny clarifies the origin and evolution of fundamental reproductive and ecological traits. Syst Biol 58:224–239

Shearer CA, Raja HA, Miller AN, Nelson P, Tanaka K, Hirayama K, Marvanova L, Hyde KD, Zhang Y (2009) The molecular phylogeny of freshwater Dothideomycetes. Stud Mycol 64:145–153

Simonis JL, Raja HA, Shearer CA (2008) Extracellular enzymes and soft rot decay: Are ascomycetes important degraders in fresh water? Fungal Diver 31:135–146

Sivichai S, Boonyuen N (2010) Jahnula morakotii, sp. nov. and J. appendiculata from a peat swamp in Thailand. Mycotaxon 112:475–481

Sivichai S, Sri-indrasudhi V, Jones EBG (2011) Jahnula aquatica and its anamorph Xylomyces chlamydosporus on submerged wood in Thailand. Mycotaxon 116:137–142

Stamatakis A (2006) RAxML-VI-HPC: maximum likelihood-based phylogenetic analyses with thousands of taxa and mixed models. Bioinformatics 22:2688–2690

Suetrong S, Sakayaroj J, Phonpaichit S, Jones EBG (2010) Morphological and molecular characteristics of a poorly known marine ascomycete, Manglicola guatemalensis (Jahnulales: Pezizomycotina; Dothideomycetes, incertae sedis): new lineage of marine ascomycetes. Mycologia 102:83–92

Suetrong S, Schoch CL, Spatafora JW, Kohlmeyer J, Volkmann-Kohlmeyer B (2009) Molecular systematic of the marine Dothideomycetes. Stud Mycol 64:155–173

Swofford DL (2002) PAUP: Phylogenetic analysis using parsimony, Version 4.0b10. Sinauer Associates, Inc. Publishers, Sunderland

'Thompson JD, Higgin DG, Gibson TJ (1994) CLUSTAL W: improving the sensitivity of progressive multiple sequence alignment through sequence weighting, position-specific gap penalties and weight matrix choice. Nucl Acids Res 22:4673–4680

Tóth S (1979) Vargamyces, a new genus of hyphomycetes on submerged plant debris. Acta Bot Acad Sci Hung 25:403–410

Vrijmoed LLP (2000) Isolation and culture of higher filamentous fungi. In: Hyde KD, Pointing SB (eds) Marine mycology—A practical approach. Fungal Diversity Press, Hong Kong, pp 1–20

Wegelin H (1894) Beitrag zur Pyrenomycetenflora der Schweiz. Mitteilungen der Thurgauischen Naturforschenden Gesellschaft 11:1–12

White TJ, Bruns T, Lee S, Taylor J (1990) Amplification and direct sequencing of fungal ribosomal RNA gene for phylogenetics. In: Innis MA, Gelfand DH, Sninsky JS, White TJ (eds) PCR Protocol: A guide to methods and applications. Academic, San Diego, pp 315–322
Acknowledgements
We are particularly grateful to Dr Walter Jaklitsch for his thorough review of this paper, his invaluabale suggestions, and especially for drawing our attention to the earlier name for Jahnula aquatica. K.L. Pang acknowledges the financial support by National Science Council of Taiwan (NSC98-2621-B-019-002-MY3). Satinee Suetrong thanks Dr. Jariya Sakayaroj for advice on phylogenetic analysis. Miss Juntima Chanprasert is thanked for RAxML analysis. This work was supported by Fungal DNA Barcoding Grant P-10-11328 and the TRF/BIOTEC program Biodiversity Research and Training Grant BRT R_251006, R_325015, R_252057 and R_251009 to study marine and freshwater fungi of Thailand. For their continued interest and support we also thank BIOTEC: Prof. Morakot Tanticharoen; Dr. Kanyawim Kirtikara; and Dr. Lily Eurwilaichitr.
Electronic supplementary material
Below is the link to the electronic supplementary material.
Sequences of members of the Jahnulales used in this study with taxonomic placement, fungal taxa, culture numbers and GenBank sequence numbers (newly generated sequences in bolda) (DOC 148 kb)
Sequences from the GenBank of taxa from selected order of the Dothideomycetes (DOC 232 kb)
About this article
Cite this article
Suetrong, S., Boonyuen, N., Pang, KL. et al. A taxonomic revision and phylogenetic reconstruction of the Jahnulales (Dothideomycetes), and the new family Manglicolaceae . Fungal Diversity 51, 163–188 (2011). https://doi.org/10.1007/s13225-011-0138-5
Received:

Accepted:

Published:

Issue Date:
Keywords
Freshwater and marine fungi

Molecular phylogeny

New family Manglicolaceae

Systematics