Abstract
The sequestrate genus Chamonixia has been shown to have affinities to the Boletales, in particular the genus Leccinum. Australasian and Japanese species of Chamonixia were examined using morphological and molecular (ITS and nLSU rDNA) data and found to also have affinities with Leccinum and Leccinellum, however they form a distinct clade separate from the European type species C. caespitosa Rolland and North American species. A new genus, Rosbeeva T.Lebel & Orihara gen. nov., is proposed for the Australasian, Japanese and Chinese taxa. The species R. mucosa (Petri) T.Lebel comb. nov. is restricted in distribution to Singapore and Borneo, and R. pachyderma (Zeller & C.W. Dodge) T.Lebel comb. nov. to New Zealand, with Australian collections considered to belong to a revised R. vittatispora (G.W.Beaton, Pegler & T.W.K.Young) T.Lebel comb. nov. or a new species R. westraliensis T. Lebel sp. nov. The Chinese species R. bispora (B.C.Zhang & Y.N.Yu) T.Lebel & Orihara comb. nov is transferred to the new genus based upon morphological data. Two new species from Japan, Rosbeeva eucyanea Orihara and R. griseovelutina Orihara, are also described and illustrated. A key to all species of Rosbeeva is provided. Due to the highly modified gastroid sporocarp forms of both Chamonixia and Rosbeeva, many macroscopic characters of use in agaricoid taxonomy are difficult to interpret. However, color change and texture of sporocarps are of some use to distinguish genera and species. Microscopic characters such as spore shape, dimensions, and ornamentation, and pileipellis and hymenophoral trama structure, are essential for determining genera and species.
Access options
Buy single article
Instant access to the full article PDF.
US$ 39.95
Tax calculation will be finalised during checkout.
Subscribe to journal
Immediate online access to all issues from 2019. Subscription will auto renew annually.
US$ 79
Tax calculation will be finalised during checkout.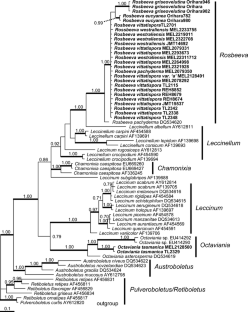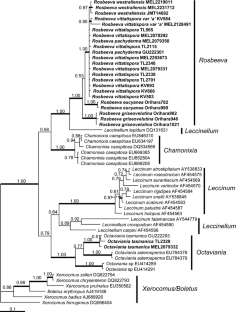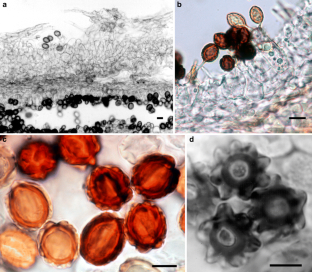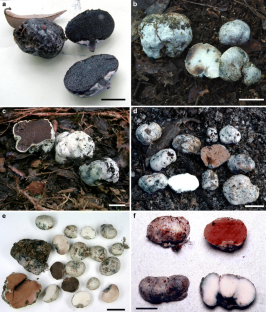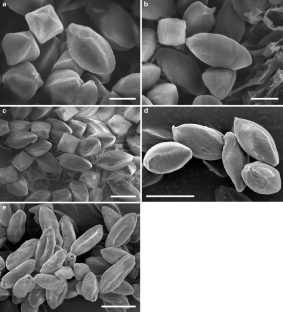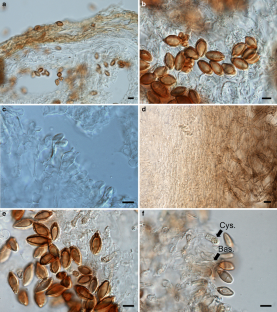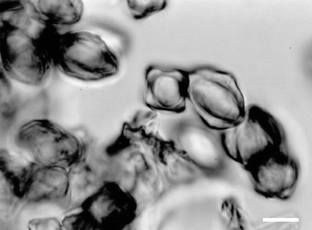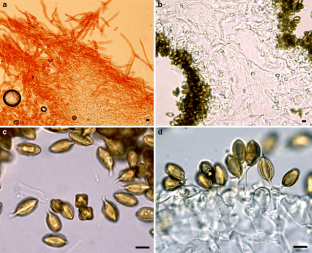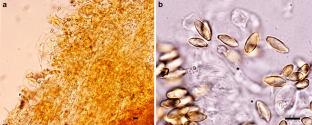 References
Beaton G, Pegler DN, Young TWK (1985) Gasteroid Basidiomycota of Victoria State, Australia: 5–7. Kew Bulletin 40:573–598

Binder M, Bresinsky A (2002) Derivation of a polymorphic lineage of Gasteromycetes from boletoid ancestors. Mycologia 94:85–98

Binder M, Hibbett DS (2006) Molecular systematics and biological diversification of Boletales. Mycologia 98:971–981

Bougher NL, Thiers HD (1991) An indigenous species of Leccinum (Boletaceae) from Australia. Mycotaxon XLII:255–262

Corner EJ (1972) Boletus in Malaysia. Government Printing Office, Singapore, pp 102–107

Corner HJH, Hawker LE (1953) Hypogeous fungi from Malaya. Trans Brit Mycol Soc 36:125–137

Cunningham GH (1979) The Gasteromycetes of Australia and New Zealand. Band 67. Cramer, Vaduz

Den Bakker HC, Noordeloos ME (2005) A revision of European species of Leccinum Gray and notes on extralimital species. Persoonia 18:511–587

Desjardin DE, Wilson AW, Binder M (2008) Durianella, a new gasteroid genus of boletes from Malaysia. Mycologia 100:956–961

Faith DP (1992) Conservation evaluation and phylogenetic diversity. Biol Conserv 61:1–10

Faith DP, Baker AM (2006) Phylogenetic diversity (PD) and biodiversity conservation: some bioinformatics challenges. Bioinformatics 2:121–128

Gardes M, Bruns TD (1993) ITS primers with enhanced specificity of basidiomycetes: application to the identification of mycorrhizae and rusts. Molecular Ecology 2, 113–118

Giachini AJ, Hosaka K, Nouhra E, Spatafora JW, Trappe JM (2010) Phylogenetic relationships of the Gomphales based on nuc-25S-rDNA, mit-12S-rDNA, and mit-atp6-DNA combined sequences. Fungal Biol 114:224–234

Halling RE, Baroni TJ, Binder M (2007) A new genus of Boletaceae from eastern North America. Mycologia 99:310–316

Hongo T (1983) Notulae Mycologicae (18). Mem Fac Educ Shiga Univ Nat Sci 33:37–41

Hosaka K, Bates ST, Beever RE, Castellano MA, Colgan W III, Dominguez LS, Geml J, Giachini AJ, Kenney SR, Nourha EA, Simpson NB, Trappe JM (2006) Molecular phylogenetics of the gomphoid-phalloid fungi with an establishment of the new sub-class Phallomycetidae and two new orders. Mycologia 98(6):949–959

Humpert AJ, Muench EL, Giachini AJ, Castellano MA, Spatafora JW (2001) Molecular phylogenetics of Ramaria and related genera: evidence from nuclear large subunit and mitochondrial small subunit rDNA sequences. Mycologia 93:466–477

Justo A, Morgenstern I, Hallen-Adams HE, Hibbett DS (2010) Convergent evolution of sequestrate forms in Amanita under Mediterranean climate conditions. Mycologia 102(3):675–88

Kretzer AM, Bruns DT (1999) Use of atp6 in fungal phylogenetics: an example from the Boletales. Molec Phylo Evol 13:483–492

Lebel T, Tonkin JE (2008) Australasian species of Macowanites are sequestrate species of Russula (Russulaceae, Basidiomycota). Aust Syst Bot 20(4):355–381

Maddison WP, Donoghue MJ, Maddison DR (1984) Outgroup analysis and parsimony. Systematic Zoology 33: 83-103

Mleczko P, Kozak M, Lawrynowicz M, Gorszczyk A (2009) New localities of Chamonixia caespitosa (hypogeous Boletaceae) in Central Europe. Acta Mycologia 44:29–42

Orihara T, Sawada F, Ikeda S, Yamato M, Tanaka C, Shimomura N, Hashiya M, Iwase K (2010) Taxonomic reconsideration of a sequestrate fungus, Octaviania columellifera, with the proposal of a new genus, Heliogaster, and its phylogenetic relationships in the Boletales. Mycologia 102:108–121

Peintner U, Bougher NL, Castellano MA, Moncalvo J-M, Moser MM, Trappe JM, Vilgalys R (2002) Multiple origins of sequestrate fungi related to Cortinarius (Cortinariaceae). Am J Bot 88(12):2168–2179

Rolland L (1899) Excursion a Chamonix- ete et automne 1898. Bull Soc Mycol Fr 15:73–78

Sahr T, Ammer H, Besl H, Fischer M (1999) Infrageneric classification of the boleticolous genus Sepedonium: species delimitation and phylogenetic relationships. Mycologia 91(6): 935-943

Smith AH, Singer R (1959) Studies on secotiaceous fungi- IV Gastroboletus, Truncocolumella and Chamonixia. Brittonia 11:205–223

Thompson JD, Gibson TJ, Plewniak F, Jeanmougin F, Higgins DG (1997) The CLUSTALX windows interface: flexible strategies for multiple sequence alignment aided by quality analysis tools. Nucleic Acids Research 25: 4876-4882

White TJ, Bruns T, Lee S, Taylor J (1990) Amplification and direct sequencing of fungal ribosomal RNA genes for phylogenetics. In 'PCR protocols: a guide to methods and applications'. (Eds MA Innis, DH Gelfand, JJ Shinsky, TJ White) pp. 315–322. (Academic Press: San Diego, CA)

Vernes K, Lebel T (2011) Truffle consumption by New Guinea forest wallabies. Fungal Ecology. Fungal Ecology 4:270-276

Yang ZL, Trappe JM, Binder M, Sanmee R, Lumyong P, Lumyong S (2006) The sequestrate genus Rhodactina (Basidiomycota, Boletales) in northern Thailand. Mycotaxon 96:133–140

Zeller SM, Dodge CW (1934) Hymenogaster and related genera. Ann Miss Bot Gard 21:625–709

Zhang B-C, Yu Y-N (1989) Chamonixia bispora sp. nov. (Boletales) from China. Mycotaxon 35:277–281
Acknowledgements
We are grateful to the Singapore Botanic Gardens Herbarium and Australian and Japanese herbaria for providing access to specimens. Thankyou to R. Halling and T. Osmundsen for providing three sequences (nLSU) to include in our analyses (part of NSF grant DEB #0414665), and for discussions on boletoid fungi. The junior author is grateful to Toshimitsu Fukiharu, Kuniyuki Kamohara, Muneyuki Ohmae, Eiji Nagasawa, Sumio Honda, Masaru Ohkubo, and Masahito Taniguchi, for providing specimens and to Eiji Hadano, Atsuko Hadano and Ayako Okuda, for their assistance of his fieldworks. The authors also thank Shigeyuki Murakami for the assistance of SEM. A part of this research was supported by Research Fellowships for Young Scientists (No. 21–6052) from the Japan Society for the Promotion of Science (JSPS) and the Australasian Biological Resources Study research grant program (No. 206–50).
About this article
Cite this article
Lebel, T., Orihara, T. & Maekawa, N. The sequestrate genus Rosbeeva T.Lebel & Orihara gen. nov. (Boletaceae) from Australasia and Japan: new species and new combinations. Fungal Diversity 52, 49–71 (2012). https://doi.org/10.1007/s13225-011-0109-x
Received:

Accepted:

Published:

Issue Date:
Keywords
Chamonixia

Sequestrate fungi

Leccinum

Systematics

Octaviania