Abstract
Fruiting bodies of some wild and cultivatable mushrooms contain medicinal compounds which are being used in traditional medicines and cosmetics. There are numerous potential medicinal products from mushrooms that could be used in cosmeceuticals (products applied topically, such as creams, lotions, and ointments) or nutricosmetics (products that are ingested orally). This paper provides a review of the fungi presently used in cosmeceuticals and nutricosmetics with some examples of cosmetic types and products. Species presently used, or patented to be used, in cosmeceuticals and nutricosmetics include Agaricus subrufescens (= A. blazei, A. brasiliensis) Choiromyces maeandriformis Cordyceps sinensis, Ganoderma lucidum, Grifola frondosa, Hypsizygus ulmarium, Inonotus obliquus, Lentinula edodes, Polyporus spp., Trametes versicolor, Tremella fuciformis, Tuber spp., Schizophyllum commune and many other lesser used taxa. Cosmetics incorporating fungi include those for skin care such as anti-aging, anti-oxidants, skin revitalizing, skin whitening and hair products. The mushrooms presently used are traditionally known to produce medicinal compounds and thus were the first to be incorporated in cosmetic applications. There are, however, numerous other mushroom species that are untested, undescribed or not yet cultivatable and that have huge potential for use in the cosmetic industry. Some fungi are also used in biotransformation and the products such as lactic acid and ceramides could potentially be used in cosmetics.
This is a preview of subscription content, log in to check access.
Access options
Buy single article
Instant access to the full article PDF.
US$ 39.95
Price includes VAT for USA
Subscribe to journal
Immediate online access to all issues from 2019. Subscription will auto renew annually.
US$ 99
This is the net price. Taxes to be calculated in checkout.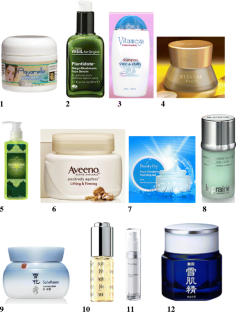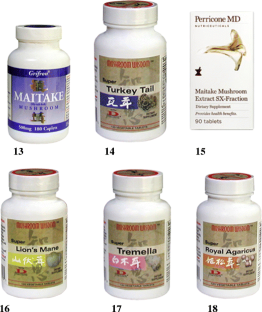 References
Angeli JPF, Ribeiro LR, Camelini CM, de Mendonça MM, Mantovani MS (2009) Evaluation of the antigenotoxicity of polysaccharides and β-glucans from Agaricus blazei, a model study with the single cell gel electrophoresis/Hep G2 assay. J Food Compos Anal 22:699–703

Athalye SK, Garcia RA, Wen Z (2009) Use of biodiesel-derived crude glycerol for producing eicosapentaenoic acid (EPA) by the fungus Pythium irregulare. J Agric Food Chem 57:2739–2744

Barros L, Ferreira M-J, Queirós B, Ferreira ICFR, Baptista P (2007a) Total phenols, ascorbic acid, β-carotene and lycopene in Portuguese wild edible mushrooms and their antioxidant activities. Food Chem 103:413–419

Barros L, Baptista P, Estevinho LM, Ferreira ICFR (2007b) Effect of fruiting body maturity stage on chemical composition and antimicrobial activity of Lactarius sp. mushrooms. J Agric Food Chem 55:8766–8771

Campana F, Zervoudis S, Perdereau B, Gez E, Fourquet A, Badiu C, Tsakiris G, Koulaloglou S (2004) Topical superoxide dismutase reduces post-irradiation breast cancer fibrosis. J Cell Mol Med 8:109–116

Cheng MH, Walker TH, Hulbert GJ, Raman DR (1999) Fungal production of eicosapentaenoic and arachidonic acids from industrial waste streams and crude soybean oil. Bioresour Technol 67:101–110

Chien C-C, Tsai M-L, Chen C-C, Chang S-J, Tseng C-H (2008) Effects on tyrosinase activity by the extracts of Ganoderma lucidum and related mushrooms. Mycopathologia 166:117–120

Corey ME, Beelman RB, Seetharman K (2009) Potential for nutritional enrichment of whole-wheat bread with portabella mushroom powder (Agaricus bisporus (J. Lge) Imbach, Agaricomycetideae). Int J Med Mushrooms 11:157–166

Dubost NJ, Beelman RB, Peterson D, Royse DJ (2006) Identification and quantification of ergothioneine in cultivated mushrooms by liquid chromatography-mass spectroscopy. Int J Med Mushrooms 8:215–222

Dubost NJ, Beelman RB, Royse DJ (2007) Influence of selected cultural factors and postharvest storage on ergothioneine content of common button mushroom Agaricus bisporus (J. Lge) Imbach (Agaricomycetideae). Int J Med Mushrooms 9:163–176

Enman J, Hodge D, Berglund KA, Rova U (2008) Production of the bioactive compound eritadenine by submerged cultivation of shiitake (Lentinus edodes) mycelia. J Agric Food Chem 56:2609–2612

Ey J, Schömig E, Taubert D (2007) Dietary sources and antioxidant effects of ergothioneine. J Agric Food Chem 55:6466–6474

Fang S-H, Rao YK, Tzeng Y-M (2008) Anti-oxidant and inflammatory mediator's growth inhibitory effects of compounds isolated from Phyllanthus urinaria. J Ethnopharmacol 116:333–340

Ferreira Da Eira A, Kaneno R, Rodrigues Filho E, Barbisan LF, Pascholati SF, Di Piero RM, Fávero Salvadori DM, Alves De Lima PL, Ribeiro LR (2005) Farming technology, biochemistry characterization, and protective effects of culinary-medicinal mushrooms Agaricus brasiliensis S. Wasser et al. and Lentinus edodes (Berk.) Singer: Five years of research in Brazil. Int J Med Mushrooms 7:281–299

Firenzuoli F, Gori L, Lombardo G (2008) The medicinal mushroom Agaricus blazei Murrill: Review of literature and pharmaco-toxicological problems. Evid Based Complement Altern Med 5:3–15

Gao J-M, Zhang A-L, Chen H, Liu J-K (2004) Molecular species of ceramides from the ascomycete truffle Tuber indicum. Chem Phys Lipids 131:205–213

Gautier S, Xhauflaire-Uhoda E, Gonry P, Piérard GE (2008) Chitin-glucan, a natural cell scaffold for skin moisturization and rejuvenation. Int J Cosmet Sci 30:459–469

Golz-berner K, Zastrow L (2005) Cosmetic preparation containing extracts of Tuberaceae. United States Patent 6843995

Gutiérrez A, Del Río JC, Martínez-Íñigo MJ, Martínez MJ, Martínez ÁT (2002) Production of new unsaturated lipids during wood decay by ligninolytic basidiomycetes. Appl Environ Microbiol 68:1344–1350

Jin J-M, Lee J, Lee Y-W (2010) Characterization of carotenoid biosynthetic genes in the ascomycete Gibberella zeae. FEMS Microbiol Lett 302:197–202

Kakumyan P, Matsui K (2009) Characterization of volatile compounds in Astraeus spp. Biosci Biotechnol Biochem 73:2742–2745

Kalač P (2009) Chemical composition and nutritional value of European species of wild growing mushrooms: A review. Food Chem 113:9–16

Keypour S, Rafati H, Riahi H, Mirzajani F, Moradali MF (2010) Qualitative analysis of ganoderic acids in Ganoderma lucidum from Iran and China by RP-HPLC and electrospray ionisation-mass spectrometry (ESI-MS). Food Chem 119:1704–1708

Kim HH, Cho S, Lee S, Kim KH, Cho KH, Eun HC, Chung JH (2006) Photoprotective and anti-skin-aging effects of eicosapentaenoic acid in human skin in vivo. J Lipid Res 47:921–930

Krištofíková L, Rosenberg M, Vlnová A, Šajbidor J, Čertík M (1991) Selection of Rhizopus strains for l(+)-lactic acid and γ-linolenic acid production. Folia Microbiol 36:451–455

Kumari M, Survase SA, Singhal RS (2008) Production of schizophyllan using Schizophyllum commune NRCM. Bioresour Technol 99:1036–1043

Lemann P (2007) Mushrooms in cosmetics. SpecialChem Cosmetics and Personal Care, Innovations and Solutions, February 2007

Lourenço A, Lobo AM, Rodríguez B, Jimeno M-L (1996) Ceramides from the fungus Phellinus pini. Phytochemistry 43:617–620

Luiz RC, Jordao BQ, da Eira AF, Ribeiro LR, Mantovani MS (2003) Mechanism of anticlastogenicity of Agaricus blazei Murill mushroom organic extracts in wild type CHO (K-1) and repair deficient (xrs5) cells by chromosome aberration and sister chromatid exchange assays. Mutat Res Fundam Mol Mech Mutagen 528:75–79

Machado MP, Rodrigues E, Terezan AP, Ribeiro UR, Mantovani MS (2005) Cytotoxicity, genotoxicity and antimutagenicity of hexane extracts of Agaricus blazei determined in vitro by the comet assay and CHO/HGPRT gene mutation assay. Toxicol In Vitro 19:533–539

Mantzouridou F, Tsimidou MZ (2008) Lycopene formation in Blakeslea trispora. Chemical aspects of a bioprocess. Trends Food Sci Technol 19:363–371

Margolin AL, Klibanov AM (1987) Peptide-synthesis catalyzed by lipases in anhydrous organic-solvents. J Am Chem Soc 109:3802–3804

Matuo R, Oliveira RJ, Silva AF, Mantovani MS, Ribeiro LR (2007) Anticlastogenic activity of aqueous extract of Agaricus blazei in drug-metabolizing cells (HTCs) during cell cycle. Toxicol Mech Meth 17:147–152

Menoli R, Mantovani MS, Ribeiro LR, Speit G, Jordao BQ (2001) Antimutagenic effects of the mushroom Agaricus blazei Murrill extracts on V79 cells. Mutat Res Genet Toxicol Environ Mutagen 496:5–13

Mizuno T, Inagaki R, Kanao T, Hagiwara T, Nakamura T, Ito H, Shimura K, Sumiya T, Asakura A (1990) Studies on the host-mediated antitumor polysaccharides.14. Antitumor-activity and some properties of water-insoluble hetero-glycans from himematsutake, the fruiting body of Agaricus-blazei Murill. Agric Biol Chem 54:2897–2905

Mizuno M, Minato K, Ito H, Kawade M, Terai H, Tsuchida H (1999) Anti-tumor polysaccharide from the mycelium of liquid-cultured Agaricus blazei mill. Biochem Mol Biol Int 47:707–714

Mohorčič M, Friedrich J, Renimel I, André P, Mandin D, Chaumont J-P (2007) Production of melanin bleaching enzyme of fungal origin and its application in cosmetics. Biotechnol Bioprocess Eng 12(3):200–206

Ng TB (2004) Peptides and proteins from fungi. Peptides 25:1055–1073

Nieto IJ, Carolina Chegwin A (2008) Triterpenoids and fatty acids identified in the edible mushroom Pleurotus sajor-cajú. J Chilean Chem Soc 53:1515–1517

Obrien DJ, Stinson EE, Wessinger EW, Somkuti GA (1993) Production of eicosapentaenoic acid from filamentous fungi utilizing lactose as a primary carbon source. United States Patent 5246842

Park S-S, Hwang S-M (1999) Purification and characterization of iron-containing superoxide dismutase from Lentinus edodes. J Microbiol Biotechnol 9:854–860

Passi S, De Pità O, Puddu P, Littarru GP (2002) Lipophilic antioxidants in human sebum and aging. Free Radic Res 36:471–477

Pons A, Timmerman P, Leroy Y, Zanetta J-P (2002) Gas-chromatography/mass-spectrometry analysis of human skin constituents as heptafluorobutyrate derivatives with special reference to long-chain bases. J Lipid Res 43:794–804

Sadruddin S, Arora R (2009) Resveratrol: Biologic and therapeutic implications. J Cardiometab Syndr 4:102–106

Sandewicz IM, Russ JG, Zhu VX (2003) Anhydrous cosmetic compositions containing mushroom extract United States Patent 6645502

Sanodiya BS, Thakur GS, Baghel RK, Prasad GBKS, Bisen PS (2009) Ganoderma lucidum: a potent pharmacological macrofungus. Curr Pharm Biotechnol 10:717–742

Shimada Y, Morita T, Sugiyama K (2002) Effects of Lentinus edodes on fatty acid and molecular species profiles of phosphatidylcholine in rats fed different levels of corn oilBioscience. Biotechnol Biochem 66:1759–1763

Synytsya A, Míčková K, Synytsya A, Jablonský I, Spěváček J, Erban V, Kováříková E, Čopíková J (2009) Glucans from fruit bodies of cultivated mushrooms Pleurotus ostreatus and Pleurotus eryngii: Structure and potential prebiotic activity. Carbohydr Polym 76:548–556

Tian T, Sun Q, Shen J, Zhang T, Gao P, Sun Q (2008) Microbial transformation of polydatin and emodin-8-β-d-glucoside of Polygonum cuspidatum Sieb. et Zucc into resveratrol and emodin respectively by Rhizopus microsporus. World J Microbiol Biotechnol 24:861–866

Ventura J, Belmares R, Aguilera-Carbo A, Gutiérrez-Sanchez G, Rodríguez-Herrera R, Aguilar CN (2008) Fungal biodegradation of tannins from creosote bush (Larrea tridentata) and tar bush (Fluorensia cernua) for gallic and ellagic acid production. Food Technol Biotechnol 46:213–217

Vozenin-Brotons MC, Sivan V, Gault N, Renard C, Geffrotin C, Delanian S, Lefaix JL, Martin M (2001) Antifibrotic action of Cu/Zn SOD is mediated by TGF-beta1 repression and phenotypic reversion of myofibroblasts. Free Radic Biolological Med 30:30–42

Vysotskaya MR, Maslova GV, Petrova VA, Nud'Ga LA (2009) Electrochemical recovery of chitin-glucan complex from Pleurotus ostreatus basidial fungus and properties of the product. Russ J Appl Chem 82:1390–1395

Wang H, Liu L, Guo Y-X, Dong Y-S, Zhang D-J, Xiu Z-L (2007) Biotransformation of piceid in Polygonum cuspidatum to resveratrol by Aspergillus oryzae. Appl Microbiol Biotechnol 75:763–768

Ward OP, Singh A (2005) Omega-3/6 fatty acids: Alternative sources of production. Process Biochem 40:3627–3652

Yabuta T (1924) The constitution of kojic acid, a gamma-pyrone derivative formed by Aspergillus oryzae from carbohydrates. J Chem Soc 125:575–587

Yang FQ, Feng K, Zhao J, Li SP (2009) Analysis of sterols and fatty acids in natural and cultured Cordyceps by one-step derivatization followed with gas chromatography-mass spectrometry. J Pharm Biomed Anal 49:1172–1178

Zhang ZY, Jin B, Kelly JM (2007) Production of lactic acid from renewable materials by Rhizopus fungi. Biochem Eng J 35:251–263

Zulfakar MH, Edwards M, Heard CM (2007) Is there a role for topically delivered eicosapentaenoic acid in the treatment of psoriasis? Eur J Dermatol 17:284–291
Acknowledgements
This study was financially supported by the project "value added products from Basidiomycetes: Putting Thailand's biodiversity to use" (BRN049/2553).
About this article
Cite this article
Hyde, K.D., Bahkali, A.H. & Moslem, M.A. Fungi—an unusual source for cosmetics. Fungal Diversity 43, 1–9 (2010). https://doi.org/10.1007/s13225-010-0043-3
Received:

Accepted:

Published:

Issue Date:
Keywords
Anti-aging

Anti-oxidants

Cosmeceuticals

Medicinal fungi

Nutricosmetics

Skin whitening