Abstract
Objective
To evaluate the clinical efficacy of two types of condom uterine balloon tamponade systems, namely Chhattisgarh condom balloon device "CG balloon (CGB)" having a central drainage channel as well as indigenous tying system to fasten condom to the catheter and conventional condom uterine balloon device (C-UBT) as a second-line intervention in post-partum haemorrhage (PPH).
Materials and Methods
The present non-randomised prospective case series was carried out from December 2014 to September 2016 and included 60 women having PPH which was refractory to first-line management and who were treated with either of the two condom balloon tamponade devices prepared on spot. Women with allergy to latex, retained placenta, uterine rupture, anomaly, genital infection and/or malignancy were excluded. Case report forms were filled for all participants and analysed. Primary outcome was arrest of haemorrhage, and one of the secondary outcomes was cost and consistency of the devices.
Results
CGB was used in 46 and C-UBT in 14 women. The overall success rate was 98.33%. The mean blood loss was 1417 mL. Women of C-UBT group had greater blood loss, higher inflation volume and delays due to technical issues (OR 7.6). CGB was cheaper and more consistent than C-UBT by omitting the use of suture material.
Conclusion
CGB and conventional condom balloon tamponade both are easy to use, feasible and efficacious for control of PPH, but CGB condom balloon device has the advantage of a central drainage lumen for real-time assessment of blood loss and therefore early corrective action.
This is a preview of subscription content, log in to check access.
Access options
Buy single article
Instant access to the full article PDF.
US$ 39.95
Price includes VAT for USA
Subscribe to journal
Immediate online access to all issues from 2019. Subscription will auto renew annually.
US$ 99
This is the net price. Taxes to be calculated in checkout.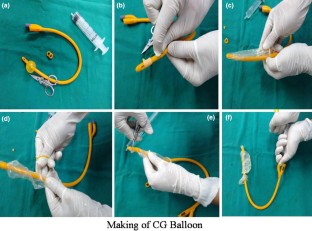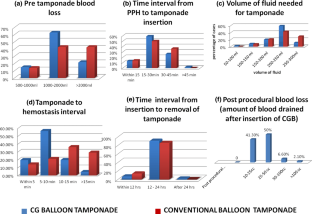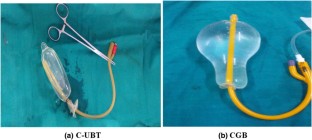 References
1.

Tindell K, Garfinkel R, Abu-Haydar E, et al. Uterine balloon tamponade for the treatment of postpartum haemorrhage in resource-poor settings: a systematic review. BJOG. 2013;120:5–14.

2.

World Health Organization (WHO). WHO recommendations for the prevention and treatment of postpartum haemorrhage. Geneva: World Health Organization (WHO); 2012.

3.

FIGO. FIGO guidelines: prevention and treatment of postpartum hemorrhage in low-resource settings. Int J Gynaecol Obstet. 2012;117:108–18.

4.

Georgiou C. A review of current practice in using Balloon Tamponade Technology in the management of postpartum haemorrhage. Hypertens Res Pregnancy. 2014;2:1–10.

5.

Doumouchtsis SK, Papageorghiou AT, Arulkumaran S. Systematic review of conservative management of postpartum hemorrhage: what to do when medical treatment fails. Obstet Gynecol Surv. 2007;62:540–7. https://doi.org/10.1097/01.ogx.0000271137.81361.93.

6.

Ranathunga GA. Post partum haemorrhage, severe acute maternal morbidity and the condom catheter uterine tamponade [D A Ranasinghe Oration 2013]. Sri Lanka J Obstet Gynaecol. 2013;35(4):100–11.

7.

Lombaard H, Pattinson RC. Common errors and remedies in managing postpartum haemorrhage. Best Pract Res Clin Obstet Gynaecol. 2009;23(3):317–26.

8.

Mishra N, Shrivastava C, Agrawal S. Gulabani K The CG balloon is an innovative condom balloon tamponade for the management of postpartum hemorrhage in low-resource settings. Int J Gynecol Obstet. 2016;133(3):377–8.

9.

Mishra N, Agrawal S, Gulabani K, et al. Use of an innovative condom balloon tamponade in postpartum haemorrhage: a report. J Obstet Gynecol India. 2016;66(1):63–7.

10.

California Maternal Quality Care Collaborative. Obstetric hemorrhage: new strategies, new protocol: American congress of obstetricians and gynecologists (ACOG); 2012. Accessed 26 March 2015.

11.

Thapa K, Malla B, Pandey S, et al. Intrauterine condom tamponade in management of post partum haemorrhage. J Nepal Health Res Counc. 2010;8:19–22.

12.

Grönvall M, Tikkanen M, Tallberg E, et al. Use of Bakri balloon tamponade in the treatment of cases having PPH in the treatment of postpartum hemorrhage: a series of 50 cases from a tertiary teaching hospital. Acta Obstet Gynecol Scand. 2013;92:433–8.

13.

Jain V. Placement of a cervical cerclage in combination with an intrauterine balloon catheter to arrest postpartum haemorrhage. Am J Obstet Gynecol. 2011;205:e15–7.

14.

Rather SY, Qadir A, Parveen S, et al. Use of condom to control intractable PPH. JK Sci. 2010;12:127–9.

15.

Nelson WL, O'Brien JM. The uterine sandwich for persistent uterine atony: combining the B-Lynch compression suture and an intrauterine Bakri balloon. Am J Obstet Gynecol. 2007;196(5):e9–10.

16.

Gao Y, Wang Z, Zhang J, et al. Efficacy and safety of intrauterine Bakri balloon tamponade in the treatment of postpartum hemorrhage: a multicenter analysis of 109 cases. Zhonghua Fu Chan Ke Za Zhi. 2014;49(9):670–5.

17.

Bagga R, Jain V, Sharma S, et al. Postpartum hemorrhage in two women with impaired coagulation successfully managed with condom catheter tamponade. Indian J Med Sci. 2007;61(3):157–60.

18.

Nahar N, Yusuf N, Ashraf F. Role of intrauterine balloon catheter in controlling massive PPH: experience in Rajshahi Medical College Hospital. Orion Med J. 2009;2:682–3.

19.

Manaktala U, Dubey C, Takkar A, et al. Condom catheter balloon in management of massive nontraumatic postpartum haemorrhage during cesarean section. J Gynecol Surg. 2011;27:115–7.

20.

Rathore AM, Gupta S, Manaktala U, et al. Uterine tamponade using condom catheter balloon in the management of non-traumatic postpartum hemorrhage. J Obstet Gynaecol Res. 2012;38(9):1162–7.

21.

Sheikh L, Najmi N, Khalid U, et al. Evaluation of compliance and outcomes of a management protocol for massive postpartum hemorrhage at a tertiary care hospital in Pakistan. BMC Pregnancy Childbirth. 2011;11(1):28. https://doi.org/10.1186/1471-2393-11-28.

22.

Tort J, Hounkpatin B, Popowski T, et al. A randomized controlled trial to test the effectiveness of intrautetine balloon tamponade with condom catheter in severe postpartum hemorrhage management: a feasibility study in Benin. J Women's Health Care. 2013;2:135. https://doi.org/10.4172/2167-0420.1000135.

23.

Hasabe R, Gupta Rathode P. Use of condom tamponade to manage massive obstetric hemorrhage at a tertiary center in Rajasthan. J Obstet Gynecol India. 2016;66(S1):S88–93.

24.

Maya ET, Buntugu KA, Ako L, et al. Condom Tamponade in the Management of Primary Postpartum Haemorrhage: A Report of three cases in Ghana African Journal of Reproductive Health september. 2015;19(1):151–7.

25.

Shivkar KS, Khadilkar SS, Gandhewar M. Pressure balloon therapy in uncontrolled obstetrical haemorrhage. J Obstet Gynecol India. 2003;53:338–41.

26.

Burke TF, Ahn R, Nelson BD, et al. A postpartum haemorrhage package with condom uterine balloon tamponade: a prospective multi-centre case series in Kenya, Sierra Leone, Senegal, and Nepal. BJOG. 2016;123:1532–40.
Ethics declarations
Conflict of interest
All the authors declare that they have no conflict of interest.
Ethical Approval
All procedures followed were in accordance with ethical standard of the responsible committee on human experiments (institutional and national) and with the 1975 Declaration of Helsinki, as revised in 2008(5). Informed consent was obtained from all patients for being included in the study.
Human and Animal Rights
This article does not contain any studies with animals performed by any of the authors.
Informed Consent
Informed consent was obtained from all individual participants included in the study.
Additional information
Nalini Mishra is currently working as Professor, Kanchan Gulabani is working as Resident Medical Officer, Sumi Agrawal is working as Assistant Professor, and Chandrashekhar Shrivastava is working as Associate professor in the Dept of O&G, Pt JNM Med College, Raipur, Chhattisgarh, India.
Electronic supplementary material
Below is the link to the electronic supplementary material.
Inconsistencies in assembly and use of conventional condom balloon tamponade prepared by tying the condom over catheter by suture material. The knot strength varies with operator, and the video shows leaking of the saline due to loose knot when the balloon is inflated. When the knot is very tight, it precludes inflation as is shown by no flow of saline through the infusion set. The distal end has to be occluded and is shown by three methods: by tying a thread, by tying a knot in catheter itself or by a clamp. (WMV 21326 kb)
Use of CG balloon for PPH management. Video shows a PPH simulation no responding to first-line management. A CG balloon is assembled, vagina is retracted by big speculum, and anterior lip of cervix is grasped with sponge holding forceps. The CGB is kept between and along two fingers and inserted into the uterine cavity till the rim of the condom is at the level of cervical os. CGB is now inflated with saline through the bulb inflation port by alternating syringes. The inflated balloon is shown in the simulated uterine cavity. The arrest of bleeding is judged through real-time blood loss assessment through the drainage tube of catheter attached to a collecting bag. Vagina is packed; bladder is catheterised. Note: Vagina can be packed after placement of device into the uterine cavity so as to prevent expulsion during inflation. (WMV 10607 kb)
Use of CGB in combination with other method. The video shows a "Uterine sandwich surgery" combining intrauterine balloon tamponade with classical B-Lynch suture in a grand multipara anaemic woman who delivered twins by caesarean section. She had intractable bleeding due to uterine atony, not responding to any uterotonic agent or to B-Lynch suture alone which is shown to be in place already, the CGB is inserted through the uterine incision, and the catheter shaft is made to traverse through cervical canal in a retrograde manner and is pulled out by an assistant through vaginal route. The balloon is shown to be inflated partially (with 50 mL) to prevent displacement through the patulous cervical os. The B-Lynch suture is the tied and uterine incision is closed taking care not to rupture the balloon. The uterus is shown after repair of incision and with classical B-Lynch as well as CGB in situ. The bleeding is reassessed which is shown to be continuing in the drainage channel connected to the bag. Further inflation of CGB is done till arrest of bleeding (achieved at 180 mL). The abdominal wall is closed after haemostasis. (WMV 21646 kb)
About this article
Cite this article
Mishra, N., Gulabani, K., Agrawal, S. et al. Efficacy and Feasibility of Chhattisgarh Balloon and Conventional Condom Balloon Tamponade: A 2-Year Prospective Study. J Obstet Gynecol India 69, 133–141 (2019). https://doi.org/10.1007/s13224-018-1185-6
Received:

Accepted:

Published:

Issue Date:
Keywords
Post-partum haemorrhage

Innovative condom balloon tamponade

CG Balloon

Low-resource settings

Maternal mortality