Ex Utero Intrapartum Treatment (EXIT) for a Large Fetal Neck Mass
Introduction
A 23-year-old primigravida was referred to our hospital at 36 + 5 weeks gestation with scan showing gross polyhydramnios and fetus having a large neck mass. She had no antenatal risk factors. An anomaly scan done at 22-week gestation was told to be normal.
Repeat scan done here showed gross polyhydramnios with the amniotic fluid index (AFI) being 44 cm. The fetus was growth restricted with an estimated fetal weight of 1.8 kg. There was a 8 × 6 cm left anterolateral mass on the fetal neck, which was solid, well defined with minimal vascularity (Fig.
1
). There seemed to be no retrosternal extension of the mass. There was no other structural abnormality to account for the fetal growth restriction (FGR) with polyhydramnios. Her glucose tolerance test at fifth month was normal.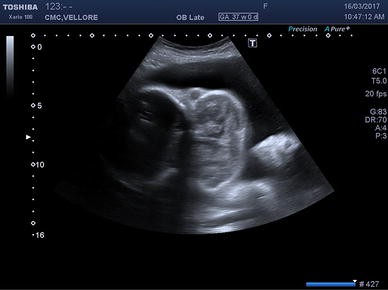 Notes
Compliance with Ethical Standards
Conflict of interest
Manisha Beck, Ekta Rai, Reeta Vijayaselvi, Mary John, Naina Picardo, Sridhar Santhanam, Maneesh Kumar and Bejamin Ross declare they have no conflict of interest.
Ethical Statements
All procedures performed on our patient were in accordance with the ethical standards of the institutional and/or national research committee and with the 1964 Declaration of Helsinki and its later amendment or comparable ethical standards.
Informed Consent
Informed consent was obtained from the patient whose details are included in the case report. Additional consent was obtained for publication of scan images and the photograph of the baby.
Copyright information
© Federation of Obstetric & Gynecological Societies of India 2017