Abstract
Endometrial polyps are frequently seen in subfertile women, and there is some evidence suggesting a detrimental effect on fertility. How polyps contribute to subfertility and pregnancy loss is uncertain and possible mechanisms are poorly understood. It may be related to mechanical interference with sperm transport, embryo implantation or through intrauterine inflammation or altered production of endometrial receptivity factors. Different diagnostic modalities such as two- or three-dimensional transvaginal ultrasound, saline infusion sonography or hysteroscopy are commonly used to evaluate endometrial polyps with good detection rates. The approach of clinicians towards polyps detected during infertility investigations is not clearly known, and it is quite likely that there is wide variation amongst different groups. Most clinicians suggest hysteroscopy and polyp removal if a polyp is suspected before stimulation for in vitro fertilisation or a frozen embryo transfer cycle. However, the clinical evidence and benefit of different management options during assisted reproduction technology cycles are conflicting. Currently, there is insufficient evidence to recommend one particular option over others when a polyp is suspected during stimulation for in vitro fertilisation. A properly designed randomized controlled trial is needed to determine the best treatment option. In this article, we present the available evidence and our practice related to different diagnostic modalities and management options. We also discuss the available literature relevant to the management of endometrial polyps in relation to natural conception, intrauterine insemination and in vitro fertilisation.
Access options
Buy single article
Instant access to the full article PDF.
USD 39.95
Price excludes VAT (USA)
Tax calculation will be finalised during checkout.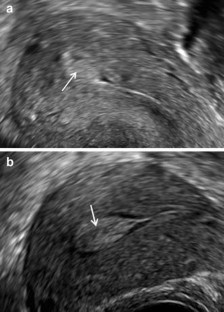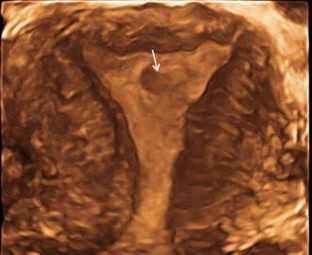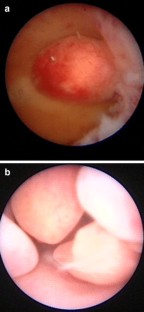 References
Clark TJ, Middleton L, Cooper N, et al. A randomised controlled trial of outpatient versus inpatient polyp treatment (OPT) for abnormal uterine bleeding. Health Technol Assess. 2015;19(61).

Bakour SH, Khan KS, Gupta JK. The risk of premalignant and malignant pathology in endometrial polyps. Acta Obstet Gynecol Scand. 2002;8:182–3.

Clevenger-Hoeft M, Syrop CH, Stovall DW, et al. Sonohysterography in premenopausal women with and without abnormal bleeding. Obstet Gynecol. 1999;94:516–20.

Elfayomy AK, Habib FA, Alkabalawy MA. Role of hysteroscopy in the detection of endometrial pathologies in women presenting with postmenopausal bleeding and thickened endometrium. Arch Gynecol Obstet. 2012;285:839–43.

Hinckley MD, Milki AA. 1000 office-based hysteroscopies prior to in vitro fertilization: feasibility and findings. JSLS. 2004;8:103–7.

Fatemi HM, Kasius JC, Timmermans A, et al. Prevalence of unsuspected uterine cavity abnormalities diagnosed by office hysteroscopy prior to in vitro fertilization. Hum Reprod. 2010;25:1959–65.

Makrakis E, Hassiakos D, Stathis D, et al. Hysteroscopy in women with implantation failures after in vitro fertilization: findings and effect on subsequent pregnancy rates. J Minim Invasive Gynecol. 2009;16:181–7.

Kim MR, Kim YA, Jo MY, et al. High frequency of endometrial polyps in endometriosis. J Am Assoc Gynecol Laparosc. 2003;10:46–8.

Yanaihara A, Yorimitsu T, Motoyama H, et al. Location of endometrial polyp and pregnancy rate in infertility patients. Fertil Steril. 2008;90(1):180–2.

Stamatellos I, Apostolides A, Stamatopoulos P, et al. Pregnancy rates after hysteroscopic polypectomy depending on the size or number of the polyps. Arch Gynaecol Obstet. 2008;277:395–9.

Rrichlin S, Ramachandran S, Shanti A, et al. Glycodelin levels in uterine flushings and in plasma of patients with leiomyomas and polyps: implications and implantation. Hum Reprod. 2002;17:2742–7.

Rackow BW, Jorgensen E, Taylor H. Endometrial polyps affect uterine receptivity. Fertil Steril. 2011;95:2690–2.

Lass A, Williams G, Abusheikha N, et al. The effect of endometrial polyps on outcomes of in vitro fertilization (IVF) cycles. J Assist Reprod Genet. 1999;16:410–5.

Momtaz M, Marzouk A, Ebrashy A. Three-dimensional ultrasonography in the evaluation of the uterine cavity. Middle East Fertil Soc J. 2007;12(1).

Seshadri S, El-Toukhy T, Douiri A, et al. Diagnostic accuracy of saline infusion sonography in the evaluation of uterine cavity abnormalities prior to assisted reproductive techniques: a systematic review and meta-analyses. Hum Reprod Update. 2015;21:262–74.

Leing M, Istre O, Sandvik L, et al. Prevalence 1-year regression rate, and clinical significance of asymptomatic endometrial polyps: cross-sectional study. J Minim Invasive Gynecol. 2009;16:465–71.

Timmermans A, Van Dongen H, Mol BW, et al. Hysteroscopy and removal of endometrial polyps: a Dutch survey. Eur J Obstet Gynecol Reprod Biol. 2008;138:76–9.

Van Dijk L, Breijer MC, Veersema S, et al. Current practice in the removal of benign endometrial polyps: a Dutch survey. Gynecol Surg. 2012;9:163–8.

Clark TJ, Khan KS, Gupta JK. Current practice for the treatment of benign intrauterine polyps: a national questionnaire survey of consultant gynaecologists in UK. Eur J Obstet Gynecol Reprod Biol. 2002;103:65–7.

Word B, Gravlee LC, Wideman GL. The fallacy of simple uterine curettage. Obstet Gynecol. 1958;12:642–8.

Prutthipan S, Herabutya Y. Hysteroscopic polypectomy in 240 premenopausal and postmenopausal women. Fertil Steril. 2005;83:705–9.

Gulumser C, Narvekar N, Pathak M, et al.. See-and-treat outpatient hysteroscopy: an analysis of 1109 examinations. Reprod. BioMed. Online 20(3), 423–429.

Saridogan E, Tilden D, Sykes D, et al. Cost-analysis comparison of outpatient see-and-treat hysteroscopy service with other hysteroscopy service models. J Minim Invasive Gynecol. 2010;17(4):518–25.

Varasteh NN, Neuwirth RS, Levin B, Keltz MD. Pregnancy rates after hysteroscopic polypectomy and myomectomy in infertile women. Obstet Gynecol. 1999;94:168–71.

Perez-Medina T, Bajo-Arenas J, Salazar F, et al. Endometrial polyps and their implication in the pregnancy rates of patients undergoing intrauterine insemination: a prospective, randomized study. Hum Reprod. 2005;20:1632–5.

Spiewankiewicz B, Stelmachow J, Sawicki W, et al. The effectiveness of hysteroscopic polypectomy in cases of female infertility. Clin Exp Obstet Gynecol. 2003;30:23–5.

Shokeir TA, Shalan HM, El-Shafei MM. Significance of endometrial polyps detected hysteroscopically in eumenorrheic infertile women. J Obstet Gynecol Res. 2004;30:84–9.

Shohayeb A, Shaltout A. Persistent endometrial polyps may affect the pregnancy rate in patients undergoing intrauterine insemination. Middle East Fertil Soc J. 2011;16:259–64.

Isikoglu M, Berkkanoglu M, Senturk Z, et al. Endometrial polyps smaller than 1.5 cm do not affect ICSI outcome. Reprod Biomed Online. 2006;12:199–204.

Batioglu S, Kaymak O. Does hysterocopic polypectomy without cycle cancellation affect IVF? Reprod Biomed Online. 2005;10:767–9.

Tiras B, Korucuoglu U, Polat M, et al. Management of endometrial polyps diagnosed before or during ICSI cycles. Reprod Biomed Online. 2012;24:123–8.
Ethics declarations
Conflict of interest
Ertan Saridogan and Ali Al Chami have no conflict of interest.
Statement of human and animal rights
This article does not contain any studies with human or animal subjects performed by any of the authors.
Informed consent
For this type of study, formal consent is not required.
Additional information
Dr. Ali Al Chami is a Clinical Research Fellow; Dr. Ertan Saridogan is a Consultant in Reproductive Medicine and Minimal Access Surgery.
About this article
Cite this article
Al Chami, A., Saridogan, E. Endometrial Polyps and Subfertility. J Obstet Gynecol India 67, 9–14 (2017). https://doi.org/10.1007/s13224-016-0929-4
Received:

Accepted:

Published:

Issue Date:

DOI: https://doi.org/10.1007/s13224-016-0929-4
Keywords
Endometrial polyps

Infertility

Ultrasound

Hysteroscopy

In vitro fertilisation