Abstract
Objectives
Background-Contraception is the intentional prevention of conception through the use of various devices, sexual practices, chemicals, drugs or surgical procedures. An effective contraception allows a physical relationship without fear of an unwanted pregnancy and ensures freedom to have children when desired. The aim is to achieve contraception in maximum comfort and privacy, with minimum cost and side effects. Some methods, like male and female condoms, also provide twin advantage of protection from sexually transmitted diseases. The burden of unsafe abortion lies primarily in developing countries. Here, contraceptive prevalence is measured among currently married women of reproductive age, and levels have not yet reached those that exist in developed countries.
Conclusion
In countries like India, there is a dire need for contraceptive methods to be more women friendly, accessible and provide adequate privacy. Providers also need to be sensitive to special needs of adolescents as they are at a critically vulnerable segment.
This is a preview of subscription content, log in to check access.
Access options
Buy single article
Instant access to the full article PDF.
US$ 39.95
Price includes VAT for USA
Subscribe to journal
Immediate online access to all issues from 2019. Subscription will auto renew annually.
US$ 99
This is the net price. Taxes to be calculated in checkout.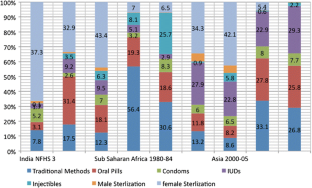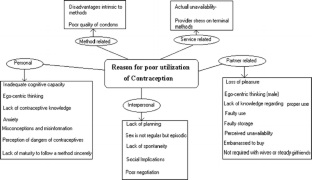 References
1.

The Alan Guttmacher Institute (AGI). Sharing responsibility: women, society and abortion worldwide. New York: AGI; 1999.

2.

Maternal mortality in 2005; Estimates Developed by WHO, UNICEF, UNFPA and The World Bank, WHO, Geneva 2007.

3.

Lule E, Singh S, Chowdhury SA. Fertility regulation behavior and their costs: contraception and unintended pregnancies in Africa and Eastern Europe and Central Asia. Washington: World Bank; 2007.

4.

Chhabra R, Nuna C. Abortion in India: an overview. New Delhi: Veerendra printers, Ford Foundation; 1994.

5.

Washington AE, Cates W, Wasserheit J. Preventing pelvic inflammatory disease. JAMA. 1991;266(4):2574–80.

6.

Blanc AK, Tsui AO, Croft TN, et al. Patterns and trends in adolescents' contraceptive use and discontinuation in developing countries and comparisons with adult women. Int Perspect Sex Reprod Health. 2009;35(2):63–71.

7.

Dehne KL, Riedner G. Sexually transmitted infections among adolescents: the need for adequate health services. Geneva: World Health Organization; 2005.

8.

Cowan FM, Mindel A. Sexually transmitted diseases in children: adolescents. Genitourin Med. 1993;69(2):141–7.

9.

Pilot P and Islam MQ. Sexually transmitted diseases in the 1990s: global epidemiology and challenges for control. Sex Transm Dis. 1994; 21(supp 2): S7–S13.

10.

Ramasubban R. Women's vulnerability: recent evidence on sexually transmitted infections. In: Ramasubban R, Jejeebhoy SJ, editors. Women's Reproductive Health in India. Jaipur: Rawat Publications; 2000. p. 280–330.

11.

IIPS & ORG Macro. National family health survey-2: India. 1998–99. Mumbai: International Institute for Population Sciences; 2000.

12.

Cheng CY, Mruk DD. New frontiers in nonhormonal male contraception. Contraception. 2010;82(5):476–82.

13.

Seiber EE, Bertrand JT, Sullivan TM. Changes in contraceptive method mix in developing countries. Int Fam Plan Perspect. 2007;33(3):117–23.

14.

Jayaraman A, Mishra V Arnold F. The relationship of family size and composition to fertility desires, contraceptive adoption and method choice in South Asia. Int Perspect Sex Reprod Health. 2009;35(1):29–38.

15.

Olson L, Rollins J. Psychological barriers to contraceptive use among adolescent women. In: Stuart I, Wells C, editors. Pregnancy in adolescence: needs, problems, and management. New York: Van Nostrand; 1982.

16.

Gandotra MM, Das NP. Factors influencing choice of a contraceptive and the reason for it's discontinuation. In: Khan ME, Cernada G, editors. Spacing as an alternative strategy: India's family welfare programme. New Delhi: B.R. Publishing Corporation; 1996. p. 94–114.

17.

Nichter M, Nichter M. Modern methods of fertility regulation: when and for whom are they appropriate? In: Nichter M, editor. Anthropology and international health: South Asian case studies. Dordrecht: Kluwer Academic Publishers; 1989. p. 57–82.

18.

Kapur P. A study of changes in the sexual behaviour of call girls and their clients in India. Paper presented at the workshop on Sexual Aspects of AIDS/STD Prevention in India. Mumbai : Tata Institute of Social Sciences; 1993.

19.

Nag M. Sexual behaviour and AIDS in India. New Delhi: Vikas Publishing House Pvt. Ltd; 1996.

20.

Joshi C. AIDS awareness: transmitting embarrassment. New Delhi: India Today; 1994. p. 114–5.

21.

Gopalakrishnan K. Promoting condoms. Seminar. 1992;396:34–6.

22.

Jejeebhoy SJ, Santhya KG, Verma RK, et al. Setting the stage. In: Jejeebhoy SJ, editor. Looking back looking forward: a profile of sexual and reproductive health in India. New Delhi: Population Council; 2004. p. 3–24.

23.

Govinda P, Dahal SS, Padmadas S, et al. Fertility-limiting behaviour and contraceptive choice among men in Nepal. Int Fam Plan Perspect. 2008;34(1):6–14.

24.

Fisher HE. Lust, attraction and attachment in mammalian reproduction. Hum Nat. 1988;9:23–52.

25.

Heise L, Ellsberg M, Gottemoeller M. Ending violence against women. Population reports series L, No. 11. Baltimore: Johns Hopkins University School of Public Health, Population Information Program; 1999.

26.

Elias CJ and Heise L. The development of microbicides: A new method of HIV prevention for women. Population council (programme division) Working Paper No. 6. New York: Population Council; 1993.

27.

Barge S, Ramchander L. Provider and clients interactions in primary health care: a case study from Madhya Pradesh. In: Koening MA, Khan ME, editors. Improving quality of care in India's family welfare programme: the challenge ahead. New York: Population Council; 1999. p. 92–116.

28.

Khan ME, Patel BC, Chandrasekhar R. Study of MTP acceptors and their subsequent contraceptive use. J Fam Welf. 1993;36(3):70–85.

29.

Khan ME, Gupta RB, Bella CP. The quality of coverage of family planning services in Uttar Pradesh: Client perspectives. In: Michael AK, Khan ME, editors. Improving quality of care in India's family welfare programme: The challenge ahead. New York: The Population Council; 1999. p. 49–69.
About this article
Cite this article
Jain, R., Muralidhar, S. Contraceptive Methods: Needs, Options and Utilization. J Obstet Gynecol India 61, 626–634 (2011). https://doi.org/10.1007/s13224-011-0107-7
Received:

Accepted:

Published:

Issue Date:
Keywords
Contraception

Condoms

Vasectomy

Tubectomy

STDs