Zusammenfassung
Durch die Ereignisse in den vergangenen Jahren ist die Integration von Datenschutzmechanismen in Informationssysteme wieder ein zentrales Forschungsproblem geworden. Insbesondere in smarten, dem Menschen assistierenden Umgebungen werden in vielen Fällen mehr Informationen generiert und verarbeitet als die Analysefunktionen des Assistenzsystems benötigen. Der in diesem Artikel beschriebene Forschungsansatz stellt ein Framework für Anwendungsentwickler und Nutzer zur Durchsetzung von Datenschutzbestimmungen in ubiquitären Umgebungen vor, welches insbesondere den Aspekt der Datensparsamkeit in einer heterogenen Systemumgebung realisieren soll.
Eine Verwendung des Frameworks kann sowohl in Peer-to-Peer-Umgebungen als auch in festgelegten Client-Server-Hierarchien erfolgen. Durch die Aufteilung der Anfrageverarbeitung in eine Vorverarbeitungsphase, in der die ursprüngliche Anfrage umgeschrieben wird, und in eine nachgelagerte Anonymisierungsphase wird ein hohes Datenschutzniveau als auch ein geringer Informationsverlust erreicht. PArADISE wird als Prototyp für Softwareentwickler im Bereich der Modellbildung für Intentions- und Situationserkennung in Assistenzsystemen entwickelt. Eine Verwendung des Frameworks in weiteren Anwendungsbereichen ist jedoch ebenso möglich.
This is a preview of subscription content, log in to check access.
Access options
Buy single article
Instant access to the full article PDF.
US$ 39.95
Price includes VAT for USA
Subscribe to journal
Immediate online access to all issues from 2019. Subscription will auto renew annually.
US$ 99
This is the net price. Taxes to be calculated in checkout.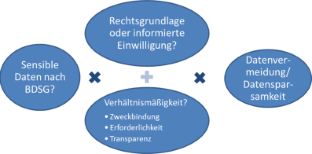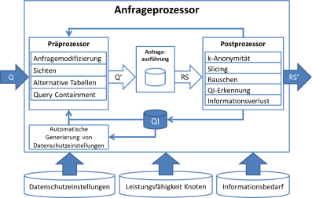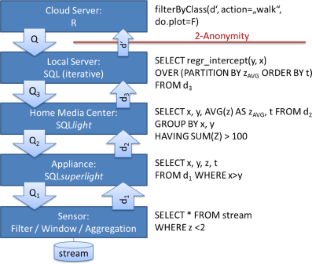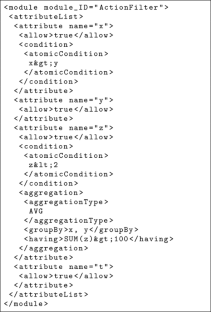 Notes
1.

Dies bezieht sowohl die Speicherung, Veränderung, Übermittlung, Sperrung als auch Löschung ein.

2.

Multimodal Smart Appliance Ensembles for Mobile Applications

3.

Management, Evolution, Transformation und Integration von Schemata

4.

Privacy AwaRe Assistive Distributed Information System Environment

5.

a HYpergraph of Documents in a Relational Archive

6.

abhängig von der konkreten Anwendung

7.

8.

Die SQL-Anteile werden dabei von einem Parser für R‑Code ermittelt, welcher in der prototypischen Umsetzung bereits enthalten ist. Für die Unterstützung weiterer Programmiersprachen müssen weitere Parser per Plugin integriert werden.
Literatur
1.

ADAC (2014) Spion im Cabrio: Z4 sagt gegen Fahrer aus. ADAC-Motorwelt 72(7):30

2.

Bader S, Dyrba M (2011) Goalaviour-based control of heterogeneous and distributed smart environments. In: 7th International Conference on Intelligent Environments, 2011, IEEE, pp 142–148

3.

Bruder I, Heuer A, Karopka T, Schuldt J, Kosche K (2015) Experiences in Developing and Testing an Ambient Assisted Living Course for Further Education. In: HIS Conference Proceedings, Springer, Lecture Notes in Computer Science, vol 9085, pp 154–164

4.

Bundesrepublik Deutschland (2010) Bundesdatenschutzgesetz in der Fassung der Bekanntmachung vom 14. Januar 2003 (BGBl. I S 66), das zuletzt durch Artikel 1 des Gesetzes vom 14. August 2009 (BGBl. I S 2814) geändert worden ist

5.

Chirkova R (2009) Query containment. In: Encyclopedia of Database Systems. Springer, US, S 2249–2253

6.

Dingledine R, Mathewson N, Syverson PF (2004) Tor: The second-generation onion router. In: Blaze M (Hrsg) Proceedings of the 13th USENIX Security Symposium, August 9–13, 2004, San Diego, CA, USA, USENIX, S 303–320

7.

Dwork C (2011) Differential privacy. In: Encyclopedia of Cryptography and Security. Springer, US, S 338–340

8.

Giersich M, Heider T, Kirste T (2007) AI Methods for Smart Environments – A Case Study on Team Assistance in Smart Meeting Rooms. In: Ferscha A, Aitenbichler E (eds) Constructing Ambient Intelligence – AmI 2007 Workshops Darmstadt, Germany, November 7‑10, 2007 Revised Papers, Springer, Communications in Computer and Information Science, vol 11, pp 4–13

9.

Grunert H (2014) Distributed Denial of Privacy. In: INFORMATIK 2014: Big Data Komplexität meistern. GI, LNI, vol 232, S 2299–2304

10.

Grunert H (2016) Privacy Policy for Smart Environments. http://www.ls-dbis.de/pp4se. Zugegriffen: 1. Febr. 2016

11.

Grunert H, Heuer A (2014) Big Data und der Fluch der Dimensionalität: Die effiziente Suche nach Quasi-Identifikatoren in hochdimensionalen Daten. In: Klan F, Specht G, Gamper H (eds) Proceedings of the 26th GI-Workshop Grundlagen von Datenbanken, Bozen-Bolzano, Italy, October 21–24, 2014, CEUR-WS.org, CEUR Workshop Proceedings, vol 1313, pp 29–34

12.

Grunert H, Heuer A (2015) Slicing in Assistenzsystemen – Wie trotz Anonymisierung von Daten wertvolle Analyseergebnisse gewonnen werden können. In: Saake G, Broneske D, Dorok S, Meister A (eds) Proceedings of the 27th GI-Workshop Grundlagen von Datenbanken, Gommern, Germany, May 26–29, 2015, CEUR-WS.org, CEUR Workshop Proceedings, vol 1366, pp 24–29

13.

Heuer A (2015) METIS in PArADISE: Provenance Management bei der Auswertung von Sensordatenmengen für die Entwicklung von Assistenzsystemen. In: BTW 2015 – Workshopband, GI, LNI, vol 242, pp 131–136

14.

Heuer A, Lubinski H (1998) Data Reduction – an Adaptation Technique for Mobile Environments. In: Interactive Applications of Mobile Computing (IMC'98), pp 1–2

15.

Konieczek B, Rethfeldt M, Golatowski F, Timmermann D (2015) Real-Time Communication for the Internet of Things using jCoAP. In: IEEE 18th International Symposium on Real-Time Distributed Computing (ISORC), 2015, IEEE, pp 134–141

16.

Köppen V, Saake G, Sattler K (2014) Data Warehouse Technologien, 2. Aufl. MITP, Bonn

17.

Krüger F, Nyolt M, Yordanova K, Hein A, Kirste T (2014) Computational State Space Models for Activity and Intention Recognition. A Feasibility Study. PLoS ONE 9(11):e109381

18.

Kullback S, Leibler RA (1951) On information and sufficiency. Annals of Mathematical Statistics 79–86

19.

Li N, Li T, Venkatasubramanian S (2007) t‑closeness: Privacy beyond k‑anonymity and l‑diversity. In: IEEE 23rd International Conference on Data Engineering, IEEE, pp 106–115

20.

Li T, Li N, Zhang J, Molloy I (2012) Slicing: A new approach for privacy preserving data publishing. IEEE Transactions on Knowledge and Data Engineering 24(3):561–574

21.

Marten D, Heuer A (2015) Transparente Datenbankunterstützung für Analysen auf Big Data. In: Saake G, Broneske D, Dorok S, Meister A (eds) Proceedings of the 27th GI-Workshop Grundlagen von Datenbanken, Gommern, Germany, May 26–29, 2015, CEUR-WS.org, CEUR Workshop Proceedings, vol 1366, pp 36–41

22.

Marzahl C, Penndorf P, Staemmler M, Bruder I (2012) Unobtrusive fall detection using 3D images of a gaming console: Concept and first results. In: Tagungsband des deutschen AAL-Kongresses, Ambient Assisted Living, vol 5, pp 135–146

23.

Meier ME (2015) Implementierung eines Data-Mining-Verfahrens für adaptive Datenquellen. Bachelorarbeit, U Rostock

24.

Nyolt M, Yordanova K, Kirste T (2015) Checking Models for Activity Recognition. In: Loiseau S, Filipe J, Duval B, Herik HJ van den (Hrsg) ICAART 2015 – Proceedings of the International Conference on Agents and Artificial Intelligence. SciTePress, Portugal, S 497–502

25.

Samarati P (2001) Protecting respondents identities in microdata release. IEEE Trans. Knowledge and Data Engineering 13(6):1010–1027
Danksagung
Wir danken den studentischen Projektgruppen und Hilfskräften für ihre Unterstützung bei der Implementierung einzelner Komponenten des PArADISE-Frameworks: Felix Köppl, Stefan Lüdtke, Steffen Sachse, Jan Svacina, Dennis Weu, Pia Wilsdorf (Regressions- und Korrelationsanalysen auf SQL-Plattformen); Tobias Fitschen, Mark Lukas Möller, Lars Nonnemann (Verteilte Datenanalyse); Johannes Goltz, Christian Langmacher, Irene Martin Rodriguez, Gunnar Raßmann (JDBC-Grundgerüst); Martin Müller (Domain Generalization Hierarchy in SQL), Marc-Eric Meier, Georgi Straube (Generierung von Datenschutzrichtlinien).
Additional information
Die Arbeit wurde teilweise durch die Deutsche Forschungsgemeinschaft (DFG), Graduiertenkolleg 1424 (MuSAMA), gefördert.
About this article
Cite this article
Grunert, H., Heuer, A. Datenschutz im PArADISE. Datenbank Spektrum 16, 107–117 (2016). https://doi.org/10.1007/s13222-016-0216-7
Received:

Accepted:

Published:

Issue Date:
Schlüsselwörter
Datenschutz

Datensparsamkeit

Assistenzsysteme

Anfrageverarbeitung