Abstract
Are landmarks exaggerated in human wayfinding? Daniel R. Montello says yes, and I basically agree with his opinion. However, I do agree on a different level. My aim for this discussion article is to point out why landmarks are indeed exaggerated in this research context and I will try to approach this claim from several perspectives. First, the research focus in this field is, unfortunately, mainly on visual landmarks. Second, other modalities than vision—e.g., auditory and/or olfactory senses—can be used for landmark-based wayfinding. Third, we need to clearly differentiate between conscious/effortful and unconscious/automatic processing of spatial information in the context of landmark-based wayfinding. Finally, I will suggest that landmarks, even if exaggerated in the visual domain, are (still) of significant importance in human wayfinding and spatial cognition.
Access options
Buy single article
Instant access to the full article PDF.
USD 39.95
Price includes VAT (USA)
Tax calculation will be finalised during checkout.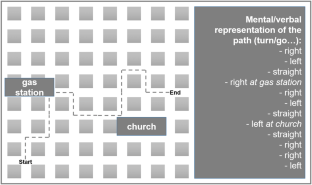 References
1.

Montello DR (2017) Landmarks are exaggerated. KI Künstliche Intelligenz 31(2):193–197. https://doi.org/10.1007/s13218-016-0473-5

2.

Richter K-F, Winter S (2014) Landmarks—GIScience for intelligent services. Springer, Heidelberg/New York. https://doi.org/10.1007/978-3-319-05732-3

3.

Lynch K (1960) The image of the city. MIT Press, Cambridge

4.

Röser F, Hamburger K, Krumnack A, Knauff M (2012) The structural salience of landmarks: results from an on-line study and a virtual environment experiment. J Spatial Sci 57(1):37–50. https://doi.org/10.1080/14498596.2012.686362

5.

Quesnot T, Roche S (2015) Measure of landmark semantic salience through geosocial data streams. ISPRS Int J Geo Inf 4:1–31. https://doi.org/10.3390/ijgi4010001

6.

Nuhn E, Timpf S (2017) A multidimensional model for selecting personalised landmarks. J Loc Based Serv 11(3–4):153–180. https://doi.org/10.1080/17489725.2017.1401129

7.

Klippel A, Winter S (2005) Structural salience of landmarks for route discrimination. In: Cohn AG, Mark D (eds) Spatial information theory. International Conference COSIT. Springer, Berlin, pp 347–362

8.

Kattenbeck M (2017) How subdimensions of salience influence each other. Comparing models based on empirical data. Leibniz Int Proc Inf LIPIcs 86(10):1–10. https://doi.org/10.4230/LIPIcs.COSIT.2017.10

9.

Röser F (2015) The cognitive observer-based landmark-preference model—what ist he ideal landmark position at an intersection? Dissertation Justus Liebig University Giessen. urn:nbn:de-opus-116408

10.

Hamburger K, Röser F (2011) The meaning of Gestalt for human wayfinding—how much does it cost to switch modalities? Gestalt Theory 33(3/4):363–382

11.

Hamburger K, Röser F (2014) The role of landmark modality and familiarity in human wayfinding. Swiss J Psychol 73(4):205–213. https://doi.org/10.1024/1421-0185/a000139

12.

Karimpur H, Hamburger K (2016) Multimodal integration of spatial information: the influence of object-related factors and self-reported strategies. Front Psychol 7:1443. https://doi.org/10.3389/fpsyg.2016.01443

13.

Caduff D, Timpf S (2008) On the assessment of landmark salience for human navigation. Cogn Process 9:249–267. https://doi.org/10.1007/s10339-007-0199-2

14.

Hamburger K, Karimpur H (2017) A psychological approach to olfactory information as cues in our environment. J Biourban 6(1&2):59–73

15.

Hamburger K, Knauff M (2019) Odors can serve as landmarks in human wayfinding. Cognit Sci 43:e12798. https://doi.org/10.1111/cogs.12798

16.

Varga AL, Hamburger K (2014) Beyond type 1 vs type 2 processing: the tri-dimensional way. Front Psychol 5:993. https://doi.org/10.3389/fpsyg.2014.00993

17.

Hamburger K, Trillmich CM, Baier F, Wolf C, Röser F (2014) How global visual landmarks influence the recognition of a city. Cogn Process 15(Suppl):S42–S44

18.

Balaban CZ, Karimpur H, Röser F, Hamburger K (2017) Turn left where you felt unhappy: how affect influences landmark-based wayfinding. Cogn Process 18(2):135–144. https://doi.org/10.1007/s10339-017-0790-0

19.

Piccardi L, Guariglia P, Nori R, Palmiero M (2020) The role of emotional landmarks in embodied and not-embodied tasks. Brain Sci 10(2):E58. https://doi.org/10.3390/brainsci10020058

20.

Gillett AJ, Heersmink R (2019) How navigation systems transform epistemic virtues: knowledge, issues and solutions. Cognit Syst Res 56:36–49. https://doi.org/10.1016/j.cogsys.2019.03.004

21.

Pazzaglia F, Moè A (2013) Cognitive styles and mental rotation ability in map learning. Cogn Process 14:391–399. https://doi.org/10.1007/s10339-013-0572-2

22.

Denis M (1997) The description of routes: a cognitive approach to the production of spatial discourse. Curr Psychol Cognit 16:409–458

23.

Denis M (2018) Space and spatial cognition. Routeledge, New York

24.

Michon P-E, Denis M (2001) When and why are visual landmarks used in giving directions? In: Montello DR (ed) COSIT 2001, LNCS 2205. Springer, Heidelberg, pp 292–305

25.

Spitzer M (2014) Digitale Demenz—Wie wir uns und unsere Kinder um den Verstand bringen. Droemer Verlag, München
Acknowledgements
I thank the reviewers for their critical comments on the manuscript.
About this article
Cite this article
Hamburger, K. Visual Landmarks are Exaggerated: A Theoretical and Empirical View on the Meaning of Landmarks in Human Wayfinding. Künstl Intell 34, 557–562 (2020). https://doi.org/10.1007/s13218-020-00668-5
Received:

Accepted:

Published:

Issue Date:
Keywords
Landmarks

Wayfinding

Spatial cognition

Modality

Visual

Auditory

Olfactory

Multimodal integration

System 1 and system 2 thinking