Abstract
Shakey the robot was a milestone of autonomous robots and artificial intelligence. Its design principles have dominated research until now. Tacit philosophical and architectural assumptions have impoverished the space of research topics and methods. I point out ways to overcome this impasse with sideglances to other scientific fields.
This is a preview of subscription content, log in to check access.
Access options
Buy single article
Instant access to the full article PDF.
US$ 39.95
Price includes VAT for USA
Subscribe to journal
Immediate online access to all issues from 2019. Subscription will auto renew annually.
US$ 99
This is the net price. Taxes to be calculated in checkout.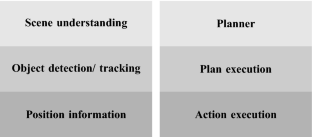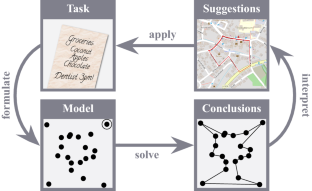 Notes
1.

It is also questionable whether such optimization of known technology is beneficial for industries. Brooks (https://rodneybrooks.com/the-end-of-moores-law/) criticizes the circuit industry for not thinking about new concepts of computer architectures.
References
1.

Brooks R (1991) Intelligence without representation. Artif Intell 47:139–159

2.

Engelmore R, Morgan T (eds) (1988) Blackboard systems. Addison-Wesley Publishing Company, Boston

3.

Gharajedaghi J (2011) Systems thinking: managing chaos and complexity, 3rd edn. Morgan Kaufmann Publishers Inc., San Francisco

4.

Gigerenzer G, Brighton H (2009) Homo heuristicus: why biased minds make better inferences. Top Cogn Sci 1:107–143. https://doi.org/10.1111/j.1756-8765.2008.01006.x

5.

Gigerenzer G, Todd PM (1999) The ABC Research Group (eds) Simple heuristics that make us smart. Oxford University Press

6.

Haber A, Sammut C (2013) A cognitive architecture for autonomous robots. Adv Cogn Syst 2:257–275

7.

Hayes-Roth B (1985) A blackboard architecture for control. Artif Intell 26(3):251–321. https://doi.org/10.1016/0004-3702(85)90063-3

8.

Hayes-Roth B, Hayes-Roth F (1979) A cognitive model of planning. Cogn Sci 3(4):275–310

9.

Katsikopoulos K (2019) Kirsch's, and everyone's, bind: how to build models for the wild? Cogn Process 20(2):269–272. https://doi.org/10.1007/s10339-019-00914-1

10.

Kelley D, Kelley T (2013) Creative confidence. Harpercollins, New York

11.

Kirsch A (2017) Lessons from human problem solving for cognitive systems research. Adv Cogn Syst 5:13–24. http://www.cogsys.org/papers/ACSvol5/paper-5-4.pdf

12.

Kirsch A (2017) A modular approach of decision-making in the context of robot navigation in domestic environments. In: Benzmüller C, Lisetti C, Theobald M (eds) 3rd global conference on artificial intelligence (GCAI), vol 50. EasyChair, Miami, FL, pp 134–147

13.

Klein G (2002) The fiction of optimization. In: Gigerenzer G, Selten R (eds) Bounded rationality: the adaptive toolbox. MIT Press, Cambridge, pp 103–122

14.

Klein G (2017) Sources of power: how people make decisions. MIT Press, Cambridge

15.

Kotseruba I, Tsotsos JK (2016) A review of 40 years of cognitive architecture research: core cognitive abilities and practical applications. arXiv:1610.08602

16.

Lakoff G (1987) Women, fire, and dangerous things: what categories reveal about the mind. The University of Chicago Press, Chicago

17.

Lakoff G, Johnson M (1980) METAPHORS we live by. The University of Chicago Press, Chicago

18.

Langley P (2017) Progress and challenges in research on cognitive architectures. In: Proceedings of the thirty-first AAAI conference on artificial intelligence (AAAI-17)

19.

Lesser VR, Erman LD (1977) A retrospective view of the hearsay-II architecture. In: IJCAI'77: Proceedings of the 5th international joint conference on artificial intelligence

20.

Maes P (1990) Situated agents can have goals. Robot Auton Syst 6:49–70

21.

Matarić M (1998) Behavior-based robotics as a tool for synthesis of artificial behavior and analysis of natural behavior. Trends Cogn Sci 2(3):82–87

22.

Müller A, Wünsche HJ (2012) Object-related-navigation for mobile robots. In: Proceedings of IEEE intelligent vehicles symposium. IEEE, Madrid

23.

Nilsson NJ (1984) Shakey the robot. Tech. Rep. 323, AI Center, SRI International. http://www.ai.sri.com/shakey/

24.

Scheutz M, Harris J, Schermerhorn P (2013) Systematic integration of cognitive and robotic architectures. Adv Cogn Syst 2:277–296

25.

Simon HA (1972) Theories of bounded rationality. In: McGuire C, Radner R (eds) Decision and organization. North-Holland Publishing Company, Amsterdam

26.

Veloso M, Carbonell J, Pérez A, Borrajo D, Fink E, Blythe J (1995) Integrating planning and learning: the prodigy architecture. J Exp Theor Artif Intell 7(1):81–120

27.

Yves Pigneur AO, Bernada G, Smith A (2014) Value proposition design. Wiley, New York
Ethics declarations
Conflict of interest
The author declares that she has no conflict of interest.
About this article
Cite this article
Kirsch, A. Shakey Ever After? Questioning Tacit Assumptions in Robotics and Artificial Intelligence. Künstl Intell 33, 423–428 (2019). https://doi.org/10.1007/s13218-019-00626-w
Received:

Accepted:

Published:

Issue Date:
Keywords
Shakey

Architectures

Design

Objectivism