Access options
Buy single article
Instant access to the full article PDF.
US$ 39.95
Tax calculation will be finalised during checkout.
Subscribe to journal
Immediate online access to all issues from 2019. Subscription will auto renew annually.
US$ 62.78
Tax calculation will be finalised during checkout.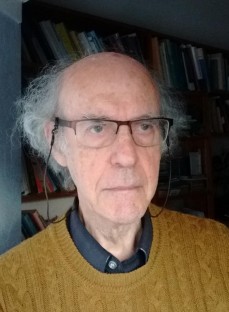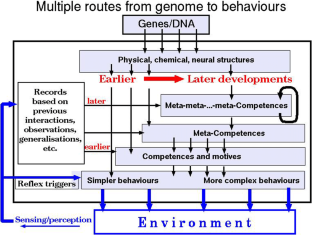 Notes
1.

2.

3.

4.

5.

http://www.cs.bham.ac.uk/research/projects/cogaff/sloman-clowestribute.html.

6.

7.

8.

9.

10.

11.

12.

Many years ago I wrote to him suggesting that what he called "Cartesian Linguistics" should be called Kantian linguistics ... but to no avail.

13.

Please note: these ideas are still under development—corrections and suggestions welcome.

14.

Giving the above sentence to google-translate and asking it to translate into a few other languages and back to English, produces evidence of incomprehension that seems to vary between target languages. The Winograd Schema challenge is closely related to this point: https://en.wikipedia.org/wiki/Winograd_Schema_Challenge.

15.

Which included the Alan Turing Centenary Conference, Manchester UK, June 22–25, 2012.

16.

17.

18.

19.

20.

Try giving the sentence "I like meat with gravy whereas I prefer fish with sauce" to a translation program, and then translate the result back to English.

21.
References
1.

Ball P (2015) Forging patterns and making waves from biology to geology: a commentary on Turing (1952) 'The chemical basis of morphogenesis. R Soc Philos Trans B Interview. https://www.youtube.com/watch?v=6ed54_95kP4

2.

Beck SR, Robinson EJ, Carroll DJ, Apperly IA (2006) Children's thinking about counterfactuals and future hypotheticals as possibilities. Child Dev 77(2):413–426

3.

Chappell J, Sloman A (2007) Natural and artificial meta-configured altricial information-processing systems. Int J Unconvent Comput 3(3):211–239

4.

Chou S, Gao X, Zhang J (1994) Machine proofs in geometry: automated production of readable proofs for geometry theorems. World Scientific, Singapore

5.

Clowes MB (1971) On seeing things. Artif Intell 2(1):79–116

6.

Clowes MB (1973) Man the creative machine: a perspective from artificial intelligence research. In: Benthall J (ed) The limits of human nature. Allen Lane, London

7.

Cooper SB, van Leeuwen J (eds) (2013) Alan turing—his work and impact. Elsevier, Amsterdam

8.

Gibson JJ (1979) The ecological approach to visual perception. Houghton Mifflin, Boston

9.

Grant SGN (2018) Synapse molecular complexity and the plasticity behaviour problem. Brain Neurosci Adv 2:1–7

10.

Hempel CG (1945) Geometry and Empirical Science. In: Feigl H, Sellars W (eds) American mathematical monthly, p 52, Repr in Readings in Philosophical Analysis, New York: Appleton-Century-Crofts, 1949

11.

Kaneff S (ed) (1970) Picture language machines. Academic Press, New York

12.

Kant I (1781) Critique of pure reason. Macmillan, London (Translated (1929) by Norman Kemp Smith)

13.

Karmiloff-Smith A (1990) Constraints on representational change: evidence from children's drawing. Cognition 34:57–83

14.

Karmiloff-Smith A (1992) Beyond modularity: a developmental perspective on cognitive science. MIT Press, Cambridge

15.

Lakatos I (1976) Proofs and refutations. Cambridge University Press, Cambridge

16.

McCarthy J, Hayes PJ (1969) Some philosophical problems from the standpoint of artificial intelligence. In: Meltzer B, Michie D (eds) Machine intelligence 4. Edinburgh University Press, Edinburgh, pp 463–502 (reprinted in McC90)

17.

Minsky ML (1963) Steps toward artificial intelligence. In: Feigenbaum EA, Feldman J (eds) Computers and thought. McGraw-Hill, New York, pp 406–450

18.

Newport T (2015) Brains and computers: amino acids versus transistors. Kindle, Washington, DC

19.

Nicholas JM (ed) (1977) Images, perception, and Knowledge. Reidel, Dordrecht-Holland

20.

Popper KR (1972) Objective knowledge. Oxford University Press, Oxford

21.

Schrödinger E (1944) What is life? The physical aspect of the living cell. Cambridge University Press, Cambridge

22.

Sloman A (1962) Knowing and Understanding: Relations between meaning and truth, meaning and necessary truth, meaning and synthetic necessary truth (DPhil Thesis). PhD thesis, Oxford University

23.

Sloman A (1965) 'Necessary', 'A Priori' and 'Analytic'. Analysis 26(1):12–16

24.

Sloman A (1971) Interactions between philosophy and artificial intelligence: the role of intuition and non-logical reasoning in intelligence. Artif Intell 2(3):209–225

25.

Sloman A, Owen D, Hinton G, O'Gorman F (1978) Representation and Control in Vision. In: Sleeman D (eds) Proc. AISB/GI Conference, pp 309–315, Hamburg, Germany

26.

Thompson D'Arcy W (1917) On growth and form. Cambridge University Press, Cambridge (Revised Edition 1948)

27.

Trettenbrein PC (2016) The demise of the synapse as the locus of memory: a looming paradigm shift? Front Syst Neurosci 10:88

28.

Turing AM (1952) The chemical basis of morphogenesis. Philos Trans R Soc Lond B Biol Sci 237(641):37–72

29.

Ugur E (2010) A developmental framework for learning affordances. PhD thesis, the graduate school of natural and applied sciences, Middle East Technical University, Ankara, Turkey

30.

von Neumann J (2012) The computer and the brain (silliman memorial lectures). Yale University Press, New Haven (3rd Edition, with Foreword by Ray Kurzweill. Originally published 1958.)
About this article
Cite this article
Kunze, L., Sloman, A. A Philosophically Motivated View on AI and Robotics. Künstl Intell 33, 429–445 (2019). https://doi.org/10.1007/s13218-019-00621-1