Abstract
In times of Big Data and Industry 4.0, organizational information as well as knowledge availability and quantity are driving complex decision-making tasks. Especially for AI systems, increasing knowledge-bases for elaborate computations lead to a lower efficiency of their inference mechanisms. In contrast to AI, bounded cognitive capacity is a well-known problem in psychology. When humans receive too much information, a state of information overload emerges. In order to cope with limited capacity and prevent information overload, humans adapt their knowledge and delete, override, suppress, or sort out outdated information, i.e., they forget. By transferring theories from human cognition to multiagent systems, the AdaptPRO project adopts intentional forgetting as a strategy for coping with information overload in both human and multiagent teams. This article gives an overview of an interdisciplinary research project with a strong focus on knowledge distributions and knowledge dynamics from a distributed AI perspective. Its core contribution is a formal model for distributing and adapting (meta-) knowledge by intentional forgetting to enable efficient and resilient teamwork.
This is a preview of subscription content,
to check access.
Access this article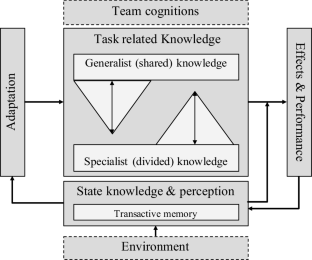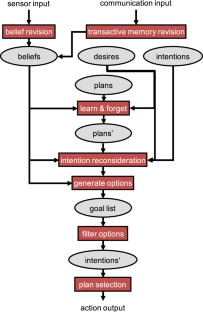 References
Berndt JO (2018) Self-organizing multiagent negotiations: cooperation and competition of concurrently acting agents with limited knowledge. IOS Press, Amsterdam

Bjork EL, Anderson MC (1998) Varieties of goal-directed forgetting. In: Golding JM, MacLeod C (eds) Intentional forgetting: interdisciplinary approaches. Lawrence Erlbaum, Mahwah, pp 103–137

Dignum M, Dignum F, Furtado V, Melo A, Sonenberg L (2005) Towards a simulation tool for evaluating dynamic reorganization of agents societies. In: Workshop on socially inspired computing

Dignum V, Dignum F (2012) A logic of agent organizations. Logic J IGPL 20(1):283–316

Ellwart T, Antoni CH (2017) Shared and distributed team cognition and information overload. evidence and approaches for team adaptation. In: Information and communication overload in the digital age. IGI Global

Ellwart T, Konradt U, Rack O (2014) Team mental models of expertise location: validation of a field survey measure. Small Group Res 45(2):119–153

Eppler MJ, Mengis J (2004) The concept of information overload: a review of literature from organization science, accounting, marketing, mis, and related disciplines. Inf Soc 20:325–344

Ferber J, Gutknecht O, Michel F (2003) From agents to organizations: an organizational view of multi-agent systems. In: International workshop on agent-oriented software engineering. Springer, pp 214–230

Galbraith JR (1974) Organization design: an information processing view. Interfaces 4(3):28–36

Gath M, Herzog O, Vaske M (2016) Concurrent and distributed shortest path searches in multiagent-based transport systems. In: Nguyen N (ed) Transactions on computational collective intelligence XX. Springer, Berlin, pp 140–157

Hollingshead AB, Gupta N, Yoon K, Brandon DP (2012) Transactive memory theory and teams: past, present and future. In: Salas E, Fiore SM, Letsky MP (eds) Theories of team cognition: cross-disciplinary perspectives. Routledge, New York, pp 421–455

Isik Ö, Van den Bergh J, Mertens W (2012) Knowledge intensive business processes: an exploratory study, pp 3817–3826

Kirn S (2006) Flexibility of multiagent systems. In: Kirn S (ed) Multiagent engineering. Theory and applications in enterprises, vol I.3. Springer, Berlin, pp 53–70

Kozlowski SWJ, Ilgen DR (2006) Enhancing the effectiveness of work groups and teams. Psychol Sci Public Interest 7(3):77–124

Lorig F, Lebherz DS, Berndt JO, Timm IJ (2017) Hypothesis-driven experiment design in computer simulation studies. In: 2017 winter simulation conference (WSC), pp 1360–1371. https://doi.org/10.1109/WSC.2017.8247880

Müller HJ (1997) Towards agent systems engineering. Data Knowl Eng 23:3

Nguyen K, Schumann R (2018) A novel agent software architecture inspired by psychology. In: 14th annual social simulation conference

Odell JJ, Parunak HVD, Fleischer M (2002) The role of roles in designing effective agent organizations. In: International workshop on software engineering for large-scale multi-agent systems. Springer, pp 27–38

Oertel R, Antoni CH (2015) Phase-specific relationships between team learning processes and transactive memory development. Eur J Work Organ Psychol 24(5):726–741

Padgham L, Lambrix P (2005) Formalisations of capabilities for BDI-agents. Auton Agents Multi-Agent Syst 10(3):249–271

Reuter L, Berndt JO, Timm I (2018) Simulating psychological experiments: an agent-based modeling approach. In: Folds D, Berndt J (eds) Fourth international conference on human and social analytics (HUSO 2018). IARIA, Wilmington, pp 5–10

Reuter L, Berndt JO, Timm IJ (2017) Towards simulation-based role optimization in organizations. In: KI 2017: advances in artificial intelligence—40th annual German conference on AI, Dortmund, Germany, September 25–29, 2017, Proceedings, pp 359–365

Salas E, Fiore SM, Letsky MP (2012) Theories of team cognition—cross-disciplinary perspectives. Taylor & Francis Group, New York

Sandholm T, Lesser VR (1997) Coalitions among computationally bounded agents. Artif Intell 94(1):99–137 (Special Issue on Principles of Multiagent Systems)

Schillo M, Fischer K, Fley B, Florian M, Hillebrandt F, Spresny D (2004) FORM—a sociologically founded framework for designing self-organization of multiagent systems. In: Lindemann G, Moldt D, Paolucci M (eds) Regulated agent-based social systems. First international workshop, RASTA 2002, lecture notes in computer science, vol 2934. Springer, Berlin, pp 156–175

Schillo M, Spresny D (2005) Organization: the central concept for qualitative and quantitative scalability. In: Fischer K, Florian M, Malsch T (eds) Socionics. Scalability of complex social systems, lecture notes in artificial intelligence (LNAI), vol 3413. Springer, Berlin, pp 84–103

Stuckenschmidt H, Timm IJ (2002) Adapting communication vocabularies using shared ontologies. In: Crane-field S (ed) Workshop on ontologies in agent systems, AAMAS, pp 6–12. Bologna

Timm IJ, Berndt JO, Reuter L, Ellwart T, Antoni C, Ulfert AS (2017) Towards multiagent-based simulation of knowledge management in teams. In: Leyer M, Richter A, Vodanovich S (eds) Flexible knowledge practices and the Digital Workplace (FKPDW). KIT, Karlsruhe, pp 25–40

Timm IJ, Knirsch P, Kreowski HJ, Timm-Giel A (2007) Autonomy in software systems. Springer, Berlin, pp 255–273

Timm IJ, Lorig F (2015) A survey on methodological aspects of computer simulation as research technique. In: Proceedings of the 2015 winter simulation conference, WSC '15. IEEE Press, Piscataway, pp 2704–2715

Timm IJ, Scholz T, Herzog O (2006) Emerging capabilities in intelligent agents for flexible production control. Adv Eng Inform J 20(3):247–259 (Special Issue on Emergent Synthesis)

Tushman ML, Nadler DA (1978) Information processing as an integrating concept in organizational design. Acad Manag Rev 3(3):613–624

Wooldridge M (2000) Reasoning about rational agents. Bradford books. MIT Press, London

Wooldridge M (2009) An introduction to multiagent systems, 2nd edn. Wiley, Oxford

Wooldridge M, Lomuscio A (2000) Multi-agent VSK logic. In: European workshop on logics in artificial intelligence. Springer, pp 300–312
Acknowledgements
The project AdaptPRO: Adaptive Process and Role Design in Organizations (TI 548/-1) is funded by the German Research Foundation (DFG) within the Priority Program "Intentional Forgetting in Organizations" (SPP 1921).
About this article
Cite this article
Reuter, L., Berndt, J.O., Ulfert, AS. et al. Intentional Forgetting in Distributed Artificial Intelligence. Künstl Intell 33, 69–77 (2019). https://doi.org/10.1007/s13218-018-0566-4
Published:

Issue Date:

DOI: https://doi.org/10.1007/s13218-018-0566-4
Keywords