Abstract
This article portrays the area of smart environments from a research perspective, defining the field and discriminating it against related fields. We position the field of smart environments within the disciplines of artificial intelligence and human-computer interaction and discuss its genuine research questions. As an application area, smart environments presents prospects on improving our everyday lives, but systems penetrating our environments also trigger crucial questions related to sociology, ethics, and privacy on an unprecedented level.
This is a preview of subscription content, log in to check access.
Access options
Buy single article
Instant access to the full article PDF.
US$ 39.95
Price includes VAT for USA
Subscribe to journal
Immediate online access to all issues from 2019. Subscription will auto renew annually.
US$ 99
This is the net price. Taxes to be calculated in checkout.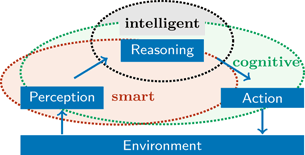 References
1.

Aarts E (2009) New research perspectives on ambient intelligence. J Ambient Intell Smart Environ 1:5–14

2.

Acampora Giovanni, Cook Diane J, Rashidi Parisa, Vasilakos Athanasios V (2013) A survey on ambient intelligence in health care. Proc IEEE 101:2470–2494

3.

Ariely Dan (2008) Predictably irrational: the hidden forces that shape our decisions. Harper, New York

4.

Benini Luca, Farella Elisabetta, Guiducci Carlotta (2006) Sensor networks for ambient intelligence. Microelectr J 37(12):1639–1649

5.

Bohn J, Coroamă V, Langheinrich M, Mattern F, Rohs M (2005) Social, economic, and ethical implications of ambient intelligence and ubiquitous computing. Ambient Intell. Springer, pp 5–29

6.

Boudette NE (2017) Tesla's self-driving system cleared in deadly crash. The New York Times, 19 Jan 2017

7.

Brey Philip (2006) Freedom and privacy in ambient intelligence. Ethics Inf Technol 7(3):157–166

8.

Browne D, Totterdell P, Norman M (eds) (1990) Adaptive user interfaces. Academic Press Ltd, London

9.

Compton M, Henson CA, Neuhaus H, Lefort L, Sheth AP (2009) A survey of the semantic specification of sensors. In: Proceedings of the 2nd international workshop on semantic sensor networks (SSN09), collocated with the 8th international semantic web conference (ISWC-2009), Washington DC, pp 17–32

10.

Cook Diane J, Augusto Juan C, Jakkula Vikramaditya R (2009) Ambient intelligence: technologies, applications, and opportunities. Pervasive Mob Comput 5:277–298

11.

Cook DJ, Das SK (2007) How smart are our environments? An updated look at the state of the art. Pervasive Mob Comput 3:53–73

12.

Coradeschi S, Saffiotti A (2006) Symbiotic robotic systems: humans, robots, and smart environments. IEEE Intell Syst 21:82–84

13.

Dee HM, Hogg DC (2009) Navigational strategies in behaviour modelling. Artif Intell 173:329–342

14.

Forbus KD (1984) Qualitative process theory. Artif Intell 24(1–3):85–168

15.

García-Herranz Manuel, Haya Pablo, Alamán Xavier (2010) Towards a ubiquitous end-user programming system for smart spaces. J Univers Comput Sci 16:1633–1649

16.

Gigerenzer Gerd, Gaissmaier Wolfgang (2011) Heuristic decision making. Annu Rev Psychol 62:451–482

17.

Jaschinski C, Allouch SB (2015) An extended view on benefits and barriers of ambient assisted living solutions. Int J Adv Life Sci 7

18.

Kahneman Daniel (2011) Thinking. Fast and Slow. Farrar, Straus and Giroux, New York City (NY), USA

19.

Lucke D, Constantinescu C, Westkämper E (2008) Smart factory—a step towards the next generation of manufacturing. In: Mitsuishi M, Ueda K, Kimura F (eds) Manufacturing systems and technologies for the new frontier. Proceedings of the 41st CIRP conference on manufacturing systems, Tokyo, 26–28 May 2008. Springer

20.

Matfield K. Bridging the gap between actual and reported behavior. http://www.uxbooth.com/articles/bridging-the-gap-between-actual-and-reported-behavior/. Accessed May 2015

21.

Moore GE (1965) Cramming more components onto integrated circuits. Electronics 38:114–117

22.

Nisbett RE, Wilson TD (1977) Telling more than we can know: verbal reports on mental processes. Psychol Rev 84(3)

23.

Don Norman. The Design of Future Things. Basic Books, 2007

24.

Pauwels E, Salah AA, Tavenard R (2007) Sensor networks for ambient intelligence. In: Proceedings of IEEE workshop on multimedia signal processing, Chania

25.

Russell Stuart, Norvig Peter (2009) Artificial intelligence: a modern approach, 3rd edn. Prentice Hall Press, Upper Saddle River

26.

Sadri F (2011) Ambient intelligence: a survey. ACM Comput Surveys 43:36

27.

Shapiro D, Augusto JC, Ramos C (2008) Ambient intelligence—the next step for artificial intelligence. IEEE Intell Syst 23(2):15–18 (guest editors' introduction)

28.

Tversky Amos, Shafir Eldar (1992) The disjunction effect in choice under uncertainty. Psychol Sci 3(5):305–310

29.

Winograd Terry (2006) Shifting viewpoints: artificial intelligence and human–computer interaction. Artif Intell 170(18):1256–1258

30.

Youngblood GM, Heierman EO, Holder LB, Cook DJ (2005) Automation intelligence for the smart environment. In: Proceedings of the international joint conference on artificial intelligence
Acknowledgements
Diedrich Wolter acknowledges financial support by Technologieallianz Oberfranken (TAO).
About this article
Cite this article
Wolter, D., Kirsch, A. Smart Environments: What is it and Why Should We Care?. Künstl Intell 31, 231–237 (2017). https://doi.org/10.1007/s13218-017-0498-4
Received:

Accepted:

Published:

Issue Date:
Keywords
Smart Environments

Smart Systems

Household Devices

Ambient Assisted Living (AAL)

Logical Inference Machine