Abstract
Bluetooth beacons are a recent technology that promises a simple, low-cost indoor localisation method with mobile devices. One application for such a localisation are museums or other exhibitions to provide visitors with information about nearby exhibits. We tested the localisation capabilities of beacons and explored different localisation techniques. Then we used the localisation in a tour guide app and examined how localisation contributes to the usability of the app.
This is a preview of subscription content, log in to check access.
Access options
Buy single article
Instant access to the full article PDF.
US$ 39.95
Price includes VAT for USA
Subscribe to journal
Immediate online access to all issues from 2019. Subscription will auto renew annually.
US$ 99
This is the net price. Taxes to be calculated in checkout.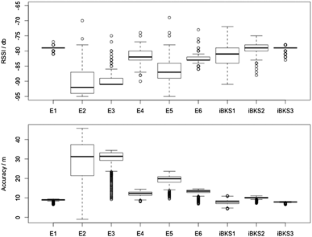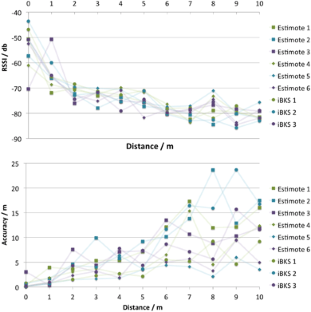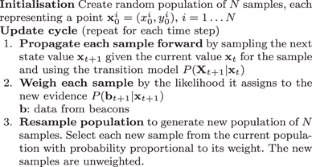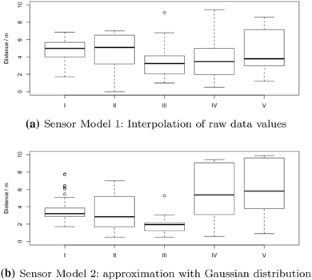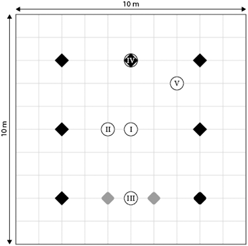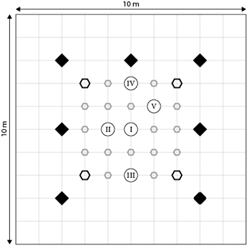 Notes
1.

2.

3.

4.

Estimote Development Kit with Proximity Beacons, hardware version: D3.4, firmware version: A3.2.0, http://estimote.com.

5.

6.
References
1.

Understanding beacon distancing. http://stackoverflow.com/questions/20416218/understanding-ibeacon-distancing. Accessed 14 Oct 2016

2.

Ahmetovic D, Gleason C, Ruan C, Kitani K, Takagi H, Asakawa C (2016) Navcog: a navigational cognitive assistant for the blind. In: Proceedings of the 18th international conference on human–computer interaction with mobile devices and services. MobileHCI '16, pp 90–99, New York, NY, USA, ACM

3.

Aoki PM, Woodruff A (2000) Improving electronic guidebook interfaces using a task-oriented design approach. In: Proceedings of the 3rd conference on designing interactive systems: processes, practices, methods, and techniques, DIS '00. NY, USA, ACM, New York, pp 319–325

4.

Brooke J (1996) SUS: a "quick and dirty" usability scale. Taylor and Francis, London

5.

Dahlgren E, Mahmood H (2014) Evaluation of indoor positioning based on bluetooth smart technology, June 2014

6.

Doucet A, Godsill S, Andrieu C (2000) On sequential monte carlo sampling methods for bayesian filtering. Stat Comput 10(3):197–208

7.

Golestanian M, Poellabauer C (2016) Indoor localization using multi-range beaconing: poster. In: Proceedings of the 17th ACM international symposium on mobile ad hoc networking and computing, MobiHoc '16. NY, USA, ACM, New York, pp 397–398

8.

Hocking C (2014) The beacon experiments: low-energy bluetooth devices in action. https://shinesolutions.com/2014/02/17/the-beacon-experiments-low-energy-bluetooth-devices-in-action/. Accessed 14 Oct 2016

9.

Kramer R, Modsching M, ten Hagen K (2006) Field study on methods for elicitation of preferences using a mobile digital assistant for a dynamic tour guide. In: Proceedings of the 2006 ACM symposium on applied computing, SAC '06. NY, USA, ACM, New York, pp 997–1001

10.

Krevl A, Ciglarič M (2006) A framework for developing distributed location based applications. In: Proceedings of the 20th international conference on parallel and distributed processing, IPDPS'06, pp 263–263, Washington, DC, USA, 2006. IEEE Computer Society

11.

Lazik P, Rajagopal N, Shih O, Sinopoli B, Rowe A (2015) Alps: a bluetooth and ultrasound platform for mapping and localization. In: Proceedings of the 13th ACM conference on embedded networked sensor systems, SenSys '15. NY, USA, ACM, New York, pp 73–84

12.

Lohmann K (2013) System usability scale (SUS)—an improved german translation of the questionnaire—minds. http://minds.coremedia.com/2013/09/18/sus-scale-an-improved-german-translation-questionnaire/ September 2013

13.

Müller C (2014) Praxisbasiertes Technologiedesign für die alternde Gesellschaft: Zwischen gesellschaftlichen Leitbildern und ihrer Operationalisierung im Design. Schriften zu Kooperations- und Mediensystemen, Bd. 35. Josef Eul Verlag GmbH, 2014

14.

Richards D (2012) Agent-based museum and tour guides: Applying the state of the art. In: Proceedings of The 8th Australasian conference on interactive entertainment: playing the system, IE '12, pp 15:1–15:9, New York, NY, USA, ACM

15.

Corbacho Salas A (2014) Indoor positioning system based on bluetooth low energy, June 2014. Master's thesis

16.

Shiomi M, Kanda T, Ishiguro H, Hagita N (2010) A larger audience, please!: Encouraging people to listen to a guide robot. In: Proceedings of the 5th ACM/IEEE international conference on human-robot interaction, HRI '10. Piscataway, NJ, USA, IEEE Press, pp 31–38

17.

Tullis T, Albert B (2008) Measuring the user experience. Morgan Kaufmann Publishers, Burlington

18.

van der Bie J, Visser B, Matsari J, Singh M, van Hasselt T, Koopman J, Kröse B (2016) Guiding the visually impaired through the environment with beacons. In: Proceedings of the 2016 ACM international joint conference on pervasive and ubiquitous computing: adjunct, UbiComp '16. NY, USA, ACM, New York, pp 385–388
About this article
Cite this article
Kaulich, T., Heine, T. & Kirsch, A. Indoor Localisation with Beacons for a User-Friendly Mobile Tour Guide. Künstl Intell 31, 239–248 (2017). https://doi.org/10.1007/s13218-017-0496-6
Received:

Accepted:

Published:

Issue Date:
Keywords
Tour Guides

Indoor Localization

Bluetooth Beacons

Received Signal Strength Indicator (RSSI)

RSSI Values