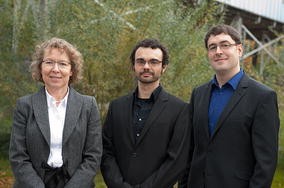 at present, we observe a rapid growth in the development of increasingly complex "intelligent" systems that serve users throughout all areas of their daily lives. They range from classical technical systems such as household appliances, cars, or consumer electronics through mobile apps and services to advanced service robots in various fields of application. While many of the rather conventional systems already provide multiple modalities to interact with, the most advanced are even equipped with cognitive abilities such as perception, cognition, and reasoning. However, the use of such complex technical systems and in particular the actual exploitation of their rich functionality remain challenging and quite often lead to users' cognitive overload and frustration.
Companion Technologies bridge the gap between the extensive functionality of technical systems and human users' individual requirements and needs. They enable the construction of really smart—adaptive, flexible, and cooperative—technical systems by applying and fusing techniques from different areas of research.
In our special issue we present interesting pieces of work—quite a number of new technical contributions, ongoing and completed research projects, several dissertation abstracts, as well as an interview—that are related to, or even fundamental for, Companion-Technology. In the community part of this issue, there is also a conference report on the first International Symposium on Companion-Technology [59].
1

Content

This issue starts with an introduction to Companion-Technology [48]; it reviews relevant research areas; possible fields of application of the technology; and related research projects including those that have a particular view on the notion of a technical Companion. The technical contributions span a wide range of areas: Worch et al. [73] introduce a robotic perception framework for perceiving and understanding everyday human tasks in a household environment. Schwarze et al. [68] introduce a system that assists visually impaired people to avoid obstacles in their close vicinity via sonification. The article by Gugenheimer et al. [58] shows how Companion-Technology can enhance a multi-screen TV system by placing projected screens anywhere in a user's home. Mehlmann et al. [62] present a modeling approach that enables the realization of natural interaction in artificial social companions. The multimodal interaction between a human and a machine is empirically studied by Rösner et al. [65]. Demberg et al. [54] discuss challenges in natural language generation and show how this field can benefit from AI planning techniques.

Further articles present three excellent research programs, which are all funded by the German Research Foundation: The Transregional Collaborative Research Centre (CRC) "Companion-Technology for Cognitive Technical Systems" [50]; the CRC "Information Density and Linguistic Encoding (IDeaL)" [52]; and the CRC "Spatial Cognition" [64], which recently completed its 12 years research program.

Several dissertation abstracts from different fields of research show a variety of contributions to Companion-Technology. These include safety issues of intelligent and autonomous systems in open environments [55], multimodal behavior analytics [67], multimodal emotion recognition [69], and hierarchical planning [45, 66].

The issue ends with an interview with David E. Smith, a senior researcher in the Intelligent Systems Division at NASA Ames Research Center [47].
1.1

Survey
Companion-Technology: An Overview

Susanne Biundo, Daniel Höller, Bernd Schattenberg, and Pascal Bercher
1.2

Technical Contributions
Perception for Everyday Human Robot Interaction

Jan-Hendrik Worch, Ferenc Bálint-Benczédi, and Michael Beetz

A Camera-based Mobility Aid for Visually Impaired People

Tobias Schwarze, Martin Lauer, Manuel Schwaab, Michailas Romanovas, Sandra Böhm, and Thomas Jürgensohn

How Companion-Technology can Enhance a Multi-Screen Television Experience: A test bed for adaptive multimodal interaction in domestic environments

Jan Gugenheimer, Frank Honold, Dennis Wolf, Felix Schüssel, Julian Seifert, Michael Weber, and Enrico Rukzio

Modeling Grounding for Interactive Social Companions

Gregor Mehlmann, Kathrin Janowski, and Elisabeth André

Desiderata for the design of companion systems: Insights from a large scale Wizard of Oz experiment

Dietmar Rösner, Matthias Haase, Thomas Bauer, Stephan Günther, Julia Krüger, and Jörg Frommer

Search Challenges in Natural Language Generation with Complex Optimization Objectives

Vera Demberg, Jörg Hoffmann, David M. Howcroft, Dietrich Klakow, and Álvaro Torralba
1.3

Research Projects
Companion-Technology for Cognitive Technical Systems

Susanne Biundo and Andreas Wendemuth

Information Density and Linguistic Encoding (IDeaL)

Matthew W. Crocker, Vera Demberg, and Elke Teich

Cognitive Space and Spatial Cognition: The SFB/TR 8 Spatial Cognition

Marco Ragni, Thomas Barkowsky, Bernhard Nebel, and Christian Freksa
1.4

Doctoral Dissertations
Safety of Autonomous Cognitive-oriented Robots

Philipp Ertle

Multimodal Behavior Analytics for Interactive Technologies

Stefan Scherer

Emotional and User-Specific Acoustic Cues for Improved Analysis of Naturalistic Interactions

Ingo Siegert

Hybrid Planning and Scheduling

Bernd Schattenberg

Search Complexities for HTN Planning

Ron Alford
1.5

Interview
Interview with David E. Smith

Pascal Bercher and Daniel Höller
2

Service

Although Companion-Technology is an intrinsically interdisciplinary field, we restrict our review on publication media to those of AI and related areas.
2.1

Conferences, Symposia, and Workshops

Companion-Technology, Cognitive Technical Systems

Robotic Companions, Social Robots, Robot/Human-Interaction

Human/Computer-Interaction
2.2

Journals

Companion-Technology, Cognitive Technical Systems

Robotic Companions, Social Robots, Robot/Human-Interaction

Human/Computer-Interaction
2.3

Books
Notes
See the conference report in this special issue [59].

This workshop was previously named International Workshop on Emotion Representations and Modelling for HCI Systems (ERM4HCI) and International Workshop on Techniques Towards Companion Technologies (T2CT).
References
Alford R (2016) Search complexities for HTN planning. Künstliche Intelligenz. doi:10.1007/s13218-015-0396-6

Beetz M, Kirsch A (eds) (2010) Special issue on cognition for technical systems. Künstliche Intelligenz 24(4): 279–365

Bercher P, Höller D (2016) Interview with David E. Smith. Künstliche Intelligenz. doi:10.1007/s13218-015-0403-y

Biundo S, Höller D, Schattenberg B, Bercher P (2016) Companion-technology: an overview. Künstliche Intelligenz. doi:10.1007/s13218-015-0419-3

Biundo S, Wendemuth A (eds) (2016) Companion technology—a paradigm shift in human-technology interaction. Springer, Berlin (forthcoming)

Biundo S, Wendemuth A (2016) Companion-technology for cognitive technical systems. Künstliche Intelligenz. doi:10.1007/s13218-015-0414-8

Canny JF, Agah A (eds) (2001) Autonomous robots—special issue on personal robotics, vol. 10, issue 2. Kluwer Academic Publishers, Boston

Crocker MW, Demberg V, Teich E (2016) Information density and linguistic encoding (IDeaL). Künstliche Intelligenz. doi:10.1007/s13218-015-0391-y

Dautenhahn K, Bond AH, Canamero L, Edmonds B (eds) (2002) Socially intelligent agents: creating relationships with computers and robots, vol. 3. Springer Science+Business Media. doi:10.1007/b116424

Demberg V, Hoffmann J, Howcroft DM, Klakow D, Torralba Á (2016) Search challenges in natural language generation with complex optimization objectives. Künstliche Intelligenz. doi:10.1007/s13218-015-0409-5

Ertle P (2016) Safety of autonomous cognitive-oriented robots. Künstliche Intelligenz. doi:10.1007/s13218-015-0408-6

Esposito A, Esposito AM, Martone R, Müller VC, Scarpetta G (eds) (2011) Toward autonomous, adaptive, and context-aware multimodal interfaces (COST 2102 International Training School—revised selected papers). Springer. doi:10.1007/978-3-642-18184-9

Esposito A, Esposito AM, Vinciarelli A, Hoffmann R, Müller VC (eds) (2012) Cognitive behavioural systems (COST 2102 International Training School—revised selected papers). Springer. doi:10.1007/978-3-642-34584-5

Gugenheimer J, Honold F, Wolf D, Schüssel F, Seifert J, Weber M, Rukzio E (2016) How companion-technology can enhance a multi-screen television experience: a test bed for adaptive multimodal interaction in domestic environments. Künstliche Intelligenz. doi:10.1007/s13218-015-0395-7

Hoefinghoff J (2016) ISCT 2015—1st international symposium on companion technology. Künstliche Intelligenz. Conference report in this special issue

Jacko JA (ed) (2012) Human–computer interaction handbook: fundamentals, evolving technologies, and emerging applications. CRC Press, Taylor and Francis Group, Boca Raton

Laschi C, Breazeal C, Nakauchi Y (eds) (2007) Special issue on human–robot interaction. IEEE Trans Robot 23(5):837–1104

Mehlmann G, Janowski K, André E (2016) Modeling grounding for interactive social companions. Künstliche Intelligenz. doi:10.1007/s13218-015-0397-5

Picard RW (1997) Affective computing, vol 252. MIT press, Cambridge

Ragni M, Barkowsky T, Nebel B, Freksa C (2016) Cognitive space and spatial cognition: the SFB/TR 8 spatial cognition. Künstliche Intelligenz. doi:10.1007/s13218-015-0404-x

Rösner D, Haase M, Bauer T, Günther S, Krüger J, Frommer J (2016) Desiderata for the design of companion systems: insights from a large scale wizard of oz experiment. Künstliche Intelligenz. doi:10.1007/s13218-015-0410-z

Schattenberg B (2016) Hybrid planning and scheduling. Künstliche Intelligenz. doi:10.1007/s13218-015-0390-z

Scherer S (2016) Multimodal behavior analytics for interactive technologies. Künstliche Intelligenz. doi:10.1007/s13218-015-0401-0

Schwarze T, Lauer M, Schwaab M, Romanovas M, Böhm S, Jürgensohn T (2016) A camera-based mobility aid for visually impaired people. Künstliche Intelligenz. doi:10.1007/s13218-015-0407-7

Siegert I (2016) Emotional and user-specific acoustic cues for improved analysis of naturalistic interactions. Künstliche Intelligenz. doi:10.1007/s13218-015-0394-8

Lee JD, Kirlik A (2013) The Oxford Handbook of Cognitive Engineering (Oxford Library of Psychology). Oxford University Press

Wilks Y (2010) Close engagements with artificial companions: key social, psychological, ethical and design issues. In: Natural language processing, vol 8. John Benjamins Publishing

Woods DD, Hollnagel E (2006) Joint cognitive systems: patterns in cognitive systems engineering. CRC Press Inc, Boca Raton

Worch JH, Bálint-Benczédi F, Beetz M (2016) Perception for everyday human robot interaction. Künstliche Intelligenz. doi:10.1007/s13218-015-0400-1
About this article
Cite this article
Biundo, S., Höller, D. & Bercher, P. Special Issue on Companion Technologies . Künstl Intell 30, 5–9 (2016). https://doi.org/10.1007/s13218-015-0421-9
Published:

Issue Date:

DOI: https://doi.org/10.1007/s13218-015-0421-9