Abstract
Augmented reality (AR) is at a point where it is mature enough to be used in publicly available consumer applications. Nevertheless, the real commercial breakthrough of AR is still lacking. One reason for this is a deficit in consumer research regarding users' perception, acceptance and attitude towards this technology. This paper remedies this lack by means of a novel social media monitoring method. Thereby, the population of 48,560 consumer comments published up until July 2013 on English speaking online community websites treating the topic AR, were extracted from the web and analyzed. The results indicate that consumers evaluate the technology positively and highly appreciate its idea and concept. Still, some obstacles need to be overcome before AR succeeds in becoming adopted by the mainstream user. Above all, there is a lack of consumer awareness, particularly regarding specific applications or products, in addition to technical, developmental and ethical problems. Nevertheless, AR technologies are on the rise and will become more important in the end user sphere, especially in the gaming sector and for information and knowledge transfer.
Access options
Buy single article
Instant access to the full article PDF.
US$ 39.95
Tax calculation will be finalised during checkout.
Subscribe to journal
Immediate online access to all issues from 2019. Subscription will auto renew annually.
US$ 62.78
Tax calculation will be finalised during checkout.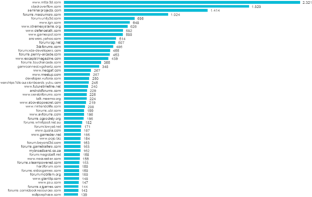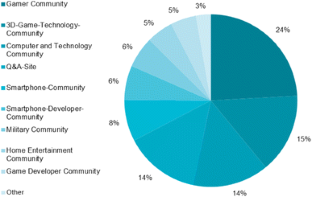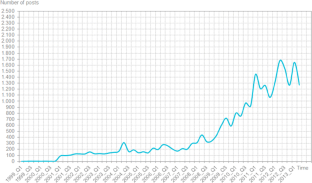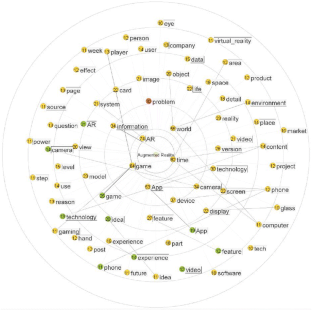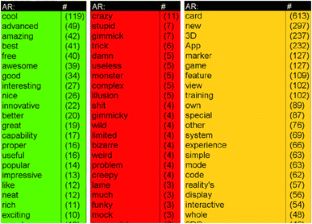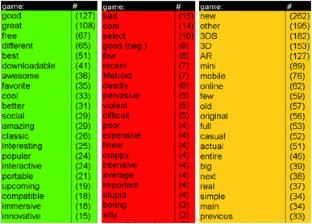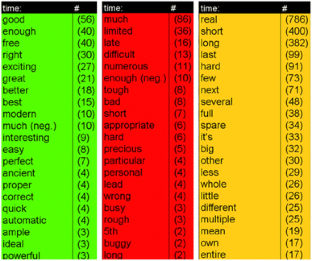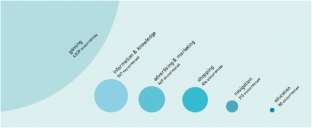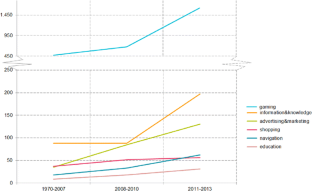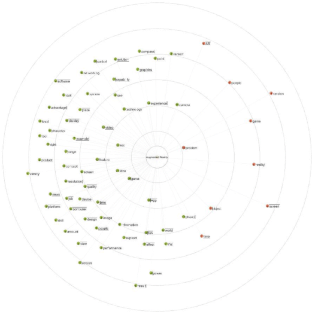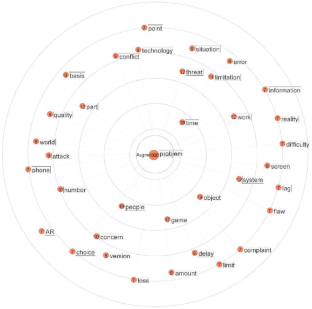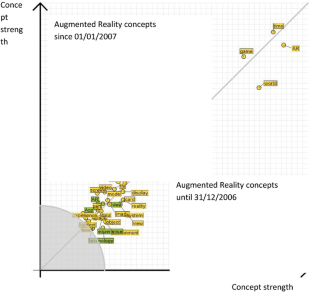 References
1.

Adjei MT, Noble SM, Noble CH (2009) The influence of C2C communications in online brand communities on customer purchase behavior. J Acad Mark Sci 38(5):634–653

2.

Ahlemeyer-Stubbe A (2013) Social media monitoring. In: Ceyp M, Scupin J-P (eds) Erfolgreiches Social Media Marketing. Springer Fachmedien, Wiesbaden, pp 189–196

3.

Aittala M (2010) Inverse lighting and photorealistic rendering for Augmented Reality. Vis Comput 26(6–8):669–678

4.

Ansoff HI (1975) Managing strategic surprise by response to weak signals. Calif Manag Rev 18(2):21–33

5.

Ansoff HI (1976) Managing surprise and discontinuity: strategic response to weak signals. Zeitschrift für Betriebswirtschaftliche Forschung 28:129–152

6.

Ansoff HI (1980) Strategic issue management. Strateg Manag J 1(2):131–148

7.

Azuma R (1993) Tracking requirements for Augmented Reality. Commun ACM 36(7):50–51

8.

Azuma R (1997) A survey of augmented reality. Presence Teleoperators Virtual Environ 6(4):355–385

9.

Azuma R, Baillot Y, Behringer R, Feiner S, Julier S, MacIntyre B (2001) Recent advances in augmented reality. IEEE Comput Graphics Appl 21(6):34–47

10.

Bartl M, Füller J, Mühlbacher H, Ernst H (2012) A manager's perspective on virtual customer integration for new product development. J Prod Innov Manag 29(6):1031–1046

11.

Berger J, Iyenga R (2013) Communication channels and word of mouth: how the medium shapes the message. J Consum Res 40(3):567–579

12.

Brauckmann P (2010) Web-monitoring. UVK Verlagsgesellschaft, Konstanz

13.

Carmigniani J, Furht B (2011) Augmented reality: an overview. In: Furht B (ed) Handbook of augmented reality. Springer, Berlin, pp 3–46

14.

Chan SWK, Franklin J (2011) A text-based decision support system for financial sequence prediction. Decis Support Syst 52(1):189–198

15.

Chen H, Chiang RHL, Storey VC (2012) Business intelligence and analytics: from big data to big impact. MIS Q 36(4):1165–1188

16.

Chen Y, Xie J (2008) Online consumer review: word-of-mouth as a new element of marketing communication mix. Manag Sci 54(3):477–491

17.

Chesbrough H (2003) The era of open innovation. MIT Sloan Manag Rev 44(3):35–41

18.

Croll A, Power S (2009) Complete web monitoring, 1st edn. O'Reilly Media, Sebastopool

19.

Decker R, Trusov M (2010) Estimating aggregate consumer preferences from online product reviews. Int J Res Mark 27(4):293–307

20.

Dunleavy M, Dede C, Mitchell R (2009) Affordances and limitations of immersive participatory augmented reality simulations for teaching and learning. J Sci Educ Technol 18(1):7–22

21.

Dünser A, Grasset R, Billinghurst M (2008) A survey of evaluation techniques used in augmented reality studies. In: Proceedings of International Conference on Computer Graphics and Interactive Techniques, 5

22.

Egger M, Lang A (2013) A brief tutorial on how to extract information from user-generated content (UGC). Künstliche Intelligenz 27(1):53–60

23.

Egger M, Lütters H (2013) Listening is the new asking: social media-analyse in der Marktforschung. Transf Werbeforsch Praxis 59(4):35–41

24.

Feiner S (2002) Augmented reality: a new way of seeing. Sci Am 286(4):49–55

25.

Fenn J (2010) Hype cycle for emerging technologies. Gart Res Retrieved 7(24):2012

26.

Francisco P (2008) Information arbitrage: gaining competitive advantage through data analytics. Inf Manag Dec 22:2008

27.

Füller J, Bartl M, Ernst H, Mühlbacher H (2006) Community based innovation: how to integrate members of virtual communities into new product development. Electron Commer Res J 6(1):57–73

28.

Gabbard JL, Swan E (2008) Usability engineering for Augmented Reality: employing user-based studies to inform design. IEEE Trans Visual Comput Graphics 14(3):513–524

29.

Gandy M, Catrambone R, MacIntyre B, Alvarez C, Eiriksdottir E, Hilimire M, Davidson B, McLaughlin AC (2010) Experience with an AR evaluation test bed: presence, performance, and physiological measurement. In: Proceedings of mixed and augmented reality (ISMAR), pp 127–136

30.

Gensler S, Völckner F, Egger M, Fischbach K, Schoder D (2010) Listen to your customers! Using consumer-generated content to elicit brand image. In: Proceeding of the 39th EMAC Conference

31.

Goh K-Y, Heng C-S, Lin Z (2013) Social media brand community and consumer behavior: quantifying the relative impact of user- und marketer-generated content. Inf Syst Res 24(1):88–107

32.

Golparvar-Fard M, Pena-Mora F, Savarese S (2009) D4AR: a 4-dimensional Augmented Reality model for automating construction progress monitoring data collection, processing and communication. J Int Technol Constr 14(2009):129–153

33.

Hecht B, Gergle D (2010) The tower of Babel meets web 2.0: user-generated content and its applications in a multilingual context. In: CHI'10 Proceedings of the SIGCHI Conference on Humand Factors in Computing Systems, pp 291–300

34.

Höllerer T, Feiner S (2004) Mobile Augmented Reality. In: Karimi H, Hammad A (eds) Telegeoinformatics: location-based computing and services. Tayler & Francis Books Ltd, London, pp 1–39

35.

Höllerer T, Feiner S, Terauchi T, Rashid G, Hallaway D (1999) Exploring MARS: developing indoor and outdoor user interfaces to a mobile augmented reality system. Comput Graphics 23(6):779–785

36.

Jebara T, Eyster C, Weaver J, Starner T, Pentland A (1997) Stochasticks: augmenting the billiards experience with probabilistic vision and wearable computers. In: ISWC'97: Proceedings of the International Symposium on Wearable Computers, pp 138–145

37.

Jeppesen LB, Laursen K (2009) The role of lead users in knowledge sharing. Res Policy 38(10):1582–1589

38.

Kane GC, Alavi M, Labianca G, Borgatti SP (2014) What's different about social media networks? A framework and research agenda. MIS Q 38(1):275–304

39.

Keller J, von der Gracht HA (2014) The influence of information and communication technology (ICT) on future foresight processes: results from a Delphi survey. Technol Forecast Soc Chang 85(2014):81–92

40.

Kozinets RV (2002) The field behind the screen: using netnography for marketing research in online communities. J Mark Res 39(1):61–72

41.

Kruijff E, Swan E, Feiner S (2010) Perceptual issues in augmented reality revisited. In: Proceedings of Mixed and Augmented Reality (ISMAR), pp 3–12

42.

Landwehr K (2007) Strategische technologiefrühaufklärung: grundlagen, systematik und methoden. VDM Verlag Dr. Müller, Saarbrücken

43.

Lee C, Cho Y, Seol H, Park Y (2012) A stochastic patent citation analysis approach to assessing future technological impacts. Technol Forecast Soc Chang 79(1):16–29

44.

Li N, Wu DD (2010) Using text mining and sentiment analysis for online forums hotspot detection and forecast. Decis Support Syst 48(2):354–368

45.

Liu B, Zhang L (2012) A survey of opinion mining and sentiment analysis. In: Aggarwal CC, Zhai CX (eds) Mining text data. Springer, US, pp 415–463

46.

Manning CD, Raghavan P, Schütze H (2008) Introduction to information retrieval. Cambridge University Press, Cambridge

47.

Milgram P, Kishino F (1994) A taxonomy of mixed reality visual displays. In: IEICE Transactions of Informations Systems, pp 1321–1329

48.

Nee AYC, Ong SK, Chryssolouris G, Mourtzis D (2012) Augmented reality applications in design and manufacturing. CIRP Ann: Manuf Technol 61(2):657–679

49.

Olson DL, Delen D, Meng Y (2012) Comparative analysis of data mining methods for bankruptcy prediction. Decis Support Syst 52(2):464–473

50.

Olsson T, Kärkkäinen T, Lagerstam E, Ventä-Olkkonen V (2012) User evaluation of mobile Augmented Reality scenarios. J Ambient Intell Smart Environ 4(1):29–47

51.

Pang B, Lee L (2008) Opinion mining and sentiment analysis. Found Trends Inf Retr 2(1–2):1–135

52.

Peppet SR (2012) Freedon of contract in augmented reality: the case of consumer contracts. UCLA Law Rev 59(2012):676–730

53.

Piekarski W, Thomas B (2002) ARQuake: the outdoor augmented reality gaming system. Commun ACM 45(1):36–38

54.

Pleil T (2010) Web-monitoring: Kommunizieren setzt Zuhören voraus. In: Brauckmann P (ed) Web monitoring. UVK Verlagsgesellschaft, Konstanz, pp 11–18

55.

Prahalad C, Ramaswamy V (2000) Co-opting customer competence. Harvard Bus Rev 78(1):79–91

56.

Rheingold H (1993) The virtual community: homesteading on the electronic frontier, 1st edn. MIT Press, Boston

57.

Rodan S (2010) Structural holes and managerial performance: identifying the underlying mechanisms. Soc Netw 32(3):168–179

58.

Satyanarayanan M (2001) Persuasive computing: vision and challenges. IEEE Personal Commun 8(4):10–17

59.

Servan-Schreiber E, Wolfers J, Pennock DM, Galebach B (2004) Prediction markets: does money matter? Electron Markets 14(3):243–251

60.

Sherchan W, Nepal S, Paris C (2013) A survey of trust in social networks. ACM Comput Surv 45(4):1–33

61.

Singhal A (2001) Modern information retrieval: a brief overview. IEEE Data Eng Bull 24(4):35–43

62.

Squire KD, Jan M (2007) Mad city mystery: developing scientific argumentation skills with a place-based augmented reality game on handheld computers. J Sci Educ Technol 16(1):5–29

63.

Swan E, Gabbard JL (2005) Survey of user-based experimentation in augmented reality. In: Proceedings of 1st International Conference on Virtual Reality, pp 1–9

64.

Van Krevelen DWF, Poelman R (2010) A survey of Augmented Reality technologies, applications and limitations. Int J Virtual Real 9(2):1–20

65.

Van Liere D (2010) How far does a tweet travel? Information brokers in the twitterverse. In: MSM'10 Proceedings of the International Workshop on Modeling Social Media, pp 1–4

66.

Völckner F, Gensler S, Egger M, Fischbach K, Schoder D (2010) Die Meinung des Kunden zählt. Absatzwirtsch, Sonderausg zum Marken-Award 2010:116–118

67.

Von Hippel E (2005) Democratizing innovation. MIT Press, Cambridge

68.

Wagner D, Schmalstieg D (2009) Making augmented reality practical on mobile phones: part 2. IEEE Comput Graphics Appl 29(4):6–9

69.

Walker Naylor R, Poynor Lamberton C, West PM (2012) Beyond the "like" button: the impact of mere virtual presence on brand evaluations and purchase intentions in social media settings. J Marketing 76(6):105–120

70.

Weiser D (1991) The computer for the 21st century. Sci Am 265(3):94–104

71.

Wilson A, Benko H, Izadi S, Hilliges O (2012) Steerable augmented reality with the beamatron. In: Proceedings of the 25th Annual ACM Symposium on User Interface Software and Technology, pp 413–422

72.

Yamaguchi T, Yoshikawa H (2013) New education system for construction of optical holography setup: tangible learning with Augmented Reality. J Phys: Conf Ser 415(1):1–8

73.

Yeo CT, Ungi T, U-Thainual P, Lasso A, McGraw RC, Fichtinger G (2011) The effect of augmented reality training on percutaneous needle placement in spinal facet joint injections. IEEE Trans Biomed Eng 58(7):2031–2037

74.

Yovcheva Z, Buhalis D, Gatzidis C (2012) Overview of smartphone augmented reality applications for tourism. E-Rev Tour Res 10(2):63–66
About this article
Cite this article
Stockinger, H. Consumers' Perception of Augmented Reality as an Emerging end User Technology: Social Media Monitoring Applied. Künstl Intell 29, 419–439 (2015). https://doi.org/10.1007/s13218-015-0389-5
Keywords
Augmented Reality

Wearable Device

Thought Pattern

Augmented Reality Application

Negative Context