Abstract
The 2013 ERC-consolidator project "Responsible Intelligent Systems" proposes to develop a formal framework for automating responsibility, liability and risk checking for intelligent systems. The goal is to answer three central questions, corresponding to three sub-projects of the proposal: (1) What are suitable formal logical representation formalisms for knowledge of agentive responsibility in action, interaction and joint action? (2) How can we formally reason about the evaluation of grades of responsibility and risks relative to normative systems? (3) How can we perform computational checks of responsibilities in complex intelligent systems interacting with human agents? To answer the first two questions, we will design logical specification languages for collective responsibilities and for probability-based graded responsibilities, relative to normative systems. To answer the third question, we will design suitable translations to related logical formalisms, for which optimised model checkers and theorem provers exist. All three answers will contribute to the central goal of the project as a whole: designing the blueprints for a formal responsibility checking system. To reach that goal the project will combine insights from three disciplines: philosophy, legal theory and computer science.
Access options
Buy single article
Instant access to the full article PDF.
USD 39.95
Price excludes VAT (USA)
Tax calculation will be finalised during checkout.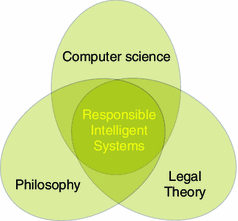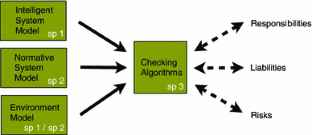 References
Alur R, Henzinger T, Kupferman O (2002) Alternating-time temporal logic. J ACM 49(5):672–713

Alur R, Henzinger TA, Mang F, Qadeer S, Rajamani SK, Tasiran S (1998) Mocha: modularity in model checking. In: Proceedings of the tenth international conference on computer-aided verification (CAV 1998), Lecture Notes in Computer Science, vol 1427. Springer, New York, pp 521–525

Baier C, Katoen JP (2008) Principles of model checking. MIT Press, Cambridge

Belnap N, Perloff M, Xu M (2001) Facing the future: agents and choices in our indeterminist world. Oxford University Press, Oxford

Bianco A, de Alfaro L (1995) Model checking of probabilistic and nondeterministic systems. In: Thiagarajan P (ed) Proceedings of 15th conference on foundations of software technology and theoretical computer science (FSTTCS '95), Lecture Notes in Computer Science, vol 1026. Springer, Berlin, pp 499–513

Broersen J (2011) Deontic epistemic stit logic distinguishing modes of mens rea. J Appl Logic 9(2):127–152

Broersen J (2011) Modeling attempt and action failure in probabilistic stit logic. In: Walsh T (ed) Proceedings of twenty-second international joint conference on artificial intelligence (IJCAI 2011). IJCAI, pp 792–797

Broersen J (2012) Three points of disagreement with Gideon Yaffe on attempts. Jurisprudence 3(2):465–473

Broersen J, Herzig A, Troquard N (2006) Embedding alternating-time temporal logic in strategic STIT logic of agency. J Logic Comput 16(5):559–578

Chopra S, White LF (2011) A legal theory for autonomous artificial agents. University of Michigan Press, Michigan

Edsall TB (2008) Man versus machine. Huffington Post. http://www.huffingtonpost.com/2008/11/02/man-versus-machine_n_140115.html

Fagin R, Halpern JY, Moses Y, Vardi MY (1995) Reasoning about knowledge. The MIT Press, Cambridge

Goranko V, Jamroga W (2004) Comparing semantics of logics for multi-agent systems. Synthese 139(2):241–280

Grossi D, Royakkers LMM, Dignum F (2007) Organizational structure and responsibility. Artif Intell Law 15(3):223–249

Haenni R, Romeijn JW, Wheeler G, Williamson J (2011) Probabilistic logics and probabilistic networks., Synthese LibrarySpringer, New York

Halpern JY (2006) Causality, responsibility, and blame: a structural-model approach. In: Proceedings of third international conference on the quantative evaluation of systems, pp 3–6

Hart H, Honoré T (1985) Causation in the law. Clarendon, Oxford

Horty JF (2001) Agency and deontic logic. Oxford University Press, Oxford

Kwiatkowska M, Norman G, Parker D (2011) Prism 4.0: verification of probabilistic real-time systems. In: Proceedings of 23rd international conference on computer aided verification (CAV '11), Lecture Notes in Computer Science, vol 6806. Springer, Berlin, pp 585–591

Matthias A (2004) The responsibility gap—ascribing responsibility for the actions of learning automata. Ethics Inf Technol 6:175–183

Medina J (2011) Human error investigated in california blackout's spread to six million. New York Times. http://www.nytimes.com/2011/09/10/us/10power.html

Moore M (2009) An essay in law, morals and metaphysics. In: Causation and responsibility. Oxford University Press, Oxford

Nilsson NJ (1986) Probabilistic logic. Artif Intell 28(1):71–87

Pauly M (2002) A modal logic for coalitional power in games. J Logic Comput 12(1):149–166

Rushby J (2001) Theorem proving for verification. In: Cassez F, Jard C, Rozoy B, Ryan MD (eds) Modeling and verification of parallel processes, chap. Theorem proving for verification. Springer, New York, pp 39–57

Wright GV (1951) Deontic logic. Mind 60:1–15
About this article
Cite this article
Broersen, J. Responsible Intelligent Systems. Künstl Intell 28, 209–214 (2014). https://doi.org/10.1007/s13218-014-0305-4
Published:

Issue Date:

DOI: https://doi.org/10.1007/s13218-014-0305-4
Keywords
Logics of agency

Normative systems

Risk and liability

Knowledge representation