Abstract
Action programming languages like Golog allow to define complex behaviors for agents on the basis of action representations in terms of expressive (first-order) logical formalisms, making them suitable for realistic scenarios of agents with only partial world knowledge. Often these scenarios include sub-tasks that require sequential planning. While in principle it is possible to express and execute such planning sub-tasks directly in Golog, the system can performance-wise not compete with state-of-the-art planners. In this paper, we report on our efforts to integrate efficient planning and expressive action programming in the Platas project. The theoretical foundation is laid by a mapping between the planning language Pddl and the Situation Calculus, which is underlying Golog, together with a study of how these formalisms relate in terms of expressivity. The practical benefit is demonstrated by an evaluation of embedding a Pddl planner into Golog, showing a drastic increase in performance while retaining the full expressiveness of Golog.
This is a preview of subscription content, log in to check access.
Access options
Buy single article
Instant access to the full article PDF.
US$ 39.95
Tax calculation will be finalised during checkout.
Subscribe to journal
Immediate online access to all issues from 2019. Subscription will auto renew annually.
US$ 99
Tax calculation will be finalised during checkout.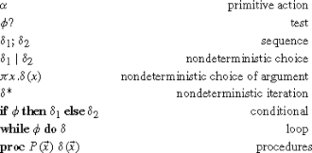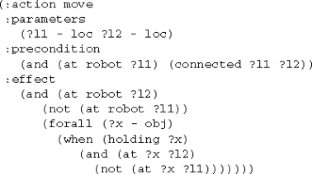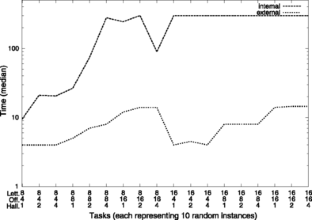 Notes
1.

2.

Free variables are understood as ∀-quantified from the outside.
References
1.

Claßen J, Lakemeyer G (2009) Tractable first-order Golog with disjunctive knowledge bases. In: Proc Commonsense. UTSePress, Broadway, pp 27–33

2.

Claßen J, Eyerich P, Lakemeyer G, Nebel B (2007) Towards an integration of Golog and planning. In: Proc IJCAI 2007. AAAI Press, Menlo Park, pp 1846–1851

3.

Claßen J, Hu Y, Lakemeyer G (2007) A situation-calculus semantics for an expressive fragment of PDDL. In: Proc AAAI 2007. AAAI Press, Menlo Park, pp 956–961

4.

Claßen J, Engelmann V, Lakemeyer G, Röger G (2008) Integrating Golog and planning: An empirical evaluation. In: Proc NMR 2008, pp 10–18

5.

De Giacomo G, Lespérance Y, Levesque HJ (2000) ConGolog, a concurrent programming language based on the situation calculus. Artif Intell 121(1–2):109–169

6.

De Giacomo G, Levesque HJ, Sardiña S (2001) Incremental execution of guarded theories. ACM Trans Comput Log 2(4):495–525

7.

Eyerich P, Nebel B, Lakemeyer G, Claßen J (2006) Golog and PDDL: What is the relative expressiveness. In: Proc PCAR 2006. University of Western Australia Press, Nedlands, pp 93–104

8.

Fikes R, Nilsson NJ (1971) STRIPS: A new approach to the application of theorem proving to problem solving. Artif Intell 2(3/4):189–208

9.

Fox M, Long D (2003) PDDL2.1: An extension to PDDL for expressing temporal planning domains. J Artif Intell Res 20:61–124

10.

Gerevini A, Long D (2005) Plan constraints and preferences in PDDL3. Tech Rep RT 2005-08-47, Dipartimento di Elettronica per l'Automazione, Università degli Studi di Brescia

11.

Han J (2009) A declarative semantics of a subset of PDDL with constraints and preferences. Diploma thesis, Department of Computer Science, RWTH Aachen University, Aachen, Germany

12.

Helmert M (2006) The Fast Downward planning system. J Artif Intell Res 26:191–246

13.

Helmert M, Domshlak C (2009) Landmarks, critical paths and abstractions: What's the difference anyway? In: Proc ICAPS 2009, pp 162–169

14.

Levesque HJ, Reiter R, Lespérance Y, Lin F, Scherl RB (1997) GOLOG: A logic programming language for dynamic domains. J Log Program 31(1–3):59–83

15.

Lifschitz V (1987) On the semantics of STRIPS. In: Reasoning about actions and plans: proceedings of the 1986 workshop. Morgan Kaufmann, San Mateo, pp 1–9

16.

Lin F, Reiter R (1997) How to progress a database. Artif Intell 92(1–2):131–167

17.

McCarthy J, Hayes P (1969) Some philosophical problems from the standpoint of artificial intelligence. In: Machine intelligence, vol 4. American Elsevier, New York, pp 463–502

18.

McDermott DV (2000) The 1998 AI planning systems competition. AI Mag 21(2):35–55

19.

McDermott D, Ghallab M, Howe A, Knoblock C, Ram A, Veloso M, Weld D, Wilkins D (1998) PDDL—The planning domain definition language—Version 1.2. Tech Rep CVC TR-98-003, Yale Center for Computational Vision and Control

20.

Nebel B (2000) On the compilability and expressive power of propositional planning formalisms. J Artif Intell Res 12:271–315

21.

Pednault EPD (1989) ADL: Exploring the middle ground between STRIPS and the situation calculus. In: Proc KR 1989. Morgan Kaufmann, San Mateo, pp 324–332

22.

Pinto J (1994) Temporal reasoning in the situation calculus. PhD thesis, Department of Computer Science, University of Toronto, Toronto, Canada

23.

Reiter R (1998) Sequential, temporal GOLOG. In: Proc KR 1998. Morgan Kaufmann, San Mateo, pp 547–556

24.

Reiter R (2001) Knowledge in action: logical foundations for specifying and implementing dynamical systems. MIT Press, Cambridge

25.

Röger G, Nebel B (2007) Expressiveness of ADL and Golog: Functions make a difference. In: Proc AAAI 2007. AAAI Press, Menlo Park, pp 1051–1056

26.

Röger G, Helmert M, Nebel B (2008) On the relative expressiveness of ADL and Golog: The last piece in the puzzle. In: Proc KR 2008. AAAI Press, Menlo Park, pp 544–550
Acknowledgements
Platas is part of the LogWiss research cluster. It is funded by the Deutsche Forschungsgemeinschaft (DFG) under grants La 747/13-2, La 747/14-1, Ne 623/10-1, and Ne 623/10-2.
About this article
Cite this article
Claßen, J., Röger, G., Lakemeyer, G. et al. Platas—Integrating Planning and the Action Language Golog. Künstl Intell 26, 61–67 (2012). https://doi.org/10.1007/s13218-011-0155-2
Keywords
Durative Action

Source Formalism

Action Language

Domain Description

Situation Calculus