Abstract
Host genome environment association is critical for proper development and functioning of an individual. Microbiota and probiotics within the cellular vicinity may serve such critical stimuli that can bring out different epigenetic mediated host responses. The aim of present study was to explore the changes in epigenetic signatures of Caco-2 cells by probiotic strains (Lactobacillus rhamnosus MTCC 5897: LR, Lactobacillus fermentum MTCC 5898: LF and their mixture: RF), respectively, or during challenge with Escherichia coli (ATCC 14948) using exclusion, competition and displacement assays. Adenocarcinoma intestinal epithelial Caco-2 cells were treated with LR, LF, RF and E. coli for 6 h, respectively. Caco-2 cells were also challenged with E. coli and probiotic lactobacilli during exclusion, competition and displacement assays. Finally, global epigenetic modifications by acetylation of H4 and H3 histone proteins and DNA methylation patterns were determined. Probiotic-treated Caco-2 cells displayed significant (p < 0.01) reduction in percent global H4 and H3 acetylation, respectively, in contrast to their elevated (p < 0.05) levels after E. coli infection. On the other hand, a remarkable (p < 0.01) decrease in percent H4 and H3 acetylation were observed when E. coli were excluded, competed or displaced by lactobacilli strains. No changes in the global DNA methylation patterns were observed in Caco-2 cells after exposure to probiotic strains or E. coli, respectively, but surprisingly, their levels increased significantly (p < 0.05) when lactobacilli-treated cells were challenged with E. coli during exclusion or competition than displacement assays. Probiotic L. rhamnosus and L. fermentum modulated the host epigenetic signatures via global histone acetylation individually or during E. coli challenge by exclusion, competition and displacement assays. Whilst on the other hand changes in global DNA methylation patterns were obtained significantly during probiotic treatment with E. coli in exclusion and competition protocols.
Access options
Buy single article
Instant access to the full article PDF.
US$ 39.95
Tax calculation will be finalised during checkout.
Subscribe to journal
Immediate online access to all issues from 2019. Subscription will auto renew annually.
US$ 79
Tax calculation will be finalised during checkout.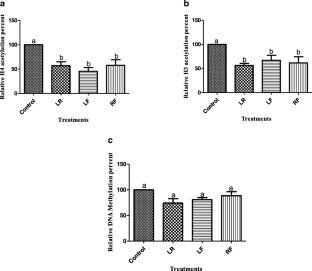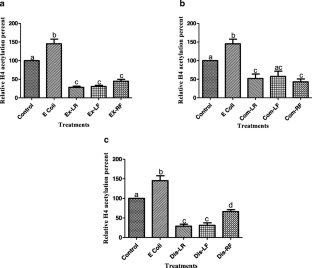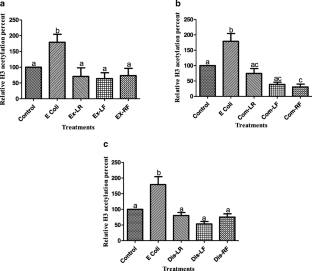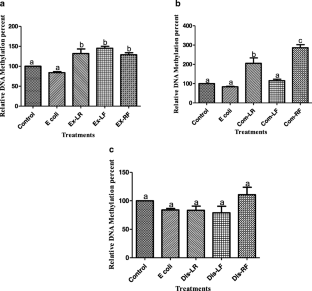 References
Al Akeel R (2013) Role of epigenetic reprogramming of host genes in bacterial pathogenesis. Saudi J Biol Sci 20:305–309

Alenghat T, Artis D (2014) Epigenomic regulation of host–microbiota interactions. Trends Immunol 35:518–525

Andrade-Oliveira V, Amanom MT, Correa-Costa M, Castoldi A, Felizardo RJ, de Almeida DC, Bassi EJ, Moraes-Vieira PM, Hiyane MI, Rodas AC, Peron JP (2015) Gut bacteria products prevent AKI induced by ischemia-reperfusion. J Am Soc Nephrol 26:1877–1888

Bhat MI, Kapila R (2017) Dietary metabolites derived from gut microbiota: critical modulators of epigenetic changes in mammals. Nutr Rev 75:374–389

Bourassa MW, Alim I, Bultman SJ, Ratan RR (2016) Butyrate, neuroepigenetics and the gut microbiome: can a high fiber diet improve brain health? Neurosci Lett 625:56–63

Canani RB, Di Costanzo M, Leone L (2012) The epigenetic effects of butyrate: potential therapeutic implications for clinical practice. Clin Epigenetics 4:4

Cortese R, Lu L, Yu Y, Ruden D, Claud EC (2016) Epigenome-microbiome crosstalk: a potential new paradigm influencing neonatal susceptibility to disease. Epigenetics 11:205–215

Donohoe DR, Collins LB, Wali A, Bigler R, Sun W, Bultman SJ (2012) The Warburg effect dictates the mechanism of butyrate-mediated histone acetylation and cell proliferation. Mol Cell 48:612–626

Donohoe DR, Holley D, Collins LB, Montgomery SA, Whitmore AC, Hillhouse A, Curry KP, Renner SW, Greenwalt A, Ryan EP, Godfrey VA (2014) Gnotobiotic mouse model demonstrates that dietary fiber protects against colorectal tumorigenesis in a microbiota-and butyrate-dependent manner. Cancer Discov 4:1387–1397

Feinberg AP (2008) Epigenetics at the epicenter of modern medicine. Jama 299:1345–1350

Flavahan WA, Gaskell E, Bernstein BE (2017) Epigenetic plasticity and the hallmarks of cancer. Science 357:aal2380

Ghadimi D, Helwig U, Schrezenmeir J, Heller KJ, Vrese M (2012) Epigenetic imprinting by commensal probiotics inhibits the IL-23/IL-17 axis in an in vitro model of the intestinal mucosal immune system. J Leukoc Biol 92:895–911

Gong ZY, Yuan ZQ, Dong ZW, Peng YZ (2017) Glutamine with probiotics attenuates intestinal inflammation and oxidative stress in a rat burn injury model through altered iNOS gene aberrant methylation. Am J Transl Res 9:2535

Gury-BenAri M, Thaiss CA, Serafini N, Winter DR, Giladi A, Lara-Astiaso D, Levy M, Salame TM, Weiner A, David E, Shapiro H (2016) The spectrum and regulatory landscape of intestinal innate lymphoid cells are shaped by the microbiome. Cell 166:1231–1246

Haller D, Holt L, Kim SC, Schwabe RF, Sartor RB, Jobin C (2003) Transforming growth factor-β1 inhibits non-pathogenic gram negative bacteria-induced NF-κB recruitment to the interleukin-6 gene promoter in intestinal epithelial cells through modulation of histone acetylation. J Biol Chem 278:23851–23860

Jacob RA, Gretz DM, Taylor PC, James SJ, Pogribny IP, Miller BJ, Henning SM, Swendseid ME (1998) Moderate folate depletion increases plasma homocysteine and decreases lymphocyte DNA methylation in postmenopausal women. J Nutr 128:1204–1212

Kendrick SF, O'boyle G, Mann J, Zeybel M, Palmer J, Jones DE, Day CP (2010) Acetate, the key modulator of inflammatory responses in acute alcoholic hepatitis. Hepatology 51:1988–1997

Lee J, Jang A, Kim JW, Han JH, Chun BH, Jung HS, Jeon CO, Myung SC (2017a) Distinct histone modifications modulate DEFB1 expression in human vaginal keratinocytes in response to Lactobacillus spp. Probiotics Antimicrob Proteins 9:406–414

Lee ES, Song EJ, Nam YD (2017b) Dysbiosis of gut microbiome and its impact on epigenetic regulation. J Clin Epigenet 3(S1):14. https://doi.org/10.21767/2472-1158.100048

Lightfoot YL, Yang T, Sahay B, Mohamadzadeh M (2013) Targeting aberrant colon cancer-specific DNA methylation with lipoteichoic acid-deficient Lactobacillus acidophilus. Gut Microbes 4:84–88

McKay JA, Mathers JC (2011) Diet induced epigenetic changes and their implications for health. Acta Physiol 202:103–118

Noack J, Dongowski G, Hartmann L, Blaut M (2000) The human gut bacteria Bacteroides thetaiotaomicron and Fusobacterium varium produce putrescine and spermidine in cecum of pectin-fed gnotobiotic rats. J Nutr 130:1225–1231

Oka T, Sato H, Ouchida M, Utsunomiya A, Yoshino T (2011) Cumulative epigenetic abnormalities in host genes with viral and microbial infection during initiation and progression of malignant lymphoma/leukemia. Cancers 3:568–581

Qureshi SA, Bashir MU, Yaqinuddin A (2010) Utility of DNA methylation markers for diagnosing cancer. Int J Surg 8:194–198

Rada-Iglesias A, Enroth S, Ameur A, Koch CM, Clelland GK, Respuela-Alonso P, Wilcox S, Dovey OM, Ellis PD, Langford CF, Dunham I (2007) Butyrate mediates decrease of histone acetylation centered on transcription start sites and down-regulation of associated genes. Genome Res 17:708–719

Rogers GB, Keating DJ, Young RL, Wong ML, Licinio J (2016) Wesselingh, S. From gut dysbiosis to altered brain function and mental illness: mechanisms and pathways. Mol Psychiatry 21:738

Rooks MG, Garrett WS (2016) Gut microbiota, metabolites and host immunity. Nat Rev Immunol 16:341

Safronova O, Morita I (2010) Transcriptome remodeling in hypoxic inflammation. J Dent Res 89(5):430–444

Saliganti V, Kapila R, Sharma R, Kapila S (2015) Feeding probiotic Lactobacillus rhamnosus (MTCC 5897) fermented milk to suckling mothers alleviates ovalbumin-induced allergic sensitisation in mice offspring. Br J Nutr 114:1168–1179

Schmeck B, Beermann W, van Laak V, Zahlten J, Opitz B, Witzenrath M, Hocke AC, Chakraborty T, Kracht M, Rosseau S, Suttorp N (2005) Intracellular bacteria differentially regulated endothelial cytokine release by MAPK-dependent histone modification. J Immunol 175:2843–2850

Sharma R, Kapila R, Dass G, Kapila S (2014a) Improvement in Th1/Th2 immune homeostasis, antioxidative status and resistance to pathogenic E. coli on consumption of probiotic Lactobacillus rhamnosus fermented milk in aging mice. Age 36:9686

Sharma R, Kapila R, Kapasiya M, Saliganti V, Dass G, Kapila S (2014b) Dietary supplementation of milk fermented with probiotic Lactobacillus fermentum enhances systemic immune response and antioxidant capacity in aging mice. Nutr Res 34:968–981

Stilling RM, Dinan TG, Cryan JF (2014) Microbial genes, brain & behaviour–epigenetic regulation of the gut–brain axis. Genes Brain Behav 13:69–86

Takahashi K, Sugi Y, Nakano K, Tsuda M, Kurihara K, Hosono A, Kaminogawa S (2011) Epigenetic control of host gene by commensal bacteria in large intestinal epithelial cells. J Biol Chem 286:35755–35762

Tollefsbol TO (2017) Handbook of epigenetics: the new molecular and medical genetics (2nd ed.). Academic Press, London

Vel Szic KS, Declerck K, Vidakovic M, Berghe WV (2015) From inflammaging to healthy aging by dietary lifestyle choices: is epigenetics the key to personalized nutrition? Clin Epigenetics 7:33

Wang Y, Yan L, Zhang Z, Prado E, Fu L, Xu X, Du L (2018) Epigenetic regulation and its therapeutic potential in pulmonary hypertension. Front Pharmacol 9:241

Wong CC, Qian Y, Yu J (2017) Interplay between epigenetics and metabolism in oncogenesis: mechanisms and therapeutic approaches. Oncogene 36:3359

Woo H, Ha SD, Lee SB, Buratowski S, Kim T (2017) Modulation of gene expression dynamics by co-transcriptional histone methylations. Exp Mol Med 49:326

Xia G, Schneider-Stock R, Diestel A, Habold C, Krueger S, Roessner A, Naumann M, Lendeckel U (2008) Helicobacter pylori regulates p21 WAF1 by histone H4 acetylation. Biochem Biophys Res Commun 369:526–531

Zhou M, He J, Shen Y, Zhang C, Wang J, Chen Y (2017) New frontiers in genetics, gut microbiota, and immunity: a Rosetta stone for the pathogenesis of inflammatory bowel disease. Biomed Res Int 2017:8201672
Funding
We are grateful to Department of BioTechnology, Ministry of Science and Technology, New Delhi, for providing the necessary funds (BT/PR15109/PFN/20/1174/2015).
Ethics declarations
Conflicts of interest
The authors declare that they have no conflict of interest.
Research involving human participants and/or animals
N/A.
Informed consent
N/A.
Additional information
Publisher's note
Springer Nature remains neutral with regard to jurisdictional claims in published maps and institutional affiliations.
Electronic supplementary material
About this article
Cite this article
Bhat, M.I., Kumari, A., Kapila, S. et al. Probiotic lactobacilli mediated changes in global epigenetic signatures of human intestinal epithelial cells during Escherichia coli challenge. Ann Microbiol 69, 603–612 (2019). https://doi.org/10.1007/s13213-019-01451-0
Received:

Accepted:

Published:

Issue Date:
Keywords
DNA methylation

Epigenome

Histone acetylation

Lactobacilli

Caco-2