Abstract
Presence of heavy metals including lead (Pb) in the textile effluents is a crucial factor affecting the growth and potential of the dye decolorizing bacterial strains. This work was planned to isolate and characterize a bacterial strain exhibiting the potential to decolorize a range of azo dyes as well as the resistance to Pb. In this study, several Pb tolerant bacteria were isolated from effluents of textile industry. These bacterial isolates were screened for their potential of decolorizing the reactive red-120 (RR120) azo dye with presence of Pb (50 mg L−1). The most efficient isolate was further characterized for its potential to resist Pb and decolorize different azo dyes under varying cultural and incubation conditions. Out of the total 82 tested bacterial isolates, 30 bacteria were found to have varying potentials to resist the presence of lead (Pb) and carry out decolorization of an azo dye reactive red-120 (RR120) in the medium amended with Pb (50 mg L−1). The most efficient selected bacterium, Pseudomonas aeruginosa strain HF5, was found to show a good potential not only to grow in the presence of considerable concentration of Pb but also to decolorize RR120 and other azo dyes in the media amended with Pb. The strain HF5 completely (> 90%) decolorized RR120 in mineral salt medium amended with 100 mg L−1 of Pb and 20 g L−1 NaCl. This strain also considerably (> 50%) decolorized RR120 up to the presence of 2000 mg L−1 of Pb and 50 g L−1 of NaCl but with reduced rate. The optimal decolorization of RR120 by HF5 was achieved when the pH of the Pb amended (100 mg L−1) mineral salt media was adjusted at 7.5 and 8.5. Interestingly, this strain also showed the tolerance to a range of metal ions with varying MIC values. The Pseudomonas aeruginosa strain HF5 harboring the unique potentials to grow and decolorize the azo dyes in the presence of Pb is envisaged as a potential bioresource for devising the remediation strategies for treatment of colored textile wastewaters loaded with Pb and other heavy metal ions.
Access options
Buy single article
Instant access to the full article PDF.
US$ 39.95
Tax calculation will be finalised during checkout.
Subscribe to journal
Immediate online access to all issues from 2019. Subscription will auto renew annually.
US$ 79
Tax calculation will be finalised during checkout.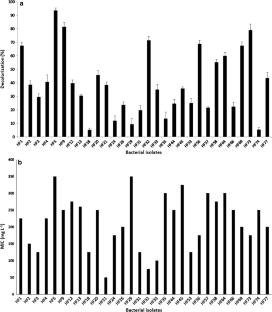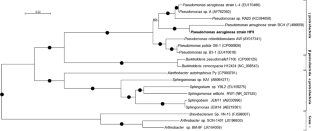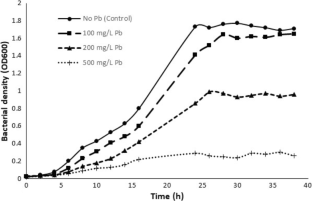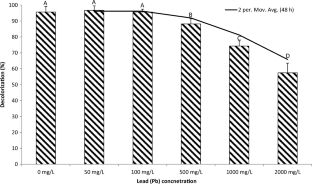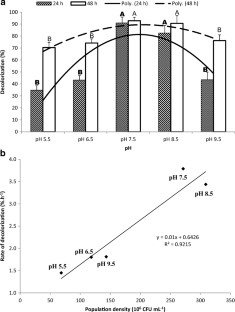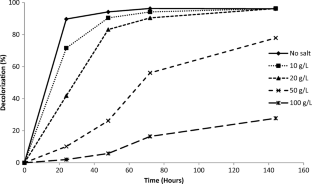 References
Abbas N, Hussain S, Azeem F, Shahzad T, Bhatti SH, Imran M, Ahmad Z, Maqbool Z, Abid M (2016) Characterization of a salt resistant bacterial strain Proteus sp. NA6 capable of decolorizing reactive dyes in presence of multi-metal stress. World J Microbiol Biotechnol 32(11):181. https://doi.org/10.1007/s11274-016-2141-1.

Aktan Y, Tan S, Icgen B (2013) Characterization of lead-resistant river isolate Enterococcus faecalis and assessment of its multiple metal and antibiotic resistance. Environ Monit Assess 185(6):5285–5293

Anwar F, Hussain S, Ramzan S, Hafeez F, Arshad M, Imran M, Maqbool Z, Abbas N (2014) Characterization of Reactive Red-120 decolorizing bacterial strain Acinetobacter junii FA10 capable of simultaneous removal of azo dyes and hexavalent chromium. Water Air Soil Pollut 225(8):1–16

Bafana A, Krishnamurthi K, Devi SS, Chakrabarti T (2009) Biological decolourization of C.I. direct black 38 by E. gallinarum. J Hazard Mater 157:187–193

Bayoumi RA, Musa SM, Bahobil AS, Louboudy SS, El-Sakawey TA (2010) Biodecolorization and biodegradation of azo dyes by some bacterial isolates. J Appl Environ Biol Sci 1:1–25

Blagodatskaya EV, Pampura TV, Dem'yanova EG, Myakshina TN (2006) Effect of lead on growth characteristic of microorganisms in soil and rhizosphere of Dactylis gloerata. Eur Soil Sci 39(6):653–660

Chacko JT, Subramaniam K (2011) Enzymatic degradation of azo dyes - a review. Int J Environ Sci 1(6):1250–1260

Chequer FM, Angeli JP, Ferraz ER, Tsuboy MS, Marcarini JC, Mantovani MS et al (2009) The azo dyes Disperse Red 1 and Disperse Orange 1 increase the micronuclei frequencies in human lymphocytes and in HepG2 cells. Mutat Res 676(1):83–86

Das M, Ahmed K, Islam S, Islam M, Akter MS (2011) Heavy metals in industrial effluents (tannery and textile) and adjacent rivers of Dhaka city, Bangladesh. Terre Aquat Environ Toxicol 5(1):8–13

Ghodake GS, Kalme SD, Jadhave JP, Govindwar SP (2009) Purification and partial characterization of lignin peroxidase from Acinetobacter calcoaceticus NCIM 2890 an dits application in decolorization of textile dyes. Appl Biochem Biotechnol 152:6–14

Gupta VK, Khamparia S, Tyagi I, Jaspal D, Malviya A (2015) Decolorization of mixture of dyes: a critical review. Glob J Environ Sci Manag 1(1):71–94

Halimoon N, Yin RGS (2010) Removal of heavy metals from textile wastewater using zeolite. Environ Asia 3:124–130

Hussain S, Maqbool Z, Ali S, Yasmeen T, Imran M, Mahmood F, Abbas F (2013) Biodecolorization of reactive black-5 by a metal and salt tolerant bacterial strain Pseudomonas sp. RA20 isolated from Paharang drain effluents in Pakistan. Ecotoxicol Environ Saf 98:331–338

Hussain S, Quinn L, Li J, Casey E, Murphy CD (2017) Simultaneous removal of malachite green and hexavalent chromium by Cunninghamella elegans biofilm in a semi-continuous system. Int Biodeterior Biodegrad 125:142–149

Imran M, Crowley DE, Khalid A, Hussain S, Mumtaz MW, Arshad M (2015a) Microbial biotechnology for decolorization of textile wastewater. Rev Environ Sci Biotechnol 14(1):73–92

Imran M, Hussain S, Mumtaz MW, Crowley DE (2015b) Decolorization of reactive black-5 by Shewanella sp. In the presence of metal ions and salts. Water Environ Res 87:579–586

Imran M, Shahroona B, Crowley DE, Khalid A, Hussain S, Arshad M (2015c) The stability of textile azodyes in soil and their impact on microbial phospholipid fatty acid profiles. Ecotoxicol Environ Saf 120:163–168

Joe J, Kothari RK, Raval CM, Kothari CR, Akbari VG, Singh SP (2011) Decolorization of textile dye Remazol Black B by Pseudomonas aeruginosa CR-25 isolated from the common effluent treatment plant. J Bioremed Biodegr 2(2):2155–6199

Kalme S, Ghodake G, Gowindwar S (2007) Red HE7B degradation using desulfonation by Pseudomonas desmolyticum NCIM 2112. Int Biodeterior Biodegrad 60(4):327–333

Khalid A, Kausar F, Arshad M, Mahmood T, Ahmed I (2012) Accelerated decolorization of reactive azo dyes under saline conditions by bacteria isolated from Arabian seawater sediment. Appl Microbiol Biotechnol 96(6):1599–1606

Khan S, Malik A (2014) Environmental and health effects of textile industry wastewater. In: Malik A, Grohmann E, Akhtar R (eds) Environmental deterioration and human health. Springer, Dordrecht

Lin J, Zhang X, Li Z, Lei L (2010) Biodegradation of reactive blue 13 in a two-stage anaerobic/aerobic fluidized beds system with a Pseudomonas sp. isolate. Bioresour Technol 101(1):34–40

Loganathan K, Ali KS, Purushothaman M, Silambarasan S, Jamal ANA (2015) Synthesis and characterisation of 2-(substituted Phenyl)azo-4,6-dipropionylresorcinol derivatives. World J Pharm Res 4:1694–1701

Ma L, Zhuo R, Liu H, Yu D, Jiang M, Zhang X, Yang Y (2014) Efficient decolorization and detoxification of the sulfonated azo dye reactive Orange 16 and simulated textile wastewater containing Reactive Orange 16 by the white-rot fungus Ganoderma sp. En3 isolated from the forest of Tzu-Chin Mountain in China. Biochem Eng J 82(15):1–9

Mahmood S, Khalid A, Mahmood T, Arshad M (2012) Potential of newly isolated bacterial strains for simultaneous removal of hexavalent chromium and reactive black-5 azodye from tannery effluent. J Chem Technol Biotechnol 88(8):1506–1513

Mahmood F, Shahid M, Hussain S, Shahzad T, Tahir M, Ijaz M, Hussain A, Mahmood K, Imran M, Babar SAK (2017) Potential plant growth-promoting strain Bacillus sp. SR-2-1/1 decolorized azo dyes through NADH-ubiquinone:oxidoreductase activity. Bioresour Technol 235:176–184

Maqbool Z, Hussain S, Ahmed T, Nadeem H, Imran M, Khalid A, Abid M, Martin-Laurent F (2016) Use of RSM modeling for optimizing decolorization of stimulated textile wastewater by Pseudomonas aeruginosa strain ZM130 capable of simultaneous removal of reactive dyes and hexavalent chromium. Environ Sci Pollut Res 23:11224–11239

Naik MM, Pandey A, Dubey SK (2012) Biological characterization of lead-enhanced exopolysaccharide produced by a lead resistant Enterobacter cloacae strain P2B. Biodegrad 23(5):775–783

Najme R, Hussain S, Maqbool Z, Imran M, Mahmood F, Manzoor H, Yasmeen T, Shehzad T (2015) Biodecolorization of reactive yellow-2 by Serratia sp. RN34 isolated from textile wastewater. Water Environ Res 87(12):2065–2075

O'Neill C, Hawkes FR, Esteves SRR, Hawkes DL, Wilcox SJ (1999) Anaerobic and aerobic treatment of a simulated textile effluent. J Chem Technol Biotechnol 74:993–999

Pandey A, Poonam S, Leela I (2007) Bacterial decolorization and degradation of azo dyes. Int Biodeterior Biodegrad 59(2):73–84

Peyton BM, Wilson T, Yonge DR (2002) Kinetics of phenol biodegradation in high salt solutions. Water Res 36(19):4811–4820

Phugare SS, Kalyani DC, Surwase SN, Jadhav JA (2011) Ecofriendly degradation and detoxification of textile effluent by a developed bacterial consortium. Ecotoxicol Environ Saf 74:1288–1296

Pierce J (1994) Colour in textile effluents—the origins of the problem. J Soc Dye Colour 110:131–133

Sharma P, Dubey RS (2005) Lead toxicity in plants. Braz J Plant Phsysiol 17(1):35–52

Singh N, Gad R (2012) Studies on biosorption of Pb (II) by the nonliving biomasses of Pseudomonas oleovorans and Brevundimonas vesicularis and its removal from wastewater samples. Eur J Sci Res 69(2):279–289

Sparks DL (2005) Toxic metals in the environment: the role of surfaces. Elements 1(4):193–197

Stolz A (2001) Basic and applied aspects in the microbial degradation of azo dyes. Appl Microbiol Biotechnol 56(1):69–80

Suzuki T, Timofei S, Kurunczi L, Dietz U, Schuurmann G (2001) Correlation of aerobic biodegradability of sulfonated azo dyes with the chemical structure. Chemosphere 45(1):1–9

Tan L, Qu Y, Zhou J, Ma F, Li A (2009) Dynamics of microbial community for X-3B wastewater decolorization coping with high-salt and metal ions conditions. Bioresour Technol 100(12):3003–3009

Tony BD, Goyal D, Khanna S (2009) Decolorization of textile azo dyes by aerobic bacterial consortium. Int Biodeterior Biodegrad 63(4):462–469

Yan B, Du C, Xu M, Liao W (2012) Decolorization of azo dyes by a salt-tolerant Staphylococcus cohnii strain isolated from textile wastewater. Front Environ Sci Eng 6(6):806–814

Zilly A, da Silva CMJ, Bracht A, de Souza MCG, Carvajal AE, Koehnlein EA, Peralta RM (2011) Influence of NaCl and Na2SO4on the kinetics and dye decolorization ability of crude laccase from Ganoderma lucidum. Int Biodeterior Biodegrad 65(2):340–344
Funding
This research work was funded by Government College University, Faisalabad, from its own resources under a GCUF2012 grant.
Ethics declarations
Conflict of interest
The authors declare that they have no conflict of interest.
Research involving human participants and/or animals
A statement for research involving human participants and/or animals is not applicable for this study.
Informed consent
A statement regarding informed consent is not applicable for this study.
Electronic supplementary material
About this article
Cite this article
Hafeez, F., Farheen, H., Mahmood, F. et al. Isolation and characterization of a lead (Pb) tolerant Pseudomonas aeruginosa strain HF5 for decolorization of reactive red-120 and other azo dyes. Ann Microbiol 68, 943–952 (2018). https://doi.org/10.1007/s13213-018-1403-6
Received:

Accepted:

Published:

Issue Date:
Keywords
Pseudomonas aeruginosa

Lead (Pb) tolerance

Azo dyes decolorization

Heavy metal tolerance

NaCl resistance