Abstract
In the present study, 13 filamentous fungi were screened for their lipid production and an oleaginous fungus, Penicillium brevicompactum NRC 829, was found to be the highest lipid producer. Screening of various agro-industrial residues was performed and sunflower oil cake proved to be the best substrate for lipid production. A central composite design was employed to investigate the optimum concentrations of the most significant medium components required to improve the lipid production by P. brevicompactum. The results clearly revealed that the maximal lipid production of 8.014 ± 0.06 gL−1 (representing 57.6% lipid/dry biomass) was achieved by the fungus when grown for 6 days at 30 °C under static condition in a medium containing sunflower oil cake, NaNO3 and KCl at final concentrations of 8, 0.75 and 0.25 gL−1, respectively. Gas chromatography-mass spectrometry analysis of P. brevicompactum lipid indicated that linoleic acid (LA) (C18:2–6, 9) was the most abundant fatty acid, accounting for up to 62% of the total fatty acid profile, followed by palmitoleic acid (C16:1, 16%) and linolenic acid (C18:3, 8%). These results suggest that P. brevicompactum NRC 829 may have potential for commercial development for the production of LA by fermentation using cheap raw material.
Access options
Buy single article
Instant access to the full article PDF.
USD 39.95
Price excludes VAT (USA)
Tax calculation will be finalised during checkout.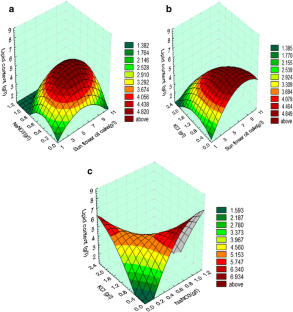 References
Abedi E, Sahari MA (2014) Long-chain polyunsaturated fatty acid sources and evaluation of their nutritional and functional properties. Food Sci Nutr 2:443–463. doi:10.1002/fsn3.121

Adachi D, Hama S, Numata T, Nakashima K, Ogino C, Fukuda H, Kondo A (2011) Development of an Aspergillus oryzae whole-cell biocatalyst coexpressing triglyceride and partial glyceride lipases for biodiesel production. Bioresour Technol 102:6723–6729. doi:10.1016/j.biortech.2011.03.066

Adinarayana K, Ellaiah P, Srinivasulu B, Bhavani D, Adinarayana G (2003) Response surface methodological approach to optimize the nutritional parameters for neomycin production by Streptomyces marinensis under solid-state fermentation. Process Biochem 38:1565–1572. doi:10.1016/S0032-9592(03)00057-8

Ageitos JM, Vallejo JA, Veiga-Crespo P, Villa TG (2011) Oily yeasts as oleaginous cell factories,Appl Microbiol Biotechnol 90:1219–1227

Ali TH, El-Ghonemy DH (2014) Optimization of culture conditions for the highest lipid production from some oleaginous fungi for biodiesel preparation. Asian J Appl Sci 2:601–609

Amanullah A, McFarlane CM, Emery AN, Nienow AW (2001) Scale-down model to simulate spatial pH variations in large-scale bioreactors. Biotechnol Bioeng 73:390–399

Areesirisuk A, Yen TB, Chiu CH, Liu CH, Guo JH (2015) Optimization on yeast lipid production of Psuedozyma sp. with response surface methodology for biodiesel manufacturing. J Adv Agric Technol 2:13–18. doi:10.12720/joaat.2.1.13-18

Awad GEA, Salam WA, El-diwany A, Salama BA, Abdelkader AF, Esawy MAD (2011) Keratinase production by Bacillus pumilus GHD in solid-state fermentation using sugar cane bagasse: optimization of culture conditions using a box-Behnken experimental design. Ann Microbiol 61:663–672. doi:10.1007/s13213-010-0187-0

Carlile MJ, Watkinson SC, Graham WG (2001) The fungi, 2nd edn. Academic, San Diego

Castanha RF, Mariano AP, De Morais LAS, Scramin S, Monteiro RTR (2014) Optimization of lipids production by Cryptococcus laurentii 11 using cheese whey with molasses. Braz J Microbiol 45:379–387. doi:10.1590/S1517-83822014000200003

Cheng YS, Zheng Y, Van der Gheynst JS (2011) Rapid quantitative analysis of lipids using a colorimetric method in a micro-plate format. Lipids 46:95–103

Chisti Y (2007) Biodiesel from microalgae. Biotechnol Adv 25:294–306. doi:10.1016/j.biotechadv.2007.02.001

Christie WW, Han X (2010) Lipid analysis - isolation, separation, identification and lipidomic analysis (4th edition). Oily, Bridgwater

Devi P, D'souza L, Kamat T, Rodrigues C, Naik CG (2009) Batch culture fermentation of Penicillium chrysogenum and a report on the isolation, purification, identification and antibiotic activity of citrinin. Indian J Mar Sci 38:38–44

Economou CN, Aggelis G, Pavlou S, Vayenas DV (2011a) Modelling of single-cell oil production under nitrogen limited and substrate inhibition conditions. Biotechnol Bioeng 108:1049–1055. doi:10.1002/bit.23026

Economou CN, Aggelis G, Pavlou S, Vayenas DV (2011b) Single cell oil production from rice hulls hydrolysate. Bioresour Technol 102:9737–9742. doi:10.1016/j.biortech.2011.08.025

El-Fadaly H, El-Ahmady N, Marvan EM (2009) Single cell oil production by an oleaginous yeast strain in a low cost cultivation medium. Res J Microbiol 4:301–313. doi:10.3923/jm.2009.301.313

Halim R, Danquah MK, Webley PA (2012) Extraction of oil from microalgae for biodiesel production: a review. Biotechnol Adv 30:709–732. doi:10.1016/j.biotechadv.2012.01.001

Hansson L, Dostalekm D (1988) Effects of culture condition on mycelial growth and production of gamma-linolenic acid by the fungus Mortierellara manniana. Appl Microbiol Biotechnol 28:240–246

Hong H, Datla N, MacKenzie SL, Qiu X (2002) Isolation and characterization of a delta5 FA desaturase from Pythium irregulare by heterologous expression in Saccharomyces cerevisiae and oilseed crops. Lipids 37:863–868. doi:10.1016/j.bej.2009.07.014

Hu Q, Sommerfeld M, Jarvis E, Ghirardi M, Posewitz M, Seibert DA (2008) Microalgal triacylglycerols as feedstock for biofuel production: perspectives and advances. Plant J 54:621–639. doi:10.1111/j.1365-313X.2008.03492.x

Kirrolia A, Bishnoi NR, Singh R (2013) Microalgae as a boon for sustainable energy production and its future research and development aspects. Renew Sust Energ Rev 20:642–656. doi:10.1016/j.rser.2012.12.003

Kumar SP, Banerjee R (2013) Optimization of lipid enriched biomass production from oleaginous fungus using response surface methodology. Indian J Exp Bio 51:979–983

Li Y, Zhao Z, Bai F (2007) High-density cultivation of oleaginous yeast Rhodosporidium toruloides Y4 in fed-bach culture. Enz Microbial Technol 41:312–317

Makri A, Fakas S, Aggelis G (2010) Metabolic activities of biotechnological interest in Yarrowia lipolytica grown on glycerol in repeated batch cultures. Bioresour Technol 101:2351–2358. doi:10.1016/j.biortech.2009.11.024

Mishra SK, Suh WI, Farooq W, Moon M, Shrivastav A, Park MS, Yang JW (2014) Rapid quantification of microalgal lipids in aqueous medium by a simple colorimetric method. Bioresour Technol 155:330–333. doi:10.1016/j.biortech.2013.12.077

Muhid F, Naziah WN, Nawi W, Abdul Kader AJ, Yusoff WMW, Abdul Hamid A (2008) Effects of metal ion concentrations on lipid and gamma linolenic acid production by cunning hamella sp. 2A1. J Biol Sci 8:62–67. doi:10.1016/j.rser.2012.12.003

Munk V, Paskova J, Hanus J (1993) Glucose oxidase of Aspergillus niger. Folia Microbiol 8:203–214. doi:10.1007/BF02872583

Murad A, Karim N, Hashim N, Adnan A, Zainal Z, Hamid A, Bakar F (2010) Identification and characterization of an oleaginous fungus producing high g-Linoleneic acid. Int J Microbiol 9:1–9

Nigam S, Rai MP, Sharma R (2011) Effect of nitrogen on growth and lipid content of Chlorella pyrenoidosa. Am J Biochem Biotechnol 7:124–129. doi:10.3844/ajbbsp.2011.126.131

Nisha A, Muthukumar SP, Venkateswaran G (2010) Safety evaluation of arachidonic acid rich Mortierella alpina biomass in albino rats-a subchronic study. Regul Toxicol Pharmacol 53:186–194

Papanikolaou S, Galiotou-Panayotou M, Fakas S, Komaitis M, Aggelis (2007) Lipid production by oleaginous mucorales cultivated on renewable carbon sources. Eur J Lipid Sci 109:1060–1070. doi:10.1002/ejlt.200700169

Papanikolaou S, Dimou A, Fakas S, Diamantopoulou P, Philippoussis A, Galiotou-Panayotou M et al (2011) Biotechnological conversion of waste cooking olive oil into lipid-rich biomass using Aspergillus and Penicillium strains. J Appl Mirobiol 110:1138–1150. doi:10.1111/j.1365-2672.2011.04961.x

Park WS, Murphy PA, Glatz BA (1990) Lipid metabolism and cell composition of the oleaginous yeast Apiotrichum curvatum grown at different carbon to nitrogen ratios. Can J Microbiol 36:318–326. doi:10.1139/m90-056

Ramanaiah SV, Venkata Mohan S, Sarma PN (2007) Adsorptive removal of fluoride from aqueous phase using waste fungus (Pleurotus ostreatus 1804) biosorbent: kinetics evaluation. Ecol Eng 31:47–56. doi:10.1016/j.ecoleng.2007.05.006

Sakuradani E, Ando A, Ogawa J, Shimizu S (2009) Improved production of various polyunsaturated fatty acids through filamentous fungus Mortierella alpina breeding. Appl Microbiol Biotechnol 84:1–10

Saxena V, Sharma CD, Bhagat SD, Saini VS, Adhikari DK (2008) Lipid and fatty acid biosynthesis by Rhodotorula minuta. J Am Oil Chem Soc 75:501–505. doi:10.1007/s11746-998-0254-x

Sitepu IR, Sestric R, Ignatia L, Levin D, German JB, Gillies LA, Almada KL, Boundy-Mills L (2013) Manipulation of culture conditions alters lipid content and fatty acid profiles of a wide variety of known and new oleaginous yeasts species. Bioresour Technol 144:1–23. doi:10.1016/j.biortech.2013.06.047

Somashekar D, Venkateshwaran G, Srividya C, Krishnanand K, Sambaiah K (2001) Efficacy of extraction methods for lipid and fatty acid composition from fungal cultures. World J Microbiol Biotechnol 17:317–320

Towijit U, Amponpiboon C, Sriariyanun M, Kongruang S (2014) Optimization of lipid production by oleaginous yeast using response surface methodology. Suranaree J Sci Technol 21:321–328

Venkata SG, Venkata MS (2014) Lipid accumulation for biodiesel production by oleaginous fungus Aspergillus awamori: influence of critical factors. Fuel 116:509–515

Vicente GM, Martínez J, Aracil A (2004) Integrated biodiesel production: a comparison of different homogeneous catalysts systems. Bioresour Technol 92:297–305. doi:10.1016/j.biortech.2003.08.014
Acknowledgement
The authors gratefully acknowledge the National Research Centre, Dokki, Egypt, for the financial support.
Ethics declarations
Conflict of interest
The authors declare that they have no competing interest.
About this article
Cite this article
Ali, T.H., El-Gamal, M.S., El-Ghonemy, D.H. et al. Improvement of lipid production from an oil-producing filamentous fungus, Penicillium brevicompactum NRC 829, through central composite statistical design. Ann Microbiol 67, 601–613 (2017). https://doi.org/10.1007/s13213-017-1287-x
Received:

Accepted:

Published:

Issue Date:

DOI: https://doi.org/10.1007/s13213-017-1287-x
Keywords