Abstract
A new chromate-reducing bacterial strain was isolated from soil contaminated with tannery waste. Based on 16S rRNA gene sequence analyses, this strain was identified as Leucobacter chromiireducens CRB2. This bacterium had high multiresistance against heavy metals with a MIC of 700 mg/L Cr(VI) and was able to reduce Cr(VI) both aerobically and anaerobically. The optimum pH and temperature for Cr(VI) reduction were pH 8.0 and 30 °C, respectively. Glycerol (10 mM) was the most efficient carbon source for Cr(VI) reduction by the strain followed by glucose. Moreover, Cr(VI) reduction by L. chromiireducens CRB2 was unaltered in the presence of other oxyanions. Bacterial cells immobilized in Na-alginate beads showed a high Cr(VI) reduction rates and exhibited an ability to repeatedly reduce Cr(VI). Therefore, immobilized cells were more effective than free cells in Cr(VI) reduction. Resting and permeabilized cell assays provided the better evidence of the presence of an enzymatic chromate reduction in L. chromiireducens CRB2. Assays conducted with cytosolic and particulate fractions of L. chromiireducens confirmed the role of cytosolic proteins in Cr(VI) reduction. Cr(VI) reduction by L. chromiireducens was mediated by a soluble enzyme contained in the cytoplasm after its adsorption on the cell surface. To the best of our knowledge, this is the first report studying parameters affecting Cr(VI) reduction and describing Cr(VI) removal mechanism by strain of L. chromiireducens.
Access options
Buy single article
Instant access to the full article PDF.
US$ 39.95
Tax calculation will be finalised during checkout.
Subscribe to journal
Immediate online access to all issues from 2019. Subscription will auto renew annually.
US$ 79
Tax calculation will be finalised during checkout.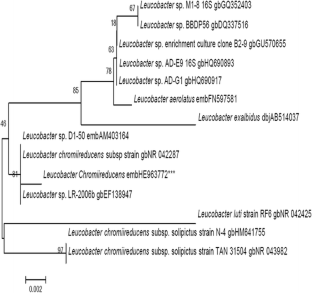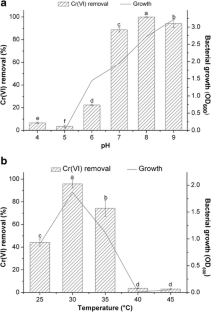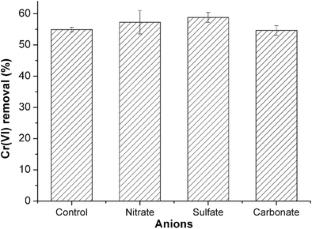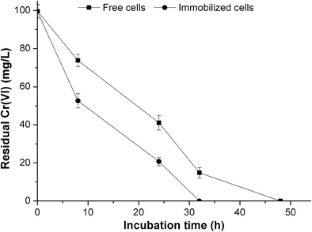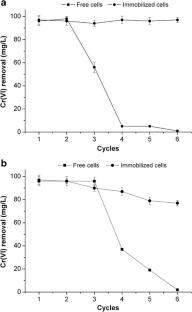 References
Abdelnasser SSI, El-Tayeb MA, Elbadawi YB, Al-Salamah AA (2011) Bioreduction of Cr(VI) by potent novel chromate resistant alkaliphilic Bacillus sp. strain KSUCr5 isolated from hypersaline soda lakes. Afr J Biotechnol 10(37):7207–7218

Adeniji A (2004) Bioremediation of arsenic, chromium, lead, and mercury. U.S. Environmental Protection Agency, Washington DC

Bailey RW, Scott EG (1966) Diagnostic microbiology, 2nd edn. The C.V. Mosby Company publisher, Saint Louis

Camargo FAO, Bento FM, Okeke BC, Frankenberger WT (2003) Chromate reduction by chromium-resistant bacteria isolated from soils contaminated with dichromate. J Environ Qual 32:1228–1233

Camargo FAO, Okele BC, Bento FM, Frankberger WT (2004) Hexavalent chromium reduction by immobilized cells and cell-free extract of Bacillus sp. ES29. J Biorem 8:23–30

Cervantes C, Garcia JC, Devars S, Corona FG (2001) Interactions of chromium with microorganisms and plants. FEMS Microbiol Rev 25:335–347

Cheung KH, Gu JD (2003) Reduction of chromate (CrO4 2−) by an enrichment consortium and an isolate of marine sulfate-reducing bacteria. Chemosphere 52:1523–1529

Desai C, Jain K, Madamwar D (2008) Hexavalent chromate reductase activity in cytosolic fractions of Pseudomonas sp. G1DM21 isolated from Cr(VI) contaminated industrial landfill. Process Biochem 43:713–721

Dey S, Paul AK (2012) Optimization of cultural conditions for growth associated chromate reduction by Arthrobacter sp. SUK 1201 isolated from chromite mine overburden. J Hazard Mater 200(6):213–214

Drancourt M, Bollet C, Carlioz A, Martelin R, Gayral JP, Raout D (2000) 16S ribosomal DNA sequence analysis of a large collection of environmental and clinical unidentifiable bacterial isolates. J Clin Microbiol 38:3623–3630

Eaton D, Clesceri LS, Greenberg AE (1995) Standard Methods for the Examination of Water and Wastewater. American Public Health Association (APHA), Washington

Farag S, Zaki S (2010) Identification of bacterial strains from tannery effluent and reduction of hexavalent chromium. J Environ Biol 31(5):877–882

Francisco R, Alpoim MC, Morais PV (2002) Diversity of chromium-resistant and reducing bacteria in chromium contaminated activated sludge. J Appl Microbiol 92:837–843

Halpern M, Shaked T, Pukall R, Schumann P (2009) Leucobacter chironomi sp. nov., a chromate-resistant bacterium isolated from a chironomid egg mass. Int J Syst Evol Microbiol 59:665–670

Holt JG, Krieg NR, Sneath PHA, Staley JT (1994) Bergey's manual of determinative bacteriology, 9th edn. Williams and Wilkins, Baltimore

Ilias M, Rafiqullah IM, Debnath BC, Bin Mannan KS, Hoq MM (2011) Isolation and characterization of chromium(VI)-reducing bacteria from tannery effluents. Indian J Microbiol 51(1):76–81

Komori K, Rivas A, Toda K, Ohtake H (1990) A method for removal of toxic chromium using dialysis-sac cultures of a chromate reducing strain of Enterobacter cloacae. Appl Microbiol Biotechnol 33:117–119

Konovalova VV, Dmytrenko GM, Nigmatullin RR, Bryk MT, Gvozdyak PI (2003) Chromium (VI) reduction in a membrane bioreactor with immobilized Pseudomonas cells. Enzym Microb Technol 33:899–907

Lovley DR, Coates JD (1997) Bioremediation of metal contamination. Curr Opin Biotechnol 8:285–289

Mabbett AN, Macaskie LE (2001) A novel isolate of Desulfovibrio sp. with enhanced ability to reduce Cr(VI). Biotechnol Lett 23:683–687

Mabrouk MEM, Arayes MA, Sabry SA (2014) Hexavalent chromium reduction by chromate-resistant haloalkaliphilic Halomonas sp. M-Cr newly isolated from tannery effluent. Biotechnol Biotechnol Equip 28(4):659–667. doi:10.1080/13102818.2014.937092

Malik A (2004) Metal bioremediation through cells. Environ Int 30(17):261–278

Mangaiyarkaras MS, Vincenta S, Janarthanan S (2011) Bioreduction of Cr(VI) by alkaliphilic Bacillus subtilis and interaction of the membrane groups. Saudi J Biol Sci 18(2):157–167

Marjangul N, Enkh-Amgalan J, Lei Z, Zhang Z (2014) Biological reduction of hexavalent chromium and mechanism analysis of detoxification by Enterobacter sp. HT1 isolated from tannery effluents, Mongolia. Mongolian J Chem 15(41):47–52

Mistry K, Desai C, Patel K (2010) Chromate reduction by Vagococcus sp. isolated from Cr(VI) contaminated industrial effluent. Electron J Biotechnol 6(1):6–12

Mondaca MA, Campos V, Moraga R, Zaror CA (2002) Chromate reduction in Serratia marcescens isolated from tannery effluent and potential application for bioremediation of chromate pollution. Sci World J 2:972–977

Morais PV, Francisco R, Branco R, Chung AP, Costa MS (2004) Leucobacter chromiireducens sp. nov., and Leucobacter aridicollis sp. nov., two new species isolated from a chromium contaminated environment. Syst Appl Microbiol 27:646–652

Morais PV, Francisco R, Branco R, Chung AP, Costa MS (2005) Leucobacter chromiireducens sp. nov. in validation of the publication of new names and new combinations previously effectively published outside the IJSEM, List no. 102. Int J Syst Evol Microbiol 55:547–549

Morais PV, Paulo C, Francisco R, Branco R, Paula Chung A, da Costa MS (2006) Leucobacter luti sp. nov., and Leucobacter alluvii sp. nov., two new species of the genus Leucobacter isolated under chromium stress. Syst Appl Microbiol 29(5):414–421

Mythili K, Karthikeyan B (2011) Bioremediation of chromium [Cr(VI)] in tannery effluent using Bacillus spp. and Staphylococcus spp. Int J Pharm Biol Arch 2(5):1460–1463

Nita I, Iorgulescu M, Florea Spiroiu M, Ghiurea M, Petcu C, Cinteza O (2007) The Adsorption of heavy metal ions on porous calcium alginate microparticles. An Univ Bucuresti Chimie 1:59–67

Pal A, Paul AK (2004) Aerobic chromate reduction by chromium-resistant bacteria isolated from serpentine soil. Microbiol Res 159:347–354

Pang Y, Zeng GM, Tang L, Zhang Y, Liu YY, Lei XX, Wu MS, Li Z, Liu C (2011) Cr(VI) Reduction by Pseudomonas aeruginosa immobilized in a polyvinyl alcohol/sodium alginate matrix containing multi-walled carbon nanotubes. Bioresour Technol 102:10733–10736

Parameswari E, Lakshmanan A, Thilagavathi T (2009) Chromate resistance and reduction by bacterial isolates. Aust J Basic Appl Sci 3(2):1363–1368

Pattanapipitpaisal P, Brown NL, Macaskie LE (2001) Chromate reduction by Microbacterium liquefaciens immobilized in polyvinyl alcohol. Biotechnol Lett 23(1):61–65

Philip L, Iyengar L, Venkobachar C (1998) Cr(VI) reduction by Bacillus coagulans isolated from contaminated soils. J Environ Eng 124:1165–1170

Poopal AC, Laxman RS (2008) Hexavalent chromate reduction by immobilized Streptomyces griseus. Biotechnol Lett 30:1005–1010

Ramírez-Díaz MI, Díaz-Pérez C, Vargas E, Riveros-Rosas H, Campos-García J, Cervantes C (2008) Mechanisms of bacterial resistance to chromium compounds. Biometals 21(3):321–332

Rehman F, Faisal M (2015) Toxic hexavalent chromium reduction by Bacillus pumilis, Cellulosimicrobium cellulans and Exiguobacterium. Chin J Oceanol Limnol 33(3):585–589

Romanenko VI, Koren'kov VN (1977) A pure culture of bacteria utilizing chromate and dichromate as hydrogen acceptors in growth under anaerobic conditions. Mikrobiologiya 46:414–417

Sarangi A, Krishnan C (2008) Comparison of in vitro Cr(VI) reduction by CFEs of chromate resistant bacteria isolated from chromate contaminated soil. Bioresour Technol 99(10):4130–4137

Sayel H, Bahafid W, Tahri Joutey N, Derraz K, Fikri Benbrahim K, Ibnsouda Koraichi S, El Ghachtouli N (2012) Cr(VI) reduction by Enterococcus gallinarum isolated from tannery waste-contaminated soil. Ann Microbiol 62(3):1269–1277

Sharma S, Adholeya A (2012) Hexavalent chromium reduction in tannery effluent by bacterial species isolated from tannery effluent contaminated soil. J Environ Sci Technol 5:142–154

Sikander S, Shahida H (2007) Reduction of toxic hexavalent chromium by Ochrobactrum intermedium strain SDCr-5 stimulated by heavy metals. Bioresour Technol 98:340–344

Soni SK, Singh R, Awasthi A, Singh M, Kalra A (2012) In vitro Cr(VI) reduction by cell-free extracts of chromate-reducing bacteria isolated from tannery effluent irrigated soil. Environ Sci Pollut Res

Stewart DI, Burke IT, Mortimer RJG (2007) Stimulation of microbially mediated chromate reduction in alkaline soil-water systems. Geomicrobiol J 4:655–669

Strous M, Fuerst JA, Kramer EH, Logemann S, Muyzer G, Van de Pas-Schoonen KT, Webb R, Kuenen JG, Jetten MS (1999) Missing lithotroph identified as new Planctomycete. Nature 400(6743):446–449

Tahri Joutey N, Bahafid W, Sayel H, El Abed S, El Ghachtouli N (2011) Remediation of hexavalent chromium by consortia of indigenous bacteria from tannery waste-contaminated biotopes in Fez, Morocco. Int J Environ Stud 68(6):901–912

Tahri Joutey N, Bahafid W, Sayel H, Ananou S, El Ghachtouli N (2013) Hexavalent chromium removal by a novel Serratia proteamaculans isolated from the bank of sebou river (Morocco). Environ Sci Pollut Res 21(4):3060–3072

Takeuchi M, Weiss N, Schumann P, Yokota A (1996) Leucobacter komagatae gen. nov., sp. nov., a new aerobic Gram-positive, non-sporulating rod with 2,4-diaminobutyric acid in the cell wall. Int J Syst Bacteriol 46:967–971

Tamura K, Peterson D, Peterson N, Stecher G, Nei M, Kumar S (2011) MEGA5: molecular evolutionary genetics analysis using maximum likelihood, evolutionary distance, and maximum parsimony methods. Mol Biol Evol 28:2731–2739

Thacker U, Parikh R, Shouche Y, Madamwar D (2006) Hexavalent chromium reduction by Providencia sp. Process Biochem 41:1332–1337

Thacker U, Parikh R, Shouche Y, Madamwar D (2007) Reduction of chromate by cell-free extract of Brucella sp. isolated from Cr(VI) contaminated sites. Bioresour Technol 98:1541–1547

Trevors JT, van Elsas JD, Lee H, van Overbeek LS (1992) Use of alginate and other carriers for encapsulation of microbial cells for use in soil. Microb Releases 1:61–69

Viti C, Pace A, Giovannetti L (2003) Characterization of Cr(VI) resistant bacteria isolated from chromium contaminated soil by tannery activity. Curr Microbiol 46:1–5

Wang YT, Shen H (1995) Bacterial reduction of hexavalent chromium. J Ind Microbiol 14:159–163

Weisberg WG, Barns SM, Pelletier DA, Lane D (1991) 16S ribosomal DNA amplification for phylogenetic study. J Bacteriol 173:679–703

Yang J, He M, Wang G (2009) Removal of toxic chromate using free and immobilized Cr(VI) reducing bacterial cells of Intrasporangium sp. Q5-1. World J Microbiol Biotechnol 25:1579–1587

Zainul AZ, Zainoha Z, Salmijah S, Wan Azlina A (2007) Hexavalent chromium reduction by Acinetobacter haemolyticus isolated from heavy-metal contaminated wastewater. J Hazard Mater 146:30–38

Zhang K, Li F (2011) Isolation and characterization of a chromium-resistant bacterium Serratia sp. Cr-10 from a chromate contaminated site. Appl Microbiol Biotechnol 90:1163–1169

Zhu W, Chai L, Ma Z, Wang Y, Xiao H, Zhao K (2008) Anaerobic reduction of hexavalent chromium by bacterial cells of Achromobacter sp. strain Ch1. Microbiol Res 163(6):616–623
Acknowledgments
The authors are grateful for the financial and scientific support rendered by Microbial Biotechnology Laboratory of Faculty of Sciences and Technology and of Regional Center of interface (CURI), SMBA University, Fez, Morocco.
About this article
Cite this article
Tahri Joutey, N., Bahafid, W., Sayel, H. et al. Leucobacter chromiireducens CRB2, a new strain with high Cr(VI) reduction potential isolated from tannery-contaminated soil (Fez, Morocco). Ann Microbiol 66, 425–436 (2016). https://doi.org/10.1007/s13213-015-1125-y
Received:

Accepted:

Published:

Issue Date:
Keywords
Cr(VI) reduction

Immobilization

Leucobacter chromiireducens

Soluble fraction