Abstract
Vibrio parahaemolyticus, autochthonous to estuarine, marine, and coastal environments throughout the world, is a leading cause of foodborne gastroenteritis in Asia as well as in other countries. Considering their role in disease outbreaks, water and sediment samples from two different environments along the southwest coast of India, such as the Cochin estuary, which is a tourist hot spot and a traditional prawn farm, were examined for the detection of V. parahaemolyticus. A total of 120 presumptive vibrios were further screened using a chromogenic medium. The isolates producing the specific colour for V. parahaemolyticus on the chromogenic medium were confirmed by molecular methods. Using a PCR assay targeting the species-specific tlh gene, 75 isolates were confirmed as V. parahaemolyticus. The incidence of V. parahaemolyticus was found to be 71.6 % in the Cochin estuary and 53.3 % in the shrimp farm. The virulence genes tdh and trh were detected in two isolates from the Cochin estuary by multiplex PCR. Using 16S rRNA sequence analysis, our isolate exhibited 100 % similarity to the V. parahaemolyticus O3:K6 pandemic clone. The isolates were evaluated for their susceptibility towards 16 different antibiotics. All the isolates exhibited multiple antibiotic resistance (MAR). The MAR index of the isolates from the Cochin estuary ranged from 0.312 to 0.75 and that from the shrimp farm ranged from 0.1875 to 0.5. The plasmid profiles of the isolates were also checked. About 50.6 % of the isolates harboured plasmids and ten different profiles were observed. No correlation was observed between the antibiotic resistance patterns and plasmid profiles.
This is a preview of subscription content, log in to check access.
Access options
Buy single article
Instant access to the full article PDF.
US$ 39.95
Price includes VAT for USA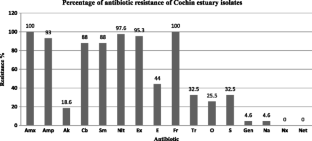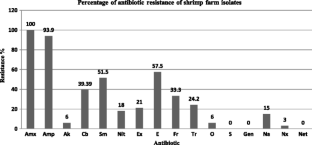 References
Bauer AW, Kirby WMM, Sheris JC, Turck M (1966) Antibiotics susceptibility testing by standardized single disk method. Am J Clin Pathol 45:493–496

BirnBoim HC, Doly J (1979) A rapid alkaline extraction procedure for screening recombinant plasmid DNA. Nucleic Acids Res 7(6):1513–1523

Cabello FC (2006) Heavy use of prophylactic antibiotics in aquaculture: a growing problem for human and animal health and for the environment. Environ Microbiol 8:1137–1144

Caburlotto G, Gennari M, Ghidini V, Tafi M, Lleo MM (2010) Serological and molecular characterization of Vibrio parahaemolyticus marine strains carrying pandemic genetic markers. ISME J 4:1071–1074

Centers for Disease Control and Prevention (2013) Vibrio vulnificus: General information. In: National Center for Emerging and Zoonotic Infectious Diseases DoF, Waterborne, and Environmental Disease (ed)

Chao G, Jiao X, Zhou X, Yang Z, Huang J, Zhou L, Qian X (2009) Distribution, prevalence, molecular typing, and virulence of Vibrio parahaemolyticus isolated from different sources in coastal province Jiangsu, China. Food Control 20:907–912

Chiou CS, Hsu SY, Chiu SI, Wang TK, Chao CS (2000) Vibrio parahaemolyticus serovar 03:K6 as a cause of unusually high incidence of food-borne disease outbreaks in Taiwan from 1996 to 1999. J Clin Microbiol 38:4621–4625

Chowdhury NR, Chakraborty S, Ramamurthy T, Nishibuchi M, Yamasaki S, Takeda Y, Nair GB (2000) Molecular evidence of clonal Vibrio parahaemolyticus pandemic strains. Emerg Infect Dis 6:631–636

CLSI-Clinical Laboratory Standards Institute (2011) Performance Standards for Antimicrobial Disc Susceptibility Tests, Vol: 3(1)

Dale JW, Park S (2004) Molecular Genetics of Bacteria, 4th edn. Wiley, Chichester

Daniels NA, Shafaie A (2000) A review of pathogenic Vibrio infections for clinicians. Infect Med 17:665–685

Daniels NA, Mackinnon L, Bishop R, Altekruse S, Ray B, Hammond RM, Thompson S, Wilson S, Bean NH, Griffin PM, Slutsker L (2000) Vibrio parahaemolyticus infections in the United States, 1973–1998. J Infect Dis 181(5):1661–1666

Deepanjali A, Kumar HS, Karunasagar I, Karunasagar I (2005) Seasonal variation in abundance of total and pathogenic Vibrio parahaemolyticus bacteria in oysters along the south west coast of India. Appl Environ Microbiol 71:3575–3580

Devi R, Surendran P, Chakraborty K (2009) Antibiotic resistance and plasmid profiling of Vibrio parahaemolyticus isolated from shrimp farms along the southwest coast of India. World J Microbiol Biotechnol 25:2005–2012

Guiney DG, Landa E (1989) Conjugative transfer of Inc plasmids. In: Thomas CM (ed) Promiscuous Plasmids of Gram-Negative Bacteria. Academic, London, pp 27–56

Hara-Kudo Y, Sugiyama K, Nishibuchi M, Chowdhury A, Yatsuyanagi J, Ohtomo Y, Saito A, Nagano H, Nishina T, Nakagawa H, Konuma H, Miyahara M, Kumagai S (2003) Prevalence of pandemic thermostable direct hemolysin-producing Vibrio parahaemolyticus O3:K6 in seafood and the coastal environment in Japan. Appl Environ Microbiol 69:3883–3891

Hervio-Heath D, Colwell RR, Derrien A, Robert-Pillot A, Fournier JM, Pommepuy M (2002) Occurrence of pathogenic vibrios in coastal areas of France. J Appl Microbiol 92:1123–1135

Hsu CH, Hwang SC, Liu JK (1992) Succession of bacterial drug resistance as an indicator of antibiotic application in aquaculture. J Fish Soc Taiwan 19:55–64

Hua LM, Apun K (2013) Antimicrobial susceptibilities of Vibrio parahaemolyticus isolates from tiger shrimps (Penaeus monodon) aquaculture in Kuching, Sarawak. Res J Microbiol 8:55–62

Islam MS, Tasmin R, Khan SI, Bakht HBM, Mahmood ZH, Rahman MZ, Bhuiyan NA, Nishibuchi M, Nair GB, Sack RB, Huq A, Colwell RR, Sack DA (2004) Pandemic strains of O3:K6 Vibrio parahaemolyticus in the aquatic environment of Bangladesh. Can J Microbiol 50:827–834. doi:10.1139/w04-072

Krumperman PH (1983) Multiple antibiotic resistance indexing of Escherischia coli to identify high-risk sources of fecal contamination of food. Appl Environ Microbiol 46:165–170

Lajnef R, Snoussi M, Jesus Lopez Romalde JL, Nozha C, Hassen A (2012) Comparative study on the antibiotic susceptibility and plasmid profiles of Vibrio alginolyticus strains isolated from four Tunisian marine biotopes. World J Microbiol Biotechnol 28:3345–3363

Manjusha S, Sarita GB, Elyas KK, Chandrasekaran M (2005) Multiple antibiotic resistances of Vibrio isolates from coastal and brackish water areas. Am J Biochem Biotechnol 1:201–206

Mazel D, Davies J (1999) Antibiotic resistance in microbes. Cell Mol Life Sci 56:742–754

McLaughlin JB, DePaola A, Bopp CA, Martinek KA, Napolilli NP, Allison CG, Murray SL, Thompson EC, Bird MM, Middaugh JP (2005) Outbreak of Vibrio parahaemolyticus gastroenteritis associated with Alaskan oysters. N Engl J Med 353:1463–1470

Miyoshi S, Nitanda Y, Fujii K, Kawahara K, Li T, Maehara Y, Takeda Y, Shinoda S (2008) Differential gene expression and extracellular secretion of the collagenolytic enzymes by the pathogen Vibrio parahaemolyticus. FEMS Microbiol Lett 283:176–181

Molina-Aja A, Garcia-Gasca A, Abreu-Grobois A, Bolan-Mejia C, Roque A, Gomez-Gill B (2002) Plasmid profiling and antibiotic resistance of Vibrio strains isolated from cultured penaeid shrimp. FEMS Microbiol Lett 213:7–12

Newton A, Kendall M, Vugia DJ, Henao OL, Mahon BE (2012) Increasing rates of vibriosis in the United States, 1996–2010: review of surveillance data from 2 systems. Clin Infect Dis Off Publ Infect Dis Soc Am 54(Suppl 5):391–395

Okoh AI, Igbinosa EO (2010) Antibiotic susceptibility profiles of some Vibrio strains isolated from wastewater final effluents in a rural community of the Eastern Cape Province of South Africa. BMC Microbiol 10:143

Oliver JD (2006) Vibrio vulnificus. The biology of vibrios. ASM Press, Washington, DC

Pal D, Das N (2010) Isolation, identification and molecular characterization of Vibrio parahaemolyticus from fish samples in Kolkata. Eur Rev Med Pharmacol Sci 14:545–549

Pedersen K (1999) The fish pathogen Vibrio anguillarum. Doctoral Thesis. The Royal Veterinary and Agricultural University, Denmark

Pedersen K, Tiainen T, Larsen JL (1996) Plasmid profiles, restriction fragment length polymorphisms and O-serotypes among Vibrio anguillarum isolates. Epidemiol Infect 117:471–478

Radu S, Elhadi N, Hassan Z, Rusul G, Lihan S, Fifadara N, Yuherman R, Purwati E (1998) Characterization of Vibrio vulnificus isolated from cockles (Anadaragranosa): antimicrobial resistance, plasmid profiles and random amplification of polymorphic DNA analysis. FEMS Microbiol Lett 165:139–143

Robert-Pillot A, Guenole A, Lesne J, Delesmont R, Fournier JM, Quilici ML (2004) Occurrence of the tdh and trh genes in Vibrio parahaemolyticus isolates from waters and raw shellfish collected in two French coastal areas and from seafood imported into France. Int J Food Microbiol 91:319–325

Shaw KS, Rosenberg Goldstein RE, He X, Jacobs JM, Crump BC, Sapkota AR (2014) Antimicrobial susceptibility of Vibrio vulnificus and Vibrio parahaemolyticus recovered from recreational and commercial areas of Chesapeake Bay and Maryland Coastal Bays. PLoS ONE 9(2):e89616. doi:10.1371/journal.pone.0089616

Shigeaki M, Natsumi O, Toshio K, Takeshi H, Tetsuya I (2012) A cytotoxic type III secretion effector of Vibrio parahaemolyticus targets vacuolar H+ -ATPase subunit c and ruptures host cell lysosomes. PLoS Pathogens

Sorum H, Hvaal AB, Heum M, Daae FL, Wiik R (1990) Plasmid profiling of Vibrio salmonicida for epidemiological studies of cold-water vibriosis in Atlantic salmon (Salmosalar) and cod (Gadusmorhua). Appl Environ Microbiol 56:1033–1037

Su Y-C, Liu C (2007) Vibrio parahaemolyticus: a concern of seafood safety. Food Microbiol 24:549–558

Thompson F, Lida T, Swings J (2004) Biodiversity of Vibrios. Microbiol Mol Biol Rev 68:403–422

Tiainen T, Pedersen K, Larsen JL (1995) Ribotyping and plasmid profiling of Vibrio anguillarum serovar O2 and Vibrio ordalii. J Appl Bacteriol 79:384–392

Velazquez-Roman J, Leon-Sicairos N, Flores-Villasenor H, Villafana-Rauda S, Canizalez-Roman A (2012) Association of pandemic Vibrio parahaemolyticus O3:K6 present in the coastal environment of Northwest Mexico with cases of recurrent diarrhea between 2004 and 2010. Appl Environ Microbiol 78:1794–1803. doi:10.1128/AEM.06953-11

Wong HC, Liu SH, Wang TK, Lee CL, Chiou CS, Liu DP, Nishibuchi M, Lee BK (2000) Characteristics of Vibrio parahaemolyticus O3:K6 from Asia. Appl Environ Microbiol 66:3981–3986

Zhang R, Wang Y, Gu JD (2006) Identification of environmental plasmid-bearing Vibrio species isolated from polluted and pristine marine reserves of Hong Kong, and resistance to antibiotics and mercury. Antonie Van Leeuwenhoek 89:307–315
Acknowledgments
The authors are thankful to Cochin university of Science and Technology for providing the facilities to carry out the research. Financial support provided by a UGC- BSR fellowship is also gratefully acknowledged.
Conflict of interest
The authors declare they have no conflict of interest.
About this article
Cite this article
Silvester, R., Alexander, D. & Ammanamveetil, M.H.A. Prevalence, antibiotic resistance, virulence and plasmid profiles of Vibrio parahaemolyticus from a tropical estuary and adjoining traditional prawn farm along the southwest coast of India. Ann Microbiol 65, 2141–2149 (2015). https://doi.org/10.1007/s13213-015-1053-x
Received:

Accepted:

Published:

Issue Date:
Keywords
Vibrio parahaemolyticus
tdh
trh

Pandemic clone

Multiple antibiotic resistance

Plasmid profile

Southwest coast