Abstract
Four methyl tert-butyl ether (MTBE)-degrading bacteria were isolated from a processing plant in Malaysia. Based on 16S rDNA sequences, the four isolates were identified as Exiguobacterium profundum P1M-2, Bacillus megaterium P1M-11, Alishewanella sp. P2A-12 and Pseudomonas mendocina P2M-8. Each of the isolates obtained optimum growth using a different source of nitrogen (0.1- 0.03 % yeast or peptone) and all four isolates were able to biodegrade 92.05-99.98 % of MTBE within seven days. Amongst the four isolates, the highest percentage of MTBE degradation was achieved using B. megaterium P1M-11. The highest growth on tert-butyl alcohol (TBA), tert-amyl alcohol (TAA) and 2-hydroxyisobutyric acid (2-HIBA) was also observed in B. megaterium P1M-11. This study suggests MTBE degradation by each of the bacteria can be enhanced by choosing the right nitrogen source. Furthermore, the ability of B. megaterium P1M-11 to grow on primary metabolites of MTBE and other structurally related ethers suggests the secretion of diverse degradative enzymes, making this isolate a good candidate to be applied in MTBE bioremediation strategies.
Access options
Buy single article
Instant access to the full article PDF.
USD 39.95
Price includes VAT (USA)
Tax calculation will be finalised during checkout.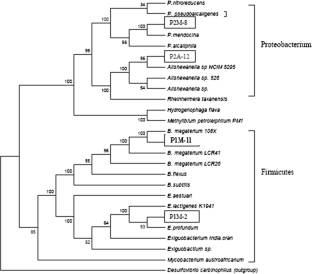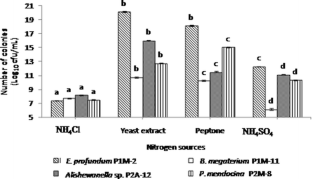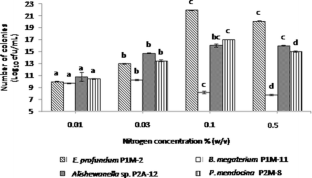 References
Altschul SF, Madden TL, Schäffer AA, Zhang J, Zhang Z, Miller W, Lipman DJ (1997) Gapped BLAST and PSI-BLAST: a new generation of protein database search programs. Nucleic Acids Res 25:3389–3402

Ferreira NL, Malandain C, Fayolle F (2006) Enzyme and genes involved in aerobic biodegradation of methyl tertiary butyl ether (MTBE). Appl Microbiol Biot 72:252–262

Finneran KT, Lovley DR, Moyer E (2001) Anaerobic strategies for enhanced MTBE and TBA bioremediation. J Contam Soil Sediment Water Spring 2001:91–94

Fischer A, Oehm C, Selle M, Werner P (2005) Biotic and abiotic transformations of methyl tertiary butyl ether (MTBE). Environ Sci Pollut Res Int 12:381–386

Franziska S, Liudmila M, Judith S, Naemi T, Mònica R, Hauke H, Roland H, Müller TR (2011) Formation of Alkenes via Degradation of tert-Alkyl Ethers and Alcohols by Aquincola tertiaricarbonis L108 and Methylibium spp. Appl Environ Microbiol 77:5981–5987

Hamzah A, Phan CW, Abu Bakar NF, Wong KK (2013) Biodegradation of crude oil by constructed bacterial consortia and the constituent single bacteria isolated from Malaysia. Bioremediation J 17:1–10

Hatzinger PB, McClay K, Vainberg S, Tugusheva M, Condee CW, Steffan RJ (2001) Biodegradation of methyl tert-butyl ether by a pure bacterial culture. Appl Environ Microbiol 67:5601–5608

Hazaimeh M, Mutalib SA, Abdullah SP, Kok Kee W, Surif S (2014) Enhanced crude oil hydrocarbon degradation by self-immobilized bacterial consortium culture on sawdust and oil palm empty fruit bunch. Ann Microbiol. doi:10.1007/s13213-014-0821-3

Hyman M (2013) Biodegradation of gasoline ether oxygenates. Curr Opin Biotechnol 24:443–450

Kim JK, Park KJ, Cho KS, Nam SW, Park TJ, Bajpai R (2005) Aerobic nitrification-denitrification by heterotrophic Bacillus strains. Bioresour Technol 96:1897–1906

Kok Kee W, Mohammad H, Sahilah AM, Palsan SA, Salmijah S (2014) Self-immobilised bacterial consortium culture as ready-to-use seed for crude oil bioremediation under various saline conditions and seawater. IJEST. doi:10.1007/s13762-014-0619-7

Kolhatkar R, Kunder T, Phillip P, Allen J, Wilson JT (2002) Use of compound-specific stable carbon isotope analyses to demonstrate anaerobic biodegradation of MTBE in ground water at a gasoline release site. Environ Sci Technol 36:5139–5146

Leahy JG, Colwell RR (1990) Microbial degradation of hydrocarbons in the environment. Microbiol Rev 54:305–315

Mesdagnhinia A, Rezaie S, Shariat M, Nasseri S, Mahvi AH, Omrani GA, Nazmara S, Ghasri A, Alimohammadi A (2005) Isolation and detection of MTBE degrading bacteria. Pak J Biol Sci 8:974–977

Purswani J, Pozo C, Roddriguez M, Gonzalez J (2008) Selection and identification of bacterial strain with methyl tertiary butyl ether, ethyl-tertiary-butyl ether and tertiary-amyl methyl ether-degrading capacities. Environ Toxicol Chem 27:2296–2303

Squillace PJ, Pankow JF, Korte NE, Zogorski JS (1997) Review of the environmental behavior and fate of methyl tertiary butyl ether. Environ Toxicol Chem 16:1836–1844

Tamura K, Dudley J, Nei M, Kumar S (2007) MEGA4: Molecular Evolutionary Genetics Analysis (MEGA) software version 4.0. Mol Biol Evol 24:1596–1599

Thompson JD, Higgins DG, Gibson TJ (1994) CLUSTALW: Improving the sensitivity of progressive multiple sequence alignment through sequence weighting, position-specific gap penalties and weight matrix choice. Nucleic Acids Res 22:4673–4680

Volpe A, Del Moro G, Rossetti S, Tandoi V, Lopez A (2009) Enhanced bioremediation of methyl tert-butyl ether (MTBE) by microbial consortia obtained from contaminated aquifer material. Chemosphere 75:149–155

Waul C, Arvin E, Schmidt JE (2008) Modeling the competitive effect of ammonium oxidizers and heterotrophs on the degradation of MTBE in a packed bed reactor. Water Res 42:3098–3108

Waul C, Arvin E, Schmidt JE (2009a) Long term studies on the anaerobic biodegradability of MTBE and other gasoline ethers. J Hazard Mater 163:427–432

Waul C, Arvin E, Schmidt JE (2009b) Lomg term studies on the anaerobic biodegradability of MTBE and other gasoline ethers. J Hazard Mater 163:427–432

Witzel KP, Overbeck HJ (1979) Heterotrophic nitrification of Arthrobacter sp. (strain 9006) as influenced by different cultural conditions, growth state and acetate metabolism. Arch Microbiol 122:137–143

Zajic E, Supplisson B (1979) Emulsification and degradation of bunker C; fuel oil by microorganisms. Biotechnol Bioeng 14:331–343
Acknowledgments
The work described in this paper was supported by Petronas Research Sdn. Bhd. (PRSB) project grant CR050833 and a grant under the Malaysian Ministry of Higher Education (MOHE) UKM-ST-06-FRGS0098-2009 for financial support. We would like to thank Alena Lee Sanusi for proofreading the text.
About this article
Cite this article
Hamzah, A., Wong, K. Tailoring the nitrogen sources of bacterial culture to enhance methyl tert-butyl ether degradation. Ann Microbiol 65, 1131–1136 (2015). https://doi.org/10.1007/s13213-014-0960-6
Received:

Accepted:

Published:

Issue Date:
Keywords
Degradation

Exiguobacterium profundum
Bacillus megaterium
Alishewanella sp.
Pseudomonas mendocina

MTBE

Nitrogen source