Abstract
Bisphenol A (BPA), is an industrially important compound and is widely used for the production of polycarbonates and other plastics. Over the past few years, there have been many issues raised all over the world on the use of BPA. BPA is known to possess estrogenic activities; hence, it mimics the role of estrogen once it enters living systems. Thus, it has been placed in the category of compounds called endocrine disruptors. It can cause damage to reproductive organs, thyroid gland, and brain tissues at developmental stages, and most recently it has also been linked to cancer development in humans. Here, in this review, we aim to summarize the various effects of BPA on humans and animals, and at the same time we wish to throw some light on the emerging field of biodegradation of BPA in the natural environment. A few studies conducted recently have tried to isolate BPA-degrading microorganisms from various sites, like water bodies receiving wastes from industries, landfills, etc. In the present scenario, with huge controversies on the use of BPA, we emphasize on bridging the gap between studies, aiming at finding the damage caused by BPA, and the studies which aim at the safe removal of BPA from the environment, with the help of naturally occurring microbes. Once this gap is filled, we will be able to find a way which will allow the use of BPA in manufacturing plastics, without its accumulation in the environment.
Access options
Buy single article
Instant access to the full article PDF.
USD 39.95
Price includes VAT (USA)
Tax calculation will be finalised during checkout.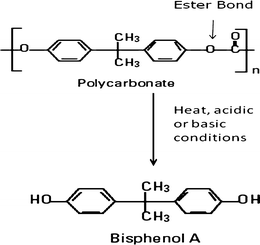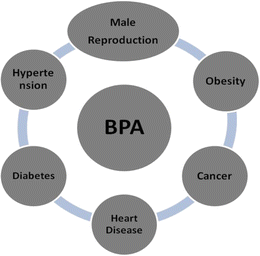 References
Adriani W, Seta DD, Dessi-Fulgheri F, Farabollini F, Laviola G (2003) Altered profiles of spontaneous novelty seeking impulsive behavior and response to Damphetamine in rats perinatally exposed to BPA. Environ Health Perspect 111:395–401

Akingbemi BT, Sottas CM (2004) Inhibition of testicular steroidogenesis by the xenoestrogen BPA is associated with reduced pituitary luteinizing hormone secretion and decreased steroidogenic enzyme gene expression in rat Leydig cells. Endocrinology 145:592–603

Alonso-Magdalena P, Laribi O, Ropero AB, Fuentes E, Ripoll C, Soria B (2005) Low doses of BPA and diethylstilbestrol impair Ca2+ signals in pancreatic α-cells through a nonclassical membrane estrogen receptor within intact islets of Langerhans. Environ Health Perspect 113:969–977

Bautista-Toledo I, Ferro-García MA, Rivera-Utrilla J, Moreno-Castilla C, Vegas Fernández FJ (2005) BPA removal from water by activated carbon effects of carbon characteristics and solution chemistry. Environ Sci Technol 39:6246–6250

Ben-Jonathan N, Steinmetz R (1998) Xenoestrogens: the emerging story of BPA. Trends Endocrinol Metab 9:124–128

Bonefeld-Jorgensen EC, Long M (2007) Endocrine-disrupting potential of BPA, BPA dimethacrylate 4-n-nonylphenol and 4-n-octylphenol invitro: new data and a brief review. Environ Health Perspect 115:69–76

Can A, Semiz O, Cinar O (2005) Bisphenol-A induces cell cycle delay and alters centrosome and spindle microtubular organization in oocytes during meiosis. Mol Human Reprod 11:389–396

Chapin RE, Adams J, Boekelheide K, Gray LE, Hayward SW, Lees PS, McIntyre BS, Portier KM, Schnorr TM, Selevan SG, Vandenbergh JG, Woskie SR (2008) NTP-CERHR expert panel report on the reproductive and developmental toxicity of Bisphenol A. Birth Defects Res B 83:157–395

Clark JH, Schrader WT, O'Malley BW (1992) Mechanisms of action of steroid hormones. In: Wilson J, Foster DW (eds) Textbook of Endocrinology. Saunders, Philadelphia, pp 35–90

Dessi-Fulgheri F, Porrini S, Farabollini F (2002) Effects of perinatal exposure to BPA on play behavior of female and male juvenile rats. Environ Health Perspect 110:403–407

Domoradzki JY, Thornton CM, Pottenger LH, Hansen SC, Card TL, Markham DA, Dryzga MD, Shiotsuka RN, Waechter JM Jr (2004) Age and dose depen dency of the pharmacokinetics and metabolism of Bisphenol A in neonatal Sprague-Dawley rats following oral administration. Toxicol Sci 77:230–242

Farabollini F, Porrini S, Della Seta D, Bianchi F, Dessi-Fulgheri F (2002) Effects of perinatal exposure to BPA on sociosexual behavior of female and male rats. Environ Health Perspect 110:409–414

Fukuda T, Uchida H, Takashima Y, Uwajima T, Kawabata T, Suzuki M (2001) Degradation of BPA by purified laccase from Trametes villosa. Biochem Biophys Res Commun 284:704–706

Hirano T, Honda Y, Watanabe T, Kuwahara M (2000) Degradation of BPA by the lignin-degrading enzyme manganese peroxidase produced by the white-rot bacidiomycete Pleurotus ostreatus. Biosci Biotechnol Biochem 64:1958–1962

Ho SM, Tang WY, Belmonte de Frausto J (2006) Developmental exposure to estradiol and BPA increases susceptibility to prostate carcinogenesis and epigenetically regulates phosphodiesterase type 4 variant 4. Cancer Res 66:5624–5632

Howdeshell KL, Hotchkiss AK, Thayer KA, Vandenbergh JG, vom Saal FS (1999) Environmental toxins: exposure to BPA advances puberty. Nature 401:763–764

Ikezuki Y, Tsutsumi O (2002) Determination of BPA concentrations in human biological fluids reveals significant early prenatal exposure. Hum Reprod 17:2839–2841

Jones DC, Miller GW (2008) The effects of environmental neurotoxicants on the dopaminergic system: a possible role in drug addiction. Biochem Pharmacol 76:569–581

Kang JH, Kondo F (2002) BPA degradation by bacteria isolated from River Water. Arch Environ Contam Toxicol 43:265–269

Kim JY, Han EH, Kim HG, Oh KN, Kim SK, Leea KY, Jeong HG (2010) BPA-induced aromatase activation is mediated by cyclooxygenase-2 up-regulation in rat testicular Leydig cells. Toxicol Lett 193:200–208

Krishnan AV, Stathis P, Permuth SF, Tokes L, Feldman D (1993) BPA: an estrogenic substance is released from polycarbonate flasks during autoclaving. Endocrinology 132:2279–2286

Lee HJ, Chattopadhyay S (2003) Antiandrogenic effects of BPA and nonylphenol on the function of androgen receptor. Toxicol Sci 75:40–46

Li Y, Song T, Cai Y, Zhou J, Song X, Zhao X, Wu X (2009) BPA exposure induces apoptosis and upregulation of Fas/FasL and caspase-3 expression in the testes of mice. Toxicol Sci 108:427–436

Liu X, Matsushima A (2007) Receptor binding characteristics of the endocrine disruptor BPA for the human nuclear estrogen-related receptor gamma. FEBS J 274:6340–6351

Lobos JH, Leib TK, Su TM (1992) Biodegradation of BPA and other bisphenols by a Gram-negative aerobic bacterium. Appl Environ Microbiol 58:1823–1831

Matsumoto J, Yokota H, Yuasa A (2002) Developmental increases in rat hepatic microsomal UDP-glucuronosyltransferase activities toward xenoestrogens and decreases during preg nancy. Environ Health Perspect 110:193–196

Moriyama K, Tagami T (2002) Thyroid hormone action is disrupted by BPA as an antagonist. J Clin Endocrinol Metab 87:5185–5190

Murdoch FE, Gorski J (1991) The role of ligand in estrogen receptor regulation of gene expression. Mol Cell Endocrinol 78:103–108

Nakamura K, Itoh K, Yaoi T, Fujiwara Y, Sugimoto T, Fushiki S (2006) Murine neocortical histogenesis is perturbed by prenatal exposure to low doses of BPA. J Neurosci Res 84:1197–1205

Nakamura K, Itoh K, Sugimoto T, Fushiki S (2007) Prenatal exposure to BPA affects adult murine neocortical structure. Neurosci Lett 420:100–105

Noguchi S, Nakatsuka M, Asagiri K, Habara T, Takata M, Konish H (2002) BPA stimulates NO synthesis through a non-genomic estrogen receptor-mediated mechanism in mouse endothelial cells. Toxicol Lett 135:95–101

Okada H, Tokunaga T (2008) Direct evidence revealing structural elements essential for the high binding ability of BPA to human estrogen-related receptor-gamma. Environ Health Perspect 116:32–38

Oshiman K, Tsutsumi Y, Nishida T, Matsumura Y (2007) Isolation and characterization of a novel bacterium Sphingomonas bisphenolicum strain AO1 that degrades BPA. Biodegradation 18:247–255

Patisaul HB, Fortino AE, Polston EK (2006) Neonatal genistein or bisphenol-A exposure alters sexual differentiation of the AVPV. Neurotoxicol Teratol 28:111–118

Reinhammar B (1984) Laccase. In: Lontie R (ed) Copper proteins and copper enzymes, 3rd edn. CRC, Boca Raton, pp 1–35

Sakai K, Yamanaka H, Moriyoshi K, Ohmoto T, Ohe T (2007) Biodegradation of BPA and related compounds by Sphingomonas sp. strain BP-7 isolated from seawater. Biosciences Biotech Biochem 71:51–57

Sakaue M, Ohaskao S, Ishimura R, Kurosawa S, Kurohmaru M, Hayashi Y, Aoki Y, Yonemoto J, Tohyama C (2001) BPA affects spermatogenesis in adult rats even at very low dose. J Occup Health 43:185–190

Sasaki M, Maki J, Oshiman K, Matsumura M, Tsuchido T (2005) Biodegradation of BPA by cells and cell lysate from Sphingomonas sp. strain AO1. Biodegradation 16:449–459

Shin EH, Choi HT, Song HG (2007) Biodegradation of Endocrine-disrupting BPA by White Rot Fungus Irpex lacteus. J Microbiol Biotechnol 17:1147–1151

Simpson ER, Clyne C (2002) Aromatase—a brief overview. Annu Rev Physiol 64:93–127

Sm L, Koo BW, Choi JW, Choi DH, An BS, Jeung EB, Choi IG (2005) Degradation of BPA by white rot fungi Stereum irsutum and Heterobasidium insulare and reduction of its estrogenic activity. Biol Pharm Bull 28:201–207

Sohoni P, Sumpter JP (1998) Several environmental estrogens are also antiandrogens. J Endocrinol 158:327–339

Staples C, Dorn P, Klecka G, O'Block S, Harris L (1998) A review of the environmental fate effects and exposures of BPA. Chemosphere 36:2149–2173

Suiko M, Sakakibara Y, Liu MC (2000) Sulfation of environmental estrogen like chemicals by human cytosolic sulfotransferases. Biochem Biophys Res Commun 267:80–84

Susiarjo M, Hassold TJ, Freeman E, Hunt PA (2007) BPA exposure in utero disrupts early oogenesis in the mouse. PLoS Genet 3(1):e5

Takayanagi S, Tokunaga T (2006) Endocrine disruptor BPA strongly bind to human estrogen-related receptor gamma (ERRgamma) with high constitutive activity. Toxicol Lett 167:95–105

Taylor JA, Welshons WV, vom Saal FS (2008) No effect of route of exposure (oral, subcutaneous injection) on plasma BPA throughout 24 h after administration in neonatal female mice. Reprod Toxicol 25:169–176

Thomas P, Dong J (2006) Binding and activation of the seven-transmembrane estrogen receptor GPR30 by environmental estrogens: a potential novel mechanism of endocrine disruption. J Steroid Biochem Mol Biol 102:175–179

Toyama T, Sato Y, Inoue D, Sei K, Young-Cheol C, Shintaro K, Michihiko I (2009) Biodegradation of BPA and BPF in the rhizosphere sediment of Phragmites australis. J Biosci Bioeng 108:147–150

Tsutsumi Y, Haneda T, Nishida T (2001) Removal of estrogenic activities of BPA and nonylphenol by oxidative enzymes from lignin-degrading basidiomycetes. Chemosphere 42:271–276

Vandenberg LN, Hauser R, Marcus M, Olea N, Welshons WV (2007) Human exposure to BPA (BPA). Reprod Toxicol 24:139–177

Varayoud J, Ramos JG, Bosquiazzo VL, Lower M, Muñoz-de-Toro M, Luque EH (2011) Neonatal exposure to BPA alters rat uterine implantation-associated gene expression and reduces the number of implantation sites. Endocrinology 152:1101–1111

vom Saal FS, Timms BG, Montano MM (1997) Prostate enlargement in mice due to fetal exposure to low doses of estradiol or diethylstilbestrol and opposite effects at high doses. Proc Natl Acad Sci USA 94:2056–2061

Watson CS, Bulayeva NN (2007) Xenoestrogens are potent activators of nongenomic estrogenic responses. Steroids 72:124–134

Welshons WV, Nagel SC, vom Saal FS (2006) Large effects from small exposuresIII Endocrine mechanisms mediating effects of BPA at levels of human exposure. Endocrinology 147:56–69

Wen C, Yuichi H, Masako S, Michihiko S, Nakahido K, Cakira H (2005) Biodegradation of BPA by fungi. Appl Biochem Biotechnol 120:0273–2289

Xu LC, Sun H (2005) Evaluation of androgen receptor transcriptional activities of BPA octylphenol and nonylphenol in vitro. Toxicology 216:197–203

Yamada H, Furuta I, Kato EH, Kataoka S, Usuki Y, Kobashi G, Sata F, Kishi R, Fujimoto S (2002) Maternal serum and amniotic fluid BPA concentrations in the early second trimester. Reprod Toxicol 16:735–739

Yamamoto T, Yasuhara A, Shiraishi H, Nakasugi O (2001) BPA in hazardous waste landfill leachates. Chemosphere 42:415–418

Yamanaka H, MoriyoshI K, Ohmoto T, Ohe T, Sakai K (2006) Degradation of BPA by Bacillus pumilus isolated from Kimchi a traditionally fermented food. Appl Biochem Biotechnol 136:39–51

Yamanaka H, MoriyoshI K, Ohmoto T, Ohe T, Sakai K (2008) Efficient microbial degradation of Bisphenol A in the Presence of Activated Carbon. J Biosci Bioeng 105:157–160

Ye X, Pierik FH, Angerer J, Meltzer HM, Jaddoe VW, Tiemeier H (2009) Levels of metabolites of organophosphate pesticides phthalates and BPA in pooled urine specimens from pregnant women participating in the Norwegian mother and child cohort study (MoBa). Int J Hyg Environ Health 212:481–491

Zoeller RT, Bansal R, Parris C (2005) Bisphenol-A an environmental contaminant that acts as a thyroid hormone receptor antagonist in vitro increases serum thyroxine and alters RC3/Neurogranin expression in the developing rat brain. Endocrinology 146:607–612
Acknowledgments
The authors would like to acknowledge University Grant Commission, New Delhi, and Department of Science and Technology (DST), New Delhi, for providing a fellowship to Shikha Chouhan, Council of Scientific and Industrial Research (CSIR), New Delhi, for providing a fellowship to Satyndra Kumar Yadav, and Indian Council of Medical Research, New Delhi, for providing a fellowship to Jay Prakash.
About this article
Cite this article
Chouhan, S., Yadav, S.K., Prakash, J. et al. Effect of Bisphenol A on human health and its degradation by microorganisms: a review. Ann Microbiol 64, 13–21 (2014). https://doi.org/10.1007/s13213-013-0649-2
Received:

Accepted:

Published:

Issue Date:
Keywords
Bisphenol A

Endocrine disruptor

Microbes

Biodegradation