Abstract
In this study, wild Saccharomyces cerevisiae strains, isolated from spontaneously fermenting grapes of different varieties and origins, were submitted to genetic analysis using different molecular techniques, such as amplification of genes coding for cell wall proteins and containing minisatellite-like sequences, karyotyping, mtDNA-RFLP, and analysis of the δ region. The lowest discriminative power was obtained by minisatellites analysis, in particular the amplification of AGA1 genes. Karyotyping and mtDNA-RFLP analysis yielded the same differentiation among the strains, whereas the PCR amplification of δ sequences resulted the best method as it was fast and it showed a very high discriminative power. In any case, it has to be underlined that some strains, showing the same delta profiles, exhibited a different mtDNA restriction profile and electrophoretic karyotype, suggesting that more than one molecular marker is required for reliable strain discrimination. Although the techniques used revealed a different resolution power, they all revealed a genetic relationship among strains isolated from spontaneous fermentation of grapes of different origins. In fact, none of the typing methods was able to discriminate some strains isolated from different areas.
Access options
Buy single article
Instant access to the full article PDF.
USD 39.95
Price excludes VAT (USA)
Tax calculation will be finalised during checkout.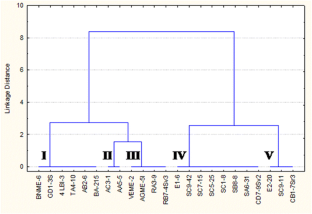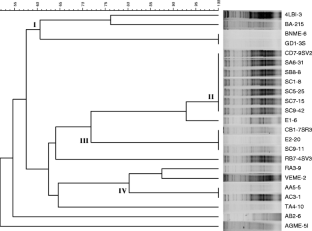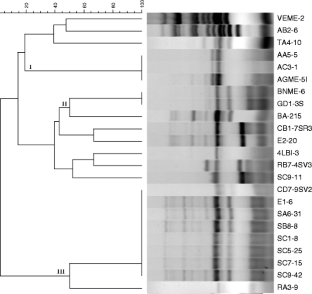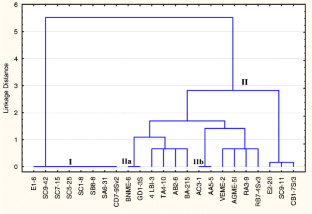 References
Antunovics Z, Irinyi L, Sipiczki M (2005) Combined application of methods to taxonomic identification of Saccharomyces strains in fermenting botrytized grape must. J Appl Microbiol 98:971–979

Beltran G, Torija MJ, Novo M, Ferrer N, Poblet M, Guillamon JM, Rozes N, Mas A (2002) Analysis of yeast populations during alcoholic fermentation: a six year follow-up study. Syst Appl Microbiol 25:287–293

Capece A, Fiore C, Maraz A, Romano P (2005) Molecular and technological approaches to evaluate strain biodiversity in Hanseniaspora uvarum of wine origin. J Appl Microbiol 98:136–144

Capece A, Romaniello R, Siesto G, Pietrafesa R, Massari C, Poeta C, Romano P (2010) Selection of indigenous Saccharomyces cerevisiae strains for Nero d'Avola wine and evaluation of selected starter implantation in pilot fermentation. Int J Food Microbiol 144:187–192

Csoma H, Zakany N, Capece A, Romano P, Sipiczki M (2010) Biological diversity of Saccharomyces yeasts of spontaneously fermenting wines in four wine regions: Comparative genotypic and phenotypic analysis. Int J Food Microbiol 140:239–248

Fernandez-Espinar MT, Lopez V, Ramon D, Bartra E, Querol A (2001) Study of the authenticity of commercial wine yeast strains by molecular techniques. Int J Food Microbiol 70:1–10

Flores Berrios EP, Alba González JF, Arrizon Gaviño JP, Romano P, Capece A, Gschaedler Mathis A (2005) The use of AFLP for detecting DNA polymorphism, genotype identification and genetic diversity between yeasts isolated from Mexican agave-distilled beverages and from grape musts. Lett Appl Microbiol 41:147–152

Frezier V, Dubourdieu D (1992) Ecology of yeast strain Saccharomyces cerevisiae during spontaneous fermentation in a Bordeaux winery. Am J Enol Vitic 43:375–380

Jeyaram K, Mohendro Singh W, Capece A, Romano P (2008) Molecular identification of yeast species associated with 'Hamei'—a traditional starter used for rice wine production in Manipur, India. Int J Food Microbiol 124:115–125

Le Jeune C, Erny C, Demuyter C, Lollier M (2006) Evolution of the population of Saccharomyces cerevisiae from grape to wine in a spontaneous fermentation. Food Microbiol 23:709–716

Legras JL, Karst F (2003) Optimisation of interdelta analysis for Saccharomyces cerevisiae strain characterisation. FEMS Microbiol Lett 221:249–255

Liti G, Carter DM, Moses AM, Warringer J, Parts L, James SA, Davey RP, Roberts IN, Burt A, Koufopanou V, Tsai IJ, Bergman CM, Bensasson D, O'Kelly MJT, van Oudenaarden A, Barton DBH, Bailes E, Nguyen Ba AN, Jones M, Quail MA, Goodhead I, Sims S, Smith F, Blomberg A, Durbin R, Louis EJ (2009) Population genomics of domestic and wild yeasts. Nature 458:337–341

Marinangeli P, Clementi F, Ciani M, Mannazzu I (2004a) SED1 polymorphism within the genus Saccharomyces. FEMS Yeast Res 5:73–79

Marinangeli P, Angelozzi D, Ciani M, Clementi F, Mannazzu I (2004b) Minisatellites in Saccharomyces cerevisiae genes encoding cell wall proteins: a new way towards wine strain characterization. FEMS Yeast Res 4:427–435

Martínez C, Cosgaya P, Vásquez C, Gac S, Ganga A (2007) High degree of correlation between molecular polymorphism and geographic origin of wine yeast strains. J Appl Microbiol 103:2185–2195

Miklos I, Varga T, Nagy A, Sipiczki M (1997) Genome instability and chromosomal rearrangements in a heterothallic wine yeast. J Basic Microb 37:345–354

Ness F, Lavallée F, Dubourdieu D, Aigle M, Dulau L (1993) Identification of yeast strains using the polymerase chain reaction. J Sci Food Agric 62:89–94

Pramateftaki PV, Lanaridis P, Typas MA (2000) Molecular identification of wine yeasts at species or strain level: a case study with strains from two vine growing areas of Greece. J Appl Microbiol 89:236–248

Querol A, Barrio E, Ramon D (1992) A comparative study of the different methods of yeast strain characterization. Syst Appl Microbiol 15:439–446

Romano P, Capece A, Serafino V, Romaniello R, Poeta C (2008) Biodiversity of wild strains of Saccharomyces cerevisiae as tool to complement and optimize wine quality. World J Microbiol Biotechnol 24:1797–1802

Schuller D, Valero E, Dequin S, Casal M (2004) Survey of molecular methods for the typing of wine yeast strains. FEMS Microbiol Lett 231:19–26

Schuller D, Alves H, Dequin S, Casal M (2005) Ecological survey of Saccharomyces cerevisiae strains from vineyards in the Vinho Verde Region of Portugal. FEMS Microbiol Ecol 51:167–177

Torija MJ, Roze N, Poblet M, Guillamon JM, Mas A (2001) Yeast population dynamics in spontaneous fermentations: comparison between two different wine-producing areas over a period of three years. Antonie van Leeuwenhoek 79:345–352

Valero E, Schuller D, Cambon B, Casal M, Dequin S (2005) Dissemination and survival of commercial wine yeast in the vineyard: a large-scale, three-years study. FEMS Yeast Res 5:959–969

Versavaud A, Courcoux P, Roulland C, Dulau L, Hallet J-N (1995) Genetic diversity and geographical distribution of wild Saccharomyces cerevisiae strains from the wine-producing area of Charentes, France. Appl Environ Microbiol 61:3521–3529
About this article
Cite this article
Siesto, G., Capece, A., Sipiczki, M. et al. Polymorphism detection among wild Saccharomyces cerevisiae strains of different wine origin. Ann Microbiol 63, 661–668 (2013). https://doi.org/10.1007/s13213-012-0516-6
Received:

Accepted:

Published:

Issue Date:

DOI: https://doi.org/10.1007/s13213-012-0516-6
Keywords
Saccharomyces cerevisiae

Wine strains

Minisatellites

Karyotyping

mtDNA-RFLP

Interdelta region