Abstract
In an attempt to search for natural pesticides, crude extracts of seven plant species (Bauhinia purpurea, Caesalpinia gilliesii, Cassia fistula, Cassia senna, Chrysanthemum frutescens, Euonymus japonicus and Thespesia populnea var. acutiloba) were evaluated against Sclerotium rolfsii, the causative fungus of damping-off, under laboratory and greenhouse conditions. Gas chromatography-mass spectrometry analysis was performed to identify possible biologically active components (tetradecanoic acid, pentadecanoic acid, hexadecanoic acid, phytol, linalool, 1,8 cineole and 9, 12, 15 octadecanoic acid) from the plant extracts most effective against S. rolfsii. Laboratory experiments indicated that leaf extracts of T. populnea var. acutiloba and Chrysanthemum frutescens were most effective against S. rolfsii. Greenhouse experiments confirmed that T. populnea var. acutiloba and Chrysanthemum frutescens extracts were most effective against the damping-off pathogen, either by coating or soaking of sugar beet seeds. None of the extracts tested produced phytotoxic effects on sugar beet leaves, even at the highest concentration applied. The most effective plant extracts showed low toxicity in rats relative to controls with respect to histological tests. The extracts assayed represent a potentially safe control method for damping-off disease in sugar beet.
Access options
Buy single article
Instant access to the full article PDF.
US$ 39.95
Tax calculation will be finalised during checkout.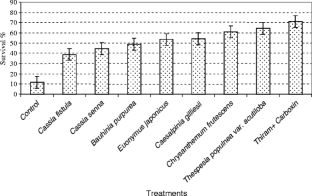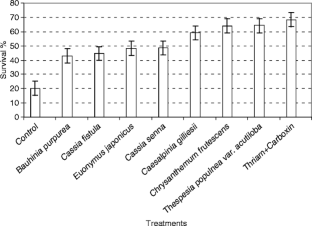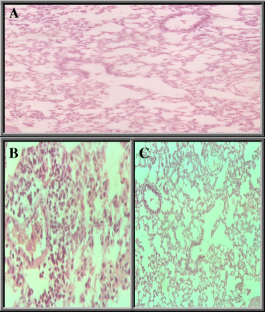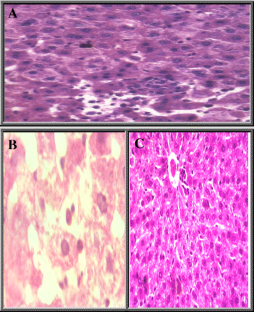 References
Ahmadi F, Sadeghi S, Modarresi M, Abiri R, Mikaeli A (2010) Chemical composition, in vitro anti-microbial, antifungal and antioxidant activities of the essential oil and methanolic extract of Hymenocrater longiflorus Benth of Iran. Food Chem Toxicol 48:1137–1144

Aycock R (1966) Stem rot and other diseases caused by Sclerotium rolfsii. N C Agric Exp Stn Tech Bull 174:202

Bancroft JD, Stevens A (1996) Theory and practice of histopathological techniques, 4th edn. Churchill Livingstone, New York, NY

Cheraif I, Ben Jannet H, Hammami M, Khouja ML, Mighri Z (2007) Chemical composition and antimicrobial activity of essential oils of Cupressus arizonica Greene. Biochem Syst Ecol 35:813–820

Chutia M, Bhuyan PD, Pathak MG, Sarma TCP, Boruah P (2009) Antifungal activity and chemical composition of Citrus reticulata Blanco essential oil against phytopathogens from North East India. LWT Food Sci Technol 42:777–780

Cramer RA, Byrne PF, Brick MA, Panella L, Wickliffe E, Shchwartz HF (2003) Characterization of Fusarium oxysporum isolates from common bean and sugar beet using pathogenecity assays and random amplified polymeric DNA markers. J Phytopathol 151:352–360

Cornelius CE, Bishop J, Switzer J, Rhode EA (1959) Serum and tissue transaminase activities in domestic animals. Cornell Vet 49:116–121

Duarte-Almeida JM, Negri G, Salatino A (2004) Volatile oils in Leaves of Bauhina (Fabaceae Coesaplinioideae). Biochem Syst Ecol 32:747–753

El-Abyad MS, Abu-taleb AM, Abdel-Mawgoud T (1997) Response of host cultivar to cell wall-degrading enzymes of the sugarbeet pathogens Rhizoctonia solani Kühn and Sclerotium rolfsii Sacc. under salinity stress. Microbiol Res 152:9–17

Elad Y (1995) Mycoparasitism. In: Kohmoto K, Singh US, Singh RP (eds) Pathogenesis and host specificity in plant diseases: histopathological, biochemical, genetic and molecular bases, vol II, eukaryotes. Pergamon, Oxford, pp 285–307

El-Shoraky FSA (1998) Using extracts and oils of some plant diseases. Tanta University, Egypt, Dissertation

Eltoony AME, Awad NGH, Tadrous MFE, Ahmed FS (2003) Chemical and biological control of tomato damping-off disease under nursery conditions with special references to the antagonism between the causal pathogens. Egyptian J Appl Sci 18:47–68

El-shahawy EA (2002) Biocidal effect of some compounds on some soil borne fungi. Tanta University, Egypt, Dissertation

Eweis M, Elkholy SS, Elsabee MZ (2006) Antifungal efficacy of chitosan and its thiourea derivatives upon the growth of some sugar-beet pathogens. Int J Biol Macromol 38:1–8

Gouda MI (2001) Studies on some casuals of sugar beets root rot. Tanta Universty, Egypt, Dissertation

Grainger J (1949) Crop and diseases. Plant pathology Department, West of Scotland Agriculture, College Research Bull 9:51

Hammer KA, Carson CF, Riley TV (2003) Antifungal activity of the components of Melaleuca alternifolia (tea tree) oil. J Appl Microbiol 95:853–860

Kelen M, Tepe B (2008) Chemical composition, antioxidant and antimicrobial properties of the essential oils of three Salvia species from Turkish flora. Bioresour Technol 99:4096–4104

Latha P, Anand T, Ragupathi N, Prakasam V, Samiyappan R (2009) Antimicrobial activity of plant extracts and induction of systemic resistance in tomato plants by mixtures of PGPR strains and Zimmu leaf extract against Alternaria solani. Biol Control 50:85–93

Liu W-W, Mu W, Zhu B-Y, Du Y-C, Liu F (2008) Antagonistic activities of volatiles from four strains of Bacillus spp. and Paenibacillus spp. against soil-borne plant pathogens. Agric Sci China 7:1104–1114

Mdee LK, Masoko P, Eloff JN (2009) The activity of extracts of seven common invasive plant species on fungal phytopathogens. South Afr J Bot 75:375–379

Mengs U, Mitchell J, McPherson S, Gregson R, Tigner J (2004) A 13-week oral toxicity study of senna in the rat with an 8-week recovery period. Arch Toxicol 78:269–275

Mitchell JM, Mengs U, McPherson S, Zijlstra J, Dettmar P, Gregson R, Tigner JC (2006) An oral carcinogenicity and toxicity study of senna (Tinnevelly senna fruits) in the rat. Arch Toxicol 80:34–44

Okemo OP, Baisa HP, Jorge M, Vivancoa JM (2003) In vitro activities of Maesa lanceolata extracts against fungal plant pathogens. Fitoterapia 74:312–316

Panda S, Kar A (1999) Withania somnifera and Bauhinia purpurea in the regulation of circulating thyroid hormone concentrations in female mice. J Ethnopharmacol 67:233–239

Park SH, Ko SK, Chung SH (2005) Euonymus alatus prevents the hyperglycemia and hyperlipidemia induced by high-fat diet in ICR mice. J Ethnopharmacol 102:326–335

Punja ZK (1985) The biology, ecology, and control of Sclerotium rolfsii. Annu Rev Phytopathol 23:97–127

Ragas CY, Hofilena JG, Rideout JA (2002) New furanoid diterpenes from Caesalpinia pulcherrima. J Nat Prod 65:1107–1110

Romestaing C, Piquet M, Bedu E, Rouleau V, Dautresme M, Hourmand-Ollivier I, Filippi C, Duchamp C, Sibille B (2007) Long term highly saturated fat diet does not induce NASH in Wistar rats. Nutr Metab 4:4. doi:10.1186/1743-7075-4-4

Soković MD, Vukojević J, Marin PD, Brkić DD, Vajs V, Griensven LLD (2009) Chemical composition of essential oils of Thymus and Mentha species and their antifungal activities. Molecules 14:238–249

Tzakou O, Pitarokili D, Chinou IB, Harvala C (2001) Composition and antimicrobial activity of the essential oil of Salvia ringens. Planta Med 67:81–83

Vincent JH (1947) Distortion of fungal hyphae in presence of certain inhibitors. Nature 159:850–850

Yossry AA, Abedalal SM, El-Imery SM (1998) Fungi toxic properties of some plant extracts against the growth of soil borne disease fungi. Ann Agric Sci Moshtohor 3:891–909

Wagh P, Rai M, Deshmukh SK, Durate MCT (2007) Bioactivity of oils of Trigonella foenum-graecum and Pongamia pinna. Afr J Biotechnol 6:1592–1596

Walters D, Raynor L, Mitchell A, Walker R, Wallker K (2004) Antifungal activity of four fatty acids against plant pathogenic fungi. Mycopathology 157:87–90
About this article
Cite this article
Derbalah, A.S., Dewir, Y.H. & El-Sayed, A.EN.B. Antifungal activity of some plant extracts against sugar beet damping-off caused by Sclerotium rolfsii . Ann Microbiol 62, 1021–1029 (2012). https://doi.org/10.1007/s13213-011-0342-2
Received:

Accepted:

Published:

Issue Date:
Keywords
Analysis

Extract

Pathogen

Sugar beet