Abstract
Thua nao, a Thai traditional fermented soybean, is locally produced, of irregular quality and under risk of contamination with spoilage and pathogenic microorganisms during the artisanal process. This study aims to select a protein-rich soybean variety as a material for thua nao fermentation and improve organoleptical quality of the product by fermenting sterilized soybean with pure starter of Bacillus subtilis TN51 previously isolated from a traditional thua nao. Changes in microbiological and physicochemical qualities of soybean were monitored through fermentation period for 72 h. The completely fermented products were also subjected to sensory evaluation and antimicrobial activity against 13 microbial pathogens and two fermentative yeasts. Of five soybean cultivars tested (i.e., CM60, Pabong7, Kunpae, TG55 and TG145), based on seed size, production yield, protein and fat contents, TG145 was the most suitable for production of thua nao due to its high protein content (45.8%), lowest fat (15.6%), small seed size (11.1 g/100 seeds) and potent production yield (358 kg/rai). Thua nao produced by fermented autoclaved soybean with pure starter culture of B. subtilis TN51 (TNB51) could be improved considerably for its microbiological and chemical qualities, especially using a smaller amount of ammonia that led to a more organoleptically acceptable product than thua nao produced by naturally occurring microbial fermentation (TNMX). Of tested microorganisms, only Gram-positive bacteria (i.e., Staphylococcus aureus, Staphylococcus epidermidis, Micrococcus luteus, Bacillus cereus, and Listeria monocytogenes) were inhibited by thua nao methanolic extracts.
Access options
Buy single article
Instant access to the full article PDF.
US$ 39.95
Tax calculation will be finalised during checkout.
Subscribe to journal
Immediate online access to all issues from 2019. Subscription will auto renew annually.
US$ 79
Tax calculation will be finalised during checkout.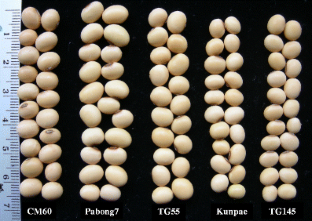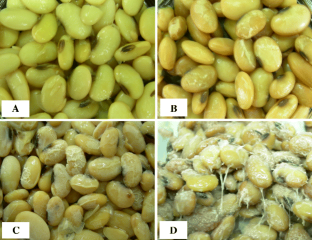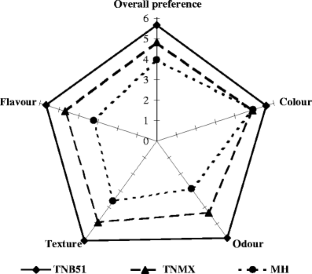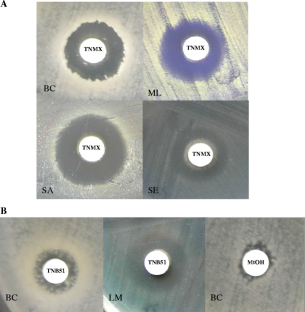 References
AOAC (2000) Official methods of analysis of AOAC International, 17th edn. AOAC International, Gaithersburg

Chantawannakul P, Oncharoan A, Klanbut K, Chukeatirote E, Lumyong S (2002) Characterization of protease of Bacillus subtilis strain 38 isolated from traditionally fermented soybean in Northern Thailand. ScienceAsia 28:241–245

Chukeatirote E, Chainun C, Siengsubchart A, Moukamnerd C, Chantawannakul P, Lumyong S, Boontim N, Thakang P (2006) Microbiological and biochemical changes in Thua nao fermentation. Res J Microbiol 1:38–44

Chunhachart O, Itoh T, Sukchotiratana M, Tanimoto H, Tahara Y (2006) Characterization of γ-glutamyl hydrolase produced by Bacillus sp. isolated from Thai thua-nao. Biosci Biotechnol Biochem 70:2779–2782

Dajanta K, Wongkham S, Thirach P, Baophoeng P, Apichartsrangkoon A, Santithum P, Chukeatirote E (2009) Comparative study of proteolytic activity of protease-producing bacteria isolated from Thua nao. Maejo Int J Sci Technol 3:269–276

Dastidar SG, Manna A, Kumar KA, Mazumdar K, Dutta NK, Chakrabary AN, Motohashi N, Shirataki Y (2004) Studies on the antibacterial potentiality of isoflavones. Int J Antimicro Ag 23:99–102

Dike EN, Odunfa SA (2003) Microbiological and biochemical evaluation of a fermented soyabean product-Soy-dadawadwa. J Food Sci Tech 40:606–610

Gotoh T, Yamada K, Yin H, Ito A, Kataoka T, Dohi K (1998) Chemoprevention of N-Nitroso-N-methylurea-induced rat mammary carcinogenesis by soy foods or biochanin A. Jpn J Canc Res 89:137–142

Griffis G, Wiedermann L (1991) Marketing Food Quality Soybeans in Japan. American Soybean Association, Asian Division, St Louis

Hosoi T, Kiuchi K (2003) Natto-a food made by fermenting cooked soybeans with Bacillus subtilis (natto). In: Farnworth ER (ed) Handbook of Fermented Functional Foods. CRC Press, Boca Raton, pp 267–290

Hurrell RF (1982) Maillard reaction in flavour. In: Morton ID, Macleod AJ (eds) Food Flavours: Part A. Introduction. Elsevier, Amsterdam, pp 399–438

Jideani IAO, Okeke CR (1991) Comparative-study of microorganisms and sensory attributes of condiments from the fermentation of different seeds. Plant Foods Hum Nutr 41:27–34

Jung KO, Park SY, Park KY (2006) Basic nutritional investigation: longer aging time increases the anticancer and antimetastatic properties of doenjang. Nutrition 22:539–545

Kim Y, Cho JY, Kuk JH, Moon JH, Cho JI, Kim YC, Park KH (2004) Identification and antimicrobial activity of phenylacetic acid produced by Bacillus licheniformis isolated from fermented soybean, Chungkook-Jang. Curr Microbiol 48:312–317

Kunioka M, Goto A (1994) Biosynthesis of poly (γ-glutamic acid) from L-glutamic acid, citric acid, and ammonium sulfate in Bacillus subtilis IFO3335. Appl Microbiol Biotechnol 40:867–872

Lee MY, Park SY, Jung KO, Park KY, Kim SD (2005) Quality and functional characteristics of Chungkukjang prepared with various Bacillus sp. isolated from traditional Chungkukjang. J Food Sci 70:M191–M196

Lee IH, Hung YH, Chou CC (2007) Total phenolic and anthocyanin contents, as well as antioxidant activity of black bean koji fermented by Aspergillus awamori under different culture conditions. Food Chem 104:936–942

Leejeerajumnean A (2003) Thua nao: alkali fermented soybean from Bacillus subtilis. Silpakorn Univ Int J 3:277–292

Miller GL (1959) Use of dinitrosalicylic acid reagent for determination of reducing sugar. Anal Chem 31:420–428

Nout MJR, Bakshi D, Sarkar PK (1998) Microbiological safety of kinema, a fermented soya bean food. Food Control 9:357–362

Ogawa Y, Yamaguchi F, Yuasa K, Tahara Y (1997) Efficient production of γ-polyglutamic acid by Bacillus subtilis (natto) in jar fermenters. Biosci Biotechnol Biochem 61:1684–1687

Ohta T (1986) Natto. In: Reddy NR, Pierson MD, Merle D, Salunkhe DK (eds) Legume-based Fermented Foods. CRC Press, Boca Raton, pp 85–93

Omafuvbe BO (2008) Effect of temperature on biochemical changes induced by Bacillus subtilis (SDA3) during starter culture fermentation of soybean into condiment (soy-Daddawa). Am J Food Technol 3:33–41

Omafuvbe BO, Abiose SH, Shonukan OO (2002) Fermentation of soybean (Glycine max) for soy-daddawa production by starter cultures of Bacillus. Food Microbiol 19:561–566

Ouoba LII, Diawara B, Jespersen L, Jakobsen M (2007) Antimicrobial activity of Bacillus subtilis and Bacillus pumilus during the fermentation of African locust bean (Parkia biglobosa) for Soumbala production. J Appl Microbiol 102:963–970

Park KY, Jung KO, Rhee SH, Choi YH (2003) Antimutagenic effects of doenjang (Korean fermented soypaste) and its active compounds. Mutat Res Fund Mol Mech Mut 523–524:43–53

Potter SM, Baum JA, Teng H, Stillman RJ, Shay NF, Erdman JW Jr (1998) Soy protein and isoflavones: their effects on blood lipids and bone density in postmenopausal women. Am J Clin Nutr 68:1375S–1379S

Qin L, Ding X (2007) Formation of taste and odor compounds during preparation of Douchiba, a Chinese traditional soy-fermented appetizer. J Food Biochem 31:230–251

Rufian-Henares JA, Morales FJ (2006) A new application of a commercial microtiter plate-based assay for assessing the antimicrobial activity of Maillard reaction products. Food Res Int 39:33–39

Rufian-Henares JA, Morales FJ (2007) Functional properties of melanoidins: in vitro antioxidant, antimicrobial and antihypertensive activities. Food Res Int 40:995–1002

Sarkar PK, Tamang JP (1995) Changes in the microbial profile and proximate composition during natural and controlled fermentation of soybeans to produce kinema. Food Microbiol 12:317–325

Stecchini ML, Giavedoni P, Sarais I, Lerici CR (1993) Antimicrobial activity of Maillard reaction products against Aeromonas hydrophila. Ital J Food Sci 5:147–150

Steinkraus KH (1983) Miscellaneous oriental fermentations, Chinese soy sauce, pastes and related fermented foods. In: Steinkraus KH (ed) Handbook of Indigenous Fermented Foods. Marcel Dekker, New York, pp 530–571

Sundhagul M, Smanmathuroj P, Bhodacharoen W (1972) Thua-Nao: A fermented soybean food of northern Thailand - I. Traditional processing method. Thai J Agri Sci 5:43–56

Taira H (1990) Quality of soybeans for processed foods in Japan. Jpn Agric Res Q 24:224–230

Taira H, Suzuki N (1983) Lipid content and fatty acid composition of natto. Rep Nat Food Res Inst 43:58–61

Taira H, Suzuki N, Tsukamoto C, Kainuma Y, Tanaka H, Saito M (1987) Suitability for natto processing of small seed cultivars and quality of the natto: Quality of soybean seeds grown in Japan. Rep Nat Food Res Inst 51:48–58

Tamang JP, Nikkuni S (1996) Selection of starter cultures for the production of kinema, a fermented soybean food of the Himalaya. World J Microbiol Biotechnol 12:629–635

Tangjitjaroenkun J, Kitpreechavanich V, Suthirawut S, Chim-anage P, Praprilong W, Krusong W, Yongsmith B (2004) Improvement of high vitamin B12 Thua nao by mixed cultures of soybean oligosaccharide and the use of bacteria and yeasts. Kasetsart J (Nat Sci) 38:123–130

Teng DF, Lin CS, Hsieh PC (2004) Fermented whole soybeans and soybean paste. In: Hui YH, Meunier-Goddik L, Hansen AS, Josephsen J, Nip WK, Stanfield PS, Toldrá F (eds) Handbook of Food and Beverage Fermentation Technology. Marcel Dekker, New York, pp 532–539

Terlabie NN, Sakyi-Dawson E, Amoa-Awua WK (2006) The comparative ability of four isolates of B. subtilis to ferment soybeans into daddawa. Int J Food Microbiol 106:145–152

Tsuji K, Tsuji E (1986) Effect of natto-feeding on cholesterol level of rats. Jpn J Nutr 44:41–44

Visessanguan W, Benjakul S, Potachareon W, Panya A, Riebroy S (2005) Accelerated proteolysis of soy proteins during fermentation of thua-nao inoculated with Bacillus subtilis. J Food Biochem 29:349–366

Wei Q, Chang SKC (2004) Characteristics of fermented natto products as affected by soybean cultivars. J Food Process Preserv 28:251–273

Wei Q, Wolf-hall C, Chang KC (2001) Natto characteristics as affected by steaming time, Bacillus strain, and fermentation time. J Food Sci 66:167–173

Yanfang Z, Wenyi T (2009) Flavor and taste compounds analysis in Chinese solid fermented soy sauce. Afr J Biotechnol 8:673–681

Youn HK, Choi HS, Hur SH, Hong JH (2001) Antimicrobial activities of viscous substance from chongkukjang fermented with different Bacillus sp. J Food Hyg Saf 16:188–193

Yun IS (2005) Antibacterial, free radical scavenging, and proliferative effects of Korean fermented soybean paste (Doenjang) extracts. Agric Chem Biotechnol 48:138–143

Zheng G, Slavik MF (1999) Isolation, partial purification and characterization of a bacteriocin produced by a newly isolated Bacillus subtilis strain. Lett Appl Microbiol 28:363–367
Acknowledgements
This study was financially supported by the Royal Golden Jubilee Ph.D. Research Scholarship and the Thailand Research Fund.
About this article
Cite this article
Dajanta, K., Chukeatirote, E. & Apichartsrangkoon, A. Improvement of thua nao production using protein-rich soybean and Bacillus subtilis TN51 starter culture. Ann Microbiol 62, 785–795 (2012). https://doi.org/10.1007/s13213-011-0319-1
Received:

Accepted:

Published:

Issue Date:
Keywords
Fermented soybean

Soybean

thua nao
Bacillus subtilis

Starter culture